Feature Restoration 1981 Chevrolet Monte Carlo
He Was "Born and Bred" In a Loyal Chevy-Driving Family… So It's No Surprise That He's Had This Car 30 Years.
JOE LUBAS HAS a pretty good idea as to why he bought his 1981 Monte Carlo in '81 and never let it go.
"My father was a die-hard Chevyman," he explained. "To him, there was no other car in the world. When I was a kid he used to complain about the '39 Plymouth he once had. He'd sworn that that was it and he'd bought Chevys ever since, so I was born and bred with Chevys."
That was almost certainly how it all began for him and some kind of Chevrolet definitely was in his future. And by the mid-1970s,the focus was being fine-tuned.
"In 1975," Lubas continued, "a good friend of mine bought a Monte Carlo and at that time, it was billed as a 'personal luxury car,'so it had all the creature comforts—power everything—plus it had a little performance. It was the first car I'd been in that had a rear anti-sway bar; it had the horizontally mounted shock absorber on the front suspension.
"The car handled like a dream, but of course, it had no power, being in the smog era. Still, I really, really liked that car."
Personal Luxury In a Variety of Packages
It's not at all fair to criticize any specific car of that difficult period for its lack of performance, given that emissions regulations were becoming increasingly stringent and fuel economy was suddenly gaining importance. The two considerations didn't exactly seem compatible and automakers struggled for a time as they learned how to address both, but they did occasionally manage to produce some cars with appeal.
The Monte Carlo was one of them, having arrived in 1970 as the personal luxury car mentioned by Lubas. Attempting to identify the first personal luxury car lies somewhere between challenging and futile—there's no universally accepted formal definition of the term—but most would agree that the requirements include some mixture of an upscale luxury quality, less-than-full-size dimensions or at least a less-than-full-size feeling, either standard or available performance packages and solely two-door bodies.
In the postwar years alone, that could cover not only the Monte Carlo, but production models from a 1963 Studebaker Grand Turismo Hawk to a 1971 Continental Mark III to a 1977 AMC Matador coupe to a 1982 Chrysler Cordoba.
General Motors already had tried its hand at personal luxury in the 1950s with Buick's Skylark and Cadillac's Eldorado, but each was a limited-production model and expensive.
The inaugural Skylark convertible cost $5000 in 1953 when the most high-priced Roadmaster was a sedan ticketed $1000 lower. The price difference between that year's new Eldorado and lesser Cadillacs was even more dramatic; the Eldorado's $7750 list was almost $2000 more than that of the next most expensive Cadillac, a Fleetwood Imperial sedan.
Neither the Skylark nor the Eldorado was aimed at the average driver who had some extra cash and was just seeking to move up a bit, but by the early 1960s, GM had carefully rethought its earlier formula and moved to create a car for that very customer.
The1963BuickRivierawas aninstant hit thanks to its successful blend of fresh styling that bordered on the exotic, an optional 340-horsepower 425 and a $4300 price that placed it in Electra 225 territory. Anyone who could afford Buick's flagship sedan could afford its personal luxury car and with 40,000 first year sales, GM knew that its approach had been the right one. Three years later, it followed up by adding the Toronado to the Oldsmobile catalog.
Like the Riviera, the new Olds looked far different from the rest of Detroit's offerings, but this time, there was more than mere appearance in the package. Where its Buick relative was based on a conventional front-engine, rear-drive layout, the Toronado turned that around to become the first production front-wheel drive full-size American car since the last Cord rolled off the assembly line in 1938. Like that Cord, it used a V-8, wore hidden headlights and was unlikely to be mistaken for any other car on the road. Even the prices were somewhat comparable in that the entry-level Cord cost $2445 in 1937 or $5520 in 1966 dollars, when the least expensive Toronado was priced at $4585. That was just above the high-end Olds 98 of the day, which listed at $4413.
Oldsmobile sold 41, 000 Toronado In 1966 and as with the Riviera, that meant instant success.
Cadillac was next with its own interpretation, the 1967 Fleetwood Eldorado. Another V-8-powered front-wheel-drive coupe, it bore a Cadillac family resemblance while being unique in the line. That made it similar to the Toronado in both mechanicals and philosophy, but there was a big difference when it came to the car's pricing point; the Eldorado cost $6277 and that was less than some other Cadillacs. The new model was a good seller with 18,000 units delivered in its first year, and General Motors was by no means finished.
It was now Pontiac's turn and 1969 brought an all-new Grand Prix that for the first time was something more than a conventional full-size Pontiac with some sheet metal and trim differences. While the earlier models had been modified as a means to set them apart from the rest of the line and their heritage had remained obvious, very little about the 1969 Grand Prix's appearance could be connected to other Pontiacs. The new coupe was clean and crisp with an unusually long hood and a fresh interpretation of Pontiac's split grille. Like the Eldorado, it wasn't the highest-priced car in its line, but at 112,000 sales, it was Pontiac's best seller; the Catalina four door sedan that year was a fairly distant second with 85,000 sales.
Introducing…A Really Long Hood
Finally, it was Chevrolet's turn and 1970 brought the Monte Carlo. A close relative of the Grand Prix, it used the long-hood-and-short-deck proportions— "the longest Chevrolet hood ever," according to advertising—of the other GM personal luxury cars, but Chevy gave the Monte Carlo its own personality. Slightly bulging sides, a smoothly understated grille and simple vertical taillights added up to a low-key elegance, but it was a car capable of surprises. For $3123, the buyer of a base Monte Carlo got a 250-horsepower 350 with a three-speed and while that was surely adequate, a buyer could have gone for a Monte Carlo SS with a 360-horsepower 454.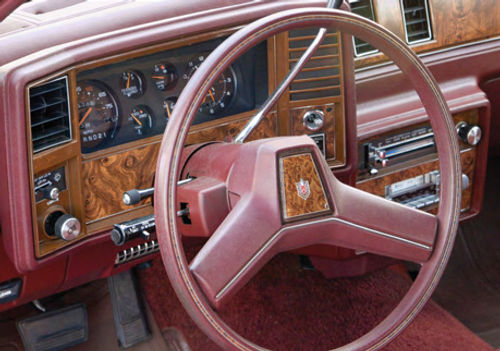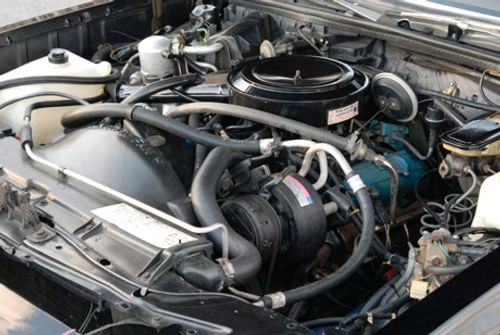 That the SS 454 option was available on "a car without pretense" is a good illustration of Chevrolet's thinking; "gracefully planed and sculpted sheet metal that bends light in subtle ways you'll never tire of" could be combined with "a rather assertive" engine.
The Monte Carlo might have been a personal luxury car, but in Chevy tradition, it offered something for everyone and with 146,000 first-year sales, the plan worked. Annual changes, therefore, were minor through the first generation and even when 1973 brought a curvier and less restrained look with a more angular greenhouse, the division wisely continued to focus on the Monte Carlo as a luxurious road car. Its challenge to engineers, brochure copy on the base S model explained, was to "build a car equal or superior, in handling and comfort, to the best European luxury cars." Those engineers focused on "radically modifying suspension geometry,redesigning suspension components, tuning and refining their new creation… The result is a car like its European counterparts, which carries its passengers in elegance and silence, while at the same time allowing the driver to relax in the confidence that he is driving one of the best handling luxury cars in the world." The new Landau model "adds its own distinctive styling,"with its most obvious feature being the half-vinyl top.
1981 Chevy Monte Carlo
GENERAL
Front-engine, rear-drive, coupe
ENGINE
Type Overhead-Valve V-8
Displacement 267cu.in.
Bore Stroke 3.50in.x3.48in.
Compression ratio (:1) 8.3
Carburetor Two-barrel
Power 115hp@4000rpm
Torque 200 lb.-ft.@2400rpm
DRIVETRAIN
Transmission Three-speed automatic
SUSPENSION & BRAKES
Front Independent, coil springs, stabilizer
Rear Solid axle, coil springs, stabilizer
Brakes(f/r) Drum/drum, power-assisted
STEERING
Recirculating ball, power-assisted
MEASUREMENTS
Wheelbase 108.1 in.
Length 200.4 in.
Width 71.8 in.
Height 53.9 in.
Track(f/r) 58.5/57.8 in.
Weight 3200 lb.
Tire Size P205R70 x 14in.
At almost 234,000 sales that year, it was difficult to dispute that Chevy was doing something right. And looking back, it's easy to understand why the second-generation Monte Carlo continued through 1977 and why its successor—although heavily downsized—relied on an interpretation of similar sculpting and body lines.
Chevy was confident that it had another winner and a brochure listed "reasons to buy a Monte Carlo" beginning with"traditional Monte Carlo styling with elegant grille, sculptured sides and formal roof." It cited "personal luxury at an affordable price" as well as a "road tuned suspension with standard front and rear stabilizer bars and standard steel-belted radial tires." But given the changing times, it also pointed to the "thrifty V6 engine,standard"and the fact that it was "easier to park and more maneuverable in city traffic" than the 977 model. It attributed the latter two improvements to a "reduced turning circle" but made no mention of the size differences that led to that reduced circle. A 1977 Monte Carlo was 212. 7 inches long and rode a 116-inch wheelbase while a downsized 1978 model was 200.4 inches long on a 108.1-inch wheelbase.
Sales for 1978 fell by more than 50,000 cars, but shrinking the Monte Carlo and shaving some 700 pounds had been the right moves in light of the growing focus on economy. Chevy remained faithful to its decision by keeping the basic 1978 model in production for a decade with annual changes ranging from mild to moderate.
BythetimeLubas'carwasbuilt,1978's single headlights and finely meshed grille had given way to duals bracketing a coarser opening, all part of a barely noticeable reshaping of the entire front clip. At the rear, taillights had switched from horizontals to verticals and just as with the front, sheet metal was slightly redesigned, too. It was still the overall 1978 look and Lubas didn't mind that part at all when he realized that he needed to replace his everyday car in 1981.
A Truly Pampered Chevy
"I was out of college then and beginning work," he recalled, "and at that time I was driving a '70 Impala Custom and the car literally rusted out from under me. I was coming around a curve one time and I actually felt the car flex. The frame was split lengthwise on one rail. I parked it that day because it was completely unsafe.
"Remembering my friend's '75 Monte Carlo, I thought that was what I wanted to buy, so I went shopping around and by that time, of course, they were just ordinary cars. So basically, I built a car like the one he had had back then and my '81 is the result."
His build was on paper, naturally, and that meant the next step was ordering or finding the car that he'd built. To his great fortune, the owner of a Chevy dealership an hour or so from his Jessup, Pennsylvania, home apparently had the same taste.
"This (featured Monte Carlo) was his car, the one that he personally drove," Lubassaid. "I didn't have to orderit, this was his demo. They kept bringing cars around and I kept saying 'that's not good enough' and then they hauled this one outside. 'That's the car,'Isaid. It had all the equipment and what I really liked was the F41 suspension. The handling was the nice thing about it because cars by that time had kind of marshmallowy suspensions. This thing could corner."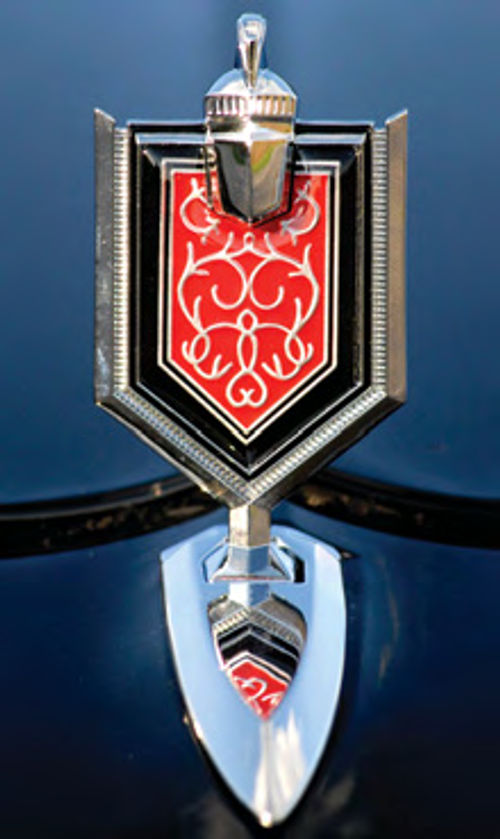 With 4400 miles, his new Monte Carlo wasn't really new, but it was close enough and on the drive home from the dealership, he realized that he'd made the right choice.
It now shows 37,000 miles and has never been an everyday car for him, has never been driven in snow and—the biggest contributor to the car's excellent original condition—has never been touched by winter road salt. During the first few years in which he owned it, Lubas said, the car was parked outside and therefore did see rain, but that changed when a garage became available. More importantly, another Monte Carlo arrived.
"In '88," he said, "I bought an '86 Monte Carlo SS. Because I enjoyed driving that one immensely, the '81 really just got mothballed at that point because (the 1986) was just so much fun to drive. I didn't intentionally put the '81 away. It was just the events."
By the mid-1990s, he said, annual mileage on the feature car had fallen from a few thousand to a few hundred, and some deterioration on the Chevy is a function more of time than of wear.
"The tires were dry-rotted," Lubas said, "although I still have the original Uniroyals in the cellar, should I ever choose to become a purist some time."
Becoming a purist wouldn't be too challenging since most of the parts replaced on the car have been maintenance items such as belts and hoses. It has nearly all of its factory-installed bulbs and even the R12 air conditioning refrigerant with which it was delivered, but the catalytic converter is the second and was installed under warranty. Lubas has replaced ignition coils and a window regulator and even before there was a plan to keep the Monte Carlo forever, he'd begun thinking in that direction.
"When I bought the car," he recalled, "I had a hunch that I was going to lose the center hubs from the aluminum wheels because a couple days after I bought the car, one came off. I stocked up on them and over the years I've consumed them. When we started going to the car shows over the past couple of years, I'd been keeping an eye out for them and lo and behold, at Hershey last year, I found them."
More recently, he's been attempting to solve a rough idle and he knows of another problem that doesn't impact on drivability, but does annoy him.
"The power antenna doesn't work," he said, "and that was embarrassing. I was on my way to a party, hundreds of people there, naturally, and I parked the car, turned it off and it just sat there and made noise."
Low mileage aside, it's still a 30-year old car and for one that age, its record isn't a bad one, but only the luckiest restorer is likely to find a twin to Lubas' car with no problems beyond a missing wheel center or a bad antenna.
"I have to think they were still very prone to rust," he said. "If it were driven daily on our roads, I would think sheet metal problems would be severe. The frames were still vulnerable to corrosion right over the (rear) axle and at the end."
Similar, Yes…Identical, No
The potential for rust brings up one caution worth pointing out for several reasons. All of the third-generation Monte Carlos seem to look alike and not surprisingly, that's something just waiting to trap an inexperienced restorer. Buying a used panel calls for some in-depth knowledge because it might appear to be the correct one and it might bolt on despite its being wrong. The second part is that a restored car under consideration requires the same kind of knowledge to verify that everything on it is what should be on it. In other words, everything on a 1981 Monte Carlo, for example, should be right for a 1981 Monte Carlo and not a piece that happens to fit and look right despite its being wrong for the year.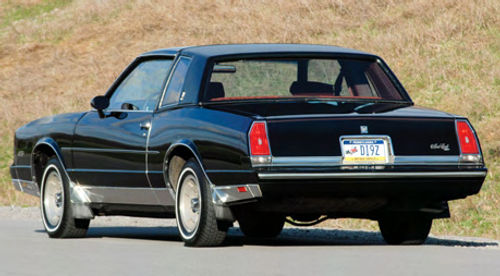 Another variation that could cause problems of its own lies in the trunk lid.
"Chevy couldn't seem to make up its mind as to whether to use torsion bars to hold the trunk lid up or pistons," Lubas explained. "This has the pistons and I'm on at least my fourth set. My '86 had the torsion bars."
He added that the pistons are readily available and like the antenna, a failed piston won't disable the car. Even if that weren't the case, it wouldn't be a tremendous problem for the feature car, since it obviously doesn't do a lot of traveling today. That's not to say that it hasn't covered some ground in its day, as Lubas Recalled 700-mile trips to Ohio and back. The last time it did that was in the late 1980s, he said. But would the car make a similar trip without incident today?
"That's hard to say," he admitted. "Because I drive it so infrequently, I'm not quite sure whether something is on the verge of getting soft.'Are all the belts up to par?'That's the kind of thing. I have no reason to be suspicious, but I guess I'd start to think about it. 'Are the brake lines getting brittle?' Again, I inspect them and they seem fine. All the rubber's supple, so I have no reason to think anything would go wrong, but I would probably hesitate to take it on a very long trip."
If he did take it on that trip, however, he already knows that it's comfortable enough that he could drive it non-stop until it ran out of gas.
"Absolutely," he said. "The fact that it has a power seat, I think, has a lot to do with that. It's fully adjustable and so you can always find a comfortable position."
And there's more.
"The other thing,"Lubas continued, "is that with my '02 (MonteCarlo), although the seats are comfortable—again, they have full adjustability plus the lumbar support and everything else—you have to be much more nimble to get in and out of it because it's lowerto the ground. So again, with the big wide door, getting in and out of (the feature car)is pretty easy."
Also in the area of creature comforts, the sunroof doesn't leak and the air conditioning works, although Lubas Said that he prefers the former.
"I'm not a big fan of air conditioning," he said. "I prefer to roll the windows down, open the roof and enjoy the fresh air and sunshine. I wait all year for it to get warm; I'm not going to put the air conditioner on."
A Monte Carlo Cult?
With the roof open or closed, the car attracts attention on the road and far more significantly from an owner's perspective, Lubas said it's still fun to drive.
"It is," he said. "Again, it goes out on the sunny days. I would definitely rather drive that on a sunny day than my '02, just because."
Chevrolet's1970brochureofferedthe prediction that "if you care for Monte Carlo the way many people care for other fine cars, and practice the normal preventive maintenance recommendations as prescribed in the owner's manual, years of ownership could run well into double figures." That was a pretty big claim and while most readers undoubtedly dismissed it as harmless advertising hype, it's since proven to have been accurate in the case of the feature car.
Lubas, of course, isn't the only owner to have become seriously hooked on a Monte Carlo; that friend who bought one in 1975 is another example.
"He still has it," Lubas said. "It's parked at his house and he's going to restore it someday."