Special Report Leave (Just) the Driving to Me
Can You Find Happiness With a Car You Didn't Restore Yourself? Let's Look In On This 1953 MG TD and Its"First-Time"Owner.
Editor's note: There's a wide range of personal involvement in the vintage vehicle hobby, from folks who perform all or most of the work themselves, to people who get great pleasure from driving an older car or truck but turn to professionals to restore the vehicle cosmetically and make it roadworthy as well.
Consider, for instance, the case of this 1953 MG that received a professional makeover much to the delight of its current owner who is now thoroughly enjoying the car from behind the wheel.
OVER THE PAST winter months, James Grinney went to Florida to escape Wisconsin's snow and cold temperatures, while his 1953 MG TD MK II went into a shop for a cosmetic restoration and a cure for a mechanical problem that had caused the little British sports car to end up by the side of the road on several occasions.
Some seven months later, the car looked like it did when it first appeared in a dealership nearly six decades ago. And the owner, a resident of Hartland, Wisconsin, at first considered having the restored car hauled the roughly 120-mile distance from the shop near Green Bay to his home near Milwaukee. But then, after going over the car with the restoration pro, he decided to get behind the MG's wheel and do the driving himself.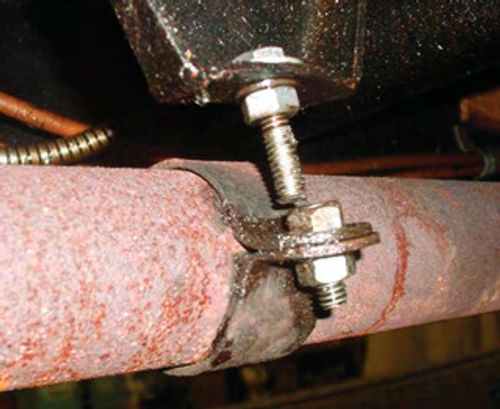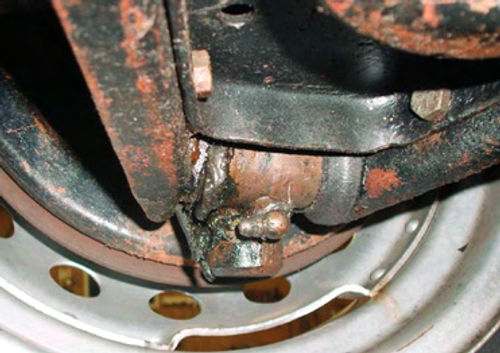 His First Time Out
TheMGisthe first vintage car Grinney has owned, and when he bought it, it was obvious that the paint had deteriorated and, as noted earlier, he experienced several breakdowns while driving the 58-year-old vehicle.
Given the car's condition, Grinney took the MG to a sports car shop but as it turned out, it specialized in Ferraris and other exotic cars. The owner of that shop advised him to look for a business that specializes in vintage British sports cars. Grinney decided to take his advice and when he became a memberof the Milwaukee and Great Lakes MG Motor Group (mg3club.org) he put a notice on the club's Web site that he was looking for a shop where he could have his MG painted.
His posting caught the eye of John Gunnell, an MG TD owner who operates "Gunner's Great Garage" in Manawa, Wisconsin. (Editor's note: Gunnell also happens to be an Auto Restorer contributor and author of "The (Ongoing) Tale of Three MG Ts" restoration series that appears quarterly in this publication.)
A Deal is Struck & Work Begins
Gunner's Great Garage is a sort of automotive mall offering appraisal services, automotive books and automotive gifts. It also is the home of Shane's Classic Sports Cars restoration shop.
Gunnell told Grinney that the shop would be able to facilitate the painting of the car, as well as some trim work (a new top and side curtains were desired) and some relatively minor mechanical repairs. Grinney, who winters in Florida, never met face-to-face with Gunnell or Shane Hanke of Shane's Classic Sports Cars during the planning or project stages.But after several emails, Grinney agreed to have Hanke do the car over the winter months. He wanted it to be completed by late spring for summer use.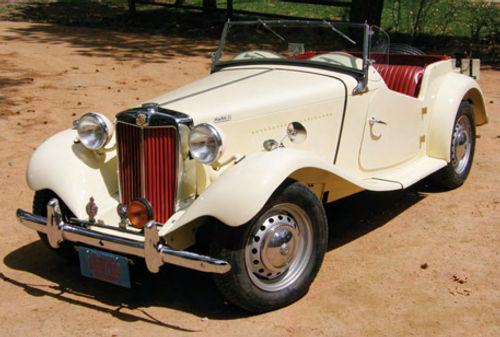 Once he had the go-ahead, Hanke pulled the vehicle from the Milwaukee area to Manawa on his trailer and then set about the task of being a restorer and general contractor on the project.
Hanke removed the car's hood, windshield, front fenders, running boards, dashboard, rear fenders, gas tank and spare tire. Soft interior trim was removed.
Evidence of An Earlier Restoration
When Hanke took the car apart, he found markings that indicated it had last been restored in 1983. Whoever restored the car had turned it into a very nice MG, but over several decades, the Old English Ivory finish applied during the restoration began to craze and crack. In some spots, the paint had lifted entirely, revealing the gray primer under it.
He then took the rolling body tub to Lowell Johnson in Waupaca, Wisconsin, to have the body media blasted. This removed the old, damaged paint and left the metal suitable for an application of new paint.
With a short deadline of just over six months looming, Hanke next trailered the body to Beckman's Collision Center in Waupaca, where veteran body man Ralph Beckman prepped the sheet metal for new paint and refinished the car in its original color.
While Beckman worked on the body, Hanke found the cause of Grinney's breakdowns—a bad rotor in the distributor. It actually looked new, but had been poorly made and didn't function properly. Hanke also tuned the carburetors, traced down a few fluid leaks and sent the MG's lever-action shock absorbers to Worldwide Auto Parts to get them rebuilt.
During April and May, the final phases of the MG restoration project came together. Hanke took the convertible top frame assembly apart and repainted it. Then his son-in-law, Gary Smith, of Pro-Formance Upholstery, installed with Hanke's help a new tan convertible top and new side curtain windows.
Grinney returned to Wisconsin from Florida in mid-May and the following week he picked up the car and met Hanke and Gunnell for the first time. Originally, there had been some discussion of towing the car home for him on a trailer. However, when he saw it, Grinney was determined to drive it home. This time the trip went smoothly. No flat bed tow truck was required. The MG ran as good as it looked and was on its way to its first all-British car show.
Resource
Gunner's Great Garage
Wisconsin 22 & Fuhs Road
Manawa, WI 54949