My 1962 Nova 400 Station Wagon
He Wanted It the First Time He Saw It and Has Kept It Running. His Only Regret Is About That Original Engine.
IT STARTED BACK in the early- to mid-'90s when I was outside working on the second car I ever owned, a 1972 Nova. My first car was a 1974 Nova, but anyway I was outside when a friend of mine came cruising up beside me driving a rusted-out aqua/rust-colored '62 Nova station wagon. I immediately said "this is awesome!"
Before Long, It was Mine
He had found it behind someone's house rotting away in the weeds so he bought it. But the original 194 cid 6-cylinder motor was seized so he put in a 194 from a '63 Nova and got it on the road.
I told him "when you're ready to sell it, let me know." A few years went by and he found a white '62 Nova wagon in better condition so I bought the aqua/rust one.
Springs were popping out of the seats on my newly acquired Nova and if you moved a piece of sheet metal you could see the road going by under your feet. Since I was working on a tight budget I took out the bad bench seat and found a rear bench seat from a van for free and rigged up the original seat tracks to the gray van seat. It didn't look the best but it was comfortable. I also pop riveted the sheet metal floor piece in place so my feet would not hit the ground while I was driving.
The tailgate was dented and badly rusted, but luckily Nostalgic Nova/ Chevy 2 Only had a nice one (chevynova. com).
A Gasket Dispute
The windshield was pitted from years of driving and the rubber gasket was so hard it leaked a lot of water inside. So I saved up some money and decided to have a new windshield installed. When the time came for the installation, I spent the day at work worried that they would harm the car and anxious to see the new glass in place. When I got home I saw they had installed the new glass but they also had put the old gasket back in. How they managed to get that old hard rubber back in beat me but I immediately called them and they said they never told me it came with a gasket. But they had in fact said it did so I argued and they came out and installed a new gasket.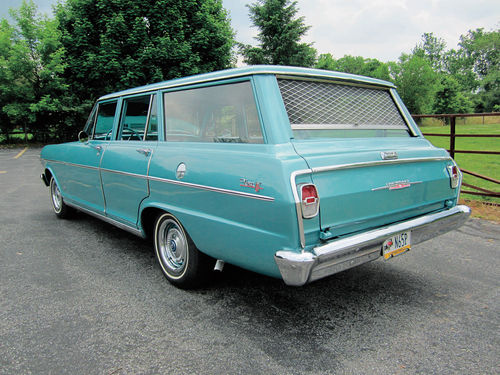 A Regrettable Decision
I drove the car anywhere and everywhere for a couple of years and the good old wagon never let me down. But the years were taking a toll on the original front suspension bushings, etc. that were badly worn so I decided to park it and start working on it. Well, a year or two went past with other projects to do and my friend—the previous owner—asked if I wanted the original '62 194 cid engine. He forgot he had it and was now losing his storage place and the engine was going to be scrapped.
At the time I was not working on the wagon and was kicking around the idea of putting in a 350 engine so I said "no, I don't want it." To this day I really regret that, although the car's 2-speed Powerglide is original.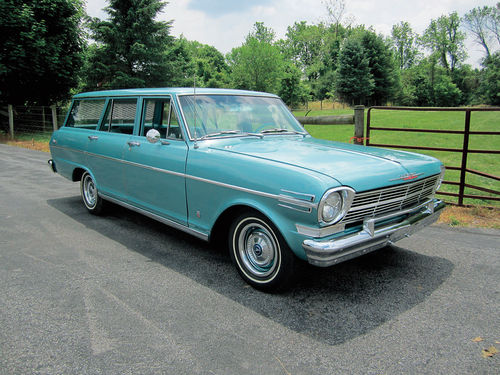 Doing Some Salvage Yard and Thrift Store Shopping
Finally I saved up some money and had the quarters replaced and new floors installed and had the wagon painted by a local body shop. About a week after that they closed the shop for whatever reason so I drove it back home without the grille and headlights but I did have the turn signals and brake lights working for safety and I parked it again for a couple of years due to other things happening in my life.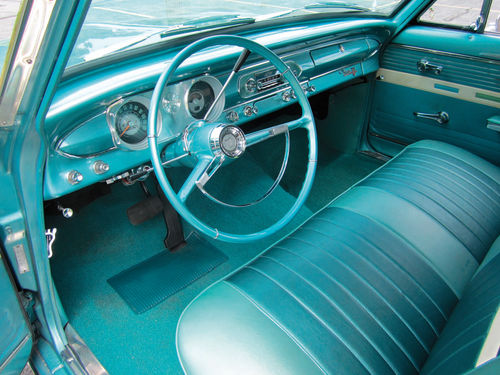 Then for some reason out of the blue I bought a front suspension kit and replaced the bushings and coil springs. I found some shocks at a secondhand thrift store of all places—they were brand-new for only $5—so things started to fall into place and I worked on it in a rented barn. Some days were freezing cold but I had motivation to see this oddball run down the road again so I stuck to the restoration and found a '62 Nova wagon parts car near Maple Grove Raceway that's located by Mohnton, Pennsylvania. A fellow there had his own little so-called junkyard with a few good parts left. I think I gave him $50 for the car and stripped it down right there. Then I hunted down some old-time junkyards and found parts which helped me convert it to power steering and brakes plus a rear power window and 4-way flashers which are factory correct parts. The grille and guard, bumpers, emblems and side moldings are factory original parts. Sadly a couple of those old junkyards have closed due to money problems and/or the age of the owners and now at least one of them is a housing development.
Keeping It Stock
In the back of my mind with passing time I came to where I really regretted not getting the original motor but then thought well, I want a V-8 in it. But then again I thought "this motor runs fine so why not use it and it seems that everyone is customizing these Novas so why not just keep this one a stock example."
So I took the engine and transmission out myself using a come-along and the rafters of this old barn. I figured that since this was not a big block the rafters should hold up. Well, the rafters were sagging some and I was worried when the motor and trans were dangling over the car so I pushed the car back and lowered the motor to the ground and started the process of removing all the grease and grime off the engine, trans and the engine bay which took some time using a wire wheel and then I degreased everything. I actually used spray paint cans from Wal-Mart for the engine bay as once again I was on a tight budget. I purchased new brake lines front to back and bent-formed them in place and dropped the motor back in with new motor mounts and got the motor running again. I removed the rear axle and used a wire wheel on that and again used some WalMart spray paint. The coil-over shocks the previous owner had installed were good so I put them back on.
Going Inside
The interior still has the original steering wheel, radio, door panels and rear seat plus I kept the original front seat from the '62 Nova wagon parts car I had. There was a need for some re-upholstery so both the front and rear seats were covered by a local man who was ready to retire. He said he would take on this last project and after that he closed his shop. At that point I couldn't help but think what's with these places closing after I do business with them (ha-ha).
I then painted the interior metal parts and this was my first time actually using quality automotive paint with a spray gun and air compressor. It did not turn out perfect but it looks good enough to me.
My Rear Window Screen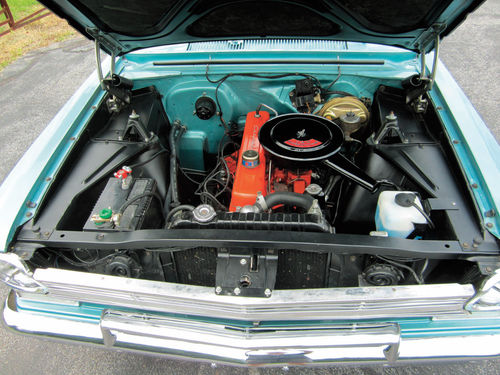 I stumbled across an NOS chrome gauge bezel on eBay for a buy-it-now price of $50 which I thought was a good deal. The seller must have just posted it minutes before I looked at it. Later on I found a rear window screen on eBay. The seller said it was for a Corvair but I had all the weather stripping out of the car and his measurements were close to what I needed. So I bought it anyway for $30 hoping it would work and luckily when I put the weather strip in the wagon the screen slid right in place and it keeps dirt and leaves from flying in the back plus I think it looks good.
On the other hand, some people just look at it wondering if it's from a screen door or something.
They Sent Me the Wrong Bolts
After working more on the wagon I purchased a front sheet metal bolt set that had all the bolts separated into labeled bags for easy assembly. I was putting the hood back on the wagon and since I was by myself it took some careful maneuvering to get this hood in place.
I was using the labeled "hood bolts" bag from the kit and was holding the hood with one hand and tightening the bolts with the other and had my head under the hood.
Then when I was done with the bolts I closed the hood and the tips of the bolts pierced their way through the hood. I was so upset I just went home and did not work on it for a couple of weeks. I contacted the business where I had purchased the bolt kit and stated that they had put the wrong bolts in the bag. They never sent me a reply so I didn't know what to do. If it were going to be a custom car I would have just put chrome acorn nuts on the bolts that were popping through the hood. But I wanted it stock so I tried to patch and blend the paint but being it had been painted several years ago it just did not look right. So for now I put some decals over it until I redo the whole hood.
Paint Was the Culprit
I finally got the wagon back together enough to take photos and then I applied for antique tags for it. After I got the plates it hit me, "wow I can drive this car down the road again."
So I fine-tuned everything and had the front end aligned at a local garage that has this older gentleman who has been working there for many years. When I drove the wagon into the small garage bay with a pit just for doing front end alignments it was like I had driven back in time. All the tools and machinery were vintage. The wagon probably felt at home and the tech did a great job with that good old equipment.
After that she drove straight down the road but the motor kept leaking oil at the harmonic balancer which drove me nuts so I replaced the timing cover seal and it still leaked so I put another timing cover on and another harmonic balancer and it still leaked so I drove it anyway.
After a few months the front passenger-side wheel just collapsed and bowed out. Luckily it happened just as I was ready to drive it out of the barn.
After being very disgusted I looked under it and found that the section where the lower control arm mounts was rusted out and it had just given way.
I remembered that I had kept one of the inner fenders from a parts car and luckily it was the side I needed but I did not want to risk damaging the paint, etc. Plus I just wanted to drive it.
I removed the rust from the inner fender that I was going to install and painted it and took my time and it all went back together rather smoothly so she was back on the road again.
But it still had the oil leak. Then I was talking to a friend who has a garage down the road. He asked me how it was running and I told him fine but it had this oil leak and he immediately asked if I had scraped the paint off where the harmonic balancer meets the seal and I said I don't think so. I removed the balancer and scraped the paint off and it has not leaked a drop since. It's amazing what a little bit of paint can do.
Glad to Be Behind the Wheel
I took it to a local car show and had plenty of compliments and even had someone want to trade his custom '65 Nova for it. The possibility did cross my mind for a mere second but I passed the offer.
When it came down to the end of the show they were awarding trophies and there were only five cars left in my class but I did not even get third place.
I was a little upset at first that I could not even get third place but then I thought well, this is why I liked this car so much because it's different from the typical cars and it's even a 4-door with a 6-cylinder. I was never into that competition stuff anyway.
So despite all the problems I had along the way in getting the wagon back on the road, it was all worthwhile and I learned a lot from the experience plus Auto Restorer has helped too.
Now I enjoy driving it and I even had someone say thanks for saving it from the crusher.