Cheeseburgers and Classic Cars – Can You Think of a Better Combination?
On a recent trip to Southern California, I spotted two of my favorite things together in one place: a Willys Jeep parked right outside of an In-N-Out. In-N-Out is, along with seemingly everyone else in the Golden State, one of my favorite places to go for a treat. What I didn't expect was to be treated with something else – a fully restored Willys Jeep parked in the front row (which is an impressive feat as the parking lots at In-N-Out are always overflowing).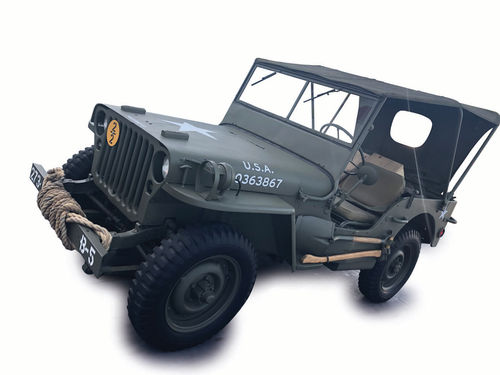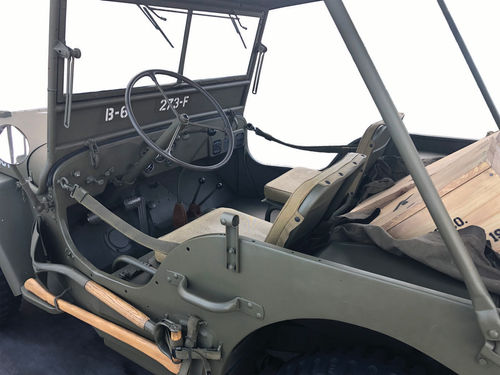 I was able to actually speak to the owner for a brief five minutes since he was walking in as I was walking out. I didn't want to keep him long, because I knew he wanted to get in line for his burger (In-N-Out frequenters know that that line can quickly flow out of the door and wrap around the block in a matter of minutes.)
However, I did find out that he bought the Jeep, restored it, and coincidentally has other classic cars that he's bought, restored, and then sold over the years. He told me that he didn't think he would sell his Willys – it's just too unique and he enjoys driving it. I mean, who wouldn't enjoy cruising around in a classic, especially one like this Willys, and stopping for a burger in the California sunshine?`
Since there were no doors on this Jeep, I was able to get a good look at the interior, which was pristine and fully restored. I especially enjoyed the shovel attached to the driver's side, the ropes on the front for towing and the wooden boxes in the back seat. All the accessories on this Willys really made it look authentic and like it had just driven out of a history book.
For those unfamiliar with the Willys Jeep, the Willys MB, like the one pictured here, was made between 1941 and 1945. It started a revolution in the U.S. Army for the use of small-sized military vehicles. It was incredibly versatile and could go anywhere, quickly becoming the new best friend of the GI. The first Willys was the Willys Quad (made by Willys-Overland) which was followed by the Willys MA and then the Willys MB. Eventually, the Jeep brand was born with the production of the CJ (Civilian Jeep) and the rest is history!
Keep your eyes peeled for vintage vehicles outside of your favorite local fast food joint because classic car enthusiasts also enjoy a good burger every now and then!
If you also have a Willys or any kind of classic Jeep, we'd love to see your photos!
Reference:
Jeep's company history web page:
https://www.jeep.com/history/1940s.html#mb