1979 SILVER ANNIVERSARY Jeep CJ-5
Sure, It Resembles the Multitude of Jeeps That Have Been Working & Playing Hard for Decades. But a Trip to a Dealership Proved That This One Truly Is Uncommon.
Editor's note:This being the 25th Anniversary year for Auto Restorer, we've featured a number of silver or anniversary-themed cars and trucks. So it's only fitting that we would take a close look at this silver-colored Silver Anniversary Jeep CJ-5.
STEPHANIE WASMANSKI REMEMBERS in detail the day in 2007 when she got her Jeep CJ-5. But that's not surprising when you consider that the truck was a gift at her bridal shower.
"We had it detailed," said her father, Tom Martin, "and the day of her shower, it rained, so instead of the picture (of the Jeep) with the bow on it, we had two boxes. The first box was all the parts, the distributor cap, the wires; I don't know what was in that box. It was a boxful of junk."
"Some wiper blades, fog lights," Wasmanski said. "A box of junk."
Junk, yes, but carefully wrapped junk and she said that as she was opening it, she wasn't making the connection to the Jeep. Then there was the second box, the one with the picture of the CJ-5, the title to it and the set of keys for it.
"And a photo of him handing over the keys," Wasmanski continued. "He was in a suit. They were already dressed up when they went down to the garage to put the bow on it. Mom took a picture of him with the keys held out as if he were handing them over."
"Then she really started crying," Martin said. "We all started crying at that point."
All that over a Jeep? Really?
A Wartime Product That Found Peacetime Fame As Well
It's a long story, one that goes back to 1979 and Martin's visit to a local Jeep dealer, Luchetti Sales & Service in Exeter, Pennsylvania. He was 19 with a good job and was curious about the Wagoneer Limited, he said, but its $13,000 price took him aback.
"The Wagoneer sat on the right," he recalled, "and on the left was the Silver Anniversary CJ-5."
Outside of the Jeep community's most knowledgeable members, it's likely that few realized in 1979 just how long the CJ-5 had been in production. It represented a significant step forward when introduced for 1954, but to the casual eye it looked about the same as the earlier models because it held to the original Jeep concept developed by American Bantam before World War II. A builder of tiny cars and trucks, Bantam was the reorganized 1936 outgrowth of American Austin, which had produced England's Austin Seven under license from 1929. Although Bantam had found that small vehicles were still mostly unwanted, providing several cars to the Pennsylvania National Guard in 1939 gave it confidence to respond to the Army's 1940 request for bids on a small, four wheel-drive scout car. The downside — or catch — was that a prototype had to be delivered 49 days afterward.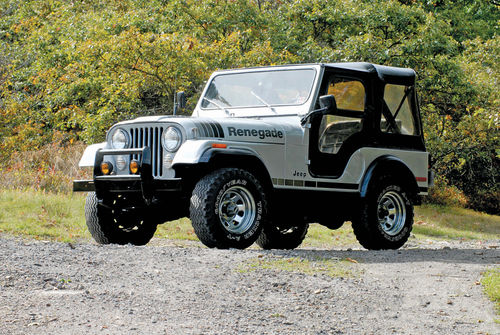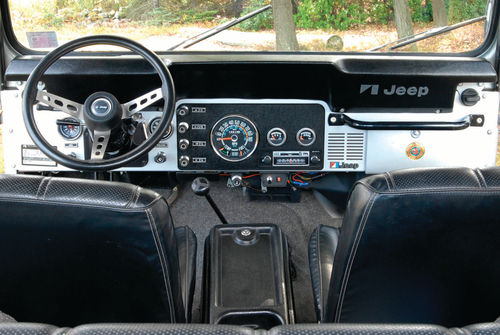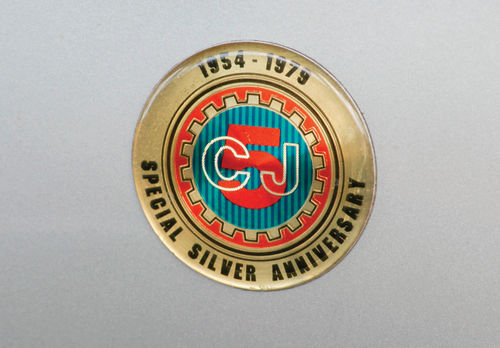 Bantam delivered its Reconnaissance Car on the 49th day, September 21, 1940. But two larger companies—Willys and Ford — had become involved with entries of their own and little Bantam was destined to be pushed aside. The three prototypes, naturally, were similar. Each used a four-cylinder flathead and three speed manual transmission, but significant differences included their weights, the outputs of their engines and the shapes of their hoods.
The Army was satisfied in a general way and ordered 1500 of each. The Fordstyle hood was to be used on all of them since it added utility, problems were to be addressed and specifications were effectively tightened. The Willys prototype had been the heaviest and was given a chance to slim down. Once delivered at an acceptable weight, its 60-horsepower engine — the largest of the three — gave the best performance and with other design features helped tilt the balance.
Finally, it was time to decide. The winning design would be standardized for parts-interchangeability among manufacturers and the nod went to the Willys MA, but with improvements. It would become the Willys MB and Ford, after winding up its run of what it called GPs, would build the Willys as its almost-identical GPW, contributing the stamped grille still seen today. Bantam completed production of its BRC-40 at the end of 1941 and was then excluded as the company's small size raised concerns regarding its ability to deliver vehicles in the necessary volume. Willys and Ford, meanwhile, went on to build hundreds of thousands of what would become an icon of the war effort. And with the end of the war, Willys started to build them for the civilian market and changed their wartime nickname into a trademark, Jeep.
Willys quickly revised the MB into the CJ-2A at the end of World War II. The name, obviously, stood for Civilian Jeep and Willys cleverly promoted its use in agriculture, business and industry with the addition of accessories.
Evolution continued for both civilian and military Jeeps, leading to the military's M38A1 in 1952. The new vehicle used an F-head engine and looked modern thanks to fenders with small skirts at their sides, a reshaped hood with slight downward rounding at the nose and smoother integration of the cowl and the fenders.
With those improvements and more, the M38A1 could easily become an appealing civilian vehicle and in late 1954 it was released as the CJ-5. Promotion continued the focus on utility with one ad calling it "the modern farm work horse" and stating that "it assures year-around transportation. All-new and more rugged than ever, the 4-wheel drive Universal Jeep takes you anywhere on your farm or ranch…on the road or off the road…in any weather."
There's More to Life Than Just Work…Work…Work
By the early 1960s, though, the possibility of using a CJ-5 for something other than work seemed to open a small niche and Jeep tested the market with the Tuxedo Park package. It was just some extra chrome and a slightly upgraded interior, but it was successful enough that 1964 brought the Tuxedo Park Mark IV, "a new sports model with 4-wheel-drive" that included better suspension and brakes, whitewalls and the dress-up items carried over from the original.
Although the Tuxedo Park lasted only into 1967, it played an important role in shifting the CJ-5 away from being purely a "work horse." A 1966 ad touched on the dual roles in what it called "solid funpower! New V-6 in 4-wheel-drive Jeep Universal. Head for the beach, the woods — go camping, fishing, skiing — there's hardly anyplace you can't go! And when the fun's over, it works as hard as it plays. There's almost no end to its usefulness."
Jeep further intensified its efforts in the fun segment when in 1970 American Motors purchased Kaiser-Jeep and the Renegade soon appeared. (Kaiser had bought Willys-Overland in 1953 and became Kaiser-Jeep in 1963.)
The Renegade had "the spirit of adventure written all over it," according to AMC. "And it's packed with rugged Jeep guts. The Renegade is one of the most exciting 4-wheel drive vehicles you'll ever drive." Available in three "wild colors" (Renegade Yellow, Renegade Orange and Renegade Plum), the package was about more than looks and included cast aluminum wheels, roll bar, limited-slip differential, heavy duty cooling, skid plates and a V-8.
By the mid-1970s the Renegade package leaned more toward trim and appearance than performance, but it made an attractive basis for the Silver Anniversary CJ-5 Limited Edition of 1979. Jeep advertised that "we wrote the book on 4-wheel-drive over 40 years ago. 25 years ago, we added a new chapter, the CJ-5. And to celebrate, we've created a limited edition that'll knock you out! Just listen to these one-of-a-kind features: slick Quick Sliver Metallic finish; racy silver-toned Renegade accent striping; black soft top, black buckets and bold silver accents. And if that isn't enough, a dashboard plaque commemorating the occasion."
He Who Hesitates…Starts a Search
None of the CJ-5's history or capabilities — whether utilitarian or recreational — had held much appeal to Tom Martin, but that was before he saw the Silver Anniversary Jeep in that showroom.
"I never really thought I'd be a CJ-5 person," he said, "but the looks of this thing just caught me. I talked to the dealer and I said 'I'm going to come back tomorrow and buy that.' It was beautiful. I understood that it was special because it said 'Silver Anniversary,' but there was not even a thought of how rare it might be at that point. Saturday morning, we took a ride to the dealership and we sat on the steps waiting for the dealer to arrive and when he did, he said 'I hope you're not here to buy that new Jeep.' I said 'yeah, I am' and he said 'I sold it last night.'" The sale had been made in the half hour between his seeing the Jeep and the dealership's closing for the night, Martin explained, and that was when he learned several lessons. One, he said, was that a $20 deposit could hold a car and the other was that maybe Silver Anniversary CJ-5s really were rare. He asked the dealer to find another and was steered toward a nicely equipped CJ-7. When he refused to budge, the salesman agreed to try to hunt down a Silver Anniversary even as he cautioned that "they're hard to find" because they were distributed one-per-dealer.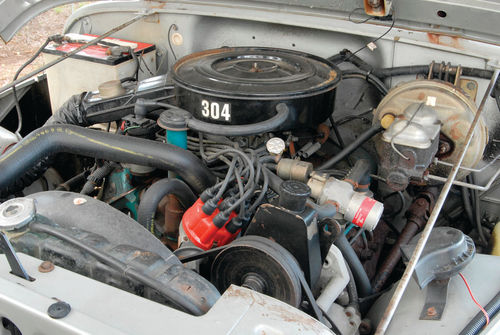 A day or two later, the salesman told him that he'd located one, but Martin declined because it was a six and he wanted a V-8 four-speed like the example he'd first seen. After several more days, a V-8 became available, but it was a three speed and Martin again declined, so the salesman suggested that he buy the Jeep and if he found that he couldn't live with the three-speed, the dealership would swap it out for a four-speed at cost.
"I told him 'go ahead, order it,'" Martin continued, "and he said 'no, I need cash.' For some reason, I think it was $1700, so we went to the bank; I took it out of savings, wrapped it up in a rubber band and put it on his desk. He didn't even count it or take it out of the rubber band. He picked up the phone and said 'Ship that Jeep.' He said 'it'll be here tomorrow' and on August 9, 1979, I took delivery of it with 8.9 miles on it."
Parking Arrangements Helped to Preserve It
There was no careful plan to preserve the Jeep and keep it forever, he said, so its role as an everyday-transportation vehicle covered about 7000 miles in its first year. He added, though, that he drove an older Willys Pickup in bad weather and the CJ-5 stayed home, but that was primarily for convenience as it was kept in his father's garage. Since it was two-cars deep with a single door, only one vehicle had easy access.
"I had the Willys truck," Martin said, "and it just wasn't worth bugging my father to take his Jeep out — he had another Jeep behind mine — so I always took the Willys truck and then it just sat there after the first year."
Before "it just sat there," he recalled, he grew to like the CJ even more, but others who saw it on the road paid no attention, as it was simply a new Jeep. It was rained on twice, its convertible top was off once and as his first new vehicle, he tried to keep it as close as possible to perfect. Since he had no fears about parking the Willys truck at a shopping center or driving it on a mountain trail, the CJ-5 stayed in the garage more often, but after about a year, that produced an unusual problem.
Martin explained that two of the tires faced the garage windows and were therefore in direct sunlight for much of the day. He doesn't know whether that caused it, but both began to check and flake. While Goodyear didn't question it as a warranty claim, he said, it was unable to find exact replacements for the Canadian-made originals.
"They were no longer produced in Canada," he said. "Now, what's my choice? I can keep the old ones or I can get new ones that were made in the U.S. At that point, I took the ones that were made in the U.S., so the two on the right are U.S.-made and the two on the left are still the Canadians."
By then, the Jeep was a Sunday vehicle and his daughter's arrival made it less than practical as a family car, but there was also his growing realization that he hadn't seen another like it. A mid-1960s Ford Galaxie was pressed into service and by 1991, the Silver Anniversary CJ-5 was tucked away.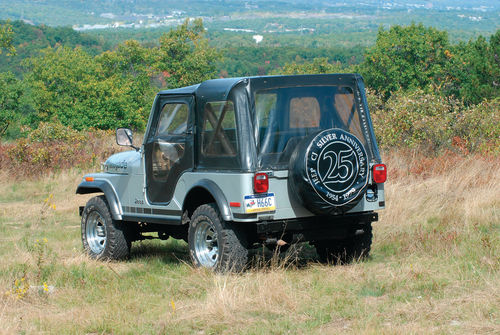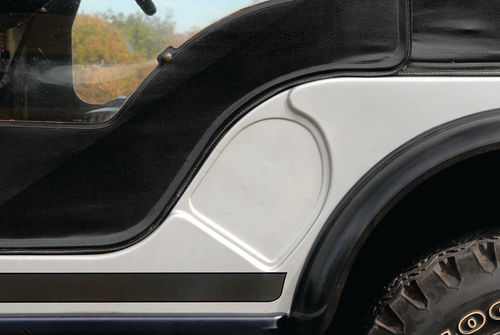 Y'know, I Really Don't See Many of These Around
"Somewhere in the '90s," Martin said, "I saw another one in a junkyard down in New Jersey and at that point, it hit me. 'This was only the second one I'd ever seen and it was in a junkyard. Where did the rest of them go?' If there was one per dealership, I don't know how many dealerships AMC had at that point, but if it was one per dealership, where did they go? I'd never seen any, not at a show, not in a magazine, not anywhere and that's when it kind of hit me that I had something a little bit special, by accident."
He's not the only one who felt that way.
"When I was about six," Wasmanski recalled, "he pulled it out to take it to a show and I said 'oh, Dad, when did you get that Jeep?' Since that day, I was enamored with it. I just thought it was the neatest little Jeep. It was so compact. It was my size. At six, it wasn't like the big Cherokee, it wasn't like the Willys. I just took a real liking to it and I'm sure — it might not be verbatim—but in some form, he said 'one day, it'll be yours.' He could've handed me the keys then because as far as I was concerned, that was my little Jeep. I loved that little Jeep. I just absolutely loved it and when I turned 16, I think I asked him about it."
Her attempt to collect on the promise didn't succeed ("absolutely not"), but she did get to drive it once around 2002 before it returned to the garage for several more years. When she finally did collect, her father gave her the option to choose a 1966 Galaxie 7-Litre convertible instead of the Jeep because he knew she liked that one, too.
She took the Jeep, which then showed 11,000 miles, and it transported the flower girl and ring bearer to her wedding. Since then, she's gotten comfortable with the manual transmission — that first drive in 2002 had also been her first with a three-speed — and despite her father's suggestion that she use one of his cars with an automatic, she drove it in a parade not long after her wedding.
"Oh, yeah," she said, "and I was exhausted."
"It's 12,500 miles now," Martin laughed. "She's running the wheels off of it."
Don't Expect Everyone to Notice It
The chance of happening on a similarly low-mileage Silver Anniversary CJ-5 in the feature Jeep's condition is slim, to put it gently, and one that does become available is likely to need help. Martin said that since the Internet's arrival, he's found perhaps a dozen around the United States.
"The hoods are rusty, some of them have no floors and yeah, they can be saved," he said, "but they need a lot of work."
"Just to look at them," Wasmanski said, "kind of breaks my heart when I think about how much I really love this little thing and none of them really were saved. They were all used as Jeeps because that's what they were; no big deal."
Her last sentence, though, is the key. They're Jeeps and better yet, they're Jeep CJ-5s. That model continued through 1983 and while early and late versions are far from identical, they're generally uncomplicated, most are mechanically tough and few restoration parts are actually impossible to find. Replacing the pieces unique to a Silver Anniversary — the dash badge and the tire cover, for example — is likely to be the biggest hurdle, but fortunately, the CJ-5 can still be driven and enjoyed without them. And that's not the end of the good news. What might be the best part about restoring a CJ-5 or most other Jeeps is the amount of expertise that's available. Like the Model T Ford or the Volkswagen Bug, the CJ-5 has been so popular for so long that no matter what the problem is, someone else has already figured out the fix.
There probably won't be many surprises when it's time to look for those problems, since CJ-5s can rust badly just about anywhere other than the grilles. When it comes to the chassis, rust is a lesser problem than damage from abuse or from hard work such as plowing or towing and that's where it's a good idea to get help from a mechanic or restorer familiar with Jeeps. As for the drivetrain, an AMC six or V-8 is a nice point in favor of the Silver Anniversary CJ-5, as are components from suppliers such as Dana and Warner.
Once it's restored, a Silver Anniversary will occasionally be noticed by someone who knows exactly what it is, but it can just as easily fly under the radar despite its rarity. Wasmanski has seen both and recalled the day she drove hers to work and soon received a call from her company's vice president.
"'Norm across the street wanted to know how much you wanted to get for that Jeep,'" she learned. "I said 'you tell Norm that's not for sale.'"
She then walked over to see Norm ("a CJ-7 fanatic") who recognized the Silver Anniversary CJ-5 and appreciated it.
But things went a little differently the first time she drove it from her Bear Creek, Pennsylvania, home to enter it in the AACA Fall Meet at Hershey.
"As we were going in for registration," Wasmanski said, "we were in line to get our packet and the woman was becoming increasingly not nice, telling me I had to go to the spectator parking lot; that I was not to come in this gate. I was getting very upset with her and I yelled; I was so upset. (My father) said 'don't let it get to you. Take it as a compliment that it looks like a new Jeep.'"
Besides being diplomatic, he's also right.
"If you're not a Jeep aficionado," Martin observed, "a '54 looks like a '74…and probably looks like a '94."