When the Beetle Came to America
The First Little Volkswagen Was an Overnight Success Here, Right? Well, Not Exactly. In Fact, It Was Worse Than a Total Failure.
IT'S WELL-KNOWN THAT the first-generation VW Beetle was a sales sensation of historic proportions and today is the most easily-recognized car ever built. It's a car that achieved "automotive icon" status decades ago.
So, it would only make sense that a car boasting that type of track record must have been an immediate success when it was introduced in the U.S. market, something like the Ford Mustang that debuted a half-century ago this month.
Well, no, the introduction of the now-lovable little Beetle was anything but smooth. In fact, the first attempts at bringing the original VW to this country was more of a marketing nightmare that had top executives at company headquarters in Wolfsburg wondering if they could ever have a sales presence here.
It Started in 1949, Sort Of…
We're talking about the early days of the Beetle in the U.S. because the first Volkswagen Type 1, as they were officially known, was sent here by the company 65 years ago. It seems that VW boss Heinz Nordhoff wanted American machinery for his Wolfsburg complex and for that he needed U.S. dollars. And the only way to get those dollars was by selling his product in this country.
But he didn't kid himself into thinking that this would be an easy proposition. After all, America was a "big car" country at the time, and it was only four years after the end of World War II.
So Nordhoff turned the assignment over to Ben Pon, a Dutch entrepreneur who had been successful in selling the Beetle to his countrymen at a time when people in Holland did not exactly have warm and fuzzy feelings toward Germany.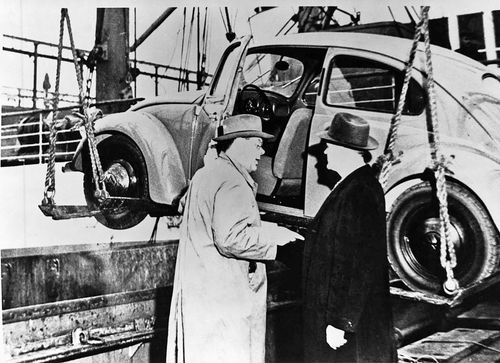 If Pon could sell the Beetle in Holland, Nordhoff reasoned, he should be able to do the same in the U.S.
So Ben Pon loaded the first VW "officially" exported to the U.S. aboard the Holland-America Line's M/S Westerdam and arrived in New York on Jan. 17, 1949.
To say that things didn't go well for him would be an understatement.
An American friend of his set up a press conference and Pon and his car received a lot of publicity—all of it very bad, indeed.
"I even tried calling the VW the 'Victory Wagon'," Pon later said, "but the press referred to it only as 'Hitler's car'."
Pon then went about trying to enlist U.S. dealers and was repeatedly turned down. In one instance, he drove his VW through a snowstorm to the home of a Massachusetts dealer to make his sales pitch. The dealer, Pon said, wouldn't even open his door to hear the Dutchman's message. He merely looked through the window at the little car and turned away.
After a few weeks of negative results Pon was running out of money, but he managed to sell that "first" Beetle to a New York imported-car dealer and returned to Europe in disappointment.
VW's Nordhoff did not want to give up on the prospect of American dollars, however, so late in 1949 he traveled to the U.S. himself. Only instead of bringing a car with him, he brought photographs.
Nordhoff didn't have any greater success than Pon, however, and even the photos turned out to be a troublesome matter. A customs official refused to believe that the images were those of an actual automobile and insisted that they must be sketches. As such, Nordhoff had to pay duty on them as advertising artwork, a problem for him as he was only allowed $15 a day for expenses.
Sales Jump to More Than 300
But while 1949 turned out to be a disaster for VW in the U.S., things started to turn around the following year, although only to a slight degree.
While after all these years it's not clear how the deal came about, Volkswagen managed to appoint a New York imported-car dealer named Max Hoffman as its agent to the U.S. east of the Mississippi. In 1950, Hoffman managed to sell 330 Beetles, a big step forward for Volkswagen but still a miniscule piece of the 6.6-million U.S. car market that year.
Still, Volkswagens were starting to appear on American roadways and were becoming familiar to consumers who slowly, ever so slowly, found themselves more open to the idea of seeing and driving smaller vehicles.
By the mid-1950s, some 35,000 Beetles were buzzing around our country and in 1955 Volkswagen of America, Inc. was established in Englewood Cliffs, New Jersey. (The company headquarters subsequently moved to suburban Detroit and now are in Herndon, Virginia.)
The number of VWs in the U.S. had grown to some 300,000 by 1960 and then, with the advent of the youth movement which saw the Beetle as a perfect form of counter-culture expression, sales of the little car soared. In 1968 alone, 423,000 Beetles were sold here.
More Than Just a Car
Along with becoming a regular sight in traffic, Beetles also became a part of everyday life for non-owners as well as for the folks who drove them. For instance, the entertaining, folksy and somewhat self-deprecating VW print ads rarely failed to draw wide-ranging readership. One, for instance, showed a man in a business suit leaning into the back of his Bug. Its headline read "And If You Run Out of Gas, It's Easy to Push." Another, titled "Rare Photo," showed a VW being towed. Still another, "33 years later, he got the bug," told the tale of a man who bought a Ford Model A in 1929 and after driving it for 33 years, had purchased a Beetle.
Into the Small-Car Sunset
But despite its pop culture status and popularity with a core group of buyers, there came a time when the Beetle couldn't keep up with the ever-changing American auto marketplace. While the car had been updated over the decades, it couldn't contend with emissions and safety standards that were adding weight and stifling the car's somewhat limited power.
With that, the last of the Beetle coupes to be imported came for the 1977 model year and the last convertible was a '79 model. By that time, close to 5 million Bugs had been sold in this country.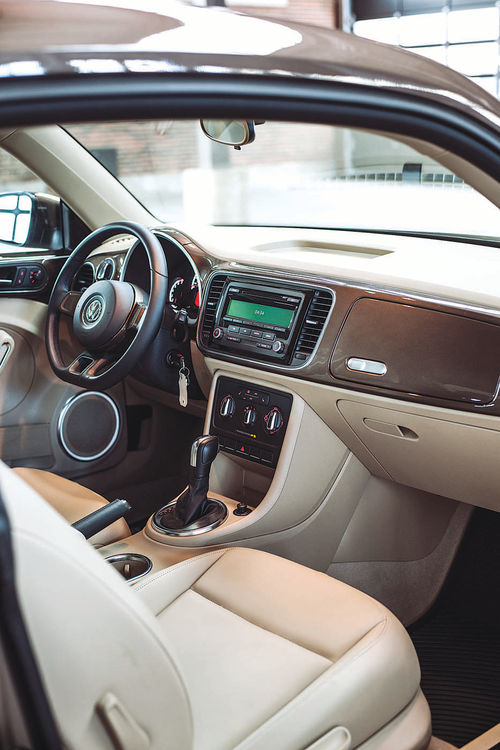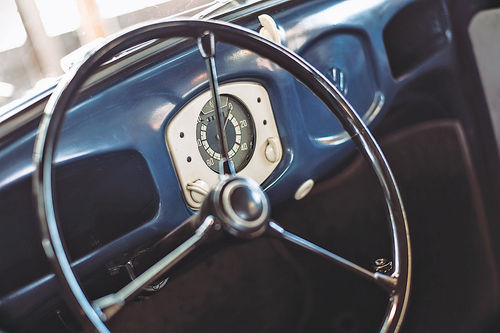 Beetles continued to be sold in other parts of the world, however, until the final Type 1 came off the assembly line on July 30, 2003 in VW's assembly plant in Puebla, Mexico. By that time, according to VW, 21,529,464 of the Type 1 had been built.
Comparing the Current With the Original
In 1998, VW tried to revive the Beetle mystique with its New Beetle, a car which the company said "paid styling homage to its predecessor, although its engine was water cooled rather than air cooled, and mounted at the front rather than at the rear."
Then in 2011 VW decided to give the car a more forceful image and brought out the third-generation Beetle (having dropped the "New" designation as well).
"While staying true to its roots," the company said, "today's Beetle would be unrecognizable to buyers in the 1950s, thanks to its combination of powerful and fuel-efficient engines, sure-footed handling, and myriad technology and safety features."
And just how unrecognizable would it be? Well, for comparison purposes:
The 1949 VW had an 1129cc in-line four-cylinder engine rated at 23.88 horsepower. It was 159.4 inches long, and was 61 inches wide and high. Inside, the car was Spartan, with a four-speed floor shifter, plastic steering wheel, fairly flat seats, no radio and only a speedometer and some warning lights on the dash. It didn't even have a gas gauge at the time.
The base 2014 Beetle, on the other hand, has a 170-horsepower, 2.5-liter, five-cylinder engine and a five-speed manual transmission. A six-speed automatic transmission is optional. A turbocharged, 1.8-liter, four-cylinder engine with the same horsepower rating will become standard during the 2014 model year, replacing the five-cylinder engine.
In addition, the current Beetle has 17" Turbine alloy wheels, V-Tex leatherette seating surfaces with heated front seats, a leather-wrapped, multi-function steering wheel, power-operated, heated side mirrors with integrated turn signals, Bluetooth® with audio streaming, customizable ambient lighting and a multi-function trip computer.
The current car is 168.4 inches long, 58.5 inches high and 71.2 inches wide.
But even though Volkswagen says its latest Beetle is "a classic for a new generation," last year's sales total was 43,000, not even approaching the numbers realized decades ago.
Granted, the small-car market is much more crowded than it was six decades ago and there's a wide variety of companies pitching for the consumers' attention. Even VW sells 11 different models these days, ranging from the Beetle to SUVs.
Hmmm… It makes you wonder what Ben Pon might have done to boost current Beetle sales.