Visiting Some German Auto Events
WE SEE A good deal about vintage vehicle meets in the U.S., but have you ever wondered how people feel about collector cars in other parts of the world? Well, consider the 11th Saxony Classic, an automotive gathering that's billed as "one of Germany's most popular vintage car events."
This three-day "reliability" trial was expected to draw 180 vintage cars "from some 70 years of automotive history." On the first day, among other things, the cars were to climb the "Steep Wall" of Meerane, a 12 percent grade and travel about 60 miles overall. On the second day they would cover roughly 150 miles and go the same distance on the third day "mostly over the roads of the Erz Mountains."
Interestingly enough, car companies such as Mercedes-Benz get involved by entering vintage vehicles from their own corporate collections. In this case, Mercedes was taking part with a 300 SL Roadster and a 300 SEL 6.3 luxury sedan (both seen on this page). Furthermore, both cars were to be driven in the event by Mercedes executives.
As for handling the course, the vehicles appear to have what it takes to be successful.
The 300 roadster was launched in March 1957 as the successor to the Mercedes gull wing model and its in-line six-cylinder engine is rated at 215 horsepower. The 300 SEL sedan came out in 1968, and while it's a luxury-class "saloon," as they say in Europe, its 6.3 liter V-8 engine is rated at 250 horsepower, it will travel from 0 to 62 mph is 8 seconds and has a top speed of 137 mph.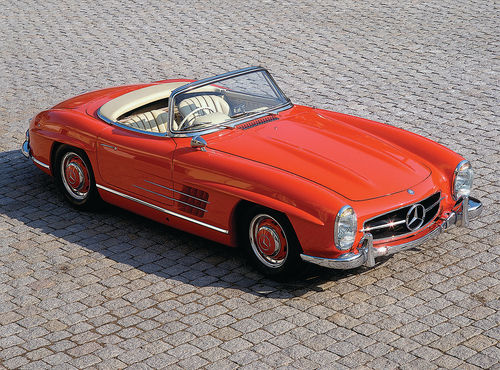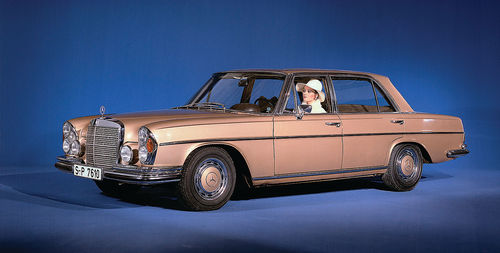 An Upscale Club
Speaking of luxury cars such as the 300 SEL, the S-Class Club is recognized by Mercedes-Benz as the only club in the world "focusing specifically on the luxury-class vehicles with the three-pointed star." It has some 1300 members, with about 1000 of them in Germany and the rest spread around the world. You don't have to own an S-class car to join but Mercedes says that "sooner or later nearly everyone gets the bug and buys a car of their own."
This year's annual meeting will be held in Hamburg, while last year's was in Dresden at Eckberg Castle (note the photo on this page). Aside from the fact that it was held at a castle, the event's agenda would seem familiar to any car club member…with a show and a featured cruise.
Another element that comes as no surprise is the enthusiasm of the owners in attendance, such as the Austrian woman who inherited her 380 SEC coupe from her father who bought it new in 1983.
Although she plans to keep and preserve the car for another 30 years, she also intends to keep driving the coupe and sometimes drive it hard, despite the 183,000 miles showing on the odometer.
"After all, it was built to be driven and not to stand around," she said, "so it has even been known for the needle to hit 210 km/h (130 mph) on the motorway from time to time." (Remember, this sort of speed is legal on certain highways in Germany.)
Another Mercedes owner expressed his feelings about the Mercedes event this way: "The annual meeting is always the first unassailable date to go into my diary." He then added with a grin: "And not even the woman of my dreams would be able to stop me from attending."
If you feel that strongly about these luxury cars and should happen to find yourself in Germany in the coming months, the history of the S-Class is the subject of a special exhibition at the Mercedes-Benz Museum in Stuttgart, running through November 3.