Special Report Visiting the Mercedes Classic Center
They Do Restorations, Sell Cars and Have Vintage Parts. It's Too Bad There Aren't More Places Like This.
DURING A FRUSTRATING vintage parts search most everyone has crossed their fingers for luck and then called their local new-car dealership hoping that maybe, just maybe, the dealership still has that OEM part in stock. You don't expect them to have a shelf full of your aged but desperately needed component, what you're pulling for is that some truly helpful parts clerk will dig around in the back of their storage area, blow the dust off of some long forgotten box and say, "Well, what do you know, we can take care of that guy who needs a part for his '41 Chevy."
Sometimes, hard-to-believe scenarios like that really do happen. But most of the time you just get a shrug from the clerk, maybe a smile and words to the effect of: "Sorry, the manager says all that stuff came and went long before he even started here."
A Classic Alternative
But if you happen to own a vintage Mercedes-Benz vehicle, there's another option open to you in your search for restoration and maintenance parts. It's a 28,000 sq. foot place called the Mercedes-Benz Classic Center that's located in Irvine, California, in Orange County about halfway between Los Angeles and San Diego…and about a quarter-mile from the Auto Restorer office.
We featured the Classic Center in our June 2008 issue but figured it was a good time for another look at the facility as it's observing its fifth anniversary in business. (Interestingly enough, the Mercedes folks, who generally are meticulous about details, don't have an exact anniversary date for the facility, only that "it is recognized throughout these next few months.")
It's a Restoration Shop… A Museum…A…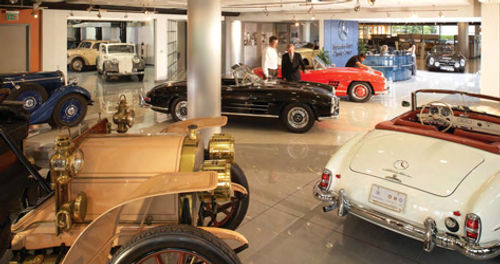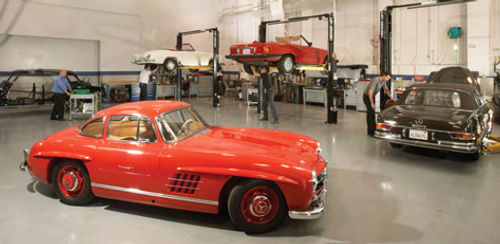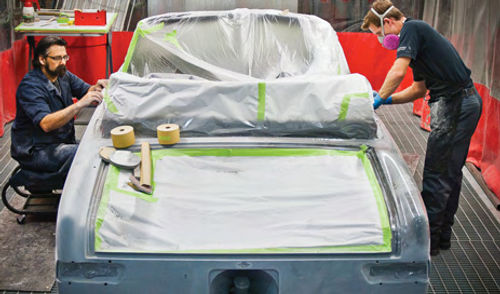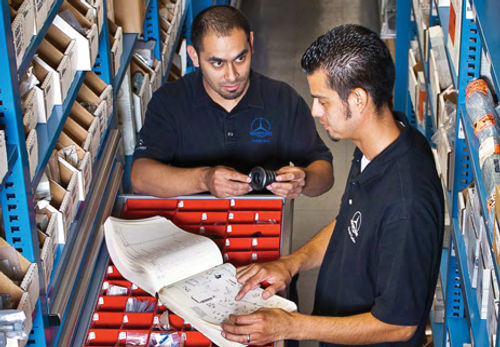 The lack of a specific birth date, however, is little more than a footnote when you consider the importance a facility of this type holds for vintage owners and other followers of the marque.
For instance, when you enter the impressive building you may find yourself wondering if you have walked into a museum or an upscale vintage vehicle dealership. In truth, you'll have done both. All of the vehicle's look showroom new, but since Mercedes has been in business forsome 125 years, you'll find yourself admiring cars that range from a few decades in age to much more than that. And if you find that you can't leave without a special addition to your collection, yes, the Classic Center doessell restored Mercedes cars.
Once you've perused the showroom/museum and browsed through their selection of books, model cars and other automobilia items as well, a few steps takes you to an exceedingly clean and bright restoration/repair shop where one of the latest projects, for example, has been the mechanical restoration of a 1910 Mercedes-Benz Simplex originally owned by one of the founders of R. H. Macy & Co., the department store chain. A company release said the vehicle had sat for many years without running and the Classic Center technicians "are in the process of bringing it back to life."Their tasks, among others, include the fabrication of a water pump and radiator for the century-old vehicle. (As you might expect, the Classic Center techs are trained and experienced restorers who have an understanding of and appreciation for the rides of decades ago.)
There also is an area for body work at the Center, and they have a paint booth that will make you wish you could pull your vehicle in there and give it a spray, even if it doesn't need it.
Support Services
As for vintage parts, Mercedes says it has some 50,000 available,ranging from fastenersto body panels. And if the Irvine Classic Center doesn't have something in stock, they can always turn to the original Classic Center in Fellbach, Germany, which has its own supply of parts, tools, service manuals and production records needed for the specialized attention vintage vehicles require. And in addition to parts searches, they also can access a vehicle's original build sheet and research other archived data such as documenting a car's history back to its original owner.
"The Mercedes-Benz Classic Center is in a unique position because of the knowledge and resources that we have onsite and can tap as a result of being part of the oldest car company in the world," said Mike Kunz, the center's manager. "Our customers trust us with special cars that are valuable either monetarily, historically or sentimentally..."
Those customers, by the way, havenumbered some 6200 over the past five years.
Spreading the Word
In addition to their work at the center, staff members take part in various vintage vehicle events around the country. The center also is involved in building for the future through a scholarship program it has established with McPherson College in McPherson, Kansas, a school that grants a degree in automotive restoration. The scholarship supports three students each semester and provides an internship at the Classic Center where the students can gain some "real world experience" in the restoration business.
Stop by Sometime
So whether you're a Mercedes-Benz owner or your ride comes from another manufacturer, next time you're in the Irvine area give some thought to stopping by the Classic Center and plan on spending a while there. It's at 9 Whatney near Interstates 5 and 405.
Or if you won't be making it out this way in the near future and you think the center couldbe of help with your Mercedes, their Web site is mbusa.com/ classic center and they can be reached by phone at .
In any event, if you aren't a Mercedes owner, next time you're caught up in a drawn-out, frustrating parts search don't be too surprised if you find yourself wishing that there was a facility like the Classic Center for your vintage vehicle as well.