Travel the USA and Canada in your vintage vehicle
I read John Gunnell's article on "Prepping for Vintage Vehicle Road Trips" in the February issue with great interest. My wife and I have been members of the North American MGA Register (NAMGAR) Car Club since 1990. The club holds annual gatherings throughout the USA and Canada. Travelling to these "Get-Togethers" or GTs, we have driven our MGAs (a 1961 and 1962) in all of the lower 48 States and the lower six Provinces of Canada...the longest trip being 10,022 miles.
During that time we have not experienced a major breakdown on the highway.
Over the years we have written articles similar to Gunnell's for our clubs' newspapers outlining some of the do's and don'ts of traveling with a vintage vehicle and encouraging other drivers to take trips in their cars. And many are doing it.
Our feeling is that if it has an engine and four wheels, drive it...don't trailer it. If the vehicle is used regularly, it will prove to be quite reliable.
Below is an article about a NAMGAR gathering we attended in Welches, Oregon. Some 130 MGAs were there from all over North America.
NAMGAR presents awards to people who drive their cars more than 1000 miles to these events. I followed up on the thirteen forty-something-year-old vehicles that traveled 3000 miles or more and found that together they logged over 100,000 miles before returning home, with no major breakdowns and only one generator failure.
Treat your car right and it will treat you right. Here's our Oregon story followed by some planning and preparation tips of our own:
A Gathering of Drivers
The North American MGA Register's GT-28 "Get Together" was held in July 2003 at Welches, Oregon, about 50 miles east of Portland in the shadow of Mount Hood. A total of 137 MGAs and 36 other British cars from the U.S., Canada and the UK gathered for four days of fun.
The Columbia Gorge MGA Club did a splendid job planning and organizing the event. Every day was busy with tours to places like the Timberline Lodge atop Mount Hood, Mount St. Helens, the Wine Region, the Columbia River Gorge,
a time-speed-distance (TSD) rally and self-guided tours.
For the mechanically challenged, there were tech sessions utilizing a cut-away MG engine and transmission.
Parts and regalia vendors were there to make sure that the bits & pieces needed to get home along with clothes to keep warm or dry were available.
And at the end of the day, the Resort at the Mountain provided an elegant and inviting place to relax.
The rest of the event offerings were first class as well. The car show, held on the morning of the second day, was staged on a section of the golf course with a strolling Scottish bagpiper and a water cart. On the evening of the third day, there was a smorgasbord dinner and a lively fund- raising auction. For the final night awards banquet there was a sit-down dinner, a guest speaker and a slide show of people and their cars taking part in the week's activities.
In addition to the popular awards presented to manicured vehicles in the car show, as mentioned above NAMGAR recognizes the people who actually drive their MGAs to these gatherings. An award is presented to the individual who drives an MGA the farthest distance, in a straight line, from his/her home to the show. That year's winner was Roy Parmenter...from Hurstpierpoint, W. Sussex in the UK. He drove to the dock in England and then drove to Welches, Oregon, from New Jersey.
Three different dash plaques are given to those individuals who drive at least 1000 miles, 2000 miles or more than 3000 miles, respectively, to get to the GT. Dash plaque or not, however, the people who drive their cars to events like this, whether it is for a few hundred miles or thousands of miles, reward themselves with an unforgettable motoring experience.
That year a total of 13 MGAs were driven more than 3000 miles, one way, to GT- 28. The round trip distances ranged from 6600 to 10,000 miles and included people from Massachusetts to Florida. Those thirteen, 40+ year old, MGAs traveled approximately 100,000 miles throughout the U.S. and Canada (and the UK) without a major breakdown and required only general maintenance to complete the trips. That is a powerful statement about the quality of these special cars and drivers.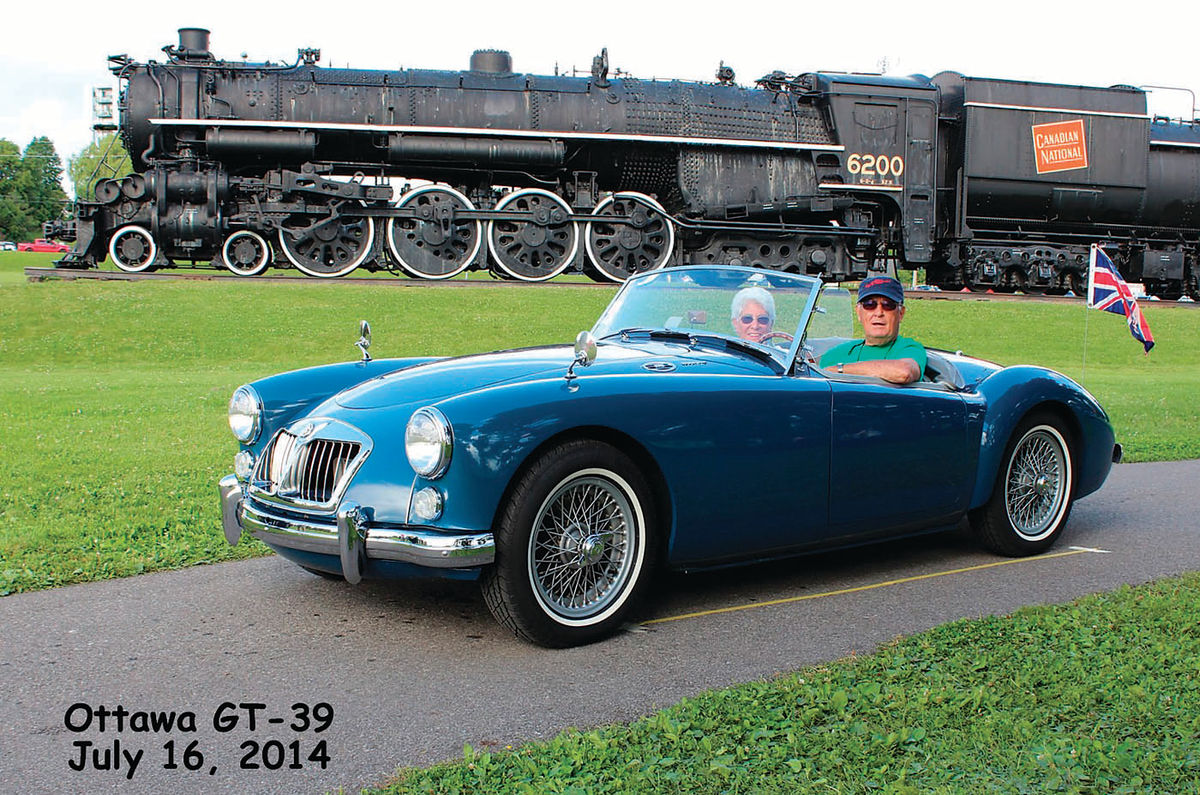 Getting There...and Back, Was Definitely Part of the Fun
We had never been to the Pacific Northwest and the event-filled program for GT-28 looked like a good reason to take a little ride in the country.
Although we had driven our MGA on Route 66 to Lake Tahoe in 1999 for GT- 24, there were still a lot of things in North America that we had not seen. Using a map of the US, we started putting dots at places we would like to see and learn more about between St. Petersburg, Florida, and Portland, Oregon. Of course there were personal stops in Atlanta, Georgia, and Kansas City, Missouri, to visit our children. But there also was Route 61 (the Jazz Trail) from New Orleans north along the Mississippi River, and the Lewis & Clark Trail along the Missouri River. After all, we would be right there in Kansas City and the historic Corps of Discovery explorers did finish their western trek to the Pacific Ocean in Washington State just north of Portland. It sounded like a plan!
Since the Lewis & Clark Trail goes north into North Dakota, we decided to see a bit of Canada which we had not been to before. So dots were put at Moose Jaw, Saskatchewan; Fort Macleod and the Royal Canadian Mounted Police Heritage Centre in Alberta, along with the National Parks of Banff, Lake Louise and Jasper. Jasper is only about 10 hours from Alaska! And that is where my "frozen" co-pilot put her foot down and would not "dot" any farther north.
Looking southwest from Jasper, we decided to include stops at Vancouver and Victoria, the capital city of British Columbia. But along the way we visited the Lake Okanagan Valley, Canada's best- kept secret. The next dots would be at Olympic National Park in Washington; Astoria, Oregon, at the mouth of the Columbia River (the end of the Lewis & Clark Trail) and Welches, Oregon, for GT-28.
The return trip would have to include a drive along the scenic Oregon coast; Redwood National Park with majestic trees up to 2000 years old; Big Sur, the California Wine Trail and Morro Bay, California, to visit friends. Additional dots were placed at Joshua Tree National Park near Palm Springs in the Mojave Desert of southern California; Saguaro National Monument in Tucson, Arizona, and then Carlsbad Caverns National Park and Roswell, New Mexico.
A five-week vacation connecting the dots was the fun part! Driving our 1961 MGA over mostly non- interstate roads, we traveled a total of 10,022 miles, visited 18 states and 3 Canadian Provinces.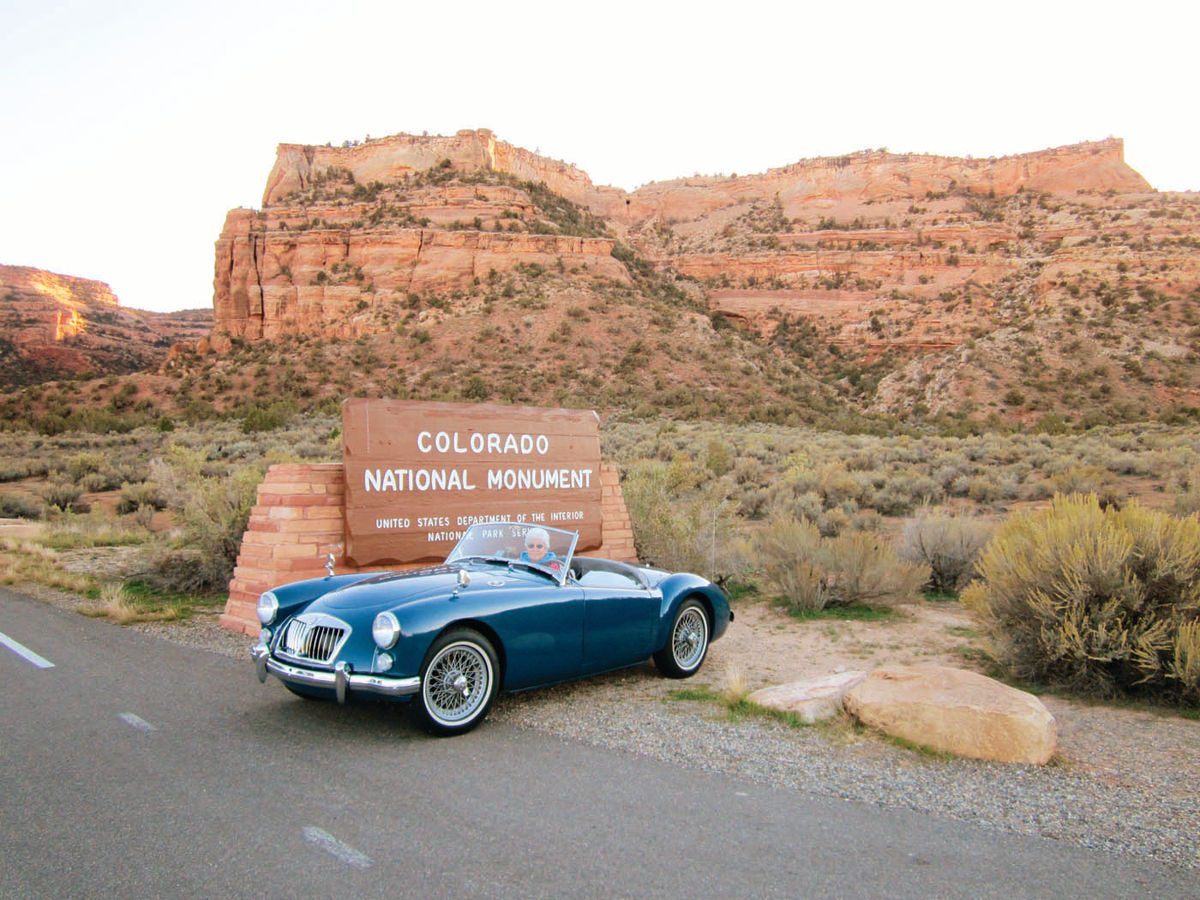 There Were Various Wonders Along the Way
After an oil change and the repair
of a leaky master cylinder during our visit with the kids in Kansas City, the MGA performed perfectly! In fact, it ran better the more we (ab)used it over some really rough roads, mountain passes at 10,000 feet and crossing deserts with temperatures that ranged up to 115 degrees.
The sites that we considered a "must see," in fact, were. But we witnessed many other national treasures too numerous to describe and some which may be overlooked—untold board feet of lumber in the Pacific Northwest...miles of farmland laden with grain, vegetables, cotton and fruit...ranches with thousands of animals producing eggs, milk and meat products...torrents of fresh water cascading down mountains and rivers—the natural resources that feed, water, clothe and provide shelter to all Americans.
Not to be excluded from these wonders was a man in Mississippi, never before having seen an MG, who allowed us to pull into his barn in a rain storm, helped us to put up the top and then declared, "It's a blessing!" when he witnessed the sidecurtains.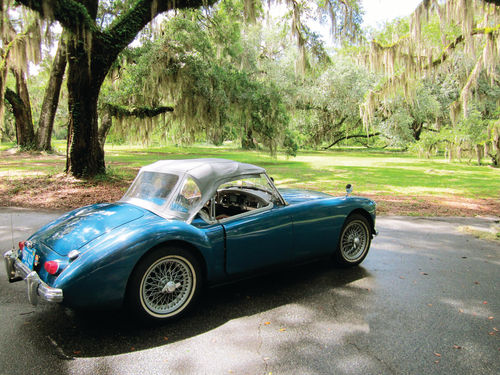 There were friendly people all over North America who welcomed us by saying, "You drove that thing all the way from Florida—awesome!" There also was a young man from Boston, with a two-week vacation, who removed the passenger seat in his un-restored 1957 MGA to accommodate his camping gear and then drove, by himself, 6600 miles to attend his first GT.
And let's not overlook the fact that we have a highway system that enables us to travel to all of these wonderful places and that we have the freedom to do so.
The Packing List:
Cooling System:
✔ Fan belt
✔ Heater hose with clamps (approx. three feet)
✔ Heater Control Valve Gasket
✔ Radiator hose (one upperand/or lower)
✔ Radiator stop leak
✔ Water pump and Gasket
Electrical System:
✔ Brush set for Generator
✔ Brush set for Starter
✔ Distributor cap, Points,
Condenser & Rotor
✔ Electrical tape
✔ Electrical wire (six feet, 14 or
16 gauge)
✔ Electrical wire with alligator clips (about three feet long)
✔ Feeler gauge
✔ Ignition Coil
✔ Sparkplugs (two pre-gapped)
✔ Sparkplug wires with terminals (two lengths equal to the longest plug wire)
✔ Solder-less connectors and
crimping pliers
✔ Static timing light (does not
work with electronic ignition) ✔ Voltage regulator
Hydraulics:
✔ Brake master cylinder repair kit
✔ Brake wheel cylinder repair kit
✔ Clutch master cylinder repair kit
✔ Clutch slave cylinder repair kit
Fuel System:
✔ Accelerator cable
✔ Accelerator return spring
✔ Carburetor float
✔ Carburetor bowl needle & seat
✔ Fuel line with clamps
✔ Fuel pump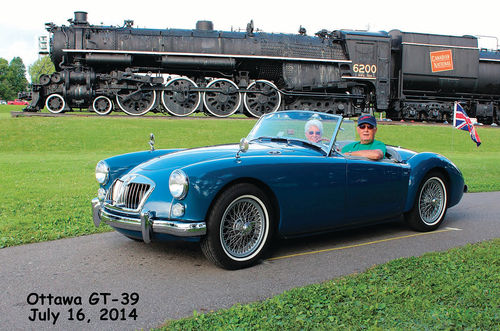 Miscellaneous:
✔ Check air in the spare
✔ Duct Tape
✔ Emergency Flares/Light/Reflector
✔ Fire Extinguisher
✔ Deluxe First Aid Kit ✔ Flashlight
✔ J-B Weld
✔ Large trash bag
✔ Paper coveralls
✔ Paper towels
✔ Poncho
✔ Moss Catalog
✔ Repair Manual
✔ Small Tool Kit (and a sparkplug socket)
✔ Small tube of grease
✔ Small tube of RTV sealant ✔ Swiss Army Knife
✔ Tow rope
✔ Waterless Hand Cleaner ✔ Wire Ties
Carry a Survival Kit
✔ Flashlight
✔ Driving Gloves with covered backs
✔ Gourmet Grub (Slim Jims, etc.)
✔ GPS
✔ Hand Scrubbers
✔ Maps & AAA Tour Books Playing Cards
✔ Roll of Paper Towels Rubber Gloves
✔ Sewing Kit
✔ Siphon Pump
✔ Tire Patching Kit
✔ Utility Knife
✔ Vaseline
Preparing for a Long Trip In a Vintage Car
Now that we've talked about some of our journeys, let's consider the steps that should be taken in advance to help ensure a pleasant trip.
First do the normal maintenance things like adjust valves, set timing, perform an oil change & lube, replace plugs, points, condenser and rotor. Top up the shocks, transmission and rear end, and pack the front wheel bearings.
Check and balance the tires. Then replace all the rubber fluid transmitting items like brake & clutch flex lines and water hoses. Check the exhaust system and hangers.
Do this several weeks in advance so that the car can be fully tested. Also, I rigged my car to accommodate a small (Facet) electric fuel pump which I carry as an emergency spare to replace the larger, heavier stock pump.
Then choose the spare parts you want to take along. I select the things that will get me to a repair shop and ones that I can't get at a local parts store.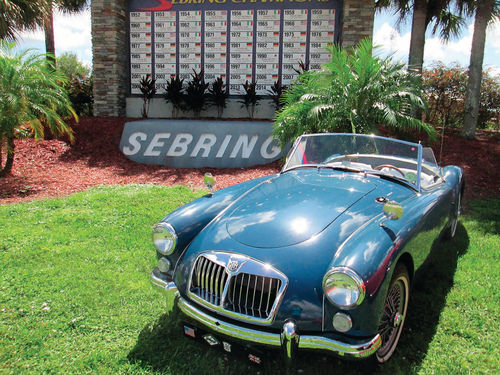 Packing Suggestions for a Long Trip (with a Very Small Boot)
To be successful in packing up the boot of an MGA, you need to think about making the various items "squishable" so that they can be manipulated to fit into the nooks and crannies in the boot. Here are some ideas to accomplish your goals:
Acquire duffle-bag type of baggage—about 20 inches long and 15 inches high.

Acquire a LARGE Toiletries bag to pack separately from your clothing.

Pack about 5-6 days' worth of underwear, 4-6 shirts, a few shorts.

Be sure to include some long pants—to protect your legs when necessary.

Be sure to include some collared shirts which protect the back of your neck.

Silky jackets are lightweight, wind-breaking and pack up compactly.

A long-sleeved shirt (chambray) is a great layering item.

Pack shoes separately in plastic baggies (newspaper sleeves are great).

Take one "good outfit" and make it crushable; then stow it in the bottom of your duffle in a plastic sleeve.

Plan to do wash every 4–5 days; add detergent packets if you're choosy.

Keep the dirty laundry separate in an old pillowcase.