THE VEHICLES LOOK RIGHT AT HOME HERE…
It's that time of year when you can see a collection of vintage cars and trucks rolling through the streets of a quaint retro village…just outside of Detroit.
The event is the annual Old Car Festival set for Sept. 7-8 at historic Greenfield Village in Dearborn, Michigan.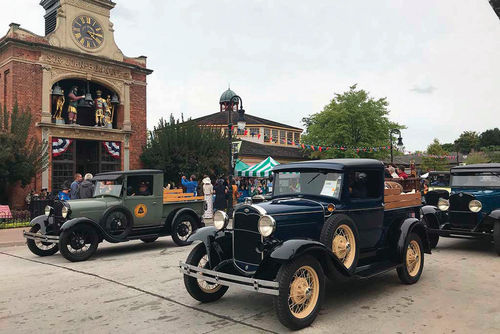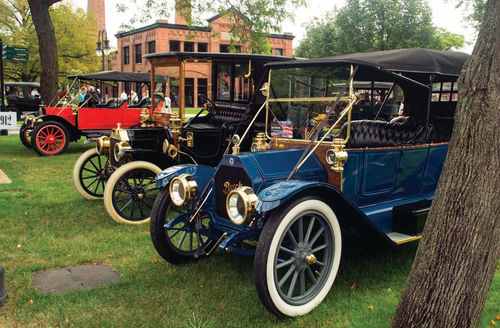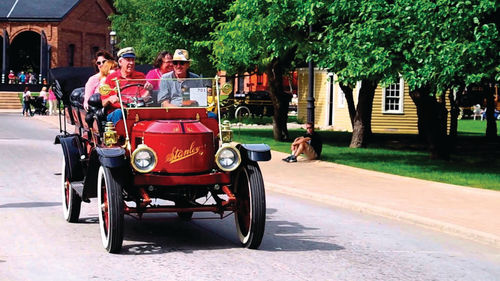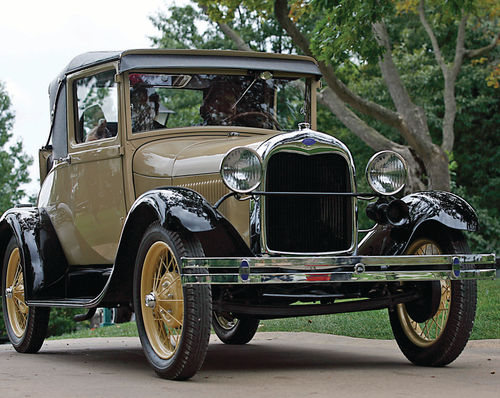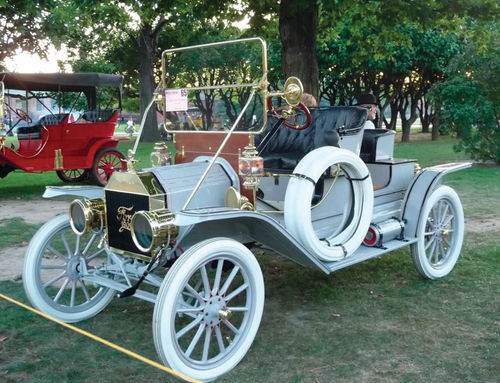 Hundreds of vehicles from the 1890s through 1932 will be on display in the 80-acre outdoor museum that was founded by Henry Ford 90 years ago.
Here's how village officials descibe their upcoming show:
"At the longestrunning antique car show in America, you'll be immersed in the moving stories of the early automotive era, perfectly set in the place where the history of the American automobile not only is passionately preserved but comes to life every day. From the turn of the century to the Great Depression, Old Car Festival in Greenfield Village offers a raucous ride of vehicles that epitomize the earnest optimism of the American Dream.
"Wander through the village and talk to owners about their treasured vehicles. The ongoing Pass-in-Review parade is a car lover's dream as electric, steam and gaspowered engines are constantly in motion around you. Watch drivers engage in games of skill, see a Model T assembled in just minutes or just sit back and enjoy our experts sharing "car talks" while historic vehicles cruise."
The photos on this page from previous Festivals will give you an idea of the types of vehicles you'll encounter during your visit. In addition, while the village generally closes at 5 p.m., it will remain open on Saturday, Sept. 7 until 9 p.m. and there will be a Gaslight Parade of Cars and dancing with the River Raisin Ragtime Revue as it performs popular music of the ragtime era. After that there will be a Dixieland parade and a fireworks finale.
Now, if you're not familiar with Greenfield Village, it was founded on Oct. 21, 1929 by Henry Ford to help give visitors a personal experience with American history.
Commenting on his vision for the complex at the time, Ford said:
"I am collecting the history of our people as written into things their hands made and used... When we are through, we shall have reproduced American life as lived, and that, I think, is the best way of preserving at least a part of our history and tradition..."
So far the village has gathered some 85 buildings; some were disassembled on their original site and rebuilt at the village while others are reproductions. For example, you'll see the actual home where Ford was born in 1863 along with a replica of the former wagon factory on Detroit's Mack Ave. where Ford set up shop to build cars in 1903. There also are four working farms on the property. (After all, Ford was born on a farm.)
The village is located at 20900 Oakwood Boulevard and is part of The Henry Ford complex that also includes the Henry Ford Museum of American Innovation and the Ford Rouge Factory Tours.
For more on the Old Car Festival and The Henry Ford complex, visit thehenryford.org.
And if you like the idea of a car show at the village but prefer vehicles of a more recent vintage, make plans to visit the annual Motor Muster that takes place there each June and features cars and trucks from the 1930s through the 1970s. –Ted Kade, Editor