The Mustang II's 40th Birthday
WHILE EVERYONE KNOWS that the major automotive news for this year is the 25th anniversary of Auto Restorer, there are a few other milestones worth observing as well, such as the centennial of the Dodge brand, the 50th anniversary of the Mustang and the 40th anniversary of the "other" Mustang, the Mustang II.
That's right, the much-maligned or highly-praised Mustang II, depending on your viewpoint, was introduced as a 1974 model and is into its 40th anniversary year.
Those who have derided the II have been known to refer to the car as the "Pintostang" due to the fact that it was developed from the Ford Pinto platform instead of being a variation on the then-current Mustang.
It's supporters, on the other hand, say that the II's smaller size, along with its rack-and-pinion steering and front disc brakes, give it a sportier look and much better handling than its larger, more muscular Mustang predecessor.
Mustang II fans also are quick to remind people that the original Mustang was developed off of the Falcon platform and therefore perhaps should be referred to as the "Falconstang."
Furthermore, the II saw a good deal of market success during its five-year run, leading supporters to contend that the downsized Mustang truly was "the right car for the times."
From a Sporty Coupe to a Muscle Car
When the original Mustang was introduced in April of 1964, it was touted as a stylish, lightweight and very affordable sporty car available with either an inline 6-cylinder engine or a relatively small V-8, first a 260 cid and then a 289.
It's no secret that the first pony car was an incredible success, with sales of more than a million units in less than two years.
But Detroit cars of that era had a way of growing with time, and the Mustang was no exception.
Furthermore, the popularity of muscle cars was an incredibly strong market factor in the mid- through late-'60s, and there was no way anyone could fit a 429 cid V-8 in the earliest Mustangs. The car and its platform would have to grow if it was going to support the most-powerful engines of the day.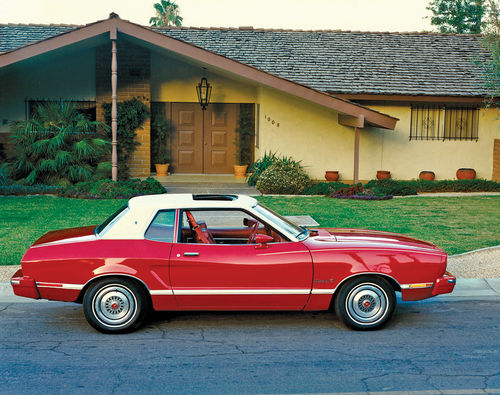 But as with any cycle in the auto business, what went up eventually came down and as the '60s morphed into the '70s, muscle car sales declined, a movement that was aided by rising insurance costs and government regulations regarding safety and emissions equipment that led to simultaneous weight gains and horsepower cuts. (Ratings for the 1973 Mustang engines ranged from 95 to 155 hp.)
And as the market shifted, Mustang sales that had peaked at more than 600,000 for 1966 slid to about 125,000 in 1972.
A Second Chance at "Fatherhood"
Meanwhile, Lee Iacocca, who had been vice president of Ford's Car & Truck Group in 1964 and often is referred to as the "father" of the Mustang, had become Ford Motor Co. President in 1970 and declared that a smaller, more fuel-efficient pony with a European flavor had to be developed to meet changes in the marketplace and it had to be ready for 1974.
Styling leaned heavily on input from Ghia, the Italian design studio recently acquired by Ford, and the Mustang II was smaller, yet heavier, than the original Pony. For comparison purposes, the 1965 Mustang was 181.6 inches long, rode on a 108-inch wheelbase and weighed 2567 lbs. By 1973, the pony had grown to 193.8 inches in length, sat on a 109-inch wheelbase and weighed 3233 lbs. With the Mustang II, length was cut to 175 inches, the wheelbase was 96.2 and weight was 2743 lbs.
The new pony was available in notchback and fastback versions, powered by an in-line four or V-6 engine with a 302 V-8 added for 1975. It was a sales success starting with its first year, no doubt aided by the Oil Embargo of Oct. 1973 — March 1974 that sent droves of people into dealerships in search of smaller, more fuel-miserly cars, and by the end of its run more than a million Mustang IIs had been sold.
And while many of today's automotive journalists may sniff and sneer at the smaller Mustang, it received much acclaim in its day, including being named Motor Trend's Car of the Year for 1974.
But success in the automotive marketplace continued to be a moving target, and for 1979 a redesigned, larger Mustang was introduced, dropping the "II" from its name in the process. And as you've already heard, yet another all new Mustang will go on sale this fall.
—Ted Kade