Special Report Insuring a Hauling Wagon & Camper
A Reader's Having Trouble Securing Coverage for His Vehicles. Others Have Offered the Following Advice.
EDITOR'S NOTE: IN April we printed the following letter from reader Bryan Rimbey of Bath, Pennsylvania, regarding problems he was encountering in his efforts to insure his vintage station wagon and camper. We asked for reader input regarding the matter and, not surprisingly, we received several responses. That's Bryan's wagon and camper at the bottom of this page.
"I was searching for a way to combine my two greatest interests—my old cars and love of camping with my family. I am attaching a photo of the answer—my '70 Chevelle Concours station wagon with matching '70 Shasta Loflyte camper.
"I've owned the wagon for six years while doing an interior and mechanical restoration. I mainly use it as my soccer dad car for school, dance and football/ baseball and grocery errands.
"We've owned the camper for three years and already have made some great camping memories. The only restoration the Shasta needed was recovered cushions, new curtains and a scuff-down with a base coat/clear coat applied. I also resealed and polished all the aluminum windows, doors and trim.
"The Chevelle tows like a dream and the rebuilt 350 has no problem pulling. The only thing left to do is a restoration on the body of the wagon. It's still in decent shape but it has some issues.
"This whole vintage camper restoration craze is really catching on. I belong to three different online vintage camper enthusiasts groups and they are growing on a daily basis.
"So, I was wondering if you guys or other readers can help with a problem our groups are having. Many of us own restored vintage vehicles and are pulling our old campers to car shows and vintage trailer rallies, and on family camping trips.
"The problem is that no one except our normal insurance carriers will insure us. I think vintage vehicle insurers like Grundy and Hagerty offer a wonderful product with the declared value on their policies. I use Grundy for my '58 Cadillac and '69 Corvette but they won't insure my wagon because of the trailer hitch on it. It's not like I'm out towing race cars or landscaping equipment. They won't insure the Shasta either.
"I also asked Hagerty, American Collectors and Hancock about insurance and all said no. And it's not like I'm looking for a $75,000 policy here. Just $15K on the wagon and $5K on the camper would suffice me.
"If I were to have a total loss on the wagon I would be given book value on the car from my regular insurance carrier. So what's book value on a '70 Chevy wagon? Maybe $650? I'd hate to spend the $$$ on the body work and then can't insure it. Anybody have any ideas?"
Advice From an Insurance Business Veteran
As someone with 30 years in the commercial insurance business, my attention was drawn by the letter from Bryan Rimbey about his problem getting insurance on his station wagon and camper.
Considering that pickups and station wagons were designed and used to haul various trailers, what Bryan's doing seems reasonably safe. Although I don't pull anything with my '58 Ranchero, his letter made me wonder about my own collector car policy. I am insured through the Condon & Skelly agency so I called them and was pleased to learn that my policy has no exclusion for towing.
Obviously these policies are not intended for everyday use but I was told that so long as the trailer I was towing was "being shown" or related to the hobby—vintage campers, etc. there would not be a problem.
Bryan mentioned that his wagon was worth maybe $15K. Most insurance companies have what's referred to as a "minimum limits policy." This means they're not going to issue a policy with less than a certain value. So, to insure a $15K car you might have to buy a policy with the same premium as a $20K car (or whatever their minimum premium would be).
I also asked about insuring a vintage trailer or boat. Condon & Skelly did not have a marketforthat. Since liability coverage on the trailer, while in tow, would come from the vehicle that trailer is being towed with, one should consider the value of the trailer or boat vs. the cost of insurance premiums. Often it makes more sense to self-insure the trailer for comprehensive and/or collision coverage if replacement cost is fairly low,such as $5-$10K. Liability exposures that might occur while not in transit, such as at a show, should be covered by a homeowners policy.
Anyone that would like to contact Condon & Skelly can do so at: 121 EastKings Highway, Suite 203, Maple Shade, NJ 08052; www.condonskelly.com.
Doug Chamness Dothan, Alabama
I Have "Stated Value" Coverage on My Vehicles
With regard to the letter from Bryan Rimbey asking about insurance for his 1970 Chevelle wagon, I have several collector vehicles and each is insured through State Farm for "stated value" under that company's antique or classic motor vehicle insurance. This insurance allows the vehicle to be licensed for general use. The primary limitation is use for "pleasure or not more than 30 miles weekly to and from work or school" and not driven over 7500 miles per year.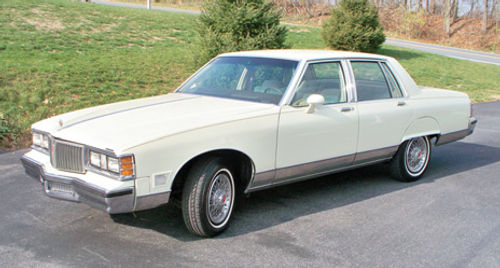 One of my vehicles does have a trailer hitch (ClassIII). I do not recall that being an issue. However, I do not have a camper trailer, so I don't know whether State Farm would insure that. I do have a boat (not antique), but that is insured through my homeowners insurance.
James B. Steward Steward & Sheridan P.L.C. Negaunee, Michigan
Another Vote for State Farm Coverage
Regarding the letter from the Rimbey family, I'd like to suggest that they check on the availability of agreed value coverage through their regular insurance carrier. I presently have agreed value coverage on my 1981 Pontiac Bonneville Brougham Diesel through State Farm, it was only a little more expensive than through the specialty carriers, but I get the added benefit of stacking of my coverage from my regular cars(liability limits, uninsured driver, etc.) with it.
Best of luck to them—and great photo of the wagon and camper!
John Lerch Elizabethtown, Pennsylvania
P.S. Here's a picture of the Bonneville (at the top of this page) with its new coat of paint.Being a GM 350 Diesel it won't win any speed races—but it's comfortable and good on fuel. I replaced the stock TH-200M transmission with a 200R4 and moved to 3.08 rear gears for better performance (the originals were in the low 2's). I'm now getting similar highway fuel economy and it's a little better pulling out from a stop and going up hills. I just did that last year so I need to put on a few more highway trips to confirm the mileage is stable from before the change (which was about 26 mpg at 65 mph—even better at 55).
The only major change I needed to make was the installation of a different cross member for mounting the transmission, which was readily available and the frame already had holes for mounting it.
Thanks for a great publication!
You Might Try This Agency
Have the Rimbey Family try Gulfway Insurers, 12701 US Highway 19, Bayonet Point, FL 34667; www.racensur.com.
I see their ads in ATHS's (American Truck Historical Society) magazine. I have not used them myself, but understand they will insure things that others won't.Their adincludesthewords "May tow semi trailer—May haul owned equipment—non-commercial use only."
Getting an Appraisal Might Help
Regarding Mr. Rimbey's insurance problem; he needs to get both the car and trailer appraised. A car dealer's appraisal will sometimes be accepted by the company. He will then have basis for an agreed value policy and can be insured by his current carrier.
Specialty companies only allow for very limited use which is why they won't insure them. His insurance agent should know this. He may want to look elsewhere for a more knowledgeable agent. I was an insurance agent in Pennsylvania for over 20 years.
John W. Schenk, Jr. Clearfield, Pennsylvania