Special Report A 1950s Electric Concept Car?
This GM Dream Car Project Will Include an Electric motor. GM Considered It Years Ago, the Owner Says.
RE YOU A gearhead who gets weak-kneed at the rumble of a big block? Ifso,reading an article about a restoration project that involves mixing a 56-year-old concept car with a low-powered electric motor might not seem intriguing, but hang in there. This project all started with compulsive restorer Joe Bortz, who always puts an interesting twist into each vehicle he collects.
The Windy City enthusiast began salvaging 1950s General Motors concept cars in 1982. Though never meant to actually be driven, these often fanciful, non-roadworthy mockups represented many forward-thinking concepts for their time. By testing their ideas at auto shows, GM engineers and designers could see what the public liked and integrate some of those ideas into production cars.
GM typically scrapped concept cars in the Motorama show heyday. But when Bortz gets his hands on one that managed to elude the crusher, it turns into a spare no-expense restoration. His projects don't end until the vehicles are brought back to gleaming show-car condition.
Preserving Motown Icons
"Like Egyptian artifacts, we want them saved for the next thousand years," Bortz said. "We're getting them out of the junkyards and other places where they're not in the hands of people who are caring for them so we can save them for posterity."
He pulled four vehicles from the Warhoops salvage yard in Sterling Heights, Michigan (suburban Detroit), in 1988. (The yard had agreed to dispose of the cars for GM in the '50s and while some were cut up, the cars and components were hidden at the rear of the salvage yard.)
The vehicles—shells, really—included a 1955 Cadillac LaSalle II Roadster, along with three other cars. Two have been restored and now it's the LaSalle's turn. And its many distinctions and historic significance call for the kind of thorough work Bortz bestows upon a classic.
By calling it the LaSalle, GM revived the name carried by Cadillac's "companion" car from 1927 to 1940.
The two-seat roadster, which came from Harley Earl's legendary Art and Color Section, had a fiberglass body with concave body side panels (seen on the '56 Corvette) and open rear fenders. The concept car's exhaust pipes were built into the rocker panels and exit just ahead of the back wheels. It wore a 1940s-style vertical grille, Dagmar bumper guards and carried the LaS insignia used on the original LaSalle.
Lost Engineering Opportunities
In addition to the car's modernistic look,the LaSalle's independent rear suspension and plans for a fuel-injected, dual overhead cam, aluminum block V-6 engine represented advancements unheard of for its day. But American automakers did not implement those ideasformany years after the LaSalle was designed and shown.
"GM lost out on all those features and kept producing the old-fashioned way," Bortz said.
Back then, of course, the emphasis for concept cars was design, not engineering. "But here they made a statement with engineering yet they didn't grasp it and run with it," Bortz said. "I call the LaSalles the turning point in U.S. automotive history. They let its lip through their hands and continued on with design."
As for how GM engineers came up with the LaSalle's innovations and why they did not further pursue the new ideas, Bortz has no idea.
"They brought it almost to a phase of completion and no one knows why they didn't finish," he said. "Someone may know the answer. Some older designer who was there may step forward and tell us the story."
Historic Hybrid Approach
Since the LaSalle was created as a representation of the best style ideas GM designers were tossing around, and its concept engine was way ahead of its time, why not drop a modern V-6 under the hood during its restoration? Why retrofit a small electric motor into the LaSalle? Because for one, it keeps the car more true to the original version. The "V-6" in the LaSalle's engine bay was mainly a realistic-looking shell that had never been completed on the inside to actually function. That shell will be restored to its original condition.
Furthermore, the LaSalle was built as a "pushmobile" and wasn't engineered as a road car.
But Bortz said the late David Holls, a GM design executive, once told him that the General had considered placing a low-powered electric motor and batteries in the rear of the car to give it some limited mobility. In that case, Bortz's approach actually follows a decades-old idea similar to the LaSalle's intended source of power.
"Holls was always giving me advice on GM cars," Bortz said. "They thought of putting an electric motor in the trunk in '55 and that's where I originally got the idea. There was intent to do it but they never got around to it. I'm filling out the blanks that didn't get filled out at the time of showing.
"Some might say it's tinkering with history, but it's good tinkering."
They're Charged With Making It Move
Pioneer Conversions LLC in Lemont, Illinois, the company that will be fitting the electric motor in the LaSalle, has experience in this line of work. The company's main men, John Jeide, John Emde and Rich Carroll, are retirees who have been electrifying new and vintage vehicles for decades. Giving life to a vehicle that had never seen self-motivation, and whose brakes had not even been attached to a master cylinder isn't easy, but as Jeide noted, "It was a pretty car."
The trio took the axle going to the left rear wheel and put a sprocket on it. They built a little transmission between the axle and the electric motor with a step down ratio of 10:1, which should enable the car to reach speeds of 20-30 mph.
The motor will be hidden at the rear of the car so it won't interfere with the original layout of the engine bay.
Now that Bortz and his cohorts know it's possible to give locomotion to the LaSalle, the project is gaining momentum. The LaSalle is being fitted with brakes, a master cylinder, and external brake drums that also function as part of the car's wheels.
Once the brakes are done, the LaSalle will return to Pioneer to have everything but the sprocket removed so that it can be disassembled for the body's restoration. Some body work has already been done and new doors and a hood, which went missing at Warhoops, have been fabricated. But as you can see from the photos, much work needs to be completed before the LaSalle can take on its show-car look once more.
Then Pioneer should get the car back to continue with its task of powering the vehicle. "We started out with Joe asking, 'Can you make the car move?'" Jeide said. "Then it was, 'Can you make it do 30?' We're satisfied with having it move on its own. It is a wonderful deal. Being a part of something that hadn't happened before is significant."
Six batteries should enable the approximately 1500 lb. LaSalle to travel 25 to 40 miles on a charge.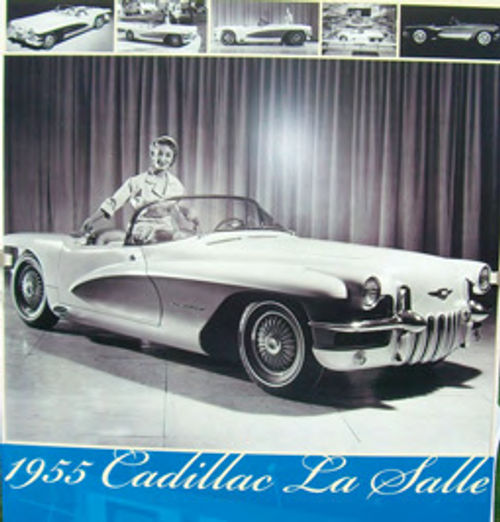 Opportunities to See the Car
But even though the LaSalle will be mobile, don't expect to spot it on a street near you.
Under Bortz's care, it will return to its original life as a piece of rolling artwork, much like the '55 Chevrolet Biscayne concept car he also received from Warhoops and has since restored.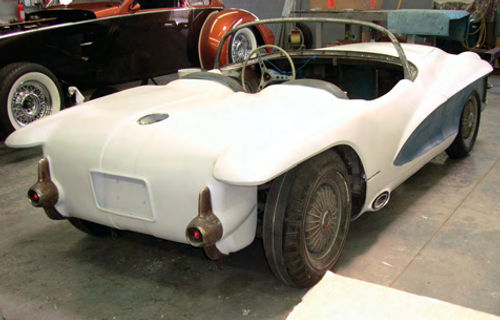 He anticipates completing the LaSalle coupe's restoration by the spring of 2012 and then taking the car to major shows such as Pebble Beach and the Concours of America(formerly Meadow Brook) insuburban Detroit. (Although not yet restored, the LaSalle was shown at Pebble Beach in 2008 along with the Biscayne, helping to demonstrate its historic importance.)
Then, on to the Sedan
And next on the docket? That will be the LaSalle II hardtop sedan that he also pulled out of the Warhoops salvage heap in 1988. That car has seating for six, rests on a 108-inch wheelbase and is a mere 50 inches high. It also was built with an aluminum "V-6" under the hood. Bortz hopes to finish that project by 2014.
The fourth Warhoops car, a 1956 Cadillac Eldorado Brougham Town Car, went from Bortz to Roy Warshawsky, owner of parts and accessories supplier JCWhitney.AfterWarshawskydied,the car went to a new owner in Michigan and was featured in Auto Restorer in July 2002. It subsequently was sold to Houston car collector John M. O'Quinn. His estate put the Cadillac up for sale at the recent RM Auctions event at Amelia Island but refused a high bid of $460,000. It was expected to bring from $500,000 to $750,000. That car has been restored "very nicely," Bortz said.
Always on the Lookout…
Since the LaSalle Sedan will be the last of the quartet of Warhoops cars to be restored, only the imagination can tell what project Bortz will undertake next. As always, he invites anyone to notify him of any GM concept cars he may have missed. Rumor has it that some engineers of the Motorama era quietly removed a few cars from the premises rather than see their creations destroyed, so it is possible that more exist. Bortz can be reached at PO Box 280, Highland Park, IL 60035; bortzautocollection.com.