Some Work Shoes That Don't Have to Stay In the Shop
Lightweight Designs and Bright Colors Have Arrived To Challenge Some Long-Standing Ideas About Safety Gear.
WE'VE TALKED ABOUT the KEEN Utility people before and their "hybrid" approach to working footwear. That is, they produce work boots and shoes that combine protection, comfort and style to the extent that you can wear them in your shop while working on your projects and then leave them on if you want to run an errand or switch over to some yard work for a while.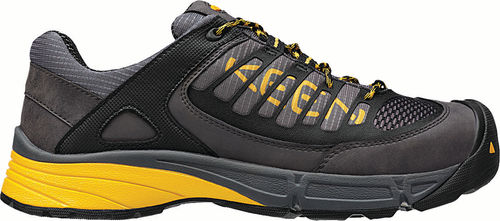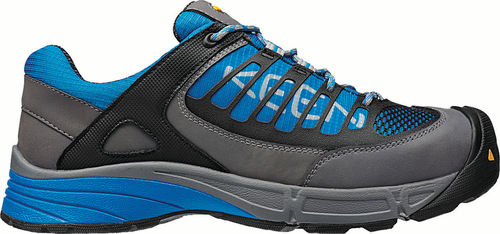 Well, they're at it again, having come up with some new offerings that at first glance look more like casual, everyday shoes than something that will protect your toes from a dropped tool or component, or help to prevent a slip and fall accident when you unknowingly encounter a fresh patch of oil or grease.
Let's start with the Aurora, the brightly-colored shoes on this page that resemble something you'd expect to see people wearing on a weekend outing at the local shopping mall.
"We continually challenge ourselves to bring new and innovative silhouettes to the work footwear category," said Mark Reilly, KEEN Utility division director. "The Aurora is the latest in a long list of products that challenge the way workers think of their footwear."
The company says this is its most lightweight safety-shoe style to date (each shoe weighs 20.5 oz.) and KEEN recommends it for "indoor manufacturing as well as outdoor landscaping and everywhere in between."
But while its "new vibrant colorways" include Bright Yellow, Imperial Blue and Red Clay, the Aurora shoe also incorporates KEEN's left and right asymmetrical steel toe protection and an oil- and slip-resistant non-marking rubber outsole that exceeds ASTM Mark II Non-Slip standards. (ASTM International was known until 2001 as The American Society for Testing and Materials.) Inside, the Aurora is equipped with KEEN.Dry, a waterproof, breathable membrane that the company says lets moisture out but never in, helping your feet to be cool and dry.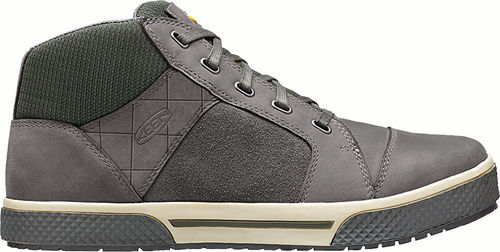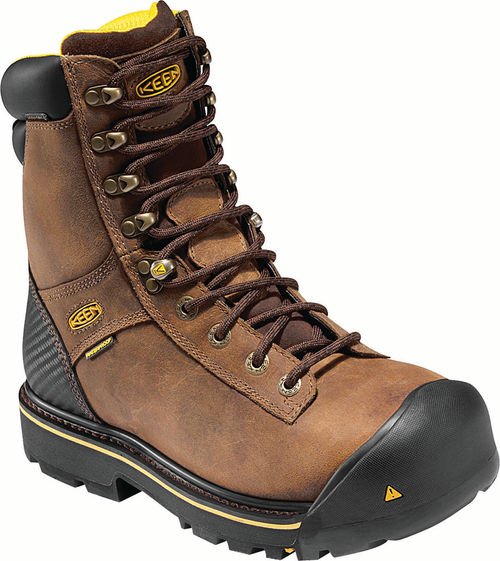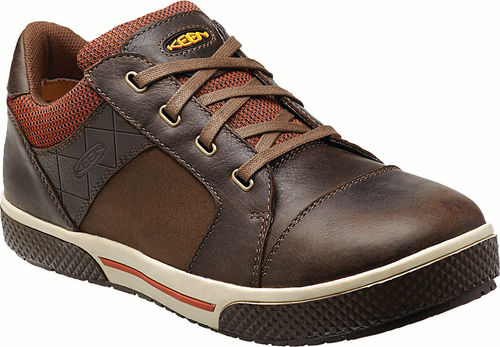 The shoe comes in a mid-rise style as well as a low electro-static dissipative (ESD) version designed to reduce excess static electricity while working indoors. The MSRP for the Aurora low is $145 and its $160 for the mid-rise.
What's that, you say that instead of an athletic-inspired style you'd like protection from something that looks like a casual lace-up… Then consider the Destin, a new KEEN design that almost looks too nice to scuff up in a working environment.
KEEN says the Destin "features a younger, faster styling," that "brings a new look to today's workers…from workday to weekend and everywhere in between."
Outside, the Destin has waterproof, full grain leather in brown or black/gray tones and it's available in mid and low heights. The shoes come with asymmetrical steel toes although you might not realize that by just looking at them due to their lower profile. Underneath there's "a maximum underfoot surface area with an oil and slip-resistant non-marking rubber outsole."
The Destin weighs in at 22 oz. and the MSRP is $110 for the low version and $120 for the mid.
OK, so you say that the new look in work shoes is interesting but you're more of an old-school guy when it comes to foot protection and you want a boot that looks and feels like a boot. Well, as you probably guessed, the KEEN folks have a number of those styles as well, such as the Wenatchee waterproof steel toe work boot with a full-grain leather upper and oil- and slip-resistant rubber outsoles. The MSRP on that one runs $190-$210 depending on whether it's a soft toe, steel toe or steel toe/insulated for cold-weather work.
Speaking of cold weather, another option here could be the Sheridan Insulated which is lined with "KEEN warm insulation" and has a "thermal heat shield" footbed for added underfoot warmth. It comes with asymmetrical composite toes (a bit lighter weight than steel) an oil- and slip-resistant rubber outsole and Goodyear welt construction. The MSRP here is $215.
As you might suspect, there are lots of other styles to choose from, so for more on KEEN and its Utility division (that's their term for work shoes) as well as other lines of shoes and boots for men and women, visit keenfootwear.com. The website has a store locator function or youcan call .
–Ted Kade