Some Product Reviews From Larry
This Restoration Pro Is Always Trying Out Something New, Such as Digital Wrenches & Engine Cleaners.
Eastwood Universal Welding Cart
Here is a great addition to any shop, the Eastwood Universal Welding Cart #11616. Made of heavy gauge steel and powder coated black, this well-designed cart lets you keep all of your welding equipment and supplies within easy reach.
This is a three-shelf cart that overall measures 301 ⁄2 inches tall, 16 inches wide, and 38 inches deep. Mounted on easy-to-roll heavy duty molded wheels in the rear and heavy duty casters on the front, this cart is stable, strong, and built for heavy loads.
The top shelf measures 113 ⁄4 inches by 20 inches and was designed specifically to hold your MIG welder. The sides of this shelf are flat to facilitate opening the welder without having to move it. Now that's a good idea.
The middle shelf measures 113 ⁄4 inches by 15 inches and is the right size for storing gloves, helmets, extra wire, new tips, and anything else you might need close at hand when welding.
The bottom shelf measures 113 ⁄4 inches by 171 ⁄2 inches, just right for that new plasma cutter you've been thinking about.
The rear of the cart holds an 80 CF bottle plus up to six different sizes of TIG rod tubes. The suggested price online as of this writing is $90.
For more information or to purchase this welding cart contact: Eastwood Company, 263 Shoemaker Rd., Pottstown, PA 19464; or visit eastwood.com.
Eastwood Small Job Blast System
Now you can have all of the benefits of a larger blasting system in a compact unit. The Eastwood Small Job Blast System #13943 ($40) is the perfect system for tackling those small jobs where you need to blast away rust problems on your project without having to blast the entire vehicle.
This also is the ideal unit for blasting suspension pieces that are too large to fit into the blast cabinet as well as body parts that are too detailed to be thoroughly hand sanded. This unit will deal with light rust, almost any paint, and heavy scale deposits.
The Small Job Blast System Comes with either soda media (#13943) or abrasive media (#13944) and is designed to operate at 80 psi, which is lower than its counterpart larger units which require at least 90 psi. The system comes with amedia container, spray nozzle and hose, plus three extra spray nozzle tips.
The company describes it this way: "Just connect the blasting gun to your home compressor, put on your protective gear, and place the pickup tube in the bottle of media (included)."
The Eastwood contact information is included in the first entry.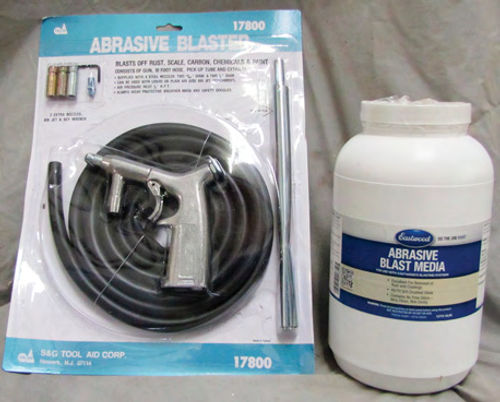 Eastwood Digital Torque Wrenches
Here are two great tools every automobile restorer should own, a set of Eastwood 3/8- and 1/2-inch drive Digital Torque Wrenches ($100 each).
Everything from the valve covers to the wheels on the old vintage ride must tighten to a prescribed setting. You can't just tighten down a bolt and hope that it is tight enough. Head bolts must be correctly torqued to ensure a good seal. Rod bolts must be correctly torqued to ensure they don't come off. Valve cover bolts must be correctly torqued to prevent destroying the gasket and ruining the seal. Wheels must be correctly torqued to keep them on the car, and last but not least, if your project has aluminum pieces on it getting the torque setting correct on those bolts may prevent you from ever being introduced to a bolt extractor and thread tap set.
And after years of working with mechanical torque wrenches, didn't you just know that an improved, digital version had to be coming along?
The Eastwood Digital Torque Wrenches #13630 3/8-inch drive and #13632 1/2-inch drive come with a backlit LCD display so that you can read the setting even in the bright sunlight, a buzzer to let you know when you have reached the preset specification for those times when you can't see the display for the cross member, have 72- tooth ratchets so that you can torque even when space is limited, and can handle from 7 to 100 ft.-lbs. with an accuracy of +/- 2%. Four AAA batteries are required.
I've used them, I like them, and I plan to donate my old torque wrenches to the scrap metal pizza fund.
Again, check out the first item in this report for ordering information.
GUNK Engine Cleaners
Here is the next great line of products from GUNK. If you are not familiar with GUNK products, these are the guys who make that great carburetor cleaner that almost every old car guy has used at one time or another. They've been around for some six decades and during that time have come out with a wide line of cleaning and degreasing products for the exterior, interior and under-the-hood areas of your car or truck.
Today GUNK has added a line of engine degreasers designed to handle the engine cleaning task in everything from the grocery getter in the garage to the work truck parked on the curb to the vintage ride that has its own special parking place.
GUNK Foamy Engine Cleaner is recommended for the grocery getter. It is designed to clean away road salt and dust from in and around all of that plastic found in newer engine compartments.
GUNK Original Engine Degreaser is recommended for your work truck. This vehicle is going to be exposed to road salts, construction dust, and the occasional oil leak.
GUNK Heavy Duty Gel Engine Degreaser is there for the vintage ride, whether that ride has thick, caked-on grease, or is simply subject to the high heat and burned-on oil situations common to older engines.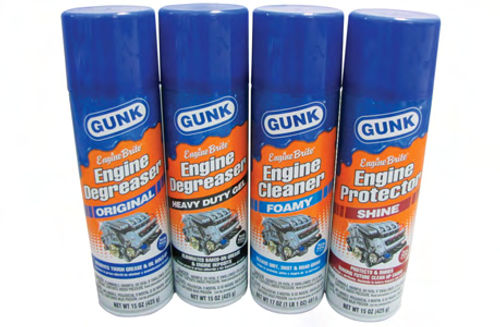 After the cleaning is complete, try GUNK Engine Protector. It will leave behind a protective coating that helps resist road build-up and makes future engine cleaning tasks a little easier. Engine Protector also puts a nice detailed shine on the engine.
All of these products are spray on, let them sit, and then rinse them off. No hard work is involved. You are left with a detailed and clean finish, just what you want to see any time you open the hood. The degreasers and protector are priced online at about $5 each for a 15-17 oz. container, depending on the product.
GUNK products come from the Radiator Specialty Co., 600 Radiator Road, Indian Trail, NC 28079. Their products are available at most auto parts retail outlets or you can visit GUNK.com for a list of retailers in your area or to purchase products online. Or you can call 704-821- 7643 or .
Editor's note: If you know of a special product that you'd like to share with fellow readers, please tell us about it. And for Larry's latest how-to article, this one on working with water-based paints, see page 12.