Happy 60th Birthday Corvette!
In Its Early Days, Slow Sales Seemed to Predict a Dim Future. But Six Decades Later, Things Definitely Look Bright.
SAY THE WORDS "America's Sports Car," and anyone with the slightest interest in the automotive world will immediately know that you're talking about none other than the Chevrolet Corvette—which, by the way, is observing its 60th birthday with the launch of its 2013 models.
With 60 years of marketplace experience, it's a rare vehicle, indeed, particularly when you consider that Detroit resisted its usual temptation to start off with a small sporty car and then progressively pump it up until it morphed into a large "personal luxury" cruiser.
No, although the Vette has undergone numerous styling changes over the years—and certainly has grown in the performance department—it started out as a two-seater with a wheelbase of 102 inches and a length of 167 inches…and today it's a two-seater that sits on a 105.7- inch wheelbase and is 174.6 inches long.
Almost Had a Very Short Run
But while we're now observing the occasion of six decades and counting for the Corvette, there was a time when it looked like it might not make it very far beyond its second birthday…
The first production Corvette, built on June 30, 1953 in Flint, Michigan, was based on a GM Motorama dream car and was given an uncommon fiberglass body to help speed its start-up and get it into showrooms as soon as possible. Plans called for the Corvette to switch over to steel bodies after it had some time in service.
The initial Vette was meant to be a "bugs-in-your-teeth" roadster, much like the European sports cars that had caught the eye of enthusiasts after World War II. A number of those European cars, in fact, had been brought back to this country by servicemen returning from the war.
ButthatfirstCorvette immediately ran into resistance from two directions. On the one hand, fans of the European cars, and other consumers as well, were skeptical that Chevrolet could build a sporty vehicle. After all,Chevys of the time were grocery getters and commuters, cars that had a reputation for being practical and durable, but certainly not very strong in the "fun" department. And on the other hand, people used to domestic vehicles were turned off by the Corvette's European touches such as slide-in side curtains instead of windows that roll up and down and doors without exterior locks or handles. Add to that the fact that the car came with a 235 cid Blue Flame six cylinder engine and two-speed Powerglide automatic transmission, not exactly a neck-snapping combo, and you had a recipe for a very short-lived sports car.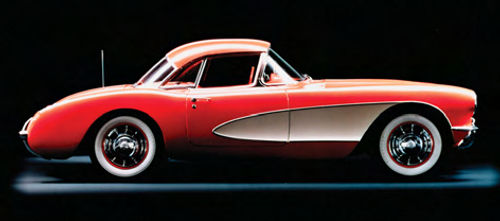 Although GM execs originally had predicted that Corvette would quickly grow to sales of 10,000 per year, only 300 1953 Corvettes were built and for '54, with a virtually unchanged car, 3640 were built but reportedly 1100 of those were still in stock at the end of the model year.
Saved By the Bird
With unimpressive results such as those achieved in its first two years on the market, GM officials started to murmur among themselves about the wisdom of carrying on with the slow selling fiberglass car. But then word filtered into their headquarters about the two-seat 1955 Thunderbird about to be introduced by Ford Motor Co. and the future of the Corvette suddenly took on new importance. After all, how could the General just turn and run in the face of new competition from its crosstown rival.
So for 1955, while the Vette still looked pretty much the same, it became available with the new Chevy small-block 265 cid V-8 engine and a three-speed manual.
Then for 1956 things really got interesting as the car was restyled with forward thrusting front fenders, that concave side cove and sloping rear fenders with integrated taillights. Not only that, the new car came with roll-up glass windows and external door handles, making it much more user-friendly.
The following year the Corvette got Chevy's bored-out 283 V-8 and a four-speed, close-ratio, all-synchromesh transmission became available. And while fuel injection was only found in some 1000 of the 6300 Corvettes built for that model year, the "fuelie" image boosted the car's credibility in the eyes of performance drivers.
The car's public profile got another lift when the Vette landed a starring role in the television show "Route 66" that debuted in October 1960. The show centered around two young men traveling the countryside (often quite far from the famous Mother Road) experiencing freedom and the wind in their hair as they and their Detroit roadster drove from one adventure to the next. The exposure apparently had a beneficial effect for the car as sales went from nearly 11,000 in 1961 to 21,513 in 1963.
The Sting Ray Era
Something else happened for '63 that helped to turn heads when a Corvette passed…there was a redesign that included the first Vette coupe, a fastback car with a two-piece or "split" rear window. While it added a distinctive touch to the car, that split window really cut down on rear visibility and only lasted one year.
The Sting Rays of 1963-67 brought independent rear suspension to the line along with air conditioning and power steering and brakes. The engine possibilities also grew to the massive 427 cid V-8, thus erasing any lingering questions about the car as a high-performance mover.
A Well-Known Vette
The next major restyling came for 1968 and with this came the debut of the "designer" Corvette as it came to be known. This car literally rolls and flows from the front end to the windshield and the coupe's fastback was replaced with a "tunnel" roof. The exterior door handles that had been such a hit in 1956 were gone once more, but this time they were replaced with pushbuttons.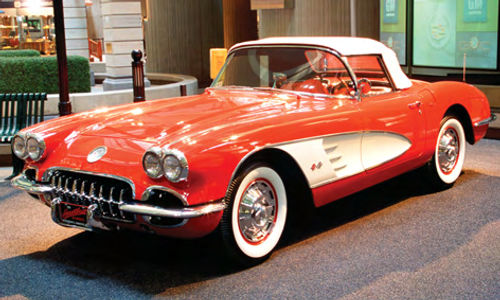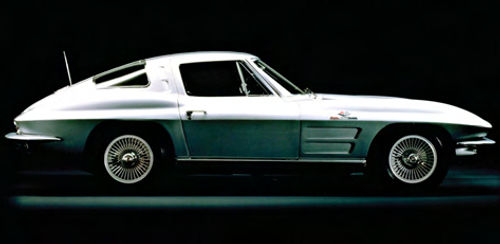 Interestingly, the Sting Ray name disappeared for a year and when it returned for 1969, it had contracted into one word—Stingray.
If you're looking for a project car, an example from this generation—known as the C3—will be the easiest to find because it was in production for so long, from 1968 through 1982.
The Invisible Car
More advice for those seeking a pro- ject vehicle is don't start searching for a 1983 Corvette…none made it to the market. It was time for another restyling but GM missed the '83 model year with the introduction of its fourth-generation car. So instead, it arrived in the spring of 1983 as an '84 model.
Its Own Horsepower Race
Maybe it's still trying to live down the fact that it started life with a 150-horsepower six-cylinder engine under its hood, but the Corvette has been known for its escalating horsepower over the years to the point where in some forms it's recognized as a supercar because of the large number of ponies that reside under its hood. (The Corvette powers-that-be also have been great ones for coming up with various letter-and-number combinations to designate their high-performance engine and handling packages.
Forinstance,the1990ZR-1 hatchback coupe received a new LT5 V-8 engine that had been developed by Lotus. The 5.7-liter engine had dual overhead cams with four valves per cylinder and was rated at 375 horses.
Then in 2002 the Z06 version was supplied with an LS6 V-8 rated at 405 horsepower. It went from 0-60 in 3.9 seconds, more than a half-second quicker than the ZR-1.
But there was more to come in 2009 when the ZR1 tag was revived (this time without a hyphen) and it received the LS9 6.2-liter V-8, the first supercharged engine to find its way into a Corvette. Rated at 638 horsepower, it will do 0-60 in 3.5 seconds and reportedly will top out at 205 mph.
The Start of the 60th Birthday Party
The first of the 2013 models, the Corvette 427 Convertible Collector Edition, already has made its public debut, and GM has tagged it as "the fastest, most capable convertible in Corvette's history."(That's it on the right in our cover photo. To the left is the first of the breed, the '53 Vette.)
"The 2013 model year will be historic for Corvette, marking its 60th anniversary and the final year for the current 'C6' generation," said Chris Perry, vice president, Global Marketing and Strategy for Chevrolet. "We couldn't think of a more fitting way to celebrate these milestones than bringing back one of the most coveted combinations in the brand's history—the Corvette convertible and a 427-cubic-inch engine."
(The early 427-powered Corvettes were offered from 1966 to 1969 and those cars, especially the convertibles, are considered to be some of the most collectible Vettes ever built.)
The LS7 V-8 engine in the current Convertible Collector Edition is rated at 505 horsepower and is the most powerful engine ever installed in a production Corvette convertible. It comes with a six- speed manual transmission. This special car includes the driveline and rear axle system from the Z06, a rear-mounted battery and 19-inch front and 20-inch rear wheels wearing ZR1-style Michelin PS2 tires. It also features several weight-saving carbon-fiber components, including a carbon fiber hood, carbon fiber Z06-style fenders and carbon fiber floor panels. This lineup translates into a 0-60 time of 3.8 seconds, 11.8 seconds on the quarter-mile and a top speed of 190 mph, making it one of the fastest convertibles in the world.
All 2013 Corvettes, including the 427 Convertible, will be available with a 60th Anniversary Package featuring an Arctic White exterior and a Blue Diamond leather-wrapped interior with suede accents. Convertibles will have blue tops. (All of the 1953 Corvettes had a Polo White exterior and Sportsman Red interior.)
Other anniversary content includes a ZR1-style rear spoiler and the "60th" logo on the wheel center caps, steering wheel and seat headrests.
A Difficult Choice
When you consider the variety that Corvette has offered over the years, from the early roadsters to today's supercars, a person can't be blamed if he has a hard time deciding just which car he'd like to see parked in his garage.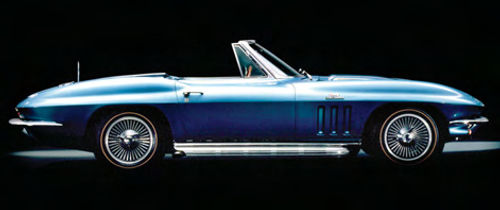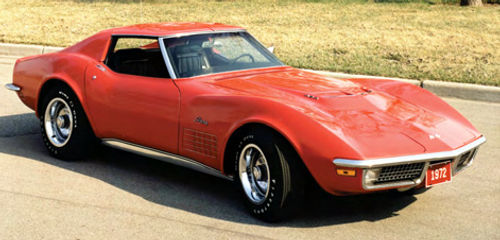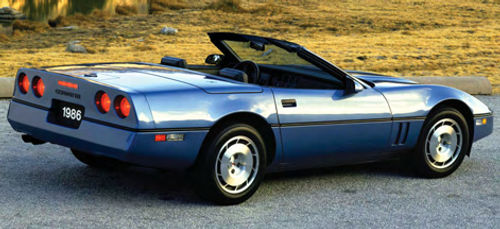 I must admit I'm partial to the 1978 Silver Anniversary edition that came with a special two-tone paint combination of silver metallic on the upper body and charcoal silver on the lower panels. But then my allegiance to that Vette is at least somewhat flavored by the fact that I was a young automotive reporter when the car came out and GM let me borrow one for a week.
Yet while I Still Remember The fun I had with that anniversary edition Corvette, I also can see the lure in a '60 model or a '63 or a '67 or… Well, it's obvious that I'm perched on the fence regarding this subject.
So if you have a clearer focus on what definitely was the best version of the Corvette ever built, why don't you share your thoughts with us.
And if it just so happens that that perfect sports car has taken up residence with you, send along a high-resolution image or nice print of it as well so we can share your treasure with the rest of the readers.