A New Breed of Muscle Cars
Purest be warned: if modifying vintage cars makes you a bit squeamish, you may want to shield
your eyes. Sure, you can handle adding disc brakes or other standard modifications to bring a vintage vehicle up to speed, but compared to those "stitchups," what XV Motorsports does might seem more like triple bypass surgery.
Started in 2005 by John Buscema, XV Motorsports is an Irvington, New York, company that takes vintage Mopar cars under the knife and modifies them, turning them into modern muscle cars that handle and perform on a much higher level.
"In their stock form, these cars don't handle very well," Buscema, president of XV, said. "We've completely re-engineered the cars to run like modern cars."
This means a new, state-of-the-art suspension system, a chassis stiffening system, new, customized 5.7and 6.1-liter Hemi engines and custom interiors that have all the creature comforts of a modern automobile, including plush seating, a new stereo system and even a center console for cup holders among other amenities.
"Our customers want cars they can really use," Buscema said. "The cars we build are far more functional than a stock car version."
But, he went on to say, they still offer the speed and power that muscle car owners have always enjoyed.
Buscema has a wide variety of sources from which he obtains the donor '60s and '70s Mopars that XV transforms, and they always have between 15 and 20 shells available for customization. When they arrive, the cars are stripped, meaning that every nut and bolt is removed, and then they go through a chemical stripping, which removes paint and gets the shell down to bare metal. The suspension goes to the recycler, the interiors are resold and many donor cars come without engines, which would have been replaced anyway.
Then, those looking for a born-again muscle car with modern suspension and performance can simply select their Mopar shell of choice, specify what modifications they would like to have made, and the XV technicians will get to work.
The process of restoring and modifying a shell takes about eight months, Buscema said, with three teams assigned to their own specific tasks and working on multiple cars as they make their way through the phases of remodeling.
For those who already own vintage muscle cars, and aren't morally opposed to modifying, XV can help upgrade some of the stock features on your car that can make driving it in anything but a straight line somewhat of a hassle. Muscle car owners can opt to have XV install the components they are looking for, or, for those with a knack for getting their hands dirty, parts can be purchased and installed at home.
"Basically," Buscema said, "everything we sell, we install. And everything we use, in terms of parts, we sell."

Race Inspired
Buscema started his career in financial services, but he has always had a love for cars and a passion for racing.
"I did real crazy racing," said Buscema as he recollected the good old days. What he did was open road racing to be precise. Buscema ran his '97 Mustang in races like the Silver State Classic Challenge and the Pony Express, which are road races in Nevada that take place on about 90 to 120 miles of closed-off highways.
"You're on a highway, so you've got to take turns; it's not just straight-line speed," he said.
"I raced in the Unlimited Class, which meant as fast as you can go from start to finish.
"Out there it's all about top speed, handling and durability."
Combining his passion for racing with his financial background, he took what seems a natural step and created XV Motorsports. That same focus on speed, handling and durability goes into every step of the modification process XV takes with their Mopar shells.
@@Media--sm-13371
Level I Suspension
XV offers two suspension systems that give their Mopars the kind of handling a modern car would envy. What's the difference between the two? "About $10,000," Buscema joked.
On top of price, the major difference between the two systems is that a Level I suspension keeps the integrity of the stock body intact, while the Level II suspension wipes the slate clean and really re-does the stock configuration in order to maximize performance and handling.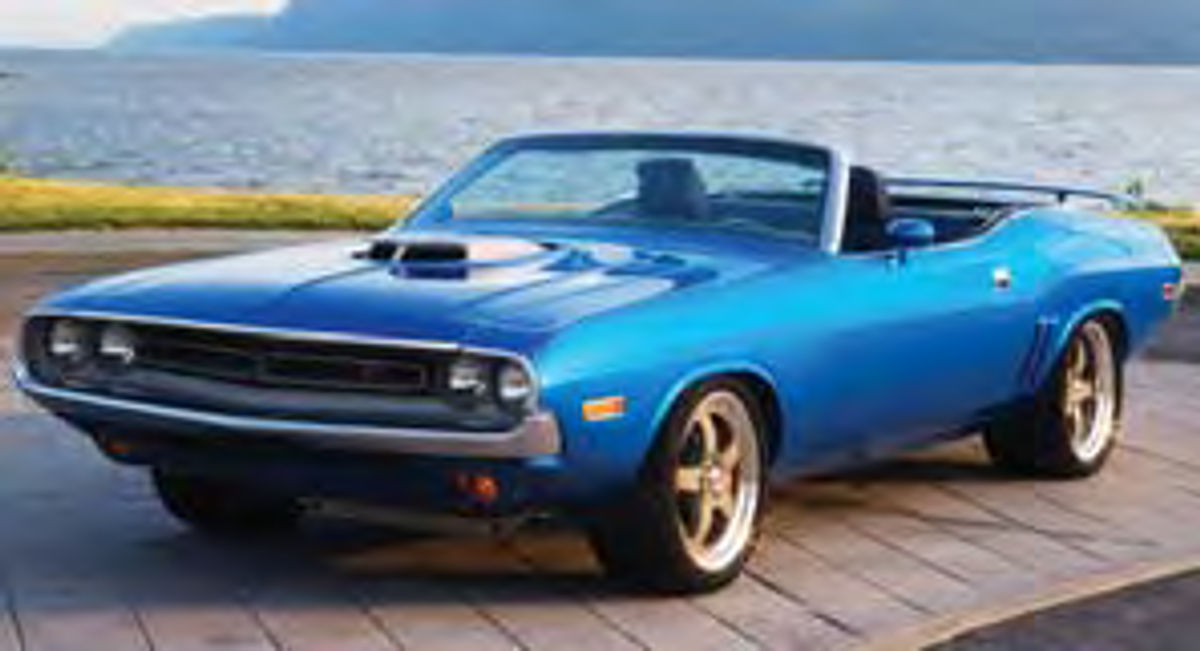 With the Level I package, although XV is modifying the car by putting modern parts on the vehicle, they are not making any permanent changes. This might bring some comfort to the purist, and it is a good option for anyone who might want to sell their car down the line to someone who wants an unaltered stock muscle car.
It is also good for someone with a very valuable or rare collector car who wants the optimized suspension and handling without doing anything to the body that might hurt its resale value.
During installation, XV will bag the original parts and then give them back to the owner so that if he wants to show or sell his vehicle in stock form sometime down the road, the car can be put back into its original condition.
The Level I suspension is probably the best option for anyone wanting to do their own hands-on modification using XV parts. Keeping the original body intact means a much less complicated installation process. "Anyone who has some experience (restoring cars) should be able to do the Level I suspension without too much difficulty," says Buscema.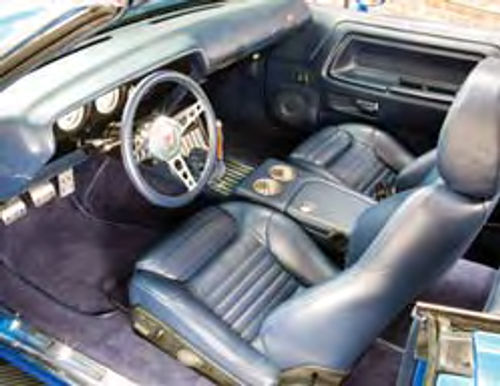 Some features of the Level I suspension include: Custom valved aluminum body monotube shock absorbers—100% dyno tested, XV spec torsion bars (small block and big block rates), adjustable strut rods, urethane strut rod bushings and control arm bushings. The rear sus-pension includes XV spec leaf springs, urethane leaf spring bushings, new leaf spring shackles and bolts, and both the front and rear suspension is supported by XV spec anti-roll bars with urethane bushings.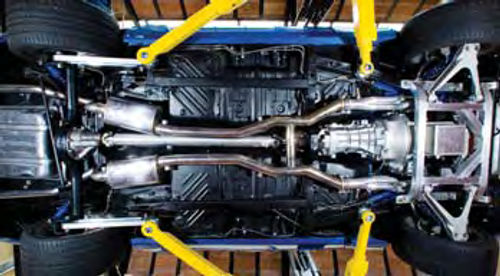 Level II Suspension
The Level II package means: "Clean paper. No rules. We can do whatever we want to the car," Buscema said with a bit of restrained giddiness.
The Level II system is where XV's ingenuity really shines, and you can tell that Buscema is excited to show this off. They've put in aluminum tubular K-members, optimized the geometry of the car, put in custom shock valves, gotten rid of the leaf springs and replaced them with a three-link, rear adjustable panhard bar system, and that's just the beginning. All of this along with the new Hemi engine, and XV has given the car a prime setup for road racing without sacrificing the ride comfort that drivers have come to expect from modern day cars.
Because of the level of modifications involved, the Level II suspension is a different story when it comes to doing it yourself. Though Buscema says it's not impossible for hobbyists to do their own Level II suspension installation, it will require more difficult steps and shouldn't be attempted unless you're fairly confident in your welding skills.
Both Level I and Level II suspensions are complemented by one of a selection of new Hemi engines. The 5.7-liter engines put out as much as 440 hp and the 6.1liter engines provide about 600 hp.
Also, both systems can be supported by the chassis stiffening system, wherein XV mechanics test the flexibility of the car and then tighten the chassis for better performance and drivability.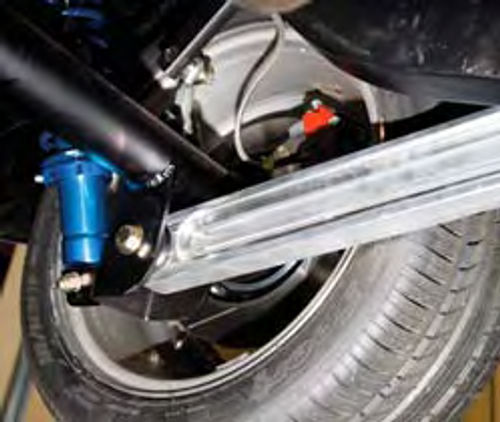 "The old cars have a fair amount of flex," Buscema said. "That's what the chassis stiffening system strives to minimize. The stiffer the car, the better it's going to perform."
State of the Art Technology
Both suspension systems were developed with the use of sophisticated testing mechanisms, and that same equipment is used during the installation process.
Before hitting the track for a road test, XV monitors the suspension using a computer-controlled test apparatus.
Covering the car with sensors, the XV crew puts the car's four wheels on a fourpost rig, which is basically a car treadmill of sorts.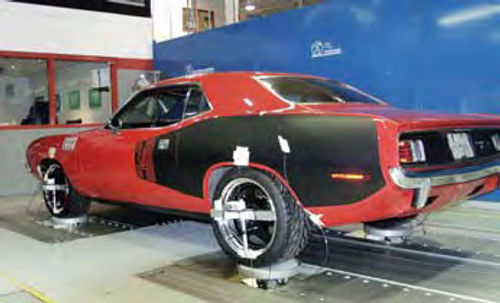 Then, they run the car on the rig, bouncing it around at various speeds to see how it handles under different driving conditions. Using an up-to-date car
database that contains the detailed specs and performance data on over 250,000 cars, XV is able to compare their car to a wide array of modern cars.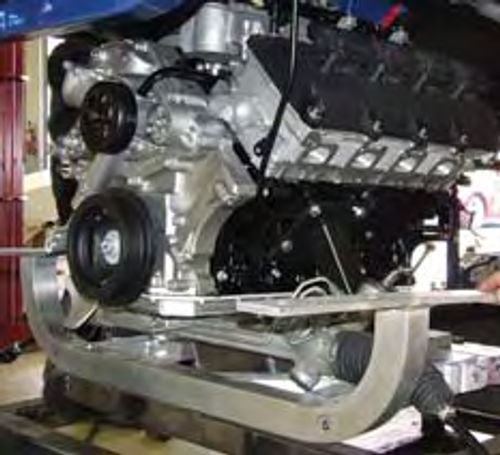 This type of technology, the same equipment used by leading race teams, allows XV to optimize the car's suspension. "It's so precise," Buscema said, "you could see the differences in the tire pressure."
After the computer tests, it's time to start the road testing, and XV spends a full day at the track dialing in their vehicles as well as another day of drivability testing to see how the cars handle on the street.
Along with the state of the art technology, XV has experienced crew members working on their cars.
They employ suspension engineers and ride and handling specialists who have worked for major auto companies and international race teams.
"These are guys from the highest levels of professional auto-sports helping us out on suspension," said Buscema.
As you probably could guess, this sort of testing, technological research and development, and equipment and expertise doesn't come cheap.
Depending on the model of car, suspension system and engine used, XV muscle cars run anywhere from $140,000 to $250,000. The average price for a hardtop is generally around $175,000, while convertibles start around $200,000.
It's certainly a big chunk of change, but John Buscema is confident that his cars are on a different level than his competition. An XV press release claims that, "No other company has ever applied this level of technology and expertise to any aftermarket application."
Modified Vintage Muscle Vs. Brand-New Iron
As if contending with other custom shops wasn't enough, XV now has to compete with the Detroit Three as well. By 2009, Ford, Dodge and Chevy will offer modern versions of their classic Mustang, Challenger and Camaro muscle cars.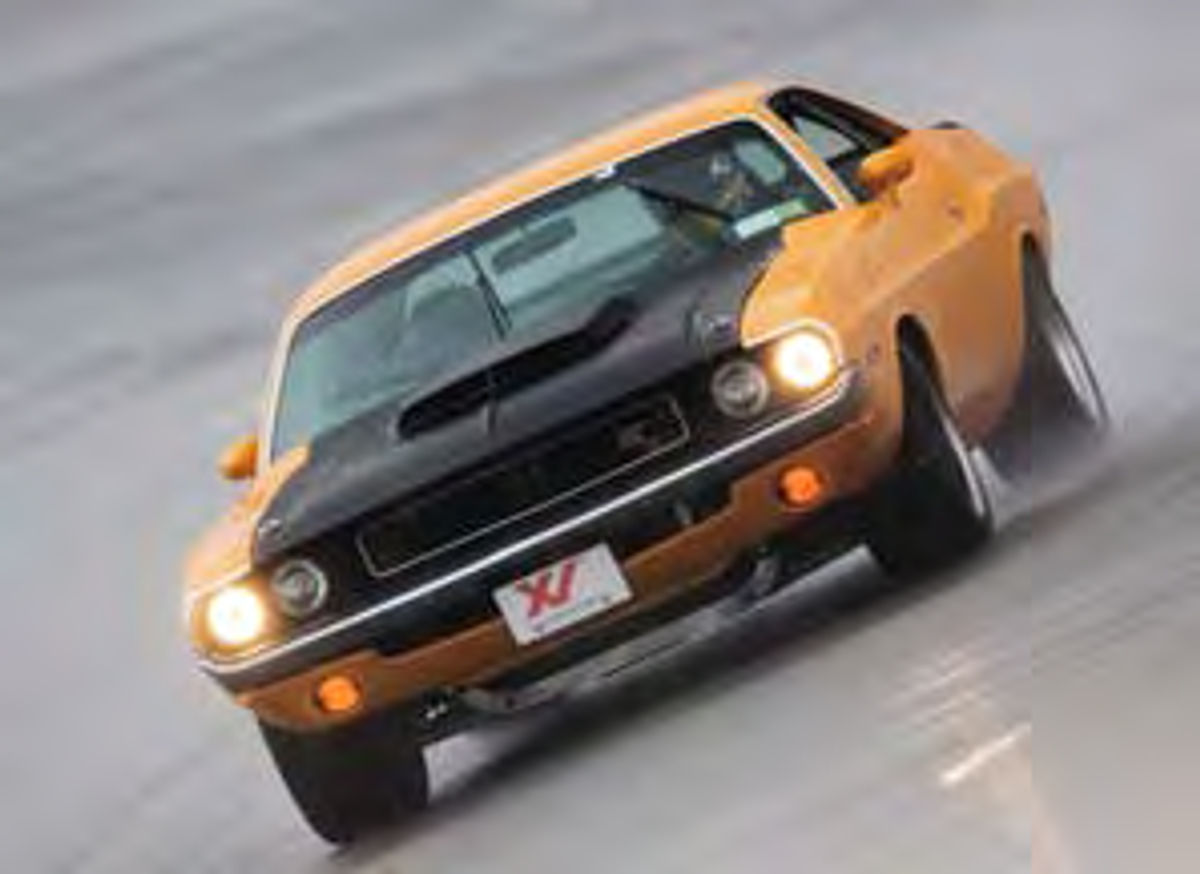 The 2008 Dodge Challenger carried a lot of hype at this year's Chicago Auto Show and Motor Trend was enthusiastic after a ride in a final engineering prototype.
According to Chrysler, the Challenger offers "design cues reminiscent of the original Challenger, a race-inspired interior, world-class ride and handling across a dynamic range, a standout powertrain and benchmark braking." It is unmistakably a muscle car with modern performance and control...and with an MSRP of $37,995 for the 425-horsepower SRT8 version, it sells for far less than any vehicle XV offers.
For 2009, Chevrolet will bring back the Camaro, which also has drawn a lot of notice at major auto shows in prototype form. GM says the all-new pony car, scheduled to go on sale early next year, will be "a thoroughly modern interpretation of the 1969 model."
The front-engine, rear-wheel-drive sport coupe will have an independent rear suspension, and will be offered in a variety of models with the choice of manual and automatic transmissions and V-6 and V-8 engines.
Of special interest is the fact that the new Camaro will be competing with the Challenger and Ford's venerable Mustang in a market that may already be flooded withonly two cars. According to an article posted on Topspeed.com in February, sales of the Mustang are down 27%. But will the revival of two more muscle cars garner more interest for the market, or cause sales of all three automakers to lag? And how will this affect XV?
When asked if he's worried about competing in this market, Buscema responded, "Yes and no."
"It's a lot more money to build an old car up rather than go buy a new one off the floor," he admitted, and in a struggling economy this might be a big factor for drivers.
But while a new car with new technology might be nice, Buscema feels that XV's rare combination of the vintage and modern will keep his custom build business swimming. To Buscema, using the original Mopar shells makes all the difference.
"The new cars are an interpretation of the old cars," he said, "but they're not the same."
Furthermore, along with competing against the major domestic car companies in the showroom, Buscema is hoping to actually create some new business for XV off of the revived Dodge Challenger. Plans are in the works to launch products such as cold air-kits, intake manifolds, camshafts, engine upgrades and even custom built motors specifically aimed at anyone looking to upgrade their new Mopar.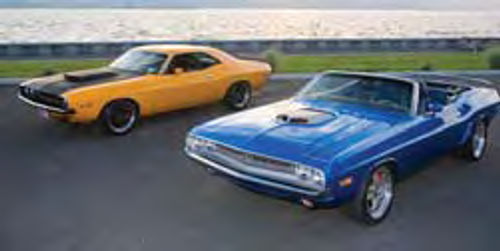 Modified Vs. Stock
So what do hobbyists think about vintage cars getting a modern face lift? Buscema said that even though many enthusiasts prefer stock restorations as opposed to modifications, there has been very little negative feedback.
"The cars we're using are not super rare," he said. "We're taking real Plain Jane types and making them something that they never were."
Take the Dodge Challenger as an example. Chrysler offered the RT as their high-performance model and it could be equipped with an engine as big and powerful as the 440 V-8 or the 426 Hemi. But there also were a lot of Challengers sold with a 318 V-8 or a Slant Six under the hood.
XV would be hard-pressed to get an RT model because, due to its greater historic value, it would likely fetch more money restored than it would if it were modified. Instead, XV generally works with cars that carried a 318 or a Slant Six as original equipment. With a new engine and modified suspension, it becomes a modern muscle car.
If, Buscema said, XV was taking rare models and modifying them, then he could see there being some real backlash from hobbyists, but he doesn't want to mess with modifying rare vehicles out of respect for the vehicles, and because it just wouldn't make sense financially.
What he really wants is to make a vintage car into a daily driver muscle car that can be enjoyed.
"I like stock cars," Buscema said, "but I don't like to drive them. It's fun for a little while, but for me, personally, the novelty wears off."
And he's not alone. Since XV was started, Buscema has seen more people opting to modify their muscle cars rather than leaving them in their original condition.
XV aims to put the fun back into driving muscle cars with models like their '70 Challenger and '71 Challenger convertible.
"I rarely run into people who like to drive (stock cars), other than in a straight line," said Buscema. "Since we've been doing this, it's become more and more accepted and more and more common."
Keys to Success
Buscema is happy to report that business is strong at XV. Though a stumbling economy and ever-rising gas prices have kept a lot of car dealers sweating, XV has not seen any slack in sales. "Knock wood," Buscema said.
Even with gas prices at record highs, and though muscle cars are notorious gas guzzlers, Buscema's customers aren't worried. They're looking for a fun car to drive on the weekends or show off at the local track, not a primary mode of transportation.
XV's success might also have something to do with the fact that they are not adverse to expanding into new markets and doing new things. Though their souped up Mopars are the face of the business, XV plans to add Ford shells to their line of modifiable cars, and they also sell unmodified stock cars—some restored and some survivors.
As well as adding more cars to their arsenal, XV is constantly expanding their business to offer more parts for sale. Buscema said on average they produce a new product a month. Many of these come from discoveries that technicians have made in the garage.
"A lot of the products we sell come from problems we had from building cars," Buscema said.
"We're offering the same solutions to people trying to build cars."
Obviously, to provide all of this, a lot of work gets done at XV Motorsports, but it's not all work, no play.
For example, last October the company organized a muscle car driving school. Professional drivers showed attendees how to drive their muscle cars to their full potential on the racetrack. Though the weather didn't cooperate, drivers still got out on the rain-slick track and got to enjoy driving their own vehicles as well as trying out some of their new skills on XV vehicles.
When talking about that day at the track, Buscema couldn't help but add that the XV Motorsports vehicles performed well.
"All the stuff we do," he said, "at the end of the day it's not about saying the car's fast and works great."
Anybody can talk a big game, but, Buscema said, "We actually take the cars out and beat them."