Rolling Out a New Garage Floor
These Large Mats Provide a Useful Alternative to Painting. This Will Help You Decide if They're Right for You.
EVERYONE WITH A pride and joy frets over their car's accommodations. Unfortunately, sprucing up the garage rarely tops yoga lessons and weed pulling on our to-do lists.
Years ago, I discovered the joys of epoxy painted floors in my man cave which normally accommodates four cars, a couple of motorcycles, storage shelves, tool boxes, and one large work bench.
Industrial-grade paint jobs are expensive though they provide a wealth of benefits. Such a floor surface is attractive, durable and easy to clean. Notice that I did not include bulletproof. After one recoat, a half-dozen restoration projects, and 15 years of use, my floor is less than pristine in certain areas. Normal wear and tear compounded by winter slush and gouges inflicted by sliding engine blocks and transmissions all take their toll.
Seeking an Alternative to Paint
Ever open to creative solutions, I scoped out molded-plastic interlocking tiles. They are more attractive than a single-shade painted floor but there are a few obvious issues. Major cleaning can deposit water and soil between the tile gaps. Heavy loads imposed by jacks and jack stands are another concern. At roughly $2 per square foot, modular floor systems are more expensive than the paint approach.
Then polyvinyl mat material struck me as an intriguing alternative. A product called G-Floor was invented about a decade ago by Bret and Don Sneed, a Kansas City area father and son. What started as their selection of Parking Pads has grown into a broader line of rubberlike floor covering materials available in a range of colors, sizes and surface textures. The Sneeds' company—Better Life Technologies (BLT) of Lenexa, Kansas— has prospered to become the world's largest manufacturer of garage floor covering mats.
The ability to sweep my scratches and gouges under an attractive yet durable rug appealed to my energy-conservation side so I decided to give G-Floor a try.
BLT's product lineup consists of three material thicknesses. The standard grade is 55 mils or 0.055-inch thick. What's called the commercial grade is 75 mils and BLT's industrial grade material is 85 mils thick.
Before you go whole hog, realize that the extra-thick material is more expensive to purchase and to ship. Also, it's far more cumbersome to move for cleaning, remodeling or transfer to a new location.
There are eight color choices, widths ranging from 7.5- to 10 feet, and lengths varying from 14 to 60 feet. G-Floor is made in four different surface finishes. The ribbed finish I chose helps channel water and debris toward the exit. The diamond tread finish mimics the steel and aluminum plating seen on fire trucks. The coin alternative gives your floor a pennies-from-heaven look. A finish called Levant has a leather-like grain that I suspect is the most broom-friendly.
To determine which colors are offered in what widths, lengths, thicknesses and surface textures, visit BLT's Web site, bltllc.com.
Available Through Numerous Sources
One thing you won't find on the company's Web site is pricing information. This is because BLT doesn't sell direct; instead, their products are routed through numerous retailers, on-line vendors, and installation outfits. You can buy G-Floor at Sam's Club, Cabela's, Costco, Menards and other stocking stores or you can order it from Griot's Garage, Overstock.com and Northern Tool. If you're filthy rich and reluctant to soil your hands, the Web site lists service providers who'd love to handle your installation from start to finish.
A cursory check revealed prices ranging from less than a dollar per square foot for the lightest-grade G-Floor at Sam's Club to nearly $4 per square foot for the commercial grade sold by the Extreme Garage enterprise in Ohio. You'll spend more for the industrial grade material or if you hire an installer.
Time to Clear, Clean and Roll
The most difficult part of applying Floor is clearing and cleaning the surface to be covered. I had various accumulations and cars to move plus a harsh Michigan winter's worth of road grunge to hose out the door. After a long wait for the sun and a few hours of strenuous sweeping and scrubbing, I was ready for the roll-out ceremony.
Three 7.5x17-foot chunks of slate grey commercial-grade G-Floor material were delivered to my driveway by truck. Rolled and boxed for shipping, the stuff was easy for two to move into position before unpacking.
Aligning the material with corners and edges and rolling it out flat took surprisingly little time and effort. After a day or so in place, all edges were sufficiently relaxed to adjust the G-Floor to its final position. No adhesive is needed.
I covered about 50 percent of my garage with G-Floor as a taste test and to give the shabbiest areas of the floor a new lease on life. For now, the rest of my painted floor remains protected by swaths of recycled carpet.
Pros & Cons of the New Flooring
After a couple of weeks with the new flooring in place, here are attributes I have observed:
• G-Floor is a snap to install and it looks better than any painted surface I've ever inspected.
• Flaws, cracks and divots in the underlying cement and scratches, gouges and dull areas in my epoxy painted garage floor have left the building. The remaining traces of underlying irregularities—in my case, seams around a patched area—are minimal.
• The polyvinyl material is comfortable to walk on and it provides an effective moisture and sound barrier.
• Cleaning with a mop, hose, broom or blower requires only a little more effort than you'll need with a painted floor surface. Dripped oil and antifreeze pose no problem here.
• Trimming the G-Floor mat to fit around shelving I didn't wish to move posed no challenge; a razor knife or scissors cuts this stuff like butter.
• While no major moves have been necessary so far, it's comforting to know that the G-floor can be rolled up for installation elsewhere or moved outside for a bath. I also experienced a few negative concerns with the product:
• The dark color I selected shows water marks. Pick the lightest color you find attractive to avoid this issue.
• My ribbed surface is not dust-pan friendly. The only way to sweep up droppings or moisture on my floor is to broom the debris the full length of the material. Habitual sweepers should select another finish.
• G-Floor wads up under tires steered with the car stopped. (I have one double entry door servicing two distinct areas so tight maneuvers are occasionally required to move the deep-stashed vehicles.) This situation is easily avoided by keeping the car rolling slowly as the front wheels are steered.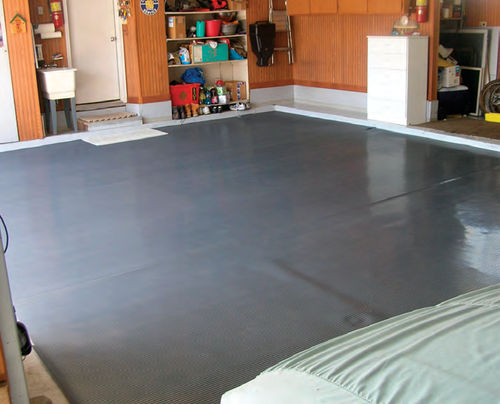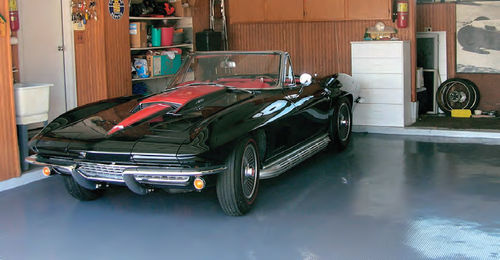 • Jacking vehicles and storing them on jack stands can leave permanent marks or gouges in G-Floor material. To avoid that predicament, keep pieces of plywood or carpet handy to safeguard your floor covering. The same suggestion applies to any painted garage surface.
• Metal chips from drilling or machining will become imbedded in this material if they are stepped on.
All things considered, my garage floor's transformation from scruffy epoxy to a fresh G-Floor turned out better than I had expected.
I enthusiastically recommend this treatment as a cost-effective alternative to painting your floor or as a protective covering for any vulnerable surface already in place.
Further, your car will purr contentedly every time it rolls onto the attractive Floor surface.
Resource
Better Life Technology, LLC
9812Pflumm Road
Lenexa, KS 66215