Restoring a General Motors Locomotive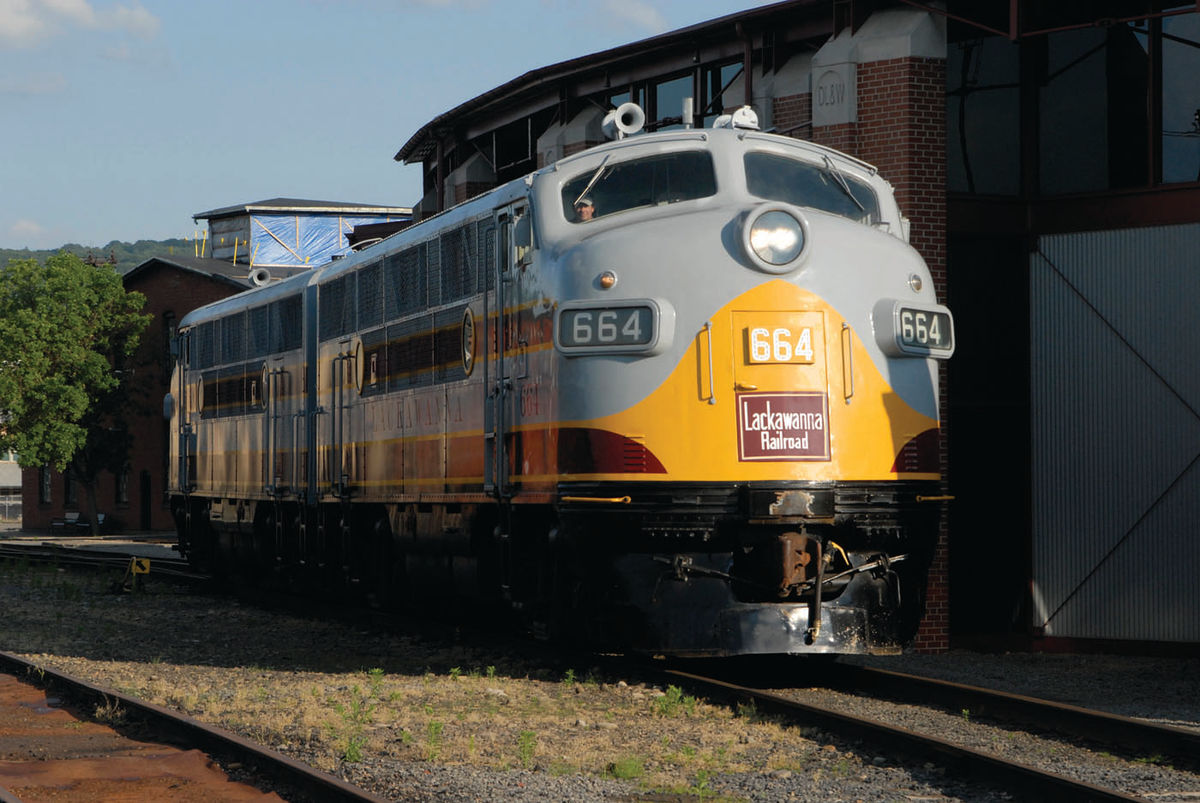 Just As There are Folks Who Want to Keep Older Cars & Trucks on the Road, There are People Who Keep Older Trains on the Rails. Let's Visit With Them and Their Locomotives.
Few products can match the impact on their industry as that made by General Motors' F series of diesel locomotives. So although restoring an example is a major project, it's also a worthwhile one.
"They changed American railroading," explained Rich Jahn, chief mechanical officer for Anthracite Railroads Historical Society, owner of one of the F3s featured here. "There was the great divide after World War II where American railroads were changing. They were looking to make more money by cutting costs and driving efficiency. The diesel locomotive allowed the railroads that efficiency and the General Motors product, which was the F-unit, was the Number One product out there that proved that it could be done."
Anthracite's locomotive wears the paint scheme of the former Delaware Lackawanna & Western Railroad and is numbered as DL&W 664. With the Tri-State Railway Historical Society's identical F3 numbered DL&W 663, it's currently based at the Steamtown National Historic Site in Scranton, Pennsylvania.
In each case, the road to Steamtown was long, much like GM's entry into the locomotive business.
A Product That Was Decades In the Making
Alfred Sloan in "My Years with General Motors" explained that legendary engineer Charles Kettering was interested in diesel engines early in the 20th century and that General Motors Research Corp. was working on diesels under Kettering's direction in 1921.
As noted, GM's entry into the locomotive business was a slow process, but it was getting there as 1935 brought the LaGrange, Illinois, plant that would begin by building locomotive shells and adding Winton diesels and other suppliers' components.
By 1938, GM was constructing complete locomotives and it applied the experience it had gained with passenger locomotives to the requirements of freight units. In 1939 it came up with a demonstrator numbered—and forever known—as the 103.
GM shuffled its corporate structure to create the Electro-Motive Division— now Electro-Motive Diesel, owned by Caterpillar's Progress Rail Services subsidiary—and it introduced an interim model, the F2.
The F3 that arrived at the end of World War II produced 1500 horsepower and was entirely compatible with the FT and F2, so railroads owning the older units could combine them randomly to meet operating needs.
With no railroad past, GM was able to start with a clean sheet of paper and experience gained in its automotive operations. Sloan wrote that "as Mr. Kettering once remarked during (a) congressional investigation, our biggest advantage in the locomotive industry was that our competitors thought we were crazy." Perhaps, but as Jahn said, railroads were looking to cut costs and recognized the F3's economy, flexibility and reliability.
The F series included variations equipped for passenger service and continued through 1960, ending with the FL9 that could operate on its diesel engine or by picking up electric current from third-rail systems. But as Fs wore out, the large railroads sold them to smaller carriers or for scrapping or traded them on new units.
Preserving the Last of a Breed
"When the Bangor & Aroostook was retiring the last 'chicken wire' F3s back in 1985," Jahn said, "Bob Bahrs and Mike Miterko from the Tri-State group started a campaign that they should be saved because they were the last of their kind in the country."
"They fit with a number of anthracite railroad-owned locomotives that looked that way, so the thought from the very beginning was that they could be made to represent locomotives no longer in existence."
The "chicken wire" description refers to the units' upper side grilles that really do look like chicken wire and the "anthracite railroads" were those operating in Pennsylvania's Anthracite Region and depending on the coal for a big part of their traffic.
"The first step in any plan to replicate one of those lines' locomotives was to acquire a suitable example and Jahn said Bahrs negotiated with the BAR for its 44, a running F3. He then approached Anthracite about doing the same, since the F's single cab at one end realistically requires a second unit in order to be useful in both directions.
The two were shipped to the Morristown & Erie in Morristown, New Jersey, in 1986 and then to the former Reading shops in Reading, Pennsylvania, where the Reading Company Technical & Historical Society was working on its equipment.
"There were a number of people in Reading Tech who knew a whole lot more about locomotives and what they needed than I did," Jahn recalled, "so it was a good place to pick some brains as far as what to do and where to do it. We basically started off just by cleaning everything in the empty engine room. We cleaned as much as we could and by being there, among our friends at Reading Tech was a man by the name of Jeff Seidel, a very neat guy. He worked for Conrail; he was just a very knowledgeable person, very helpful to me. He was very free and willing to suggest what we needed to do."
Seidel also had connections and suddenly, Anthracite's locomotive seemed like it might operate again, thanks to the Reading & Northern's purchase of a number of CF7s. These CF7s had been built by taking the mechanical and electrical equipment from aging Fs. Some of the CF7s were in better shape than others.
"One of the bad ones that came in the group," Jahn said, "was the 2649 and the only reason it was bad was it was the first one and they didn't do a complete rebuild on the locomotive as they did with the other ones. They reconditioned the motor and the mechanical equipment, but they didn't rewire the locomotive and there were some other issues with it. It became a hangar queen that was tagged 'use for air only.' It was good for a compressor.
"He knew our needs and he came to me one day and he said 'I've got something you might be interested in. We can make a deal for this CF-7 that we can't sell to anybody else because it has problems, but it'll serve you well because it has mechanical equipment that you need to put in your F-unit.' We bought it and while we were at Reading, we took the 2649's components and put them into the 46."
An Attachment Develops
Jahn allowed that since none of those working on the project had any real railroad experience, "it took a while" and relied heavily on following instructions and asking questions. Those who insisted that the 46 would never run again, he said, were actually issuing a challenge and anyone who's restored anything appreciates what happened.
"We put a lot of blood, sweat and tears into it," Jahn said, "and she became our baby."
By 1990, the F3's engine was started for the first time since its removal from the 2649, but the space at Reading was no longer available and the locomotive had been moved to the Upper Merion & Plymouth at Swedeland, Pennsylvania. There it was squeezed into a relatively small building where the body was sandblasted and repaired and the diesel engine was readied. It started, and did more than that.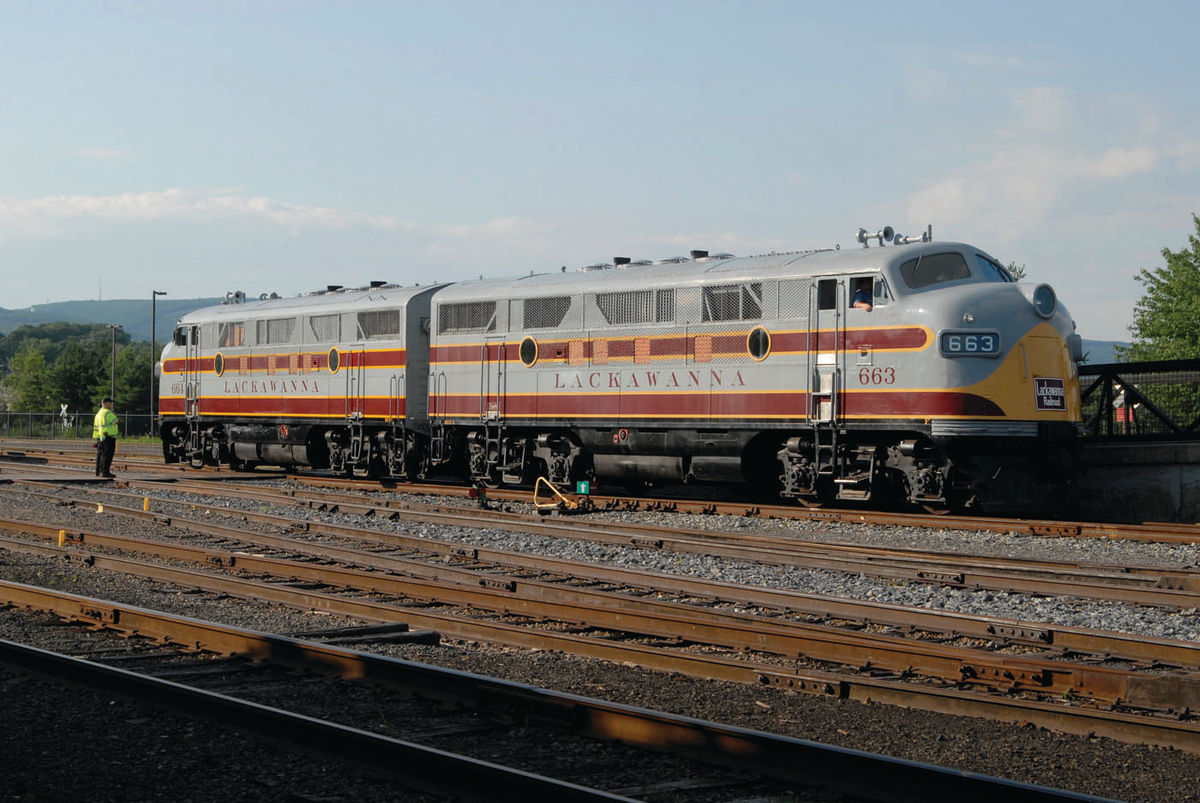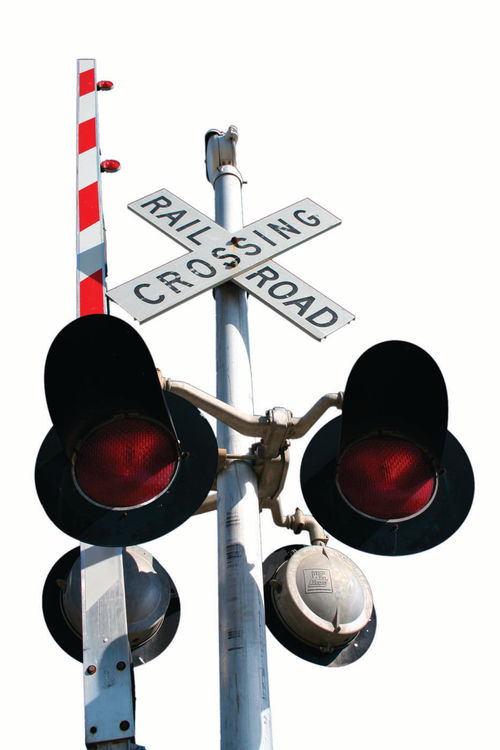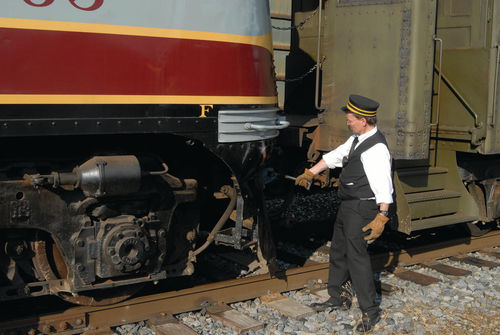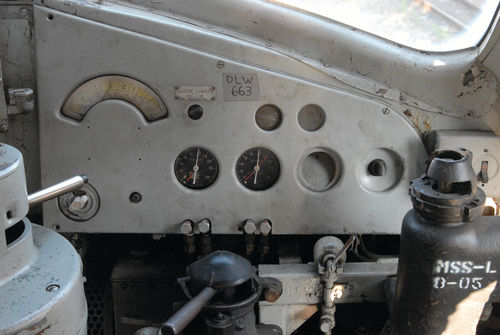 "It moved when it wasn't supposed to move," Jahn said. "We started it and because of the rotation on the engine and the track we were on, it moved 18 inches. It's kind of comical, looking back. Everybody ran in various directions because we thought it was taking off on its own. We shut it down right away and we were all saying 'what happened?' After further analysis and figuring out what happened and a couple of phone calls, we chocked the wheels and we started it again and things were fine."
Running or not, the locomotive still needed work and he said a buy-avote fundraiser allowed the work to continue and determined that the 46 would be painted in the former Central Railroad of New Jersey's colors. A GM paint diagram provided not only the design, but also the paint numbers. Jahn said that the tangerine's number was still in production, but the blue needed to be matched and proved to be "Chevy truck blue."
Once painted, he said, Anthracite received an offer from an excursion operation in Jim Thorpe, Pennsylvania, that was willing to pay for its use there. The engine ran, but the locomotive couldn't move under its own power and so it went to Jim Thorpe, where it eventually was returned to running condition and placed in service.
Still Learning As They Went Along
"For a railroad electrician," Jahn said, "it would've been very easy. For people who did not have a railroad background—and knowing household electrical does you almost no good with DC circuitry and the way it's designed— it took us awhile. It took phone calls and talking to people and asking people 'it's doing this, but it's not doing this. Why is it not doing this?' It all came down basically to the excitation system.
"You can have all the wiring put together that you want and if you don't excite the main generator, you're not going to make any voltage out of it.
We couldn't get it to do anything and this is a common problem on any diesel-electric locomotive. Your big mechanical equipment doesn't often fail; it's electrical problems which create issues. But that got solved. It got solved in various degrees."
One of those degrees was getting the locomotive to make transition. In an oversimplified description, making transition serves about the same purpose as an automotive transmission's shifting gears, but the process is electrical rather than mechanical. The F3, in effect, was stuck in first and Jahn said that didn't matter at the low speeds where it was operating, but again with Jeff Seidel's help, the problem was corrected. Of course, it wasn't like driving around the block, making adjustments and trying it out again.
"We took the unit over the Reading & Northern down to Leesport, (Pennsylvania)," Jahn said. "Jeff had a number of meters and we went through things with his guidance. Settings were made on the various resistors and points in there to allow the pickup and things to work. We actually tested it then, which was fun if you know the Reading Tech's big Alco C630. How we tested transition was by towing that unit when it was in full dynamic.
"It took place about 6:30 in the evening at twilight and we were up and down that former (Pennsylvania Railroad) branchline out of Hamburg with the C630 behind us. He had a couple of Reading Tech guys back there who were adjusting the dynamic braking to create either more or less (load). It was an experience that I'll always remember; a mental picture in my head. He had dials on the floor with voltage and amperage and whatever else."
The C630 is a much larger 3000-horsepower diesel weighing about 155 tons, but that's not a heavy load for the F3's 1500 horsepower. By using the C630's dynamic braking, however, the load became much heavier since dynamic braking works by turning the traction motors on the axles into generators and electrically creating a fake load to place on them. In normal operation, dynamic brakes control the speed of a train traveling downgrade, but in this case, they made the F3 work harder and allowed Seidel and Jahn to verify that it was indeed making transition.
Time for a Paint Job
Meanwhile, the other F3 was still in BAR paint and Jahn said that since Anthracite felt that the two units should be together, it worked out an agreement to lease Tri-State's unit, paint it to match its own, handle the routine operating needs and keep them as a pair. All of that happened, but not unlike a carcollector's losing storage space, changes at Jim Thorpe impacted the locomotives where the F3s were no longer needed.
"They let them stay," Jahn said, "sitting there. We could still work on them for the three years or so that that happened. Basically, we had operating units that we could start up, but we couldn't do anything. It was very frustrating."
Unlike the car-collector who can rent a garage or find space in a friend's barn, though, relocating privately owned locomotives can be a major task. Jahn said that Reading Tech was then in discussions with Steamtown about taking its own pair of later FP7s there and that led to the F3s joining them in Scranton.
"Ours at the time were in Jersey Central paint, pretty faded," he said, "and on 663, the (side) panels were still tattered because they hadn't been changed. So they didn't look very good on the outside and we had a permit to come up, non-operating, but we could work on them. We painted them for their new home to fit the town, Lackawanna colors. They needed paint anyway. The 663 got new panels and skin, and various other things were gone over. By the time that these were painted in 2011, they were OK to operate, which we did."
While the Jersey Central served Scranton, the Delaware Lackawanna & Western was considered to be a hometown railroad and its former mainline is the route of most passenger excursions the F3s have pulled since arriving.
"The equipment likes to be used," Jahn said. "It doesn't like to be abused, but it likes to be used."
Vintage Cars or Trains Are Different
Fortunately, there are those who like to use these special units. Running locomotives built in May of 1948 inspires extra care on the part of the engineers who operate them, just as anyone driving a car of that age is likely to be very aware of what's happening, and since Steamtown is an operating museum, the F3s still work.
Their only rearward visibility comes from an outside mirror and it's limited at best, so coordination with a conductor working on the ground is often done by radio. More surprising is that the forward visibility is less than might be expected as the nose in front of the cab isn't very long, but it is high.
Their combined 3000 horsepower by today's standards is not high, but it's enough to handle the demands placed on them at Steamtown despite an uphill grade that begins just about as the train leaves the depot.
Where the difference from a modern locomotive becomes very clear is in the cab. Unlike today's equipment with office-chair seating and desktop control consoles, the F3s industrial-strength seats face handles that work by linkages and mechanical switches that require more than a tap. They're noisier than their descendants—although the exhaust's bark disappears into the mix anywhere but in tunnels and under bridges—and opening the throttle one notch at a time makes them louder with a gradual increase in speed.
Those who watch from their cars or their backyards as the locomotive pair passes often wave (most people do when they see a train), but some stare or even point as the Fs look like nothing else on the railroad today.
When stopped at a station, even those with no real interest in railroads sometimes stand by them, look them over for a few moments and say "I remember these."
A Newcomer Gets Its Chicken Wire
The F3s' uniqueness ensures their popularity among those whose interest in railroads from a historical perspective or a hobby standpoint is very real. And that group will soon have more to like, as a booster unit is being restored to operable condition to join the 663 and 664. The former Boston & Maine unit is an F7 built in 1952 and looked nearly identical to an F3, so as its owner, Anthracite decided to tighten the appearance gap.
Jahn said that the F7 was built with stainless steel grilles where the F3s have the chicken wire, so the change was a straightforward swap once the very thick chicken wire was located.
"We got the woven material from a company in Philadelphia," Jahn said. "Neat guy; a gentleman in his 60s at the time and typical. We chatted and he said 'I made wire for General Motors years ago. Yeah, just like this.'
"So we may have gotten wire from the same supplier for all I know. I couldn't believe he said that."