Putting Muscle In the Mail
This New Stamp Series Features Well-Known Muscle Cars. Collect Them or Add Smokin' Personality to Your Envelopes.
WE'VE ALL DRAWN pictures of "really cool" cars from time to time, but what if someone took your drawings and agreed to put them on some 60 million postage stamps. Well, that's what happened to California artist Tom Fritz and his artwork depicting five legendary American muscle cars
To really put this in perspective, the Postal Service says it gets about 40,000 stamp suggestions each year, and only about 20 topics will make it to the front of your cards and letters.
Fritz's drawings became the Muscle Cars Forever series that's now available. Included among the iconic ground pounders and some background from the Postal Service on why they were chosen are: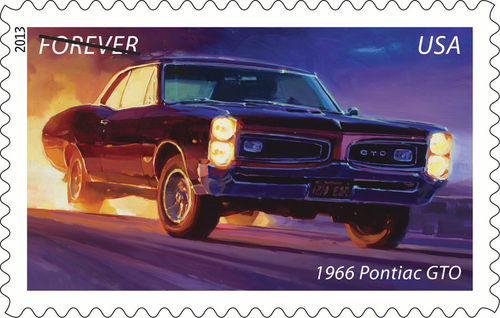 • 1966 Pontiac GTO—The Pontiac GTO ushered in the American muscle car era in the mid-1960s, just as the baby boomers began to come of age. The first GTO was born when engineers dropped a 389-cubic-inch V-8 engine, which was built for a full-size sedan, into an intermediate-size 1964 Tempest LeMans.
Available as a hardtop, coupe or convertible, the pictured 1966 Pontiac GTO was equipped with a standard 335-horsepower V-8 engine. The "Goat" could really move. In tests it went from 0 to 60 mph in 6.8 seconds.
• 1967 Shelby GT-500—The late Carroll Shelby's take on the Ford Mustang reflected his roots as a race car driver. The 1967 Shelby GT-500 was powered by a 428-cubic-inch, 355-horsepower Police Interceptor engine. But the 1967 Shelby GT-500 was more than just a racer. The improved suspension softened the race car ride, resulting in a vehicle that was comfortable to drive on the highway as well as on the track. The car was both striking and rare; only 2048 were built.
• 1969 Dodge Charger Daytona— The outrageously styled 1969 Dodge Charger Daytona was designed to dominate on the racetrack. The car, which underwent wind-tunnel testing before its release, took the checkered flag at its NASCAR debut in September 1969 at Alabama International Motor Speedway in Talladega. The production version of the car was powered by a standard 440-cubic inch, 375-horsepower Magnum engine. A limited number of Daytonas also were available with a 426-cubic-inch Hemi.
Concealed headlights, fender-mounted scoops, a nearly 2-foot-tall rear-mounted wing and an 18-inch nose piece helped boost aerodynamics. Other signature touches were thick body stripes containing the word "DAYTONA." The distinctive vehicles were not easy to come by. In order to qualify for NASCAR racing, at least 500 Daytonas had to be made available for purchase. Only 503 were produced.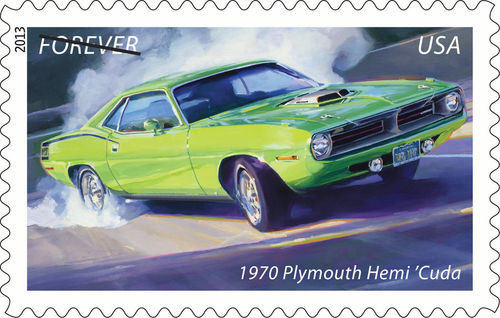 • 1970 Plymouth Hemi 'Cuda—The 1970 Plymouth Hemi 'Cuda, a performance-oriented alter-ego of the standard 1970 Plymouth Barracuda, oozed power. The car's 426-cubic-inch Hemi engine was a 425-horsepower beast. The 1970 Plymouth Hemi 'Cuda was "our angriest, slipperiest-looking body shell wrapped around ol' King Kong hisself," one advertisement bellowed.
The car was available in a variety of eye-popping color choices, such as Lemon Twist, Lime Light and Vitamin C (orange). Hockey-stick shaped stripes denoting engine size, a shifter handle shaped like a pistol grip and bucket seats also were offered. This model also is a rare specimen, as fewer than 700 of the Hemi 'Cudas were produced.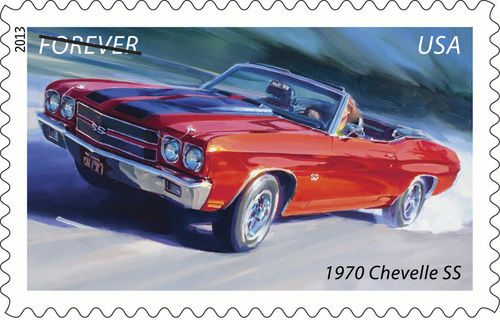 • 1970 Chevelle SS—With features like optional twin racing stripes, the 1970 Chevelle SS looked fierce. SS stood for Super Sport, a fitting designation for this power car. A 396-cubic-inch engine was available, but a 454-cubic-inch engine option gave the 1970 Chevelle SS added credibility among muscle car enthusiasts. Two versions of the 454 engine were available: the 360-horsepower LS-5 and the 450-horsepower LS-6.
The LS-6-propelled 1970 Chevelle SS was enough to finish in the 13-second range in quarter-mile tests. In addition to its impressive road performance, the 1970 Chevelle SS, available as a coupe or convertible, also was known for its unique style.
A Product of Time and Location
The artist who captured these vehicles for the Postal Service was raised in San Fernando, California, in the 1960s and '70s, and his memories of the automotive culture of the time helped to shape the motor sport artist he would become.
First, however, for more than 20 years after graduating with a degree in two dimensional art from California State University Northridge, Tom Fritz worked as a designer and illustrator in the defense industry (ITT, Litton Industries, and Northrop Grumman) while accepting freelance commissions on his own time.
But the call of the motorized machines continued to beckon until…
"Taking the common advice of my art instructors, 'Paint who you are and what you know,' my love of motor vehicles became my driving force," Fritz said. "From the early days of the Santa Monica Road Races, to the 1930s and '40s when hot rods raced across the Mojave Desert, right up until today, I investigate the history of automotive and motorcycle cultures so that I can present a realistic interpretation of my subject matter—an overview of the significance of the automobile and motorcycle in our lives."
Experience With the Metal
Along with researching and observing the automotive world, Fritz has had first person experience with the subject matter as well…and from a young age.
"I was a normal kid, filling reams of paper with my version of dinosaurs, fighter aircraft, motorcycles, tanks, machine guns, battleships, and war scenes instead of doing my homework," he said.
"Running in parallel with my blossoming artistic endeavors, I also developed a deep love for metal making noise. I spent much time with my father in the garage when he was working on the old woody wagon or the '56 Chevy. To this day, I still have an appetite for the aroma of gasoline, exhaust, grease and WD-40. So it was natural that I started to explore the automobile as a source of expression in my art.
"When I was 14, I had me a hankerin' to build a '23 T-bucket roadster that I could drive when I turned 16. I acquired a used Chevy 283 engine, tore it apart, and proceeded to rebuild it—in an engine stand designed by my father, but hacksawed and welded together by me. My dream vanished when I couldn't deliver enough newspapers, wash windows or pull weeds to continue with my plans. So, I still have my 283 Chevy, never been fired-up, sitting in its homemade stand, waiting to be dropped into…something."
But the necessity for a daily driver remained, so Fritz turned to a vintage pickup truck.
"When I was in high school, I needed some wheels," he said. "My first was a '56 GMC shortbed/stepside—yup, I still own it. I rebuilt the 347 Pontiac back in the early '70s and it still powers the truck. I also have my grandparents' '54 Chevy sedan in the garage. I rode in it when I was 7, drove it once when I was 16, and I'm still waiting for my schedule to open a slot for the attention it needs.
"I worked my way through college as a small-engine repairman. I turned wrenches on lawn mowers and chain saws. I loved the work.
"Now keep in mind that, as all of this was happening, I was going through school providing an abundant source of agitation for many teachers. I could hardly avoid turning my Pre-Calculus textbook into one of the longest animated flip books ever. Or seeing how many different caricatures of my World History professor I could create in my notebook. I worked on the journalism staff in high school and college as a cartoonist, but it just wasn't enough.
"Finally, I was shown the light. Failing Chemistry opened the door. I entered art school and never looked back."
Today, Fritz paints from his studio in Ventura County, California, and maybe someday he'll have a good use for that "never been fired-up" 283 V-8 of his.
An Introduction From "The King"
Befitting the subject matter, Fritz's muscle car stamp series was introduced by NASCAR legend Richard Petty at the Daytona International Speedway where Petty, aka "The King," won a record seven Daytona 500 Championships.
"The Muscle Cars stamps celebrate an exciting era in American automotive history," Petty said. "These examples of raw power bring back fond memories for me and my family, a testament to how aerodynamics transformed racing. I've been around racing and muscle cars all my life. These stamps bring back the memories of our racing heritage in the '60s and '70s."
Also on hand for the introduction was Postmaster General Patrick Donahoe, who spoke to the muscle car's place in history and on our roadways.
"The muscle cars gave everyday Americans the opportunity to experience the rush of driving a fast, powerful car," Donahoe said. "Just looking at the stamps evokes a feeling of speed. As Forever stamps, they'll always be good for mailing a First-Class letter anytime in the future. And when you think about it, that's fitting. Because these stamps—just like the great cars they represent—are timeless."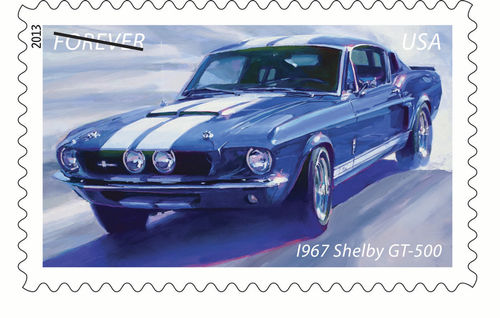 Sold In Sheets
The Muscle Cars Forever stamps are the third issuance in the America on the Move stamp series. Other stamp sets in the series were '50s Sporty Cars (2005), followed by '50s Fins and Chrome (2008).
The Muscle Cars stamps are being issued in self-adhesive sheets of 20 (four of each design). Forever stamps are always equal in value to the current First Class Mail 1-ounce price, so at the current rate of 46 cents per stamp, that sheet of 20 will cost you $9.20. The Postal Service also offers specialty items such as the Muscle Cars Framed Stamp Art #470524. This 13" x 14" item features the stamps on a silver mat with a chrome-colored frame, non-breakable Plexiglas to protect the stamps, and a back dust cover. A saw tooth hanger is installed on the back for wall display. The price is $39.95.
For more Muscle Car stamp displays, visit usps.com and look for The Postal Store or stop by your post office.