IT WAS TIME FOR AN ENGINE REBUILD
Editor's note: The March 2018 issue carried an article from David Zimmerman titled "Getting the Most From a 6-volt System" and he knows the subject matter well as his car collection includes a 1938 Dodge D8 Convertible Sedan, a 1940 Dodge D14 4-Door Sedan and a 1954 Chrysler C63-1 New Yorker 4-Door Sedan with the original 331 Hemi V-8 under the hood. Along with restoring and maintaining his vehicles, David likes to drive them, so when the engine in his 1940 Dodge was growing tired and perhaps not reliable for distance touring, David decided that it was time for a rebuild. What follows is an overview of the project along with a look at the car and its engine. Here's David to tell us about it:
I'm still having thoughts of writing an article about the rebuilding of the original 218 CID flathead six in my '40 Dodge D14 "Luxury Liner" 4-Door Sedan that I have now owned for 27 years.
I'd put about 25,000 miles on the car since I bought it and it was time for a rebuild. The engine was tired and I could only drive it locally. I just didn't trust it for the long haul, cross-country type trips.
The rebuild project took the better part of a year, starting around Thanksgiving in 2017 and finishing up last fall. I'm actually still tweaking a few things, but for the most part, it's done.
My son Jack and I took it for a shakedown cruise when he was home for Thanksgiving. The day before Thanksgiving we drove it to Provincetown, all the way out at the tip of Cape Cod. It was about a 250-mile round trip. The car ran great! But then as Col. Z. used to say, it's all about the 5-Ps: Prior Planning Prevents Poor Performance!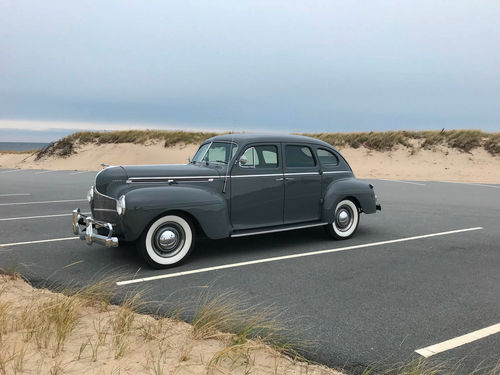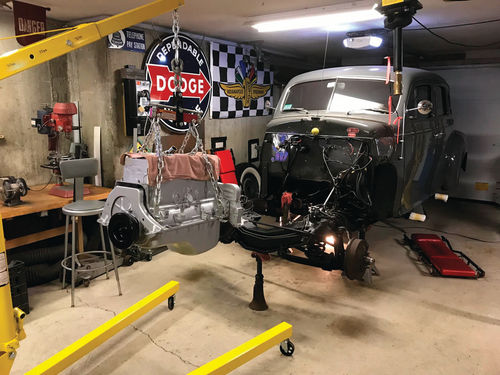 Editor's note, continued: Lieutenant Colonel Sir Claude Edward Dansey, also known as Colonel Z, for his code name "Z", and as Uncle Claude, was a leader in the British Secret Intelligence Service, commonly known as MI6. That's the UK's organization charged with the covert overseas collection and analysis of intelligence materials. Col. Z began his intelligence career in 1900 and remained active until his death in 1947. Now, back to David:
Adding an Updated Transmission Helped Considerably
The machine shop did an amazing job on the short block, which was basically everything that is mentioned in the December Mechanic on Duty entry "Making an engine better than new" regarding a GM small block 350.
In addition, another significant but subtle upgrade was also made. I removed the original "side-loader" 3-speed transmission and installed a similar transmission from a '53-54 Plymouth that also has a Warner Gear R10 Overdrive that lives on the tail end of the transmission.
I had purchased the transmission and OD about nine years ago and rebuilt it at the time, very completely, knowing that one day when I did the engine, I would install it. What a difference! With a 33% planetary gear reduction the car now cruises comfortably at 70-75 mph instead of 55 mph.
So, all of that being said, there's a really great story here and plenty of great photos to go with it. I just need to write it!
—David A. Zimmerman
Editor's note, continued further: David, by all means do go ahead and write that article. And when you do, be sure to include all the details and photos you have in the article package. We're looking forward to it.