Introducing– the Mustang!
Fifty Years Ago This Month the Mustang was Shown to the Media Prior to Its Public Introduction. Let's Attend that News Conference and Hear What One Top Executive Had to Say In Unveiling the Now-Iconic Car.
Editor's note: If you've never attended a major media introduction for a new vehicle, they generally go something like this: Reporters from around the country along with some international journalists are gathered in one spot, quite often a resort or a significant location that will lend a compelling atmosphere to the event. The reporters, most of whom are flown in and housed at the auto company's expense, take part in a "welcome" dinner hosted by the company and the following morning get together in a large conference room or auditorium for the vehicle unveiling. After introductions of the corporate executives on hand, a ranking company exec delivers a speech outlining the vehicle's strong points, the marketing approach and what the company sees as the vehicle's appeal to consumers. That's followed by a question-and-answer session with the assembled media which leads into lunch and a driving event so the reporters can get first-hand experience with the company's new ride.
In observance of the 50th anniversary of the Ford Mustang, we're going to sit in on part of the Mustang National News Conference which took place April 13, 1964 in the Ford Pavilion at the New York World's Fair. Lee A. Iacocca, vice president and general manager of the Ford Division, will deliver the keynote address and after that the other journalists will move over to the Westchester Country Club for "lunch and further discussion." Then, with their "official press kits" in hand, the writers will climb into a fleet of brand-new Mustangs and take off on a 750-mile drive back to the Ford Product Development Center in Dearborn, Michigan.
But right now you'd better find yourself a seat, Iacocca just stepped up to the podium, his speech text in hand...
GOOD MORNING, LADIES and gentlemen. Welcome to one of the proudest moments of our lives. We appreciate your coming here to share this moment with us. And we are particularly pleased to have this beautiful setting for one of the most important occasions in Ford Division history.
Incidentally, I might point out that you are participating today in Ford's first International Press Introduction of an automobile. Here in New York, we have newsmen from Canada and Puerto Rico, as well as the United States. And, while we meet here, the Mustang Is being introduced to press, radio and TV newsmen in eleven European capitals. Some 2000 reporters, editors and photographers...like yourselves...are attending Mustang showings in Great Britain, France, Belgium, the Netherlands, Switzerland, Norway, Sweden, Denmark, Finland, Austria and Portugal.
From the beginning, the Mustang has been an exciting venture for all of us. We haven't been able to contain our excitement entirely, with the result—I'm happy to say—that the public has caught some of our fever. We hope it's highly contagious.
We can't think of any product we have introduced—certainly in recent years, at least—that has generated more advance interest than the Mustang. People in every state, and from as far away as England, Malta and Australia, have written to ask for more information about the car, and many were ready to order it sight unseen!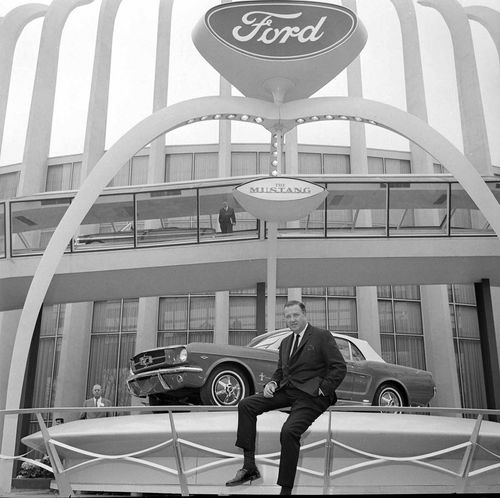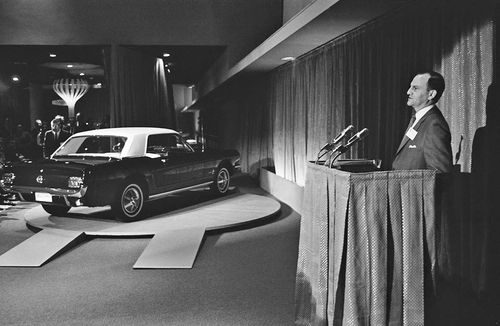 For instance, one man wrote from Virginia: "Are you going to build it? If so, when? I am ready to order."
A cadet at the Air Force Academy wanted one for his first day as a first classman.
A high school youngster from Louisiana promised to start a Mustang fan club. He wrote: "It's better than Elvis or the Beatles."
One customer we may have to disappoint. He wants a Mustang provided we can install a 427 high-performance engine in it. We've forwarded his name to Project Mercury at Cape Kennedy.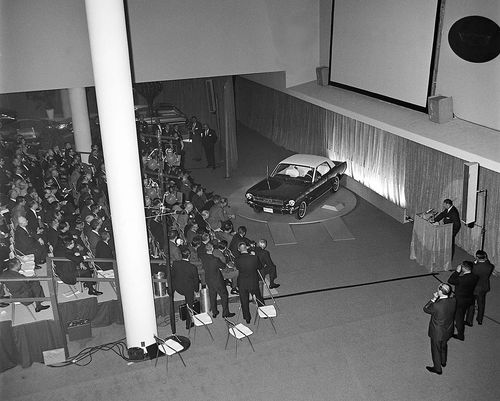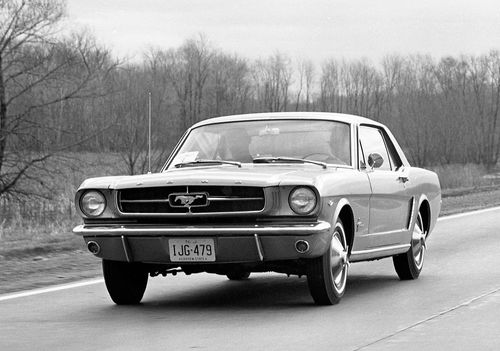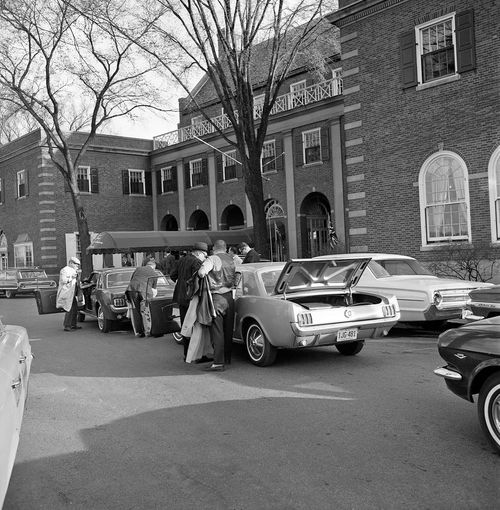 There isn't much point in my standing here and reading a Mustang spec sheet to you, because the specifications are covered in considerable detail in the press packets we have for you. But I would like to hit a few high spots to try to put the Mustang into perspective as we see it.
First, the Mustang Is a completely new line of cars—separate and distinct from Ford, Fairlane, Falcon and Thunderbird. Starting with public introduction on Friday, Ford Division will offer five lines of passenger cars instead of four.
Second, the Mustang will be available in two-door hardtop and convertible models, with probably the longest list of options and accessories ever offered on a new line of cars. It will have two front bucket seats, a bench-type rear seat, and a rear luggage compartment.
Third, the Mustang will have an astonishingly low price—so low we plan to introduce it with an intensive campaign of price advertising. The Detroit suggested retail price for a two-door Mustang hardtop with standard equipment...delivered at a Detroit dealership...will be just 2368 dollars!
Fourth, the Mustang will be built at two assembly plants—Dearborn, Michigan, and San Jose, California.
Fifth, our introductory program for the Mustang will be one of the most extensive on record. We will run Mustang announcement ads in 2600 newspapers reaching 75 percent of the households in the country, and in 24 top magazines with a combined circulation of 68 million.
Beyond that, we believe we have lined up a television introduction unlike any other ever attempted. On Thursday evening of this week, we will sponsor three half-hour shows simultaneously on the three major networks from 9:30 to 10 p.m. Eastern Standard Time. We expect to show the Mustang on TV screens in more than half the homes in the country—an estimated 29 million.
Finally, we plan to fit the Mustang into our program of participation in public performance events. We'll use it in such famous road rallies as the Midnight Sun in Sweden, the Alpine in France, and the Spa-Sofia-Liege between Belgium and Yugoslavia.
We don't claim the Mustang Is a universal car, or that it can be all things to all people. But we do believe the Mustang will be more things to more people than any other automobile on the road.
The secret lies in its remarkable versatility. For a modest price it can be an economical compact car with traditional Ford quality and all the flair of a high-priced highly styled European road car. For a little less modest price, customers can buy high performance to match the flair. The Mustang straddles price brackets in a way that will enable buyers to position it for themselves, depending on their individual needs, wants and pocketbooks.
According to Ward's Automotive Reports, the Mustang Is the 15th all-new car introduced by the industry since the coming of the compacts in the fall of 1959. We have watched the compact and intermediate markets closely, and fortunately have done rather well in them. Through last month, our 1964 model production of Falcons accounted for the highest production among any of the new compacts and intermediate cars, and our Fairlane ranked number three. The Comet, produced by our sister division, established its highest March production in history last month and is headed for a new April record.
Almost from the beginning of compact car production in this country, customers have shown a preference for sporty cars. They ordered hardtops, and then asked for convertibles even before they were available. And, they are still going for hardtops and convertibles. Through February, 1964 model production of convertibles and hardtops in the Ford, Fairlane, Falcon and Thunderbird lines accounted for 39 percent of total production in those lines—up from 30 percent for the same period last year. I might add that those body styles are built to customer order.
From the outset, compact car customers have wanted bucket seats, deluxe trim packages, high-performance engines, four-on-the-floor stick shifts, and just about every other option we could devise. Customers wanted the basic economical compacts, to be sure. But they also wanted to be able to dress them up to suit their own individual tastes. The compact car market reflected the flavor of youth—young America out to have a good time.
We designed the Mustang with young America in mind. We like to think that in the process we have achieved a new dimension in American motoring—perhaps in world motoring. We offer some significant mechanical and functional innovations—particularly in the area of weight control. We believe we have succeeded in wrapping up...in one package...all the elements of what we call "total performance." Best of all, we offer the package at a modest price.
In essence, the Mustang Is not one car, but three
First, it is a basic economy car, and with its back seat is particularly suited for the young married couple with two children. It is also a leading candidate for a second or third car for larger families.
Second, the Mustang Is a luxury car. The wide range of options permits a customer to start at a low price for the standard package, and then add such items as automatic transmission, power brakes and steering, a full-length console between the front bucket seats, a vinyl roof on the hardtop, air conditioning, and so forth.
Finally, it is a sports car suitable for street use or competition. In addition to its sporty console, we offer as optional equipment a Rally Pac consisting of a combination clock and tachometer, racing rearview mirrors, and any of several kits to spark up the already nimble 289-cubic-inch engine.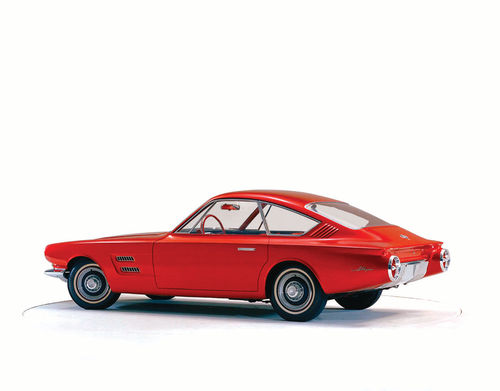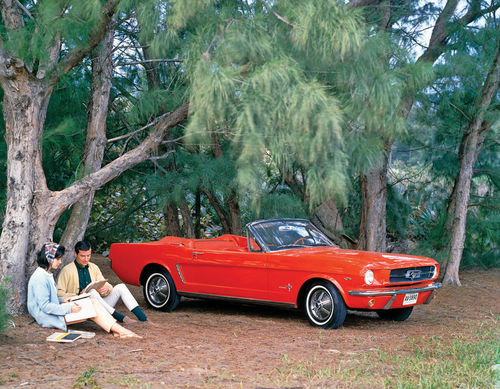 Any customer who is really serious about entering his Mustang in rallies can order a special handling package that... in our estimation...will make the Mustang the first mass-produced car with a soft ride and light steering that for a few dollars can be transformed into a true sports car. And we believe that as a sports car the Mustang will more than hold its own with some fancy sports car costing a couple of thousand dollars more.
This is the car we have designed with young America in mind—for, frankly, we are very much interested in serving young America. By next year 40 percent of the total U.S. population will be under 20 years of age, and the 16 to 24 age group is growing faster than any other segment. This latter group is made up of high school and college students, young married couples, and young working men and women.
What these statistics emphasize is that not only are there more young people, but they are settling down at an earlier age...marrying and having families. One result is that—unlike some of us who grew up in the Depression and regarded automobiles, appliances and other durables as luxuries—these young people look on them as necessities.
Fortunately, our society is affluent enough to enable young Americans to buy immediately many of the items that it took their parents years to acquire. With the Mustang, we expect to make it easier for them to have the kind of car that will suit their needs, wants and tastes.
In summary, we think people will want the Mustang because it offers them a "different" kind of car at low cost... because it satisfies—in one package— their need for basic transportation and their desire for comfort, fresh style, good handling, and a choice of performance capabilities. We also think they will want the Mustang because it provides two essential American motoring ingredients—a back seat and adequate trunk space—within a unique, exciting configuration that no other car with comparable interior specifications can match.
You know, it's easy to design a car with a spacious interior if you are willing to sacrifice exterior flair...and it's also easy to design a car with a racy, sporty exterior if you're willing to throw out a couple of seats or give up most of your trunk space.
The trick is in finding the right combination of roominess and high style— and that's exactly what we think we've accomplished with our new line of cars.
Ladies and gentlemen—the Mustang!
Editor's note, continued: What a difference a half-century can make when it comes to introducing a new vehicle. For one thing, note in the photos that the group is almost exclusively male and everyone is wearing a business suit and tie, quite different from the coed corporate gatherings of today where the dress code can be far more casual. Different also was the intense reliance on newspapers, magazines and network TV to spread the word about the new Mustang. These days, while the traditional media would certainly be involved, much emphasis also would be placed on the power of websites, blogs and other social media as well.
One thing that hasn't changed, however, is the desire to climb behind the wheel and get some road time with that new vehicle you've just heard all about.
So I know what you're thinking: If only we could have gone along on that 750-mile Mustang driving event...