I'VE LEARNED A LOT FROM DAD'S FORKLIFTS
Years Ago He Gained Maintenance and Repair Skills With These Vehicles, and Now He's Using That Knowledge to Restore Them.
It is not often that one gets to relive the early years' memories of cars and tractors or in this case forklifts. However, in this case the two forklifts that are now back with me and seen on these pages played an important role in my youth. My brothers and I learned to drive on these, but more importantly they shaped me into the gearhead I am today.
Big & Little Jim Were Designed for the Times
Back in the mid-1950s, the agricultural industry was beginning the shift from hauling out fruit in small hand-held field boxes to the large fruit bins we know today. My dad, Jim Jr. along with his dad, Jim Sr. and three other family members farmed in the Bay Area near Sunnyvale and San Jose. Their company was Airdrome Orchards, named after the huge WWII blimp hangars at Moffett Field. Some of you have probably eaten fruit produced by them at the orchards and hauled out of the field by these two forklifts.
Back then the floors of the orchards were cultivated often which left the surface soft. Hauling the new 1000 lb. fruit bins out required some new equipment technology. Surplus military parts were readily available, so my dad came up with the design to build these 4-wheel-drive and 4-wheel-steer machines based on two front ¾-ton Dodge military axles facing each other.
A rugged frame was formed to hold the differentials and Big Jim and Little Jim were born. Powered by a Ford gasoline 223 engine producing 120 horsepower, linked to a Borg Warner T98 4-speed and a homemade transfer box, these machines proved up to the task. They were worked daily for about 25 years until they were replaced by the next-generation design that can be seen in the picture of the forklift pulling Big Jim to my shop. The new lifts, called Old Gooseneck and New Gooseneck, did have 4-wheel-drive but not 4-wheelsteer. Instead they have two ¾ ton Chevy rearends facing each other and an articulated pivot point in the middle. I still have New Goose and it is my main farm lift after a rebuild about 15 years ago.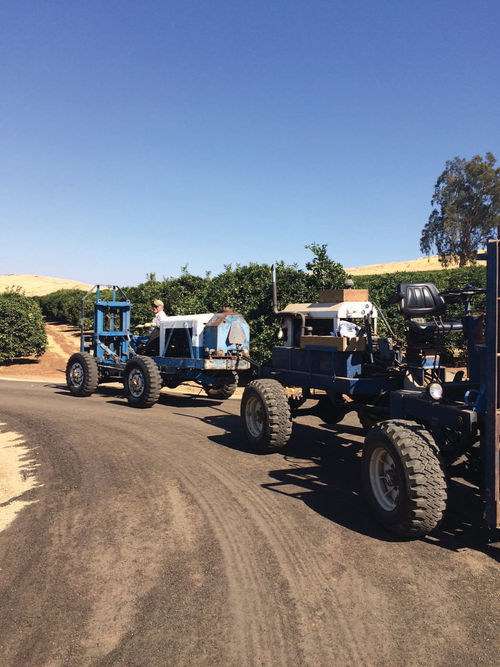 These Lifts Were Important Teachers
Sadly, Airdrome Orchards has just recently packed its last piece of fruit but my brother Chris and I were given the chance to bring the two vintage lifts back to service for ourselves. We pursued the project mostly to relive the memories the vehicles had contributed and to honor my dad for his innovative designs.
The bottom line with these two forklifts was that they had to run every day in the orchards, so my brothers and I learned about regular and preventative maintenance. Simple breaker point ignitions taught us about caps, rotors, condensers, coils coils and how to adjust the points along with the engine timing. Engine oil and air cleaner oil had to be serviced on a regular basis. Tire pressure, valve and clutch adjustments are lessons learned that we still use today. Brake bleeding and adjustments taught us those fundamentals. The techniques needed to drive a clutched vehicle were learned here along with the need to double clutch for shifting.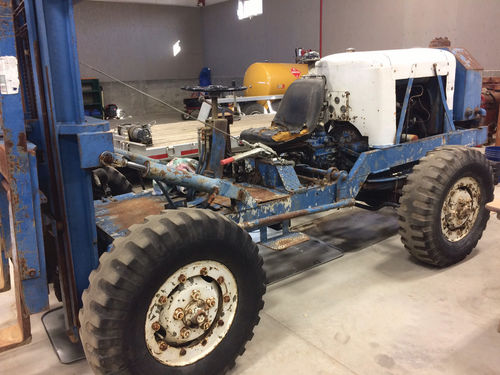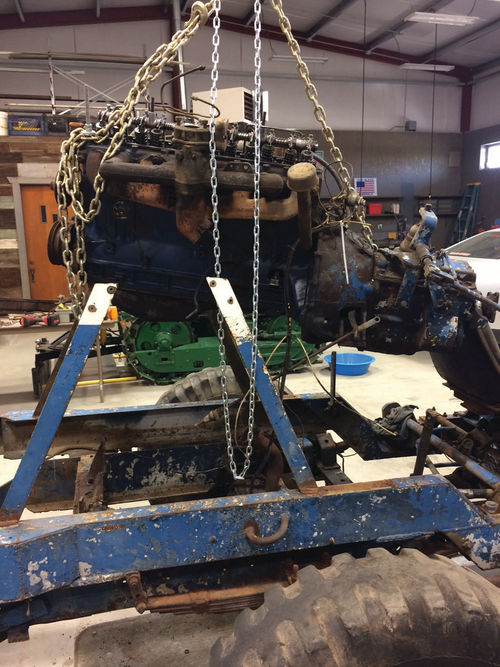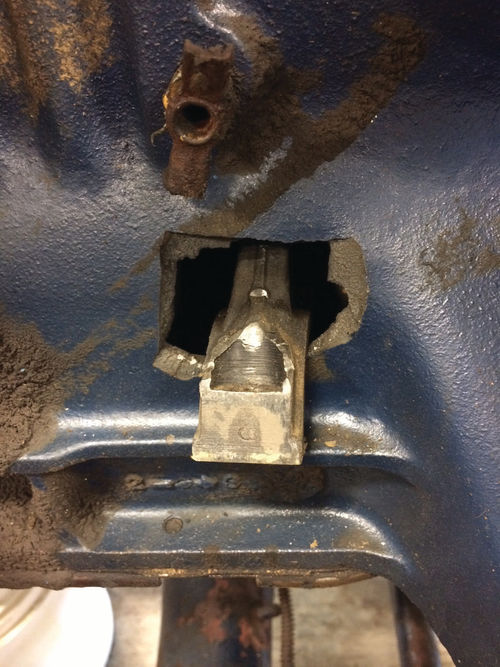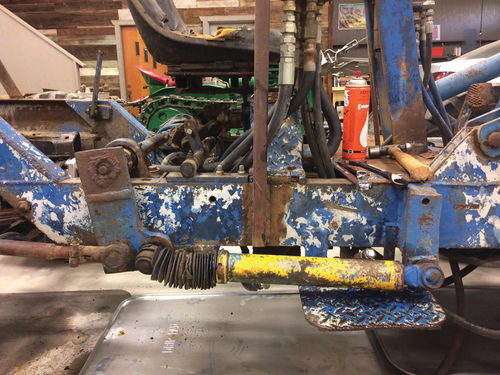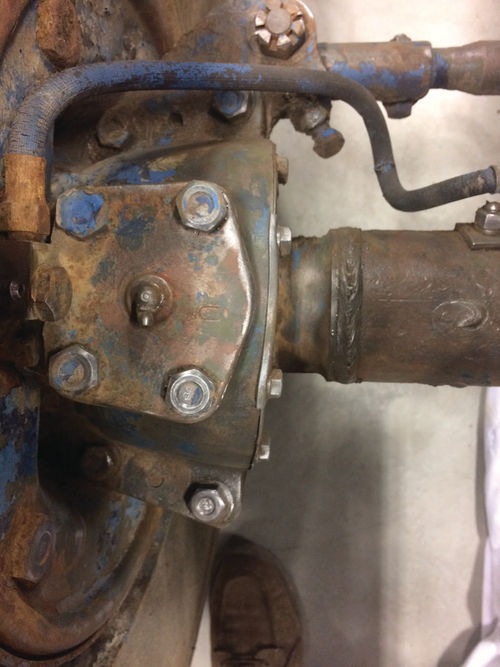 The biggest impact these lifts had on us, however, was engendering an appreciation and concern for the fact that they needed ongoing care. I made $1.25 an hour driving these lifts. I saved my daily wages and purchased my first car after several summer stints hauling fruit.
It follows that the long hours at work made me appreciate and take care of my first car and subsequent purchases.
Off to a Relatively Good Start
Ever have a restoration project where everything went right? These lifts obviously wanted to be saved as they pretty much cooperated with the process.
One Sunday morning my brother Chris and I hooked up my 22-foot trailer to the one-ton and headed to Lindsay, California. It was a 30-minute drive and we wondered if both lifts would fit on the trailer. Upon arrival, the lifts still looked good and the flood of memories began.
We had brought along fresh gas and a strong battery, and within 10 minutes we had Little Jim running.
Big Jim was another story as his number 6 rod was partially hanging out the side of the block. He definitely was going to be winched onto the trailer.
We used Little Jim to lift up the forks of Big Jim and we chained them up high enough so they would not impede the loading. We then backed Little Jim up on the trailer and took measurements to see if Big Jim would fit. Turns out we had less than a foot of extra length. Big Jim was parked in such a way we simply backed up the trailer to him and hooked up the winch. After some maneuvering of the width of the forks, Big Jim fit like a glove on the trailer. It was a slow process to hook up eight chains and binders but after awhile we were CHP-ready to roll. (That is, California Highway Patrol, for those of you who never watched the CHiPs TV program from some four decades ago.)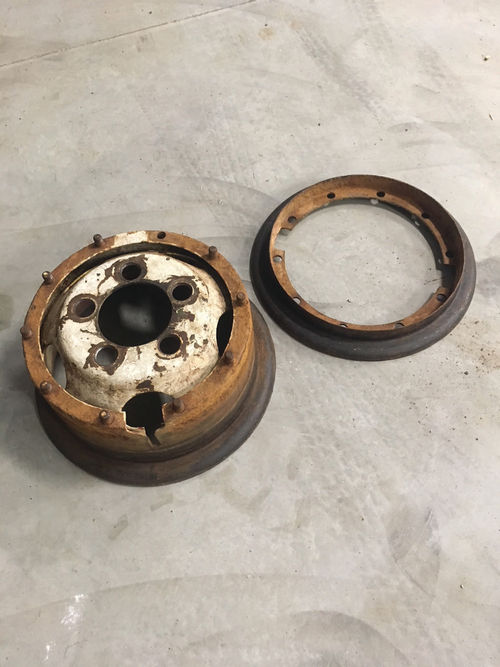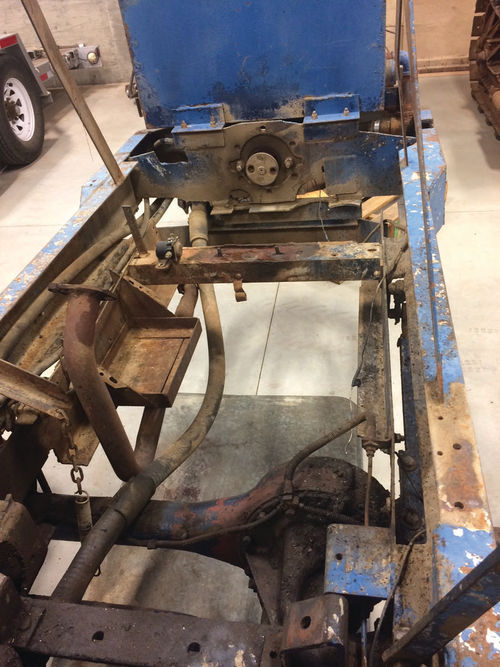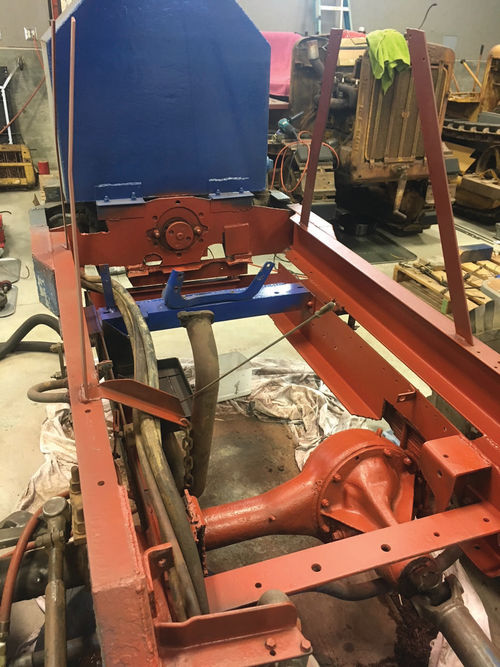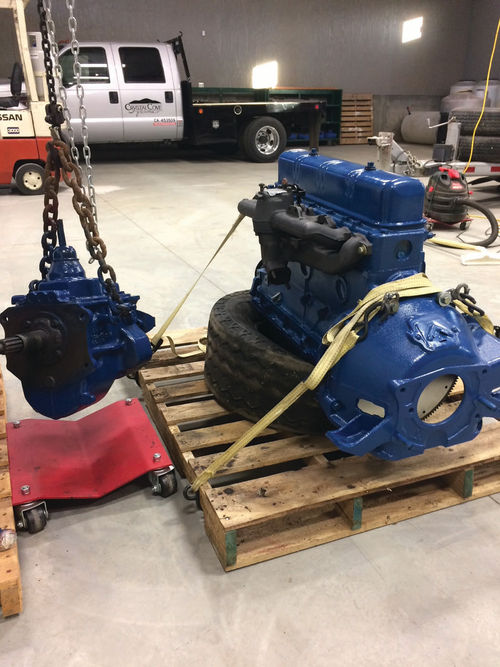 First Up Was Little Jim
We arrived at my shop first with plans to unload Big Jim. That was pretty simple; we just rolled him off the trailer, being aware that he had no brakes. Using the New Goose, we maneuvered Big Jim into a pole barn and headed to Chris's shop to unload Little Jim.
Upon arriving, Little Jim threw us a curveball by not wanting to start, this after running fine in Lindsay and helping with the loading. We determined that he was not getting fuel and that perhaps the trip home had shaken the fuel tank enough to clog the fuel filter. With a new filter, he ran fine except for some gasoline leakage coming from the top of the carburetor.
All that Little Jim needed was some TLC to bring him out of retirement. A carburetor rebuild and a new master cylinder had him out moving hay bales for my brother Chris. A compression check showed his 223 was a little tired but still had hours of service left.
My dad died at a fairly early age in 1981 but we now had a part of him back with us.
Now, For an Ongoing Project…
Big Jim, on the other hand, is going to need some serious repairs before he can return to work.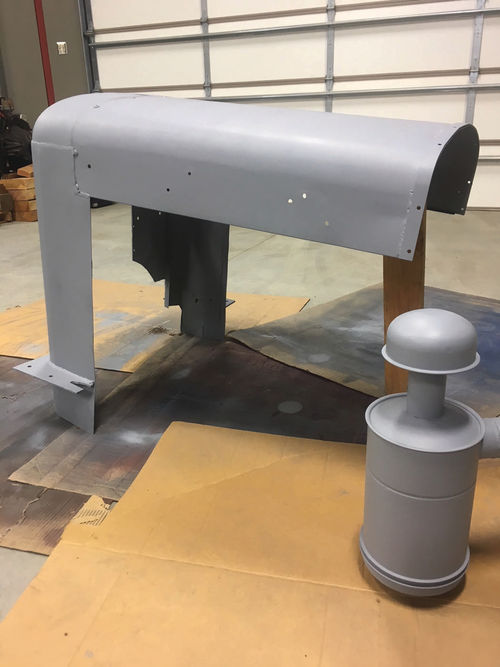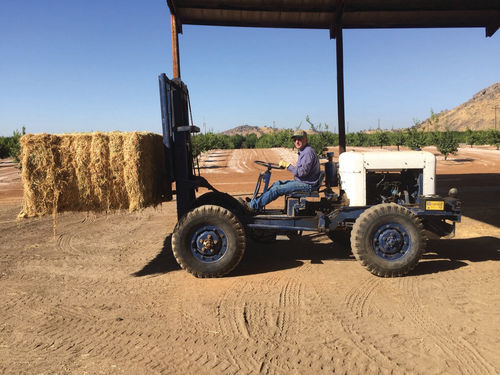 Chris and I towed and maneuvered him into my shop and under the hoist. The engine came out fairly easy but along with the rod partially hanging out the side of the block, it also had a few surprises for us. Two pushrods were missing and we suspect that they had been removed and used on Little Jim for some reason.
The carburetor, coil, starter and the alternator, which had been an upgrade from the original generator, were stolen some time ago. However, we got a lead on a .030-over 223 engine that was machined and ready for rebuild but was abandoned by the owner at a machine shop 10 years ago. It came from a late-'50s Ford and has some differences from our industrial version in Big Jim. We need to track down a Holley 1904 single-barrel or similar carburetor and rebuild the steering hydraulic ram.
Plus, since the engine is out, we have gone to work cleaning up 60 years of dirt and grease and throwing a little paint around.
It is going to be a slow process but it will be a labor of love to bring this small part of dad back again.