I Just Got a '59 Cadillac In the Mail!
The Postal Service's New Stamps Honor Vehicles Of the '50s. Check Out the Cars That Served As Models.
EVEN IF YOU'RE not a stamp collector, you might want to pick up a few sheets of a special grouping that the U.S. Postal Service will offer in early October.
The "'50s Fins and Chrome" stamps, the second installment in their "America on the Move" series, feature a '57 Chrysler 300C, '57 Lincoln Premiere, '57 Pontiac Safari, '57 Studebaker Golden Hawk and a '59 Cadillac Eldorado.
Vintage Vehicles Were Models
But the "'50s Fins and Chrome" stamp series itself is only part of this story. Veteran automotive artist Art Fitzpatrick used recently taken photographs of private collectors' cars as models for the series.
For the owners of these cars, selection for the project was like winning a nationwide car show. And, as you might expect, behind every winning car, there's a story worth telling
'59 Cadillac Eldorado
Gordon and Jennifer Wangers of Las Vegas own this stock Cadillac convertible. Gordon, a semi-retired CEO of AMCI, an automotive event marketing and promotional agency, has owned his car for about five years. He obtained it as part of a trade, swapping a '36 Delahaye for the Cadillac, a new Ferrari 360 Modena, and "a six-figure check," he said.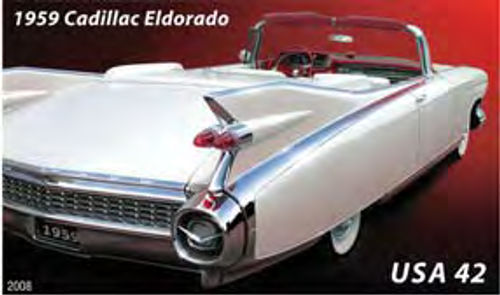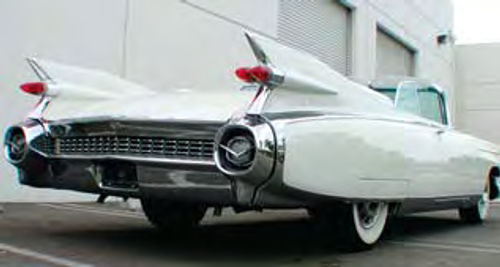 "It turned out to be a much better deal financially for the guy who got the Delahaye, but I'm very happy with both the Cad and the Ferrari," Gordon Wangers said. The Delahaye was designed for five-foot-five French guys and I'm 6 feet, four inches. I could barely fit and had difficulty driving it. I am totally comfortable driving the Eldo and it gets almost as strong a reaction from the public."
Wangers believes that the big convertible represents the very best of Cadillac, sporting "the biggest fins and most chrome, just over the top: American luxury at its pinnacle."
After a transmission rebuild, detailing and work on the hydraulic system, it was ready to roll. Wangers kept the original engine and transmission.
He has pondered that having his car immortalized on a stamp will give him an interesting piece of trivia to discuss as he chats with other gearheads at shows such as the ones he attends in Southern California.
"With a little imagination, you can pretend you are Elvis when driving this," he said enthusiastically. "In its day, there were no BMW 7 Series or Mercedes S-Class sedans in America. This was it, the ultimate luxury cruiser. Fifties Americana didn't get any better!"
'57 Chrysler 300C
George McKovich of Twin Falls, Idaho, thinks that the color of his car, Gaugan Red, made it stand out to Fitzpatrick.
A retired lodge owner, McKovich spotted the Chrysler online in 1999. It was near Albany, New York, and once the deal was sealed, he and his wife flew east to pick up the car and drive it back home. Although mechanically sound and not largely altered, the Chrysler needed lots of body work.
"The guy who sold it just put Bondo over all the rust holes and painted it," McKovich says. "It was disappointing, but we had already gone that far."
The original transmission (rebuilt) and 392-cubic-inch engine remain. McKovich also had the interior redone and added front and rear disc brakes for safety. The restoration was completed in 2004 and since then he's driven it to eight or 10 car shows annually.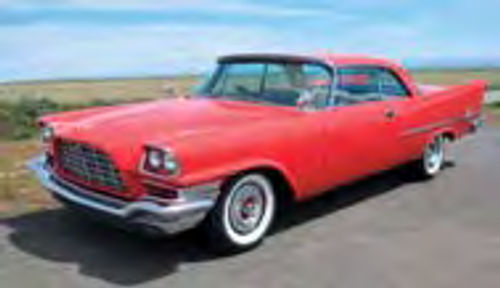 "I'm a stamp collector myself and 50 or 100 years from now, some kids will be putting that stamp in their stamp books," he said. "It's an honor to have (my car) on the stamp."
The oddest part of his experience was how McKovich received the contract from the U.S. Postal service.
"They sent the contract by Federal Express," he said. "That's been a joke between my wife and me."
'57 Lincoln Premiere
This two-door hardtop still has its original transmission and 368 engine. It also came with factory air conditioning, a rare option that owner Joe Ventura of San Diego enjoys.
The head of Ventura, Kuehn & Associates, a CPA firm, Ventura says that stamp artist Fitzpatrick spotted the Lincoln Premiere at a car show in Carlsbad, California, and wanted to arrange a photo shoot.
At that time, Roger Moster, a San Diego United Parcel Service retiree, owned the car but had agreed to sell it to Ventura.
"The day I was to pick it up, Roger said, 'Let me use it one more day,'" Ventura recalls.
Ventura delayed taking possession for a day and now his car will be part of philatelic history.
"I'll be hanging onto the car for a while," Ventura said.
But Moster, who had owned it since 1993, doesn't regret that he sold the Lincoln Postal Service model.
"I had it for 14 years and I was ready for something different," he said.
"I have six collectible cars now. I like to change them around a little bit. You can have only so many cars."
Ventura drives it to local shows about five times a year, and owns about 20 other classic cars.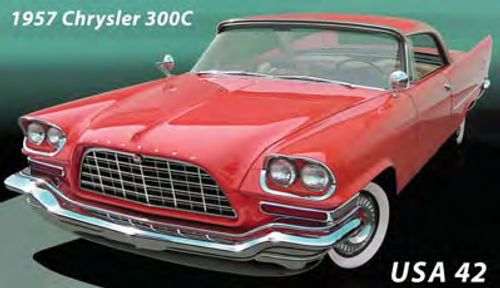 '57 Studebaker Golden Hawk
Blake Conway of Vista, California, owns this hardtop and a business restoring antique motorcycles: Paint by Blake.
He discovered the Golden Hawk on a used car lot in 1990. After acquiring the car, he completely restored the interior, rebuilt the supercharger, performed a little minor engine work and his classic was cruise-worthy.
Completely stock, the Golden Hawk boasts its original transmission and 289- cubic-inch V-8 engine.
Conway isn't sure how Fitzpatrick found him but "I was really stoked about it," he recalls.
He occasionally drives it to local cruise nights and drove it to Las Vegas for his wedding in 1995.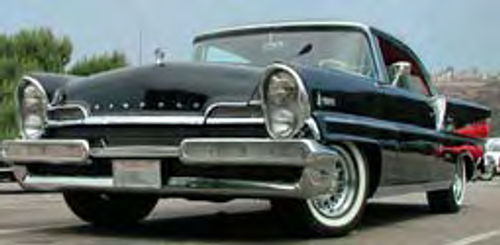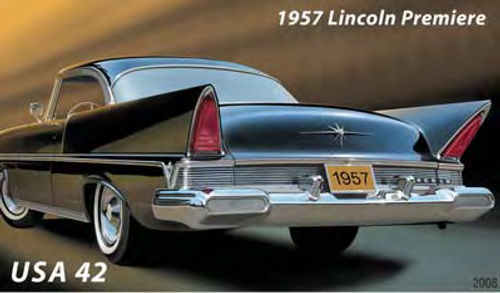 Being featured on U.S. Postage isn't the Golden Hawk's only brush with fame. It was featured on a 1998 automotive calendar, Classic Cars of 1957.
It also was displayed at the San Diego Auto Museum on a rotating pedestal.
'57 Pontiac Safari
Noel and Starr Evans of Washington Depot, Connecticut, and their Pontiac live farther from Fitzpatrick than any of the other cars photographed, but one look at the Safari and it's obvious that it was worth the logistics involved.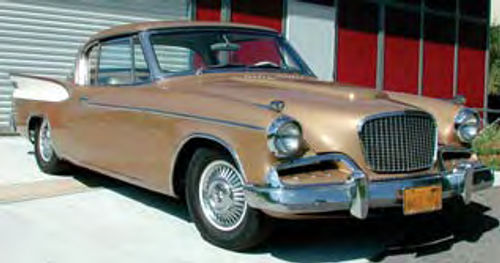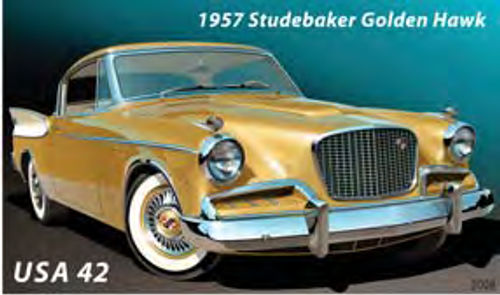 Noel, a retired auto mechanic and Starr, a retired 2nd- and 4th-grade teacher, had their vehicle at a national show when Fitzpatrick spied it.
Starr thinks the resurgence of popularity in wagons in recent years made their car stand out, along with the vehicle's striking colors, Fountaine Blue and Kenya Ivory.
"Art said he had no guarantee they'd keep the colors the same but they did," Starr said.
Now that the car will be represented on a stamp, the Evans' want to treat it to a new paint job. However, the colors will stay the same.
The Evans drive their Pontiac to car shows far and wide and have taken it as far as Denver and Tulsa since buying it locally in 1994 as their 25th anniversary present for each other.
Since then, they have tended to a few mechanical issues, installed new carpeting, and modified it a little with an additional power window switch and a remote mirror. They also had the pistons dished so the car can run on regular instead of premium gas. The original transmission, 347-cubic-inch engine and everything else is stock.
"It's part of the family and we'll probably never think of selling it," Starr said.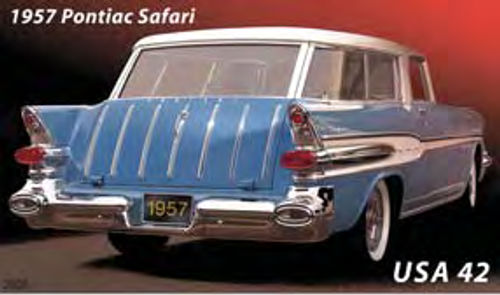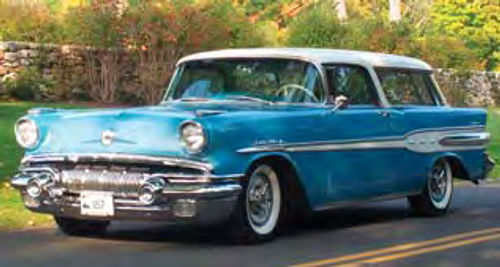 The Man Behind the Stamps
Selecting what cars to feature on the postage wasn't as difficult as you'd think. Since it's U.S. postage, American cars were a natural choice.
Postal Service administrators and associated consultants picked the cars for an earlier grouping, "Sporty Cars of the '50s," which Fitzgerald also illustrated. (More about that below.)
After that first round, "I was pretty much the postal service's expert on cars," Fitzgerald said, "so I got to pick the cars for Fins and Chrome."
Because of Fitzgerald's background in vintage cars (he's 90 and has illustrated ads for Nash, Plymouth, Chrysler, Kaiser and Studebaker) along with his friends in different car clubs, finding the cars and selecting which ones to use was pretty much a cinch. Many of them are garaged within an easy day trip from Fitzgerald's home.
After photographing the cars, picking which ones would be included and then choosing the angle for the drawing, it took Fitzgerald about 10 days to complete each illustration.
However, since he also worked on selecting, finding, photographing and illustrating the five different cars, those 50 days of illustrating were spread out over about three years.
To Be Introduced at Carlisle
The Postal Service said a first-day-of issue stamp dedication ceremony will be held Oct. 3 during the Fall Carlisle Collector Car Swap Meet & Corral in Carlisle, Pennsylvania. They intend to have a 10- foot image of the stamp group on hand for the occasion.
The automotive series was inaugurated in 2005 with "America on the Move: Sporty Cars of the '50s" stamps. Those depicted a 1952 Nash-Healey, 1953 Chevrolet Corvette, 1953 Studebaker Starliner, 1954 Kaiser Darrin and a 1955 Ford Thunderbird. The Postal Service says those stamps and the new series are its way of paying tribute to "America's love affair with the automobile."
One other thing, the "'50s Fins and Chrome" stamps won't be available individually. You can only get them in sheets of 20 which repeat each car five times as shown in the image on page 24. Each sheet costs $8.40.
Mail Your Vehicle Too
Bummed that your classic wasn't chosen? Cheer up, you canbuy U.S. postage featuring your car's photo at www.pictureitpostage.com, www.photostamps. com, www.zazzle.com/ custom/stamps or www.stampexpressions.com.