How -to The (Ongoing) Tale of Three MG Ts
There's Always More Than One Approach to a Vintage Project. This Features Three Cars…and Three Approaches.
Editor's Note: This is the first in a series of quarterly articles about three different approaches to the restoration of the early postwar T Series MG. The articles will compare a stock frame-up restoration; a "rolling" restoration and a rat rod build on similar cars.
IN THE LATE 1950s, we developed a "puppy love" for the T Series MG after dad bought us a plastic model of the "sports car that America loved." At the time, we had no idea that MG's T Series had begun before World War II with the TA and TB models and then continued with the TC, TD and TF after the war. We didn't even know much about the sports car craze that began with American GIs bringing MG TCs back from England or buying MG TDs after they got home.
At 10 years of age, what we did know isthattheT Series MGs, with their upright radiators, clam shell fenders and freestanding headlights, looked a lot like the hot rods we saw in car magazines. We did not see many hotrods in Staten Island, New York, in that era, but we saw several of the "hot rods" from across the pond.
We reached driving age in 1965 and the rewards from working as a "box boy" at a local supermarket were barely enough to buy a car,much less a T Series MG that was already considered collectible.
To make a long story short, our firsthand experience with the old-car hobby began in the early '70s through the purchase of a '53 Pontiac sedan, but our beloved T Series MG eluded us.
We passed on buying a nice, complete TD from a dealer in Santa Monica, California. The asking price was $13,000, but the real price was $9000—which we could have and should have stretched the budget to raise.
It's Not a Mass Market Car
We're mentioning some details regarding the T Series market in case you share our passion. Even today, there are many such cars sitting in pieces, ready to be "easily assembled" (although the sellers have not assembled them in 30 years). You can shop around and find nice TDs for $50,000…or $9000. This is because some T Series buyers don't fully appreciate their "primitive" character.They buy them purely on looks, take a few rides and sell in desperation. If you don't enjoy bugs in your teeth and the feeling that every ride might be your last, you won't enjoy a T Series MG.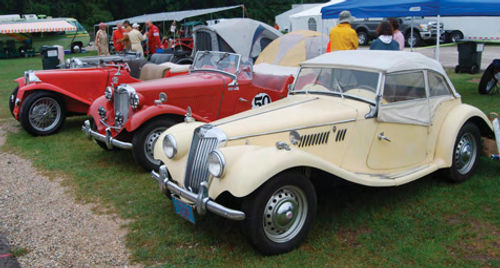 Entering the MG Market
Our actual involvement began in 2001 after the 9/11 attack on the World Trade Center. That was our wakeup call to do what we wanted to do today, because you never know when you might lose the chance. So, we scraped up everything we had and bought a red MG TD for $8000.
When it arrived, we knew we had not purchased a show car—it had a bad oil leak. We noticed that the car had been painted bright MG Red a long time ago, but that one fender was a different color called Autumn Red, which looks like a brick. The tires were old, the upholstery was vinyl, rather than leather and, like many MGs, the car had numerous alterations from strictly stock specifications.
MGs did not come from the factory with blinkers(the British term for directional lights) until 1953. The car we bought had a '53 engine and '53-style gauges, but it did not have '53 signal lights. In fact, it had no signal lights.
We thought it was kind of loud and didn't find out until months later that it had a half-dollar-size hole in the muffler right under the floor.
The engine smoked and the transmission chattered. However, we did get the oil leak fixed quickly. We found it was due to the timing chain cover missing a stripped-out bolt, so we jammed a big bolt in the hole, drove to a machine shop and they fixed it without tearing anything off the car. Then, we proceeded to drive the car, as is, for 8000 miles!
We did buy two sets of NORS (New Old Replacement Stock) tires through the Web site of a business in the South that mainly sold tires for tractors and forklifts. TDs use 15-inch tires that you can't always get at your local tire store, but the old ones we found were a brand and size that MG enthusiasts loved in the '60s. Of course, by 2001, they had endured a fairly long shelflife.In addition, the frontend alignment settings on the car were way off. So, we wore out the first tires within a few months.
The TD was great fun to drive, but two things bothered us a lot. First, we were scooting all over Wisconsin and Illinois without blinkers and worried about getting stopped by the police. Hand signals are still legal on pre-1953 cars, but we weren't sure today's finest knew about that and didn't want a hassle. In addition, we did worry about accidents, especially at night. Second, the stock TD has a "tall" rear end. It will blast away from a stoplight, but then it just winds away. The tall gears are not well suited for distance driving, which we were into.
We had read that the MG TF, introduced in 1954, had a little more horsepower, bigger carbs, blinkers and better highway gearing. We also learned that the TF—though not real popular with MG enthusiasts when it was new—had become the more desired model with the passage of time. It has somewhat slinkier looks, better drivability and a lower production total.
So, when we saw a TF advertised for $9500 in the fall of 2002, we bought it.
The woman from Connecticut who owned the car said she had put lots of money into it. She included the invoices to prove it. Unfortunately, after the car came, we dug out the bills and noticed that they were dated from the late 1960s.
The TF turned out to be in about the same overall condition as the TD was when we got that car. In fact, the blink ers we wanted so badly didn't work. The car had a '60s-style repaint that even went over the body welting. Whoever decided to paint the hubcaps, hood louvers and sides of the gas tank black made a big mistake. Though we'd been specifically told that the red interior was leather, it was vinyl. The car ran, but it shook and coughed and it belched smoke. Other motorists would pull up alongside and tell us the car was on fire! Nevertheless, we were so enthralled with it that we drove it until it snowed and even used the heater-less TF on 10- degree days in December before the first real blizzard.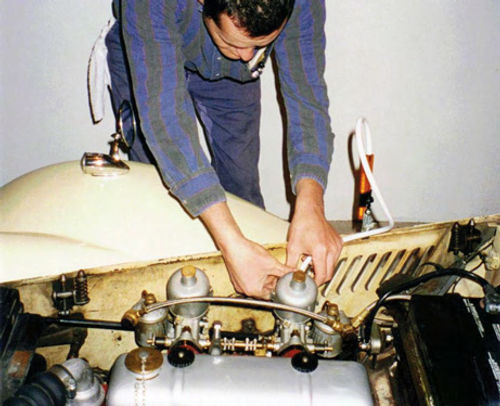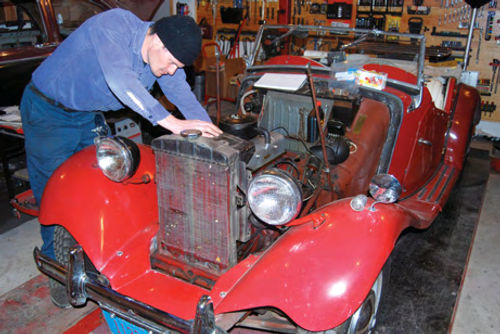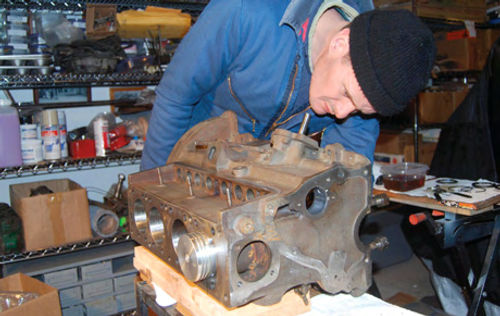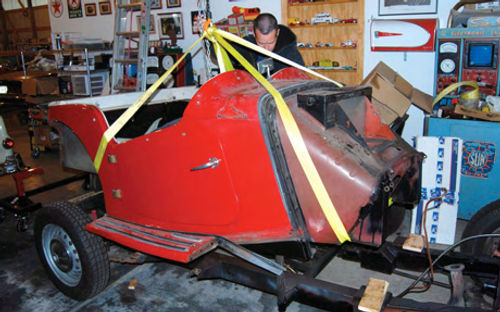 Eventually we took the car to one shop and then another. The second place agreed to pull the engine and rebuild it for $2500. They didn't get to it until a year and a half later, then called to say they had tuned it and it was running well, but still smoked. We said we weren't paying for a tune-up and wanted the rebuild they'd promised.
They called back a few weeks later. "You have a broken piston and scored cylinder wall," said the proprietor. "We can't do it for $2500."
Our response was, "neither could we if we found those problems, but just do it and don't work us over." A few weeks later, we got the car back with a nicely rebuilt engine, a slightly re-worked transmission…and a $5500 bill.
Naturally, there was some sticker shock, but in the long run we were satisfied with both the work and the price. The car still runs well and reliably and better than many shiny TFs. However, the total experience convinced us to start doing future work ourselves.
Getting Personally Involved
Since getting the TF back in mid-2005, we have done a lot of additional repairs with the help of a mechanic friend named Vince Sauberlich.(Editor's note: Regular readers have seen Vince on these pages before, working on other projects with John.)
The work we've done has ranged from front-end rebuilds to electrical troubleshooting to undercarriage painting and detailing. We have put a lot of miles on both cars. We like to say that both MGs are "cosmetically challenged," but we have never been stranded on the road by either car. We belong to a large British car club that has a clubhouse 60 miles from our home and club members are always amazed to see the TD or TF roll in on cold mornings with their smiling, leather-helmeted driver.
By the early part of 2010, the TD engine was showing signs of being close to totally worn out. It had gotten very smoky and when you lifted the hood, it looked very oily all over the place. The tranny worked but rattled a lot, and sometimes the shift lever would get stuck in gear.The Whole car felt a little "loose" on the road and the problem was not in the suspension, which had been rebuilt. The T Series cars are built the old-fashioned way with the body sheet metal attached to a wood framework, and it felt like something in the structure was not right (even though we had been told that the car had been re-wooded.)
One day I asked Vince what he thought of rebuilding the TD engine and transmission. This would require removal of the interior, wooden floorboards, transmission cover, radiator, hood and other front-end parts. He agreed that the time seemed right, but as we tore the engine out, it seemed silly not to fix this and that as well.
As one thing led to another, we soon had half the car apart. Then Vince said, "If we've gone this far, why not take it apart right to the frame and rebuild the whole car?"So this is why I have MGTD parts all over my car building today.
In stripping the car down, we discovered why it felt so "old." The previous owners had also taken it apart at least once. They had discovered some hidden rust on the flanges through which bolts go to attach the rear fenders and the body tub to the wood frame. But instead of repairing the rust on the flanges, they simply used lag bolts to re-assemble the car. So, the wood structure itself is apparently fine, but the body parts were not properly attached, giving the car a looser feeling than a correctly assembled T Series MG.
So far we have not dealt with this problem or any other body, interior, top or suspension issues. We have disassembled the TD and completely rebuilt the engine with no cutting of corners. This cost just a tad over $5000 for parts and machine work (no labor fees). We have the transmission torn down and have some parts issues that we've been trying to solve with used parts—since new reproduction parts would cost well over $2000. The bare frame has been cleaned up. It has a few dings and bends and a strange egg-shaped hole where the steering rack passes through it. We are going to have it measured up and possibly straightened, before taking it to a powder coating shop.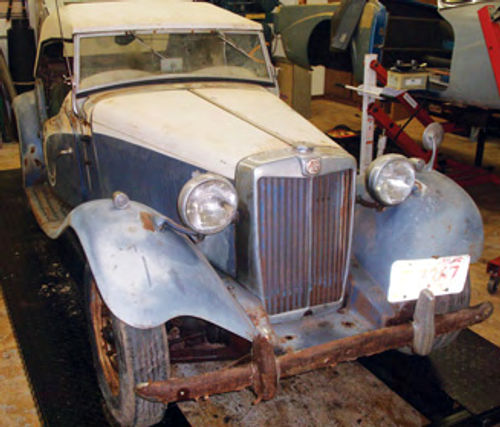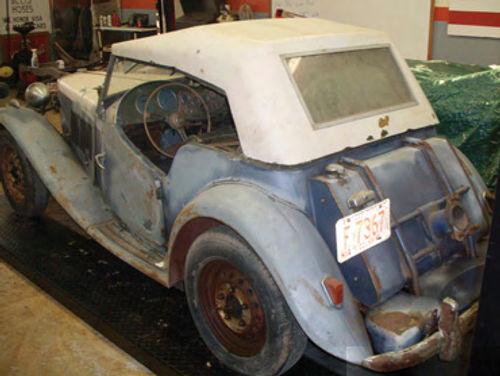 A New Plan Emerges
After Tearing the TD apart, we thought, "What have we done?" We know collectors who have spent over $50,000 restoring a TD, even though you can buy a near-perfect one for $30,000. We don't think we'll have that much in our car, but who knows? In any event, we're still going to be spending lots more money. And we also have aTF that's cosmetically challenged and needs mechanical repairs every now and then. And we sure can't completely restore two T Series MGs.
And that is how the original concept for this series of articles evolved.
We looked over the TF and realized that we could do a nice job of upgrading the car without tearing it all apart and spending a lot. Instead of painting it, we could touch up what we have. Instead of rebuilding the engine again, we could just take care of a noisy valve. We can order some new reproduction chrome parts from catalog suppliers and even add a few chrome accessories to brighten up the car. We can install a new top we bought cheaply at a swap meet and make matching side curtains. In other words, we could do what the British call a "rolling restoration."
Auto Restorer Liked the idea of a "Tale of Two Ts" series and said it would be best to do this on a quarterly basis, reporting on the progress made on each of the cars every three months.
Can we make the "fixed up" TF look nearly as nice as the "completely restored" TD for a lot less work and money? Or, in the long run, will the facts show that it was worth spending a bundle on the TD?
There Was a Third Car…
Also, you may ask, if we're talking about a TD and a TF, why is the title of this story "The Tale of Three MG Ts?"
It has something to do with a purchase we made a few weeks ago. An old car friend of ours called and asked, "Do you want to buy another MG TD?" Our first reaction was "definitely not," but when a price of $500 was mentioned, he had our interest. Remember the used transmission parts? We were already working on the possibility of buying a used transmission for $400 and now we had been offered an opportunity to buy a whole car for $500.
Of course, the second TD was a "barn find." About six years ago, the seller received the blue-and-white non-original-paint car from a lady whose home he had remodeled. It had belonged to her late husband. The carpenter dreamed of restoring it, but discovered how much it would cost and decided to sell it. We picked the car up with a trailer and brought it home.
As of this writing, we've only had this second TD for a short time, so we have no idea if the transmission parts are good, but the car was well worth the money. Though we can't be sure until we tear it apart and check the flanges, it appears that the front fenders, running boards, front apron and radiator grille are better than those on the red TD. This car also has a 1952 engine (as you'll recall, the red car has a 1953 engine) and correct gauges. Another nice feature is a removable fiberglass hardtop.
Since the blue and white TD is rough and dirty, we are going to tear it all apart and the best pieces will be used in the restoration of the red car. The engine and gauges will also be kept to go with the red car, in case it is sold to another collector. Since we've already rebuilt the red car's engine, it will remain in the red car, but a future owner may prefer the second engine. The same goes for the gauges.
Though rough, the blue car is too good to toss away. So, our thinking is that we will do it as kind of a "ratrod" TD. We'll probably use the red car's fenders, running boards, grille and splash apron with the blue car's body, gas tank and interior (cleaned up, of course). Then, we'll look for replacement drive train pieces—possibly V8-60—thesmallerflatheadFord V-8 used in many midget race cars. We have seen ads for MGs with this conversion. We'll probably use the fiberglass hardtop on this car, since it is homemade and just a bit crude. Some aftermarket gauges or swap meet gauges will work fine in the dash and a careful brush paint job will give it the kind of look that modern hot rodders love.
Which One Is the Best?
So, which of the three MGs do you think will be the most fun to own and will get the most attention at shows? There's no way to answer that question right now or even to say how each of the three projects will progress.
You'll just have to keep tuning into Auto Restorer and see how things are going.
Note: In our upcoming comparisons of the vehicles, we'll call the first TD the red car, the TF the yellow car, and the rat rod TD the blue car. And we promise not to change the colors on you (maybe).