Technology and Offerings Continue to Evolve and Expand. So, Let's Look at the State of the Spraying Tools.
AL THOUGH IT HAS been several years now, it seems like just a few months ago that I showed you the latest thing in paint guns by introducing the Binks M1-G gravity feed HVLP (High Volume Low Pressure) spray gun. That gun was quite a departure in looks alone from the siphon feed spray guns like the Binks #7 that was being used at the time in just about every shop on the planet. The cup on the M1-G was moved to the top of the gun instead of being hung under the gun, the air cap and spray nozzle were both reduced in size, and the required inlet air pressure was cut in half.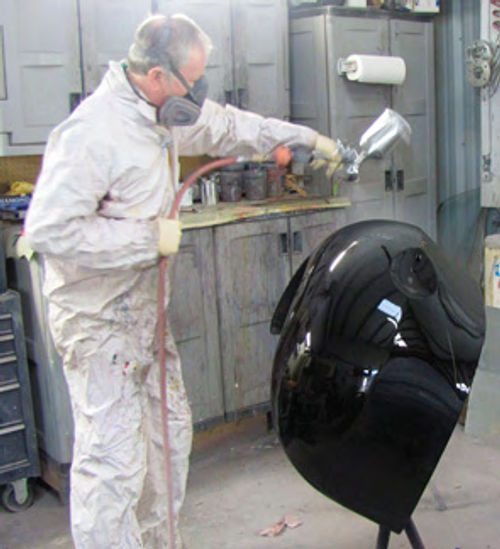 But that was then and this is now. If you darken the door to an automotive paint supplier today and ask for a paint gun, more than likely the only guns he will have in stock will be gravity feed spray guns. The problem with that is you will be faced with a vast array of gravity feed spray guns to choose from. Within that sphere he might ask if you want a compliant gun, a LVLP gun, an HVLP gun, a full-size gun, a mini gun, one with an aluminum cup, one with a plastic cup, one that uses disposable cups, a top-of the-line gun, or something cheap that will get you through the only paint job you ever plan to do. That's a lot of choices, but ones that can easily be sorted through if you understand how each of those choices may or may not work for you.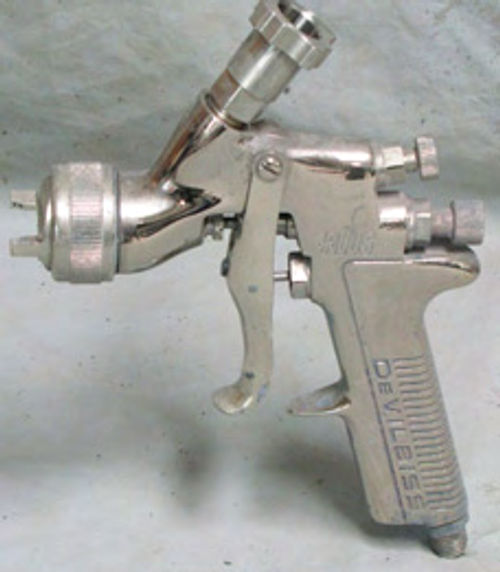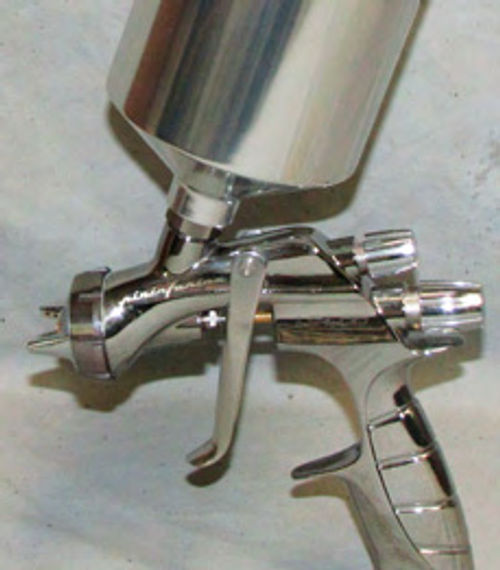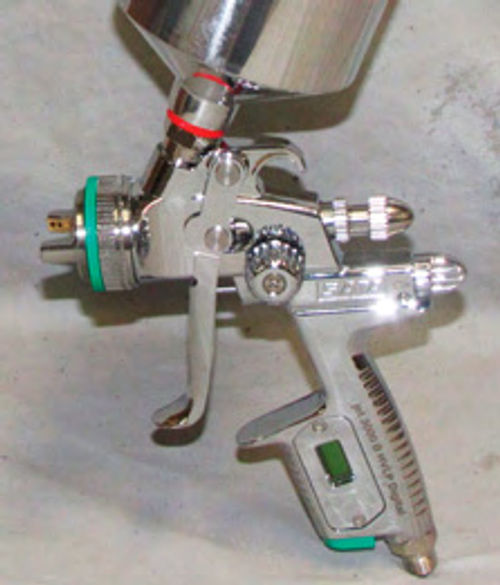 Note: I need to pause before we get too deep into spray guns and explain about air cap PSI and gun inlet PSI. When gravity feed guns first came out the buzz was all about reduced air cap pressure. Something like 8-12 PSI exiting the air cap was preferred. The problem was that measuring air cap pressure required special tools and painters aren't well suited to using special tools (body shop humor here). So instead of attempting to regulate the air cap pressure, painters simply regulated the inlet air pressure until the gun sprayed the way they wanted it to spray. Paint gun manufacturers quickly caught on and the result is that now when you look at the specs on a new gun you will find listed the required CFM at the inlet along with the optimum PSI at the inlet and only a slight mention of required air cap pressure somewhere down in the small print. Life is much better now.
Some Paint Gun Choices
Compliant (also known as High Efficiency) spray guns: You'll find a lot of these guns out there and they aren't much different from the HVLP spray guns I'll talk about later in that like the HVLP they also use low inlet air pressure to achieve a high degree of paint atomization at the air cap.
The reason these guns are referred to as "compliant" guns is that they comply with the European Environmental Agency standards for high-use customers.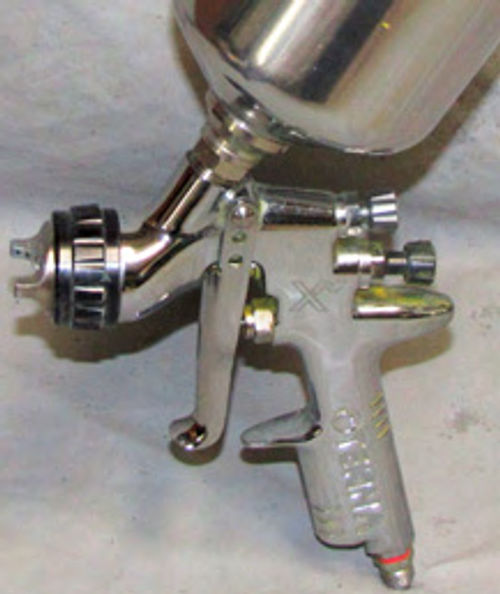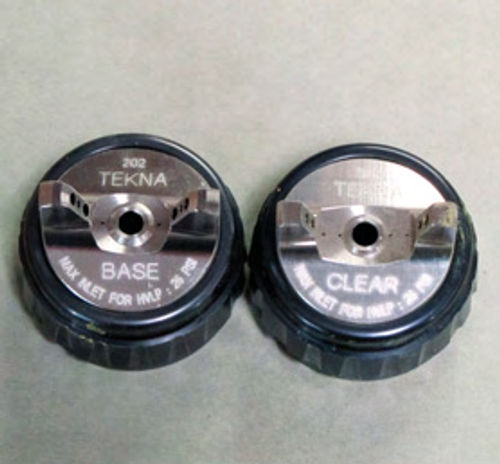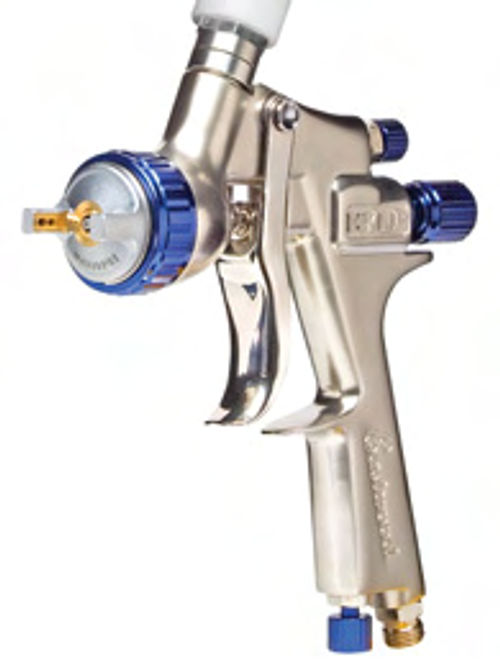 They aren't called HVLP spray guns because they don't comply with the U.S. environmental regulation requirements for high-use customers. Can you use a compliant gun in your home shop herein the U.S.?Yes, you can, as long as you are considered a hobby painter and not a high-use commercial shop. If you live in California, however, check with your local EPA before you purchase one of these guns.
How do you know if the gun is a compliant gun or an HVLP spray gun? To determine if the gun is a compliant gun you will have to read the labeling. All compliant guns are labeled as being either compliant or High Efficiency (H. E.) and never labeled as being HVLP.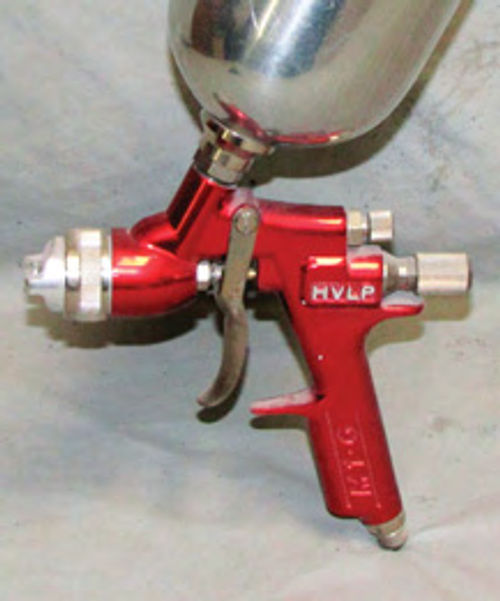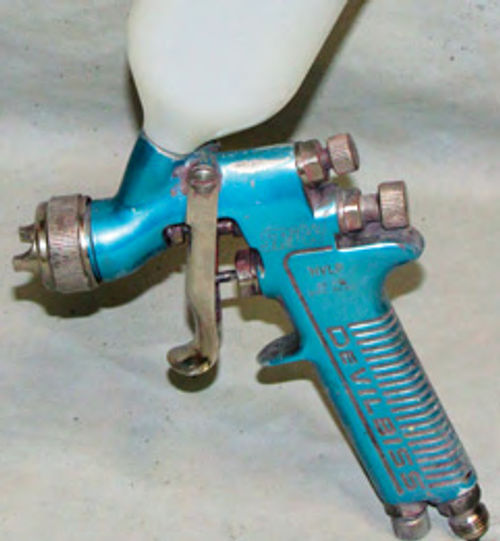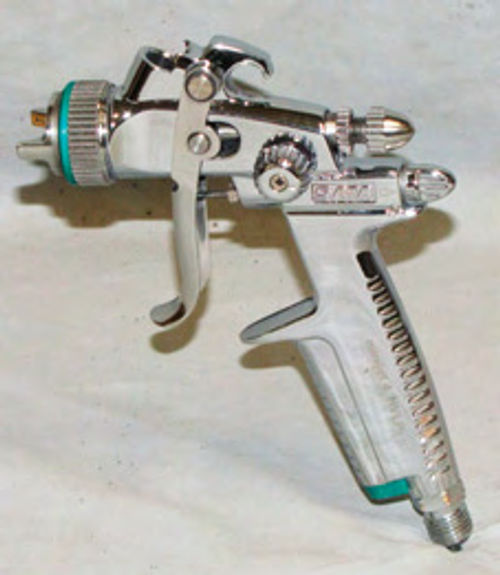 Should you buy one, and is there one I would recommend? Although these guns may not be legal for high-use shops, remember that they were designed with the professional painter in mind. They provide fast fluid flow for high speed spraying and offer higher transfer efficiency, which means more paint on the surface with each pass. The average novice might not do well with this gun as runs are much more prevalent due to the high amount of paint delivered to the surface. If you are considering purchasing one of these guns the one I prefer is (Photo1) the DeVilbiss Plus Model#GFG 670 (Eastwood #34227).
This gun comes with three spray nozzles, a 1.2mm, a 1.3mm, and a 1.4mm, an aluminum 32-oz. cup, and requires 9-11 CFM at 25-30 PSI at the gun inlet.
Use the 1.2mm nozzle to spray sealers and base color coats, the 1.3mm to spray clear coats and single-stage finishes. The 1.4mm nozzle is used to spray epoxy and urethane primers.
This gun can be used with most 3.5 hp, 60-gallon air compressors that produce at least 10 CFM at 30 PSI.(Most air compressors with this rating will meet that standard.) This gun will set you back about $430.
LVLP Spray Guns
These spray guns were the rage a few years ago. Low Volume Low Pressure spray guns were thought to be the next thing in low VOC (volatile organic compounds) emission spray guns.
In reality these guns were not much different from the HVLP spray guns already in use in most shops. The CFM requirements were lower, but the PSI requirements were higher.
These guns didn't go over because professional automotive painters refused to make the switch, favoring instead to keep their trusty HVLP spray guns. It didn't take long for the local suppliers to relegate these guns to the back of the store where they could collect dust.
That's not to say LVLP spray guns can't produce high-quality finishes like the HVLP because they can; they just didn't catch on with the guys who were buying the spray guns.
To pick out one of the better LVLP spray guns, I'll go with the Iwata Super Nova (Photo 2). This gun is available in two different models, the #5803 Basecoat and the #5813 Clear Coat. To instantly differentiate between the two guns, the basecoat gun comes with a gold-colored air cap and the clear coat gun comes with a silver air cap.
Both guns come with a 1.3mm spray nozzle and are available with a 600ml plastic cup, a 700ml aluminum cup, and a 1000ml aluminum cup.
Both guns require 10 CFM at 19 PSI at the gun inlet, quite obtainable with a 3.5 hp, 60-gallon air compressor.
Why two different models for this gun? Professional painters will dedicate a gun to spraying clear coats and another to spraying base coats. Having the gold and silver air caps makes that easier. The average restorer might prefer to spend a little more time cleaning his gold cap spray gun and use it for both finishes.
The thing I want you to notice about this Iwata LVLP spray gun is the small CFM requirement (10 CFM) and the low PSI requirement (19 PSI). That translates into far less overspray which could be a real plus when painting in a small shop. This gun will set you back about $700.
HVLP Spray Guns
This is where the world of spray guns broadens to the point of mass confusion. The term HVLP (High Volume Low Pressure) has become so synonymous with modern gravity feed spray guns that some manufacturers are labeling their low-quality, anything-but-HVLP spray guns, as "HVLP type," "HVLP style," or just about anything else that might lead you to believe you are looking at a true HVLP spray gun.
But keep in mind that just because the gun is gravity feed, that doesn't automatically mean it is HVLP.How can you tell if the gun is a true HVLP? The best way is to read the specification sheets. They should clearly state that the gun is an HVLP.
Starting at the top of the heap in the HVLP world, my first choice would be the SATAjet 3000B HVLP (Photo 3). This gun is available with a 1.0 liter aluminum cup or a .6 liter plastic cup and requires 29 PSI at the inlet and 10.4 CFM of air volume. The SATAjet 3000 Bis available in a variety of spray nozzle sizes and the one I would recommend is the 1.3mm #133181 Digital. Did someone say "digital?" Yes, this gun has a built-in digital inlet air pressure gauge.
This gun will work fine with a 3.5 hp, 60-gallon air compressor provided you allow the compressor to catch up between coats. It will set you back about $710.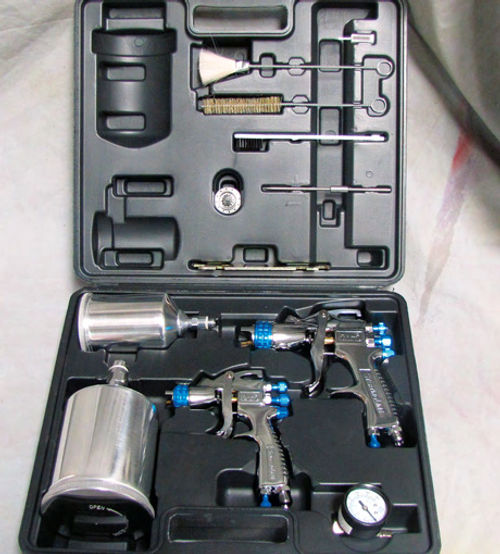 The next gun to make my list is the DeVilbiss Tekna #703063 HVLP (Photo 4). This gun comes with a 1.3mm spray nozzle (DeVilbiss calls it a Fluid Tip), and two air caps, #202 and #909.
Since I've mentioned air caps but haven't explained them, I'll take time here to do so. This is the double-winged cap that screws onto the gun in front of the spray nozzle (Photo 5). This is where the air mixes with the paint and forms the spray pattern. The purpose of having two different air caps for the Tekna is to allow you to adjust the spray pattern out to a maximum of 13 inches with the 202 cap when spraying base coats, and narrow the spray pattern slightly to 11 inches with the 909 cap when spraying clear coats. Notice in the photo at the top center on page 10 that these air caps are plainly labeled "Base" and "Clear."
This gun comes with a 900cc aluminum cup and requires 14 CFM at 22 PSI at the gun inlet, quite obtainable with a 3.5 hp, 60-gallon air compressor. This spray gun will set you back $650.
The next HVLP spray gun is an Eastwood exclusive, the Concours Gun #51605 (Photo 6). I don't know who manufactures this gun for Eastwood but I can tell you that I have loaded it and sprayed both base color and clear coats. That's why it made the list. It's a very nice gun at a good price.
The Concours gun comes with two 600cc cups, one plastic and one aluminum, and three spray nozzles, a 1.2mm, 1.4mm, and a 1.8mm. I don't recommend using a high-quality gun like this for spraying heavy products like undercoatings so I would shelve the 1.8mm tip and use the 1.2mm nozzle for both base colors and clear coats and the 1.4mm nozzle for spraying primers.
This gun requires a mere 4 CFM at 29 PSI at the gun inlet. If not for the required 29 PSI at the inlet this gun could easily qualify as a LVLP spray gun.
This gun will work great with the 3.5 hp, 60 gallon compressor and will set you back $250.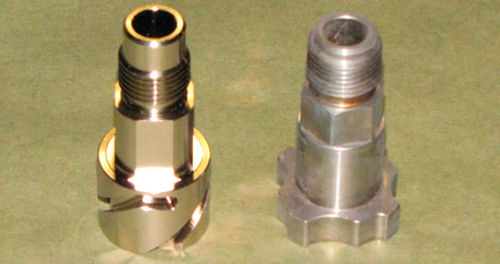 Finally, I can't leave the full-size HVLP spray gun department without mentioning the Binks M1-G(Eastwood #34160). This was one of the forerunner guns in the HVLP arena (Photo 7). Although its popularity has waned as other paint gun manufacturers have scrambled to move into the HVLP world, this gun still has its place in the paint shop. It comes with a 1.4mm spray tip and a 1-liter aluminum cup, and it requires 10 CFM at 18 PSI. This gun can handle anything from primers to clear coats, which makes it a very desirable gun for the occasional painter who needs one gun that will handle everything. A 3.5 hp, 60-gallon air compressor will handle this gun with no problem and it will set you back $380.
Mini HVLP Spray Guns
Some manufacturers refer to these as mini spray guns while others call them spot repair guns. Basically they are smaller versions of the full-size guns and they serve two purposes in the shop. They are ideal for spraying those hard to get at places such as inside trunk compartments and under dash panels and they are great for spraying small parts. Almost all of these guns come with a 1.0mm spray nozzle and the cup will be either a 2.2 oz. cup or a 4 oz. cup.
What products can you spray through one of these guns? You can spray base colors, clear coats, and single-stage urethane finishes and get excellent results. However, you cannot spray primers through them; the 1.0mm spray nozzle common to these guns is just too small.
Note: I will on occasion add 5% additional reducer to the mix to improve on the way the color or clear sprays. A tell-tale sign is that the first pass will be a little rough. If so, you know you need to add the extra reducer.
The first mini gun I like is a DeVilbiss SRiPro-635G-10 (Photo 8). This gun comes with a 1.0mm spray nozzle and two air caps. The first air cap is the HS1 HVLP; the other is the TS1 HE (high efficiency) air cap. What's the difference? The spray pattern on the HS1 is roughly 8 inches wide while the TS1 HE maxes out at about 10 inches.
Stick with the HS1 air cap. I don't think you will notice much difference in the way these caps spray, but the HS1 will give you a little more control and therefore lessen the chances of getting runs.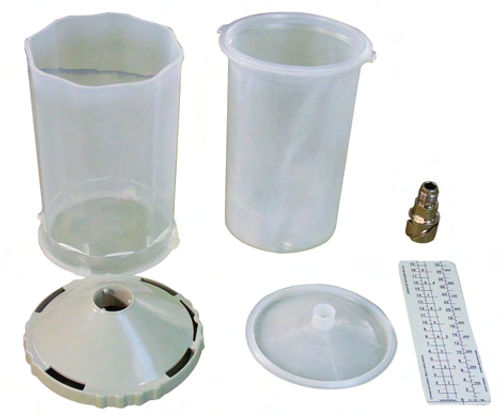 The other gun I like is the SATAminijet 3000 B HVLP (Photo 9). This gun comes with a 1.0mm spray tip and a 2.2 oz. cup. It requires 4.1 CFM at 29 PSI at the gun inlet.
Both of these guns will work great with a 3.5 hp, 60-gallon air compressor. The DeVilbiss SRiPro-635G-10 costs $280 and the SATAminijet 3000 B HVLP is $400.
Lower Priced HVLP Guns
Up until now I've shown you the best of the best. All of these guns are professional grade and as long as you take care of them they will give you great results for many years to come. What I want to show you now is a kit from DeVilbiss that costs much less but will still deliver great results for someone who has that one project he has been working on for years and has no immediate restoration plans beyond that one project.
The DeVilbiss Starting Line Kit, Eastwood #12505 (Photo 10), comes with everything you need, including a carrying case, tools to properly clean the guns, an inlet regulator, a mini spray gun, and a full-sized spray gun.
The full-sized gun comes with a 20- oz. aluminum cup and requires 13 CFM and 30 PSI at the inlet. The mini gun comes with a 4-oz. aluminum cup and requires 8 CFM and 30 PSI at the inlet.
Both of these guns will work great with the 3.5 hp, 60-gallon air compressor and the kit will set you back $150.
Considerations Before You Buy a New Spray Gun
The biggest consideration has to be the air compressor. You'll notice that all of the guns I've selected will work with a 240 volt, 3.5 hp, 60-gallon air compressor. Now let me qualify that statement. This is a large compressor but you will still need to allow time for the compressor to catch up between coats. That shouldn't cause alarm as everything you spray requires at least 10 minutes between coats.
The second thing to consider is how you are going to use the spray gun. If you plan to purchase one gun and use it for everything from primer to clear coats I would suggest purchasing a higher quality gun that comes with at least two sizes of spray nozzles, a 1.2 or 1.3mm, and a 1.4 or 1.5mm. Use the smaller nozzle for spraying seal coats, base color coats, clear coats, and single-stage urethane finishes. Use the larger nozzle to spray epoxy and urethane primers.
If you are considering dedicating one gun to spraying color coats, clear coats, or single-stage finishes and dedicating another gun to spraying primers, I would still go with one of the higher-end guns for spraying the finish coats and opt for something like the Binks M1-G or the full-sized gun in the DeVilbiss Starting Line Kit for spraying primer coats.If you go the Starting Line route, you end up with three guns, one for top quality, one for primers, and a mini gun for painting all of those small parts.
Must-Have Accessories
You can't paint with moist, oily air. Maintaining a clean and dry compressed air system starts with draining the compressor tank at least once a month to remove accumulated moisture. After that you need a good filtering system that uses both a desiccant drier to remove moisture and an oil trap to stop compressor oil from entering the system. Filters need to be examined monthly for moisture (desiccants will turn pink or red when they need to be changed) and the oil trap needs to be cleaned every two months. Consider the Eastwood #20472 2-Stage modular air management system.
Moving out from the filtering system, I recommend purchasing a new air hose and dedicating that hose to painting only. Multipurpose air hoses tend to collect oil and droplets of moisture that could eventually travel through the hose and reach your spray gun.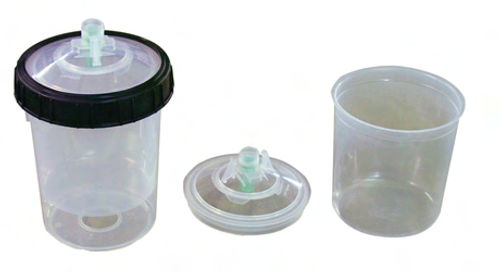 At the spray gun inlet install an inline disposable filter, Eastwood #34066, and a diaphragm-type regulator, Eastwood #34113. The filter will act as a last chance filter to remove any traces of moisture in the line as well as act as an oil trap. The diaphragm regulator ensures you have the correct PSI rating at the gun inlet. Why use a diaphragm regulator? This type of regulator prevents that initial burst of air when you pull the trigger common to non-diaphragm type regulators. Instead, what you get is a smooth flow of air moving through the gun. That, in turn, ensures the spray pattern will remain constant throughout each pass.
Then there is the disposable cup issue. Both DeVilbiss and 3M offer disposable cup systems for just about every gravity feed spray gun out there.
The reasons for switching to a disposable cup system are ease of cleanup, just toss the cup liner when you are through painting, and reduced costs for cleanup. You will never have to clean a paint cup again.
To convert your spray gun to use disposable cups you will need an adaptor like the ones in Photo 11. These adaptors screw into the gun body where the cup would normally attach. The adaptor stays with the gun as you change out the disposable cups. Adaptors for both DeVilbiss and 3M cups are available for almost every spray gun out there.
DeVilbiss disposable cups (Photo 12) are available in two sizes for full-sized guns, 24 oz. (Eastwood #29954) and 34 oz. (Eastwood #29953), and in a 9 oz. size for mini guns (Eastwood #11732 & #11733).
Disposable cups from 3M are available through your local paint supplier in regular size, 25 oz. #16000, and in mini 6 oz. #16115 (Photo 13).
Spray Gun Maintenance
Never oil any part of your spray gun— oil and paint don't mix. Oil in or on your spray gun can result in fisheye contamination on your paint job.
Never allow your paint gun to soak for an extended period of time in paint reducer, lacquer thinner or spray gun cleaning solutions. All of these products will cause plastic to swell and your new gun, no matter the brand, will have some plastic parts.
The best way to clean your spray gun is to first clean the inside of the cup then clean the outside of the gun. Next remove the air cap and the spray nozzle then run clean lacquer thinner through the gun until the thinner runs clear. Assemble the gun, add a small amount of thinner to the cup, connect the gun to an air supply, and spray the thinner for a few seconds. Pour out any remaining thinner and store the gun where it cannot be damaged.
In case you are wondering,SATA spray guns can only be purchased through an authorized SATA dealer. Got a question? Send it along.
Guns provided by:
LPL Body Works, LLC
5815Contented Lane
Amarillo, TX 79109
English Color and Supply
419 S. Fannin St.
Amarillo, TX 79106
Eastwood Company
263 Shoemaker Road
Pottstown, PA 19464