How -to Selecting a Chrome Shop
Chances Are, You've Never Done Any Chrome Plating Yourself. Here's How to Find the Right Pros.
EVERYBODY APPRECIATES A good paint finish on a vintage car. But nothing sets off a vehicle like super-shiny, mirror-like chrome.
And this leads us to an important question: If you need to have some chrome plating done for your ride, how do you go about securing a good—and lasting—job?
After all, most restorers either paint their own cars to their liking or, if they're not skilled in that aspect of the project, they know enough about painting to understand how to go about hiring a good painter.
But when it comes to chrome, hobbyists certainly wouldn't have the necessary equipment to do the plating in their garage. And, furthermore, it's more than likely that most restorers have never even witnessed a plating project in progress, so finding a competent chrome guy is a whole lot harder for them than discovering a good body & paint shop.
If your car features an array of now pitted chrome, you no doubt want to restore those pieces to their former gleaming glory to complete your restoration project. But where do you start your search? Actually, you start here because we recently talked with some experts to help you find the right shop for the job.
Find a Car-Only Shop
In his 50 years of vintage car collecting and sales, Joe Bortz of Chicago has seen restorers turn from their only option— general chrome shops—to automotive only shops. Back in the '50s and '60s, the only choice generally was a commercial shop that could chrome plate car trim, but also plated faucets, residential door handles and the like.
"They were commercial and their work didn't have to be perfect," Bortz said.
Many had plated only new metal and were unaccustomed to working on parts that bore pits and wear. Parts would ferry back and forth between restorer and shop—the restorer yearning for perfect parts and the chrome plater eager to get the job done—with each party becoming more vexed with the process.
"They would plate them and there would still be pits," Bortz said. "You'd ask them to redo it and they'd get mad at you. I've been thrown out of more chrome places!
"Since the years have passed and more guys have gotten into chrome plating, more guys are catering to the needs of car restorers. Now there are some totally devoted to the needs of restorers."
Since the chrome plating industry has grown to include auto-only shops, it makes sense to exclude general chrome shops from your search.
"Today there's enough work for any automotive plater that they don't need to be doing faucets," Bortz said. "If they are, they're into the production work. They dunk it in this tank and that tank and send it out. That's what you don't want. You want someone who will put it back in the tanks if they see imperfections. Anyone into production doesn't have the right mindset for artwork. This is an artistic endeavor to chrome plate automotive parts."
It's Like Finding a Good Doctor…
But even within the car-only segment, you have many levels of craftsmanship from which to choose.
For starters, find a chrome shop that comes highly recommended.
Of course, any good shop will have a handy list of references; however, they may be friends and family members of the plater who naturally will give a glowing review. So instead, ask around at your vintage car club, at shows and at your favorite paint shop.
"The earmarks for finding a good chrome plater are the same as finding a good doctor," Bortz said. "If you give a job to someone that you really don't know, you won't find out if they're good or not 'til you get it back…but by then it's too late."
Bortz, well-known in the hobby as the restorer of numerous GM concept cars from the '50s, likes Finishing Touch in Chicago and Paul's Chrome Plating in Evans City, Pennsylvania.
Mark Silich, owner of Finishing Touch, has been in the business 20 years. He draws most of his clientele through word-of-mouth, but he also places ads in national club magazines.
"That's where the general public could go to find a good chrome plater," he said.
Get to Know Your Plate Shop
Interview the shop owner extensively and, if possible, visit him. Nose around the shop and see how carefully parts are handled and cataloged. Check out samples of their work. If you have plastic that needs chrome work, make sure the shop can do it. Not all chrome shops can apply chrome to plastic.
Next, be sure to evaluate the chrome plater's work ethic.
"He should care about what he does and that the parts fit, are straight and still work," Silich said. "The cheaper ones grind and polish quickly and do the plating. The end result isn't as good."
Since your parts must not only shine but function and fit, how the parts are refurbished makes a world of difference.
"Surface preparation is where it's at," Silich said. "It's the most important part of the process. Chroming is only about 20 percent of the process. We do everything by hand. Few things are done by machinery."
Some Parts Are More Difficult Than Others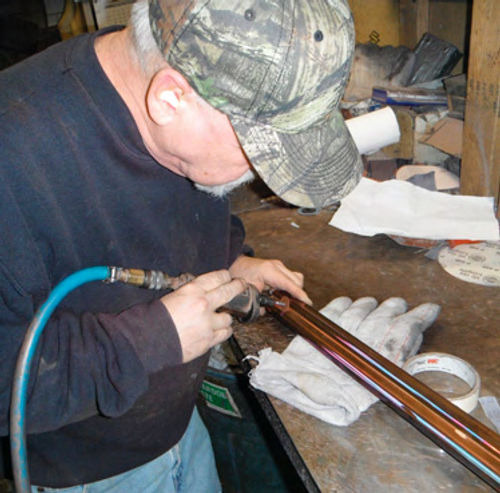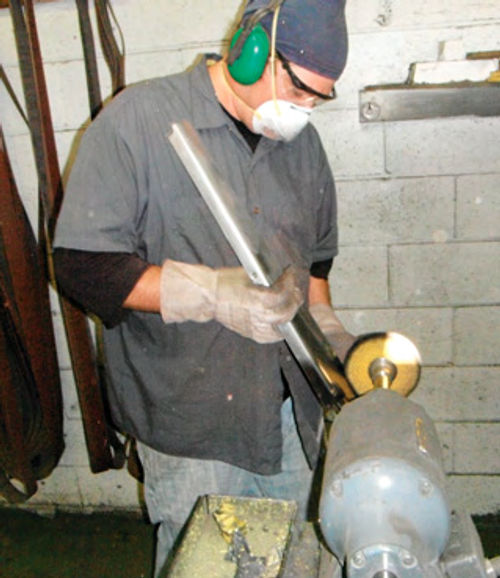 Bortz agrees that for simple bumper work, there are plenty of decent shops that can handle the job. A bumper offers plenty of thickness for grinding off pits and bumps.
"Thin pieces have to be built back up with silver solder to have enough metal and keep the shape of the item and then chrome plate it," he said.
After the preparation, the method of chrome application is also important. At Finishing Touch, Silich uses a multi-step process involving copper covered with highly polished nickel that's sealed in the final process. There's no quick dip-andship at this shop.
Look for Long-Term Workers
Jim Hespenheide, CEO at Paul's Chrome Shop, grew up in the business. Many afternoons, the school bus dropped him off at the shop after school.
"We have skilled metal sanders, polishers and metal workers," Hespenheide said. "I have a lifetime of experience and a bachelor's degree in chrome plating."
Several of the shop's 25 employees have been part of the firm since the late '70s and their experience and know-how matters when it comes to unique vintage parts. Look for long-term, satisfied employees when shopping for a chrome plater. It's an indication that they take pride in their work.
Hespenheide is always eager to show sample pieces to people checking out his shop and walk them through the inventory control process.
"We very rarely lose something," he said. "It does happen but it's extraordinarily rare, but it's because a part was shipped to another customer."
The shop's computer server tracks parts so employees can see where a part is throughout the plant. Hard copy "before" photos travel thought the plant with parts to help match them up to the digital photos stored with the customer's contact information
What's It Worth to You?
Know the kind of work you want: top-of-the-line, "just good enough" or something in between.
"We give customers what they're looking for," Silich said. "One who's looking for a driver is probably in the wrong shop."
To tell what's right for you, it helps to start with the value of your classic vehicle and consider how much you're willing to put into it and how long you plan to keep it. If you put too much money in the car, you won't get it back when it's time to sell it and move on to the next project.
The car's emotional value can make a difference in your planning as well.
"Some people are going to keep it forever and pass it on to their children, and it means that to get it to the higher level of perfection they might end up upside-down," Bortz said. "It may be perfectly acceptable to them."
Bortz, who has dubbed himself a "car psychologist," also believes that for some people, the pride in knowing their car has been restored to absolute perfection matters more than the money involved. For this level of restoration, there's no such thing as overspending, especially when they're awarded a "best of show" trophy or receive dozens of double-takes as they drive around in their gleaming beauty.
Resources
Joe Bortz
P.O. Box 280
Highland Park, IL 60035
Jim Hespenheide
Paul's Chrome Plating, Inc.
90 Pattison St.
Evans City, PA 16033
Mark Silich
The Finishing Touch, Inc.
5580 Northwest Hwy.
Chicago, IL 60630