HOW NOT TO MAKE MONEY WITH MUSCLE CARS
Most of us have some regrets regarding cars we have sold, and my brothers and I are no exception.
We were destined to be gearheads early in life. Born on a cherry farm in Sunnyvale, California, before it became the heart of Silicon Valley, we were exposed to the routine of keeping old farm machinery running. Much of this machinery was WWII surplus equipment that was converted for farm use. (For example, consider the large shop fan I assembled from war surplus components in last month's issue.)
Growing up, I remember playing in the backyard sandbox with Tonka toys and name brand models of tractors and implements. Early on I learned the importance of taking care of your equipment if you wanted it to be around for another day.
With time, my family and agriculture in general was subdivided out of the Santa Clara Valley. We ended up in Tulare County, California, farming citrus. I was nine at this time and my brothers and I were fortunate to always have a job somewhere on the farm if we wanted to work. Wages back then were $1.25/hour and I remember working eight hours, making the sum of $10 and feeling pretty rich.
Buying and Selling My First Car
Primarily we did irrigating and weed spraying and saved our money for the inevitable purchase of our first cars. For me, this occurred in 1968 when I was 16. I paid $2400 for a 1966 Charger…a 426 Hemi Charger. Remember that back then, this was just an ordinary used car with a big engine, so it was no big deal to the seller. Gas was 29 cents a gallon and "American Graffiti" could have been filmed here.
I think you know where I am going with this. I sold the car to my brother in 1970. He kept it two more years and sold it to a friend. The Hemi expired soon thereafter and was replaced with a 383. The license at the time was SWF 792. Give me a call if you ever see it!
Should I Be a Race Driver or a Teacher?
My farm work continued to add dollars to my car account. I think that was the only account that I had. So in 1970, after selling the Charger, I ordered a brand-new Boss 302 Mustang.
Like many kids my age at the time, I wanted to be a race car driver and I figured this car would be a good start toward that goal. I later took the threeday Skip Barber racing school, got my SCCA license, and soon figured out that racing was harder than it looked, so I pursued a teaching career.
In the middle of the second gas shortage, I was teaching school. To this day I question my thinking because I began to wonder if the Boss was the right car for my teaching image. After driving the Boss for eight years and putting on 60,000 miles, I was pursued by a guy who offered me $5000. He was offering more than I paid for a car that was eight years old… Yes, I sold the Boss, and to make matters worse, I bought a VW Scirocco as a replacement. This still haunts me today.
A New Vintage Car In My Garage
I missed the performance and sound of the American muscle car so much that I had to find a replacement. I quickly found a 1965 Corvette that needed some TLC and paid $6000. I have done a 37-year restoration on this car and keep the pink slip in a place where I cannot find it.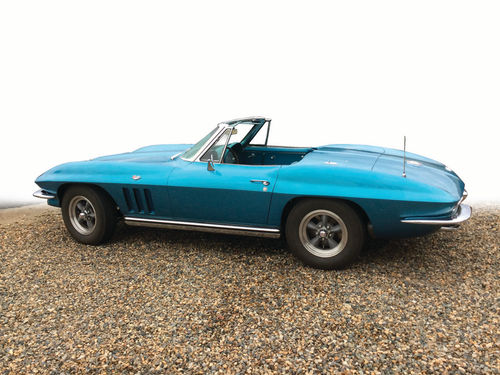 Fast forward about 10 years and I tracked down my old Boss using the license plate number. Paul, the new owner, was doing a frame-off restoration and was thrilled to hear from me. The car now had 160,000 miles and Paul was the fourth owner after me. He asked me if I had some of the original parts such as the exhaust manifolds, wheels, trim rings, rpm limiter and smog pump. I did and sent them his way. In exchange, he sent me my 8.5x15 American Torque Thrust mags, some added-on gauges and the set of Hooker Headers I had installed.
More importantly, he promised me that I would have the first chance to buy it if he ever sells.
The Cars That Have Come and Gone…
Fast forward another 25 years and Paul is still showing the Boss at car shows and enjoying the classic lines and rarity of this Mustang. At this point in time, I don't think I'm going to get a chance at it, and it has kinda gotten out of my price range.
Not recognizing the value in muscle cars must be a genetic trait. My brothers fared no better than me during their formative years. Between the two of them, they owned and sold, not only the 1966 Charger but also a 1934 396 Plymouth 5-window coupe, a 1967 SS Nova, a 1968 Hemi Charger, a 1991 ZR1 Corvette, and a triple-black, brand spanking new 1971 Hemi 'Cuda.
Have we finally learned our lesson? Ask me again in about 10 years.