GU30 GEARHEADS UNDER THIRTY There's A Wrench In Her Future
This Young Gear head Is Happiest When She's In Her Garage. Her Dream Is to Share It With Some '60s Muscle.
BEFORE I TELL you about myself I would like to take a few moments to introduce you to my car—she is far more important anyhow; without her I am but a lowly ape that happens to possess a large tool collection.
How does one begin to describe the enigma known as the Toyota MR2? Well, one way to start is by examining the specs and history of the vehicle. There are three main generations of the MR2,but we will focus primarily on the first, also known under chassis code "AW11," as that is the object of my current love affair.
Back in the mid '70s, Toyota decided to undertake a project that would result in a car for the "average driver" that is both fun to drive and economical.
Apparently the initial vision was nothing resembling a sports car or mid-engine chassis. But after three years of design and experimentation with engine placement, Toyota's Research & Development Department determined that the most desirable power plant location for nearperfect weight distribution was mid-ship and transversely mounted. From this base model concept, the evolution into quasi sports car was inevitable.
The MR's path was assured when Toyota elected Lotus to design and tune the suspension and chassis, and Yamaha to blueprint the cylinder heads. In addition, countless hours of extensive testing were conducted on real-world tracks,such as Willow Springs Raceway, with professional drivers like Dan Gurney behind the wheel. Finally, in the spring of 1984, history was made and the first mass-produced, "mid-engine, rear-wheel drive, two-seater (hence the name MR2)" was unveiled to the world. It was welcomed with open arms by the driving community, and received rave reviews from many publications. Car and Driver magazine considered the Toyota MR2 as worthy enough to be on its "10 Best" list for 1986 and 1987. In 1986 the magazine stated, "Any car with a higher fun-per-dollar quotient would never be allowed by the IRS." The TV show Top Gear rated the "Mister Two" as number 11 out of 152 models reviewed via their "Top Gear Survey."
A Closer Look at Her Significant Other
To get a better idea of what we're working with, let's crunch some numbers regarding this car. The curb weight of a fully-optioned AW11 is amere 2400 pounds. The engine powering this featherweight is the legendary 4AGE, which at the time of the MR2's introduction had already built a reputation for versatility, strength and efficiency through its employment in the Corolla chassis. It isa1.6-liter in line, four-cylinder iron block engine with Bosch L'Jetronic fuel injection and variable intake geometry (TVIS).
Furthermore, it was a revolutionary economy engine at the time, as it was one of the first mass production motors to feature dual overhead camshafts and four valves per cylinder. Yamaha's abilities with head design explain the 4A's capacity to maintain ruthless efficiency and performance throughout the entire powerband. The U.S. version was rated at 112 hp @ 6600 rpm and 97 ft.-lbs. oftorque @ 4800. A supercharged version provided a bit more punch, offering about 140 hp and 109 ft.-lbs.
OK, while such outputs for a 1.6-liter engine are impressive, specs like these for a "sports car" seem dismally low. But when you examine the data collected by Road & Track magazine during their trial run of the AWin November 1984, you may think twice about these unassuming road warriors.
Upon testing, R&T found the power-to weight ratio to be 0.116, or about the equivalent of a 1954 Corvette. Additionally, it was rated at 0.84g of lateral acceleration on the skid pad, right on up there with the BMW M3.
Add that to the fact that the engine's stock redline is about 7500 rpm, and you have one rev-happy, responsive little mid-engine that could. And while at stock setup these cars may not be anyone's first choice for a quick straightaway, take one for a day of auto crossing at the track or a cruise through the mountains and you will appreciate the enthusiasm displayed by just about any auto aficionado who is given the keys.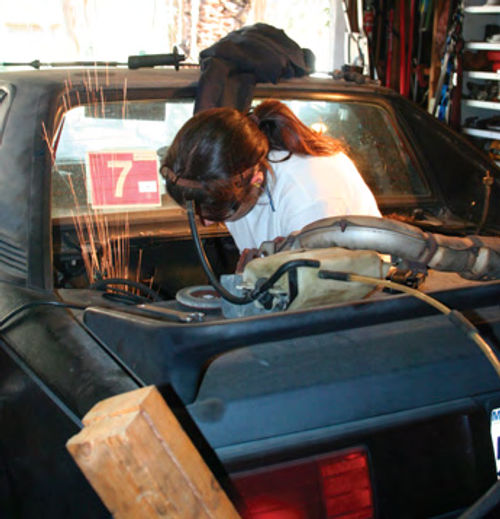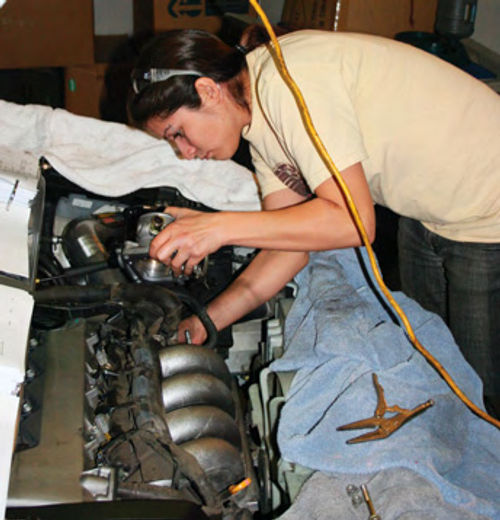 It Was a Chance Meeting On the Street…
Thus The "MisterTwo" has developed a bit of a cult following over the years. Consider its inexpensive initial cost, well-supported aftermarket, simple design, rock solid reliability and addictive personality, and you can see how such a car would be attractive to a gearhead under 30.
I know that many readers of this magazine don't favor the Japanese makes. I myself love good ol' American muscle, especially Mopars and the less common vehicleslikethose fromAMC. It's what I was raised on (my first love as a little girl was a 1969 Mustang). There is definitely no replacement for displacement.
Eventually, I will have my Challenger T/A, my AMX and my Chevelle, but they are just too expensive for me at this point in life. So, like many of my fellow youths, the Japanese car scene—and the MR2— offer me more bang for my buck.
However, had it not been for a mere twist of fate I may never have entered this world. I discovered MR2s the same way many in the community have: by accident and sheer, dumb luck. Several years back I found myself looking for a reliable four-cylinder to use as a daily driver after the premature death of my 1991 Toyota pickup (a story for another time). I was by no means looking for a sports or performance car.
But when I came upon a crimson red, second-generation MR2 with a T-top and "For Sale" sign right up the street from my house, I was intrigued and stopped to look. (I had always admired MR2s from afar, but never seriously considered owning one.) Then, before I could get too much drool on her, the owner came out and offered me a test drive. I got into the driver's seat, started the car—and instantly fell in love with the sensation of the engine purring to life behind me. I could feel it mumbling sweet nothings to me through the back of the seat, muttering tales of apexes and canyon roads, enticing me to push harder, begging to be tested. I put the transmission into gear and never looked back.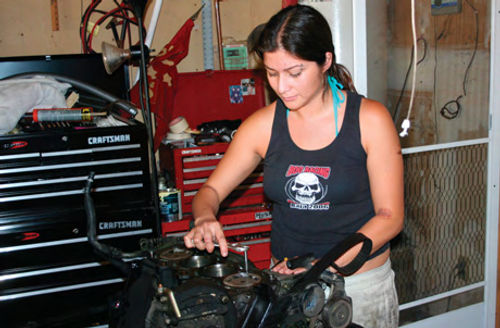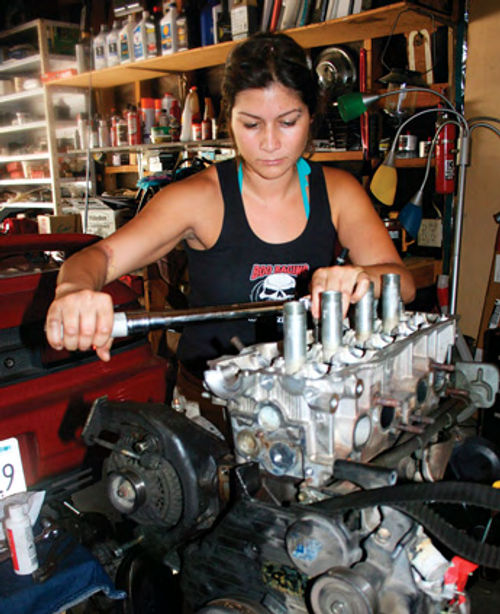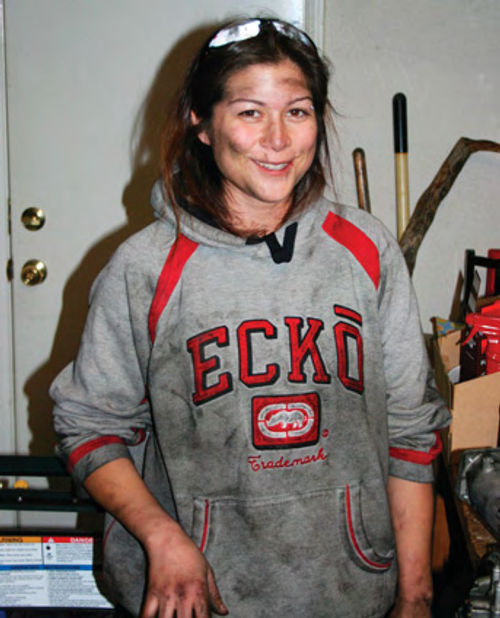 …And Now I'm Hooked
What started off as a "temporary" relationship has grown into a full-on obsession with pre-OBDII Japanese cars. I am now on my second MR2.
I restored the 1991 T-top and sold it to a fellow enthusiast in northern California. My current project is a 1987 hardtop with bare bones options that I rescued from a kid in the LA area. She was in terrible shape, but a hardtop with a manual transmission, steering and doors is rare. So when the VIN came back clean I was ecstatic to tow her home.
I am totally in love with the car and am enjoying the heck out of restoring her. My long-term plans are to make her a track toy, but for the time being, since I am working on a starving artist's budget, I am focusing on just getting her cleaned up and in safe, running condition. I have gotten a pretty good start and am quite close to getting her back on thestreet.
Thus far I have cleaned up the suspension, overhauled the brakes, rebuilt the master cylinders, replaced the engine with a freshened-up, stronger 4A, replaced all the hoses in the engine bay, replaced all the filters and fluids, relocated the battery from the engine bay to the trunk, and started the process of cleaning up the paint and body. If all goes well, by the time you are reading this,"Mary"andIwillbeenjoyingtheview from one of our favorite mountaintops.
Let Me Introduce Myself
So who am I? Well, I'll tell you who I'm not: I'm not a "ricer."
People often assume that because I like Japanese cars I like "rice rockets." To me, they are two very different kinds of car. To sum it up, rice rockets are "all show, no go." Personally, I use the phrase to describe any cheesy or over the-top auto craftsmanship in general, not limiting it just to the brand.
Unlike most young enthusiasts, those you may know as the "rice rocket" owners, this mechanic has been educated by mentors with racing and hot rod backgrounds. My mentors have preached meticulous attention to detail, doing things right the first time, planning and foresight, layout, knowing your roots, and keeping up with resources like Auto Restorer. I have had the privilege of working with crew chiefs who tune suspensions without computers or lasers, and the honor of apprenticing under fabricators who still make everything by hand. I have borne witness to dying arts like "lead filling." I carry this wealth of information with me like the most precious of gems, forever searching for more to add to the collection. My tireless curiosity and the desire to always improve myself and grow as a person are some of the reasons why I enjoy turning wrenches. Another example of why I like working on cars, especially the ones that require restoration, is the sense of patience one gains. The second you allow your emotions to get control of a situation, you have lost. Learning to be in command of your mental state is invaluable, be it under a car, behind the wheel, or in any other aspect of life.
Heeding the Call
Lastly, I am passionate about cars and motorsports because, well, I just…really, really love them! Cars are my life. The emotion I have for them is hard to explain to those who do not share it. The subject is always on my mind in some form, shaping my beliefs, mindset and topics of conversation.
Something about turning wrenches is incredibly therapeutic. If I go more than a few days without it, I get this itch in my soul that can only be soothed by getting my hands dirty. Whenever I feel restless or need a quiet place to think I seek the quiet meditation of the driver's seat.
I savor the sights, sounds, smells and textures of all things automotive: high octane fuel, throaty exhausts, smoking tires, Brakleen and Loctite. I dream of apexes, drag-strip "trees" and circle-track "marbles." I am enamored by well-managed fabrication, the insanity of Sprint cars, and the beauty of a finely-laid TIG bead. I acknowledge that I am doomed to spend massive amounts of money on high-quality tools and OEM parts for as long as I live…
In short, I am a gearhead; I also just so happen to be female.
Facing the Future…Wrench In Hand
Often I am asked how I got into cars. Last time I checked we all get in the same way: through the door!My apologies, you will find that I am a bit of a "smart Alec," though I have come to find that many mechanics are. I mean it all in good fun!
To address the question, I have always been an artistic individual with mechanical inclinations.I am very dexterous and industrious, and I enjoy anything that involves some sort of activity and outside-the-box thinking.
I get bored quite easily in traditional learning environments. I Loathe desk jobs or places of employment where you have to "look busy" and deal with eight levels of management.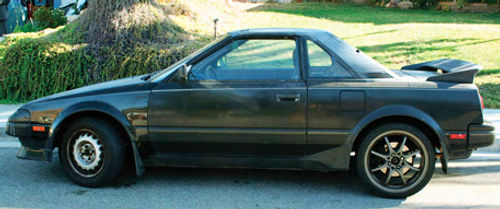 I may be young but I started working at 15 and have held corporate positions and they always, always motivate me to crave something more creative and less mundane. That's one of the many reasons why I have never worked for a dealership. I am not here to badmouth anyone orsay anything negative.I'm just saying that type of environment is not for me. I much prefer the freedom and creativity of racing or restoration.
Yes, I realize that today's unstable world and turbulent economy make pursuit of such careers seem futile. But I have plans, dreams and goals that I'm unwilling to give up on without a fight. After all, the entrepreneurial spirit is part of what this great country was founded upon. And now, more than ever, we need to get back in touch with our roots. I may be running a miniscule operation out of my garage today, but who knows what tomorrow will bring? If I stay focused and dedicated the possibilities are limitless, and it doesn't get much more American than that.