Feature Restoration 1983 Ford Mustang GT

He Was Raised With Various Mustangs Since His Boyhood. So It's No Surprise That He Still Lives With a Pony.
WHETHER IT'S CALLED a test run, shakedown cruise or a drive of triumph, the unwritten rules decree that it's a key step in the restoration process.
"Seventy-two hours after I got it running," said Jeff McLeod, whose 1983 Mustang GT is shown here, "I drove it from Cape Coral, Florida, to London, Ontario."
That was in 2002, five years after perfect timing had taken him to the car that was parked and wearing a "for sale" sign.
"I was looking for a Mustang," he recalled, "and at the time, I had an '85 GT convertible. On my way to work, I drove past the car at one house. I looked at it and it was for sale for $1100 or something like that. I said 'that's a nice '83' and I kept driving by it every day. All of a sudden, it was gone.
"About four months later, I saw the car for sale again in a different part of town. The guy had supposedly bought it from (the first seller) and had it for sale for $700…except now, it had a blown transmission. I got it cheaper with the blown transmission, which was fine because the T5s are pretty simple."
An Early Induction As a Fan
That he was driving the '85 and looking for the one that would become the feature car says something about how seriously he's interested in Mustangs of that period. The story behind that interest isn't unique.
"My uncle bought an '82 brand-new," McLeod said, "and I can remember riding in it once in a while. I would've been six years old, seven years old. I think that's why I've kind of been drawn to that '79-through-'86. He keeps all of his cars in immaculate condition and I can just remember parking a mile and a half away from a store, diagonally, and having to walk. It was just 'don't touch it. Pick your feet up to get in. Don't hit the scuff plates.' That's just how our family is about cars, even a new car."
Had he not had the good fortune of having an uncle who was into Mustangs, though, McLeod might well have discovered them on his own. It might have taken a little longer, but anyone with a more-than-basic interest in cars is virtually guaranteed to eventually recognize Mustangs and appreciate their role in automotive history.
Success of Historic Proportions
Ford introduced the Mustang on April 17, 1964 and if the company had preceded that introduction by handing a list of the car's specifications to every competitor, few would have worried. On paper, the Mustang was an uncomplicated vehicle that seemed to be little more than a repackaging of existing Ford components. That was true, but it also wasn't the point. In his autobiography, Lee Iacocca explained that early thinking leading up to the Mustang had considered the performance of Chevrolet's Corvair Monza as well as the possibility that something along the lines of a modernized two-seat Thunderbird seemed to have potential.
The Corvair, while unconventional among American cars of the time due to its air-cooled rear engine, was initially nothing more than an economy car and theMonzawasitssportiest version.Like the rest of the line, it relied on a horizontally opposed six with 80 or optionally 95 horsepower at Corvair's 1960 introduction.TheMonzaSpyder arrived late in the 1962 model year, but its turbocharged 150 horsepower made it worth the wait.
Whatever the Monza's actual influence on what would become the Mustang, it needed to be balanced with that of the 1955-57 T-bird and Ford had an excellent platform with which to begin. Its own economy car, the Falcon, had appeared as a 1960 model and become an instant success with 435,000 model-year sales. The platform might not have been as exotic for the time as the Corvair, but for Ford's plans, it was ideal and when the Mustang went on sale, nothing about its drivetrain was even a little shocking.
At its simplest, an early Mustang relied on a 101-horsepower 170-cubic-inch six with a three-speed manual transmission and floor shifter. Even in a 2500-pound car that wasn't much, so Ford offered an optional 164-horsepower 260 V-8. In the fall those were replaced with a 116- horsepower 200 six and a 200-horsepower 289 V-8. The real star, of course, was a 271-horsepower version of the 289 and with that, the Monza Spyder was neutralized as a serious threat. The Corvair would head in its own direction and would deservedly earn a passionately loyal following, but it's rear-engine design meant that there was no practical way to make use of Chevy's 327 V-8 to counter the Mustang as a performance car.
With other options that could transform a Mustang from economy-car Spartan to near-luxury comfortable, Ford claimed that it was "the car designed to be designed by you." It was "the ideal first car…the perfect second car fortwo car families…a go-to-work car…out-on the-town car…high-performance car."
As It turned out, it really was all of that. Slightly larger than the original Thunderbird and a four-seater, it took the long-hood-short-deck T-bird look and accentuated it without becoming a caricature. The combination of styling, performance and options had given Ford a winner; something that was clearly evident in the sales numbers. The very short run for the early '65 Mustang model saw 121,000 produced and just to show that that wasn't a fluke, production of the almost-unchanged later 65 Mustang, introduced in October, reached 559,000 cars.
That figure was helped by the addition of the 2+2, a fastback that joined the convertible and coupe to give Mustang the choices it would offer through 1973. In those few years, however, things would change rapidly and seriously in the automotive world with the most obvious developments being under the hood. Granted that while in 1973 it remained possible to buy a six-cylinder Mustang, the V-8s were surely more interesting. By 1967, when the Mustang received its first real update, a 315-horsepower 390 had become the top engine and the next year brought the 427 with 390 horsepower.
A Drop in Power and Size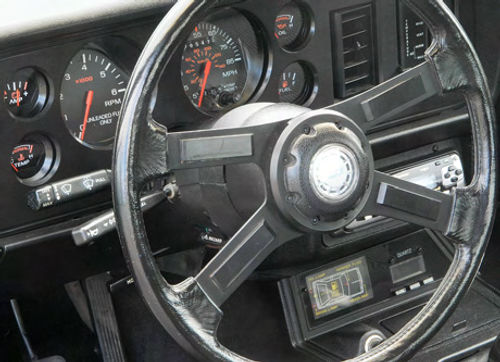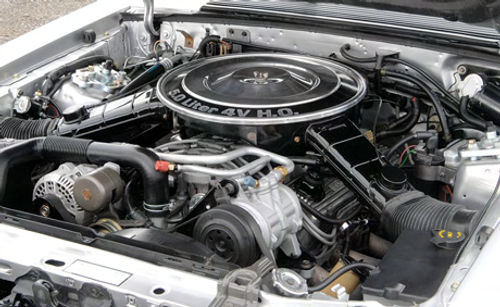 That muscle era couldn't go on forever, and 1971 closed it out by being the last year for a 375-horsepower 429 in a Mustang. In 1972 and '73, the largest MustangV-8 would be a 351 with the '73 version rated at a mere 156 horsepower. Changing tastes, intensifying emissions regulations and increasing costs of insurance and gasoline were winning the automotive performance battle. Ford adapted with a return to basics and practicality by launching the smaller Mustang II in 1974.
The new car faced an almost impossible task as it attempted to live up to its ancestors' mystique. True, the last big Mustangs had strayed from the character of the original by growing bulky and suffering from the performance problems mentioned above, but the Mustang II was very, very different. Available as a coupe and a hatchback, it wore styling cues lifted directly from the 1964 model, but was a foot shorter in wheelbase and measured six inches less overall. Its base engine was an overhead-cam 140-cubic inch four that produced 85 horsepower while the optional 169-cubic-inch V-6 was rated at just 105 horsepower. Ghia options gave it a bit of a luxury-car feel and the Mach 1 package was sporty, if not fast.
"Ford had kind of a dull moment between '74 and '78,"McLeod observed, "but when the '79 Pace Car came around, that lit up the market. Between '79 and '82, they were just finally getting it and in '82, they said 'the Mustang Is back.' Then in '83, the big quote on the sales brochure was 'one hot piece of American steel.'"
1983 Ford Mustang GT
GENERAL
Front-engine, rear-drive, coupe
ENGINE
Type Overhead valve V-8
Displacement 302cu.in.
Bore Stroke 4.00in.x3.00 in.
Compression ratio (:1) 8.3
Carburetor Four-barrel
Power 175hp@4000rpm
Torque 245 lb.-ft.@2400rpm
DRIVETRAIN
Transmission Five-speed manual
SUSPENSION & BRAKES
Front MacPherson struts
Rear Coil springs
Brakes(f/r) Drum/drum,power-assisted
STEERING
Rack-and-pinion, power-assisted
MEASUREMENTS
Wheelbase 100.4 in.
Length 179.1 in.
Width 69.1 in.
Height 51.9 in.
Track(f/r) 56.6/57 in.
Weight 2891 lb.
Tire Size P220/55R390
Some Major Changes for '79
In Indianapolis 500 Pace Car trim or otherwise, the 1979 Mustang was a big turn in a new direction and looked nothing like any Mustang before it. The lower-body's side coves were missing for the first time, a checked grille and four rectangular headlights gave a completely new front-end appearance and broad taillights cleaned up the rear. Engine choices were becoming interesting again as the base 88-horsepower 140 cid four was joined by a turbo version good for 140 horsepower, the same output as the 302 V-8. A 91-horsepower 200 six was a mid-year alternative to the 109-horsepower 170 V-6 and if none of those brought back memories of 427s and 390s, the lack of high-output engines wasn't exclusive to Ford.
Manufacturers weren't ignoring the problem, but were only gradually succeeding in balancing the need for reduced emissions with demands for better economy and the desire for more performance.
By the time McLeod's car was built, the 302wasrated at 175 horsepower and while that was indicative of the trend in American cars, it wasn't quite enough for him.
"It's a little bit different," McLeod said. "Basically, the lower end is all forged components. It's a stock block and the heads are stock, but they're worked to a GT40 spec."
The block is the car's original, bored .030 over, and he said that the design calculations were for 415 horsepower, but estimated that a dyno would place it at about 350. The engine ran when he bought the car and, as mentioned earlier, the transmission had problems.
The body, he said, and especially the interior, presented the real concerns.
"The paint wasn't bad," McLeod said. "It was all stock, everything was there, but all the plastic and all the molding were just cooked from the heat. The interior was really just baked. It was all there, but you'd touch it and it would crumble. I knew that the interior would be a challenge, for sure."
The body was straight and rust-free, so he removed everything possible and traded his 1985 convertible for the paintwork.
"He stripped it down to bare metal," McLeod said, "and the parking lot dings were pulled. The underneath and the engine compartment were sandblasted." While that was underway, he dealt with his car's interior.
"That's actually an original interior," he said. "I had it all re-dyed and flex painted. All the small pieces like the headliner and the trim I've redone. The door panels were in mint shape. The whole console, I pulled that out and painted that. That's a new dash pad because I pulled out the original in three pieces."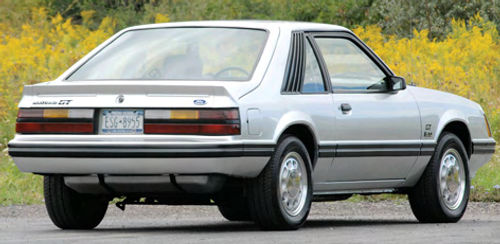 The exception to the interior's originality is a pair of front seats from a 1995 GT. Similarly, a later car gave up its suspension and when McLeod's Mustang came back as a rolling chassis, he installed both the upgraded engine and the suspension.
"The body took a long time because I told him to do it at his own pace," he recalled, "probably nine or 10 months for the body, so we're talking into '99 now that I have the car back. It was at least two years before I got all the parts I could afford—like the weatherstripping—and getting the suspension back in, making the mistake of not having the motor in the car and trying to compress springs. I had to put a u-bolt in the concrete with a come-along to hold the K member down so I wouldn't jack the car off the lift.
"I would say that from '99 to 2002, I got it to a running condition."
And that brought it to that international test drive.
"I took off to Canada,"McLeod said."It was bare. It didn't have the molding, it didn't have anything around the back glass, the interior wasn't done, I had two '83 seats in the front and '87 seats in the back. It was enough just to get on the road and drive."
Storage and Transit Setbacks
Getting from Florida to Ontario without problems sounds like a milestone that would've marked the project as ready for completion, but it didn't work out that way. Instead, college and job hunting interrupted it and the Mustang found itself stored in McLeod's father's garage in Florida for more than four years. After he was transferred to upstate New York by his employer, the car followed, but storage had caused problems, it had been damaged in transit and it was still not completely restored anyway.
"I couldn't even drive the car at that point," he said, "so the first thing was to get the mechanicals fixed. I put a high-flow water pump on, did the camber-caster plates, put new tires on. I wanted to get all the mechanicals done, so I put a 200-amp alternator system on it. I took the whole front off and sandblasted and powder coated everything. It had sat for so long and it was just run down.
"The seatsI found up in Canada. Interiors are wonderful up there, they don't rot. I purchased the front seats in Canada and then I reupholstered the rear seats in the standard black.
"After That, the only mechanical work I needed to finish on it was the air conditioning. I went ahead and purchased everything, got everything bolted up and then took it and had it charged. Everything worked perfectly."
That left the body. McLeod travels to Canada frequently to visit his family and on one of the trips he stopped to see David Moniz at his Strathroy, Ontario, body shop. The two determined what work the Mustang needed, McLeod hunted down the trim and Moniz touched up the body, painted it where necessary and buffed the rest, attached the trim and applied the pinstriping.
"The car had already been painted once, in 1999, in the same color," McLeod said, "and it was a really good paint job, but it just had not been kept up. And in relocating the car from Florida, there was so much damage to it as far as paint chipping off and stone chips. I just don't remember putting the car away like that."
A problem potentially more serious than deterioration showed up on the rear roof pillars. McLeod noticed small lumps, one on each side, that turned out to be the result of reactions between the factory seam filler and the paint. Moniz, he said, recognized it at once and was able to take care of it with little difficulty, but while that might be an unusual example of a body problem, Mustangs of the feature car's series have their common weak points.
Pony Problems
"The biggest thing is the floorpans," McLeod warned, "just like on any other Mustang. The floor pans and torque boxes can be ripped easily because those cars were so light with a lot of horsepower."
Besides being damaged, he said, those are also rust areas. He recommended checking the rear torque boxes especially closely as well as the mounting areas for the rear seats, the roofline and rear pillars on a hatchback and the bottom lip of the hatch or a notchback's decklid.
They're not especially prone to rust on the quarter panels or the fender heels, he said, and while rocker panels hold up fairly well, doors rust at their bottoms. Broadly speaking, they're probably not much better or worse than most of their contemporaries, but there are some specific exceptions that are good news for the restorer.
"I've never seen them rust around the windshield," McLeod said. "I've never seen them rusted out in the cowl area."
Accident damage is a real concern, he said, especially because the Mustang Is a unibody car with a subframe that's easily—but not necessarily obviously— damaged; just because it looks as good as his car looks doesn't automatically rule out defects.
"Everything attached to that subframe," he said, "the sway bar, everything,so they get hit and they're done."
Carefully measuring the distances from the wheels and suspension components will give results that might not guarantee an accident-free history, but they can be accurate enough to suggest problems demanding closer inspection. Crash related damage is a good reason to think about backing away from a Mustang that's under consideration; another reason is a little less likely to come to mind.
"The hardest thing is to find one that's unmolested,"McLeod said, "tofindonein original condition, because they are cheap to upgrade and every kid wanted one."
It's not just that they're "cheap to upgrade," but as bizarre as it might sound, the Mustang of this era is an excellent example of how a good supply of parts can turn around and bite the unwitting restorer.
"In order to fully restore one,"McLeod said, "you've definitely got to know your stuff because there are a lot of parts that are interchangeable. The interchange list is a mile long; something from '79 will bolt onto a '93."
A restorer whose priority improving the car and enjoying it, of course, would worry less about that than would the purist and luckily for the latter, McLeod said that parts books will help to answer questions. His own car isn't exactly a perfectly stock restoration, but he agreed that those having only a passing familiarity with Mustangs would likely be fooled by simply looking at it.
His own familiarity with the cars is, to put it mildly, more than a passing one and given that his uncle's 1982 wasn't the only Mustang in the family, he might not have had much of a choice.
"My grandfather purchased a '67 Mustang at an auction in '72 before I was born," McLeod explained, "and my mom basically said 'this is going to be Jeff's car,' so that's what I grew up with. That was my car at five years old, so it was bound that I'd be a Mustang guy."