Feature Restoration 1971 Dodge Charger Super Bee

It's Not the Car for Someone Who Wants to Keep a Low Profile. But If You Like Muscle, Slide Behind the Wheel.
A PLUM CRAZY 1971 Dodge Charger Super Bee isn't likely to pass through traffic unnoticed, something Jim Salak realized when he took the feature car out for its first ride before its restoration was finished.
"The car still wasn't complete," he recalled. "The insert wasn't in the hood, the stripes weren't on it.
"I just drove it around town here and I got more thumbs-up and people looking, some almost getting into wrecks looking at the car. It was sitting in the driveway and people were coming by and looking."
But who could blame them?
That first drive was in 2010 and by then, of course, cars like Salak's were a rare sight on the road.
But even in 1971, his Super Bee would have drawn attention. Its body was freshly styled that year and the enthusiasts of the day were not likely to mistake it for any other car; those taking a longer view would have seen just how far Dodge had come.
From a Six to a Hemi
With the rest of the American automakers, Dodge had returned to production of civilian vehicles after World War II by modifying its 1942 models and releasing them as 1946 models. While those Dodges were rugged and dependable vehicles designed with practicality high on the list of priorities, no one cited their performance as a key selling point. A 230-cubic-inch flathead six producing 102 horsepower saw to that; it, too, was a returning prewar design.
But there was a big change coming a few years later with the introduction of the Dodge Red Ram V-8 for 1953. Not only was it a modern overhead valve engine but along with the slightly earlier Chrysler Firepower and DeSoto Fire- dome V-8s, the Red Ram shared one design feature that would forever be associated with Mopars.
The engines were Hemis and that was much more than simply a catchy name. The Chrysler corporate V-8s used hemispherical combustion chambers whose design provided for better thermal efficiency with a spark plug nearly dead- center over each piston and each set of valves positioned to essentially straddle its plug. At 241 cubic inches and 140 horsepower, the 1953 Red Ram was the smallest of the Hemis, but it still was enough to prove a point and it set out at once to do so. Six wins in NASCAR's 1953 Grand National Circuit proved an excel- lent way to begin.
Suddenly, Dodge had become a very different car and was ready to do its part in ensuring that the so-called Horsepower Race would be interesting. By 1956, it was offering the D-500, an options package that bumped the Super Red Ram 315-cubic-inch Hemi from its basic 215 horsepower to 260 via upgrades including a four-barrel carb, solid lifters, a better cam and domed pistons.
The D-500 and its variants went on into 1961, although the Hemi had disappeared after 1958.
There were other changes, however, as the early 1960s brought the Big Three's first wave of compacts. While Falcons, Chevy IIs, Valiants and their relatives were aimed squarely at the economy cars arriving mostly from Europe, they presented an opportunity of a very different kind. After all, it didn't require deep thinking to recognize what would happen if an engine more powerful than normal were placed in a small car. Dodge tried it with the Lancer, its 1961 version of Plymouth's Valiant, and came up with something unlike both its earlier performance models and the muscle cars that were then several years in the future. It sounded innocent enough to say that the Lancer's optional engine was a larger six but saying that it was rated at 195 horsepower from its 225 cubic inches was another matter. The key was the Hyper-Pack, an option that added 50 horsepower to the base 225's output. It did so by adding a four-barrel, headers, a ram intake manifold, a racing cam and other "improvements," but the market for high-performance sixes among American drivers was small and would remain so for years to come.
The Hyper-Pack option lasted just one year, but the formula of a big engine in a smaller car was here to stay. In Dodge's case, the Lancer was succeeded in 1963 by the Dart, a name that had been in use on a larger car. In its second year, Dodge gave the Dart a 180-horsepower, 273- cubic-inch V-8 and it would later add a 340 and a 383. But other things were happening in those years, beginning with the introduction of the Charger in 1966.
Based on the midsize Coronet platform, the Charger's signature feature was a fastback roofline, but the fact that it was larger than the Dart made it better suited to the modern version of the Hemi, now a 426 rated at 425 horsepower. The Charger had a problem, though, in that its fastback was a look that was either loved or hated; Dodge sold 37,000 examples in 1966 and less than 16,000 in 1967, so it was no surprise that the 1968 Charger was heavily restyled.
It was the right decision, as about 96,000 Chargers were sold in 1968, but a more-conventional Charger wasn't the only big story at Dodge that year since it shared the spotlight with a new model, the Super Bee. Based on the Coronet, it was created for a very simple and very good reason. It was all about affordability and an early ad asked "want to start something? Try a hot-cammed 383-cube mill in a light coupe body. Just for kicks, throw in the heavy duty suspension, oversized brakes, a brute of a hood, bumblebee stripes—the works. Why sit there dreaming when you could be running?"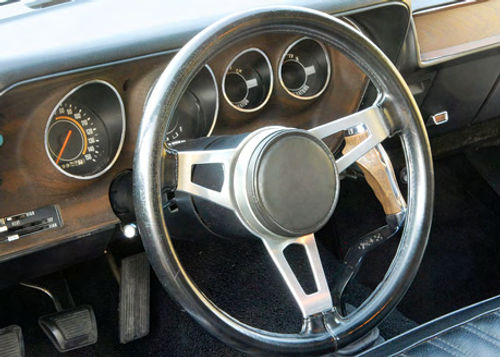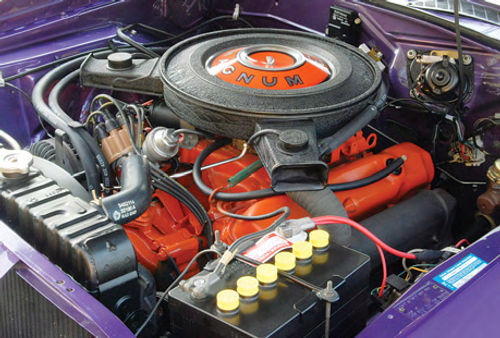 A fair question. At $3395—about $21,995 in today's dollars—the Super Bee was within the reach of plenty of drivers and that price included a 335-horsepower 383, four-speed, dual exhausts, heavy duty suspension and brakes and, of course, the bumblebee stripes wrapped around the rear clip. Those who wanted more could spend an additional $712 to put a Hemi under that "brute of a hood."
But Dodge didn't forget the car's target market and in 1970 advertised "a new model Super Bee at a new lower price—$3074. Dodge explained that it had cut the price by rearranging standard equipment; the previous four-speed had been replaced by a three-speed, but "fiberglass-belted, wide-tread tires" were now standard as were features such as a steering/ignition/transmission lock and a key buzzer. The 383 and heavy-duty suspension were still there as well.
Whatever the reason, the lower price didn't work and sales fell from about 28,000 in 1969 to about 15,500 in 1970, so Dodge took the name and placed it on a version of the restyled 1971 Charger. The 383 was back and it was possible to order a 426 Hemi or a 440, but standard equipment included the three-speed that had helped reduce the price in 1970 and a bench seat.
1971 Dodge Super Bee
GENERAL
Front-engine, rear-drive, coupe
ENGINE
Type Overhead valve V-8
Displacement 383 cu. in.
Bore x stroke 4.25in.x 3.375in.
Compression ratio (:1) 8.5
Carburetor Four-barrel downdraft
Power 300hp@4800rpm
Torque 410 lb.-ft.@3400
DRIVETRAIN
Transmission Four-speed manual
SUSPENSION & BRAKES
Front Independent, torsion bars
Rear Leaf springs
Brakes(f/r) Drum/drum,power-assisted
STEERING
Worm-and-Roller, power-assisted
MEASUREMENTS
Wheelbase 115in.
Length 206in.
Weight 3640 lb.
Tire Size F70x14in.
Charger didn't work as the 1971 Super Bee's 5054 sales represented a big drop from the previous year's figures. Further discounts might have helped for a time, but Dodge instead chose to retire the Super Bee.
A Squealing Clutch But Little Rust
The 1971 version's low numbers make it an unusual sight, but Salak actually wasn't looking for one when the feature car presented itself. He knew Chargers from a 1974 SE that he's owned for years and it was the SE that made the connection that led to the Super Bee.
"Through that car and going to car shows," Salak said, "I encountered this gentleman who was into the same cars that I was into. I got to know him quite well over the years."
Well enough that he was invited to his new garage near Hershey, several hours from Salak's Waymart, Pennsylvania, home. The Super Bee was there, he recalled, but when he inquired about it, owner Chris Zimmerman told him that it wasn't for sale. Salak said that wasn't unusual, as Zimmerman always seemed to have a number of the similar 1971-74 Chargers on hand. So he was surprised about six months later when Zimmer- man called and asked whether he was still interested in it. He definitely was and after spending a day looking it over, he made the deal. The Super Bee was mostly together and running, but a week before he planned to pick it up, Zimmerman called to tell him that the throw-out bearing was bad and offered to replace the clutch. Salak replied that he'd do that himself.
"I brought it home that way," he recalled, "and when I backed it out of the trailer, I stepped on the clutch and it squealed. The look on my wife's face was 'what did you haul home?' Also, the front bumper and the trunk lid weren't on it at the time."
That description, though, isn't the whole story.
"There was minimal, minimal corrosion," Salak said, "which is what really caught my eye about buying the car in the first place. That was a model year that just rotted out in a rainstorm, but there was minimal corrosion."
Its condition was good enough, he said, that if it had had its front bumper and trunk lid, it would have looked fine while going down the road. The trunk lid had been sold after Salak first saw the car and Bob Bianco, who painted the Super Bee and worked with Salak on the body, was surprised to hear that.
"When he told me that," Bianco said, "I was amazed that that guy was going to cut that car up."
Understandable, given the statement about the lack of rust as well as the fact that all of the car's sheet metal is original. The initial plan, Salak said, was to reinstall the bumper—it had been removed, but came with the deal—and replace the trunk lid so that the car could be driven as it was, but the bad clutch intervened.
"The transmission was out," he recalled, "and nobody in the area had a clutch. I had to wait a week to get a clutch and I'm thinking 'it'd be a nice time to pull the engine out and start the engine compartment.' When I got that far, the engine compartment was completely disassembled, the hood was off, fenders off, did the engine compartment all over. Bob came over and painted the engine compartment and we went from there with the engine.
"I don't think the engine's ever been apart. I put valve cover gaskets and a front seal in it. And after reassembling the engine compartment and detailing it, I had to go further. I just couldn't stop there."
"That was the mistake," Bianco said. "He made it look too good."
Those Long, Long Panels
So it began.
That was in the fall of 2009 and over the winter, Salak stripped the 69,000-mile car to bare metal, did the minor body-work and found that his first impression had been correct; there was no rust and the biggest problems were on the order of parking lot dings.
"I started at the left front fender," he said, "went to the left door, quarter, roof, trunk, just right around the car and when I got that far, enter Mr. Bianco."
"We wanted it to look nice," Bianco said. "We went over the bodywork and blocked it all out, made sure everything lined up. A little pushing and pulling, a little tweaking here and there."
That's a critical point. In general, cars of the Super Bee's time aren't likely to be held up as shining examples of quality fit and finish, but the alignment on Salak's Charger is noticeable, to put it gently.
"That was one of our (priorities)," Bianco emphasized. "We made sure everything lined up. We didn't want to go jerking and jacking, putting washers under this or that."
"At this point when it was at his place," Salak said, "I had the interior pretty much out of it. I had the doors gutted, too, when we were trying to line everything up. The one line was a little higher than the other and he said the weight in the doors was going to bring it down. That brought it in perfectly."
Glass was another challenge, as Salak recalled his battle with one of the car's rear windows.
"I spent three nights making sure it fit the way I wanted it," he said. "You move the regulator or whatever you have to do to tweak it. The quarter windows were the worst. The windows in the doors weren't as bad as the quarter windows, for whatever reason. What I did was get the door glass to fit when I closed it and then I adjusted the quarter window to fit in it."
Making the panels fit, Bianco said, required more than one attempt.
"It took some head-scratching and thinking for a day or so," he admitted. 'Let's try bending it here a little bit' or 'let's try moving that a little bit.' No, it wasn't just hang it on there and run. You've got to start from the back and work your way to the front so you have a nice gap on the quarter and you work your way ahead. If you start with the fender on the front and then the door, once you end up at the back, you've got to go back and try to redo everything."
"And the panels are so long," Salak added, "that a little tweak here really affects the other end a lot."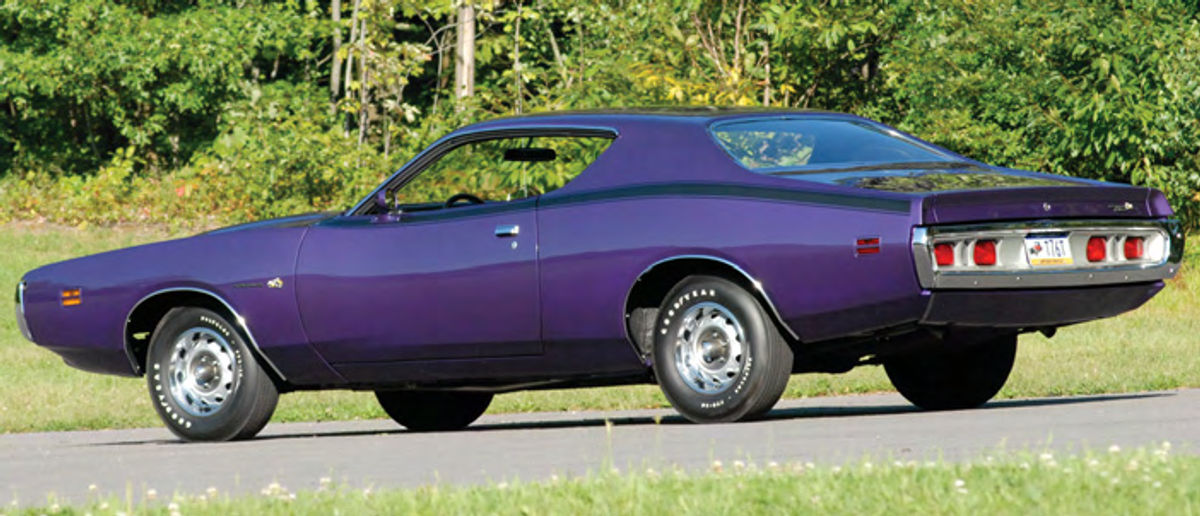 Doing Piece Work
Sheet metal also presented a difficulty of a different sort.
"The hardest part was the hood," Bianco said, "because it was so long. We used two stands to keep it propped up and we made sure when we had it there that it was good and stationary. Nobody bumped it around."
"We had the valance off doing the bodywork," Salak said, "and the front wanted to shake all the time."
"The fenders didn't have any kind of structure in front of them," Bianco explained. "Actually, we made brackets to the front of the radiator support to keep everything where we thought it belonged, to keep it stiff and straight so we could do the body lines and whatnot."
The fenders, of course, were on and off of the car several times, so Bianco and Salak became skilled at handling them. They were in place when the Super Bee was painted, but much was missing from the shell.
"We painted the car in pieces," Bianco said. "You won't find a tape line on the car. Everything was painted in pieces, so going back together, we had to be really careful and take our time, tape this off and put a rag over there, two guys here holding this. It took a little playing with it, but gingerly, we got it all back together."
Earning Their Stripes
"The only thing left in the interior that wasn't taken out," Salak said, "was the dash assembly itself. Everything else was out. I had the steering column out of the car from when I was doing the engine compartment. While I had the steering column out, I refinished it, but the dash itself remained intact. I didn't take that out. Everything works, even the key buzzer. It all works, AM radio included."
Disassembly to that degree would reveal nearly any rust and while this car somehow avoided that fate, it's a very real problem on Chargers as well as their Plymouth relatives.
Some of the points to inspect are the usual ones, such as the rocker panels, wheel wells and lower quarter panels and fenders. Damage there should be easily seen although finding good repairs might be harder. The tops of the fenders are potential rust sites, as are the floorpans and the area between the backlight and the trunk lid.
Door bottoms can be extremely bad if the doors themselves are packed with debris and can't drain, but Salak pointed to one potentially serious rust area that's rare, but not unknown.
"If there's a bubble under a vinyl top on a 40-year-old Chrysler," he warned, "it's not an air bubble. It's a rust bubble."
It's also likely to be much worse than expected once the vinyl is removed and the extent of the damage is visible.
But if rust is the bad news on these cars, the good news is the drivetrain. All of the available engines and transmissions are strong and none are a problem when it comes to buying parts. While finding a project with all of its trim is always a good plan, even the stripes are available for a Super Bee. Salak and Bianco know all about that.
"We got the stripe package," Salak said, "and neither one of us had ever gotten involved with stuff like that before."
"I didn't want to do it," Bianco explained. "I said 'I have a hard time putting a decal on the car. I'm going to put those big things on there? I'm not doing that.'"
"I was very insistent that it wasn't getting farmed out," Salak continued. "We were doing it. I kept telling him the whole time 'if I screw it up, I've got to go and buy another decal, that's all.' "
"It's a one-shot deal," Bianco said. "Once it's on, it's on. You can peel it back a little bit to reposition it, but if you have it down, it's down."
Fortunately for both of them—and for the car—Salak said the kit from Performance Car Graphics in Tallahassee, Florida, included detailed instructions (performancecargraphics.com).
"Pictures and templates, where to start, how to do it, everything is based off of this one," Salak explained. "It made the whole job a lot easier."
By any measure, Salak and Bianco are describing a lot of work here and even if next to none of it involved repairs to rust damage, much lies somewhere between painstaking and tedious.
Deciding whether a restoration is worth that level of effort can be subjective, but in the feature car's case, an unbiased answer appeared late last year when it received its First Junior award at the AACA's Fall National Meet at Hershey.
Recognition is important, no doubt, but Salak had realized much earlier that the Super Bee was the car to buy.
"The moment I put it in the trailer and closed the door," he recalled, "it was right, the day I brought it home."