Feature Restoration 1971 Buick Riviera

The Styling Shows That a Buick Isn't Always Conservative. But It Does Follow Tradition as a Solid Road Car.
BUICK'S LONG-ESTABLISHED reputation for quality and its image as a near-luxury car are hard to challenge, but those impressions overlook the division's occasional tendency toward the radical with models such as the boattail Riviera.
When Buick launched the boattail in 1971, theRivierawas already a fixture in the personal luxury car field. It had been something totally different at its 1963 introduction as the latest effort by Buick to stand out with a product which, if not breaking rules, surely was stretching them. It was part of a tradition that dated far back, as Buick appeared in 1903 under the guidance of David Dunbar Buick and its cars began rolling out a year later.
Buick might have gone on that way and competed on its own with the almost-countless other makes then trying to find their way in a very new industry, but William C. Durant had a plan. His acquisition of Buick enabled him to go on to build General Motors.
It was a period in which Buick went from the two-cylinder engines with which it had begun to fours in 1907 and sixes seven years later as prices climbed from$950 for a 1904 Model B two-cylinder touring to $2000 for a four-cylinder 1907 Model D touring and then dropped to $1985 for a six-cylinder Model B-55 touring in 1914. Buicks weren't cheap, but they were within the reach of many drivers and close enough for others that ownership seemed possible, facts that would serve the badge well.
Buick Plus Eight
Buick took a big step in 1931 by abandoning sixes for a range of straight eights; it was genuine confidence, as there was no overlap to provide a smooth transition or a safe fallback. Sales dropped between the two years, falling from 182,000 to 139,000, but with the Depression well underway, it's no easier to blame the eight for the drop than it isto credit it for having produced sales that otherwise would have been lost.
What is certain is that Buick stuck solely with its engine lineup until 1953 arrived with a big announcement, namely the division's first V-8. If Buick's firm belief in overhead-valve straight eights perhaps delayed the change, the wait was worthwhile as the new engine was a modern oversquare (bore greater than stroke) 322-cubic-inch unit generating up to 188 horsepower in the Roadmaster. The value of those numbers was obvious when compared to the 1952 Road master's 170-horsepower 320; the new engine was beginning above the old one's high point.
Unlike its 1931 replacement of sixes with eights, the move to V-8s didn't overlook the inline faithful because Buick continued to offer a straight eight—a 263- cubic-inch 130-horsepower version—in the Special for another year. It was a good fit, as more than 217,000 Specials were sold in 1953. But that entry-level model was separated by far more than its engine from the car that was placed at the very top of Buick's line that year, the Skylark convertible.
A Move Toward "Personal Luxury"
For $5000—$41,142 in today's dollars—one of the 1690 Skylark-buyers got what might be described as an enhanced Buick. It lacked the Ventiports which had been a feature since 1949, but its toothy grille, bullet taillights and lines at once both massive and flowing ensured that a Skylark would be noticed. Thanks to its low windshield and open rear wheel wells, it couldn't be mistaken for any other Buick and while even those who don't especially care for the Skylark will usually concede that it's a landmark design, rarely does anyone mention it as a very early personal luxury car.
For its second and last year on the market, the Skylark's price was cut to $4355, but it wasn't enough to help; just 836 Skylarks were sold in 1954 andBuick wouldn't indulge in anything similar for almost a decade.
Still, the four-seater Thunderbird launched in 1958 as well as the 1955 Studebaker President Speedster and various Hawks that followed far outsold the Skylark and hinted that other manufacturers recognized that market segment. In 1963, a new Buick with a recycled name from the '40s and '50s joined in as well.
On the Riviera
The 1963 Riviera, available only as a coupe on a 117-inch wheelbase, was unlike any other GM car. Its sides were crisp and mostly uncluttered—fake scoops decorated the quarter panels— the brightwork was thin and the grille and taillights were simple. Its proportions gave it a look that was imposing without being ponderous and with 325 horsepower,its 401-cubic-inch V-8 gave it performance; drivers wanting more could opt for a 340-horsepower 425. It was, according to Buick, "America's bid for a great new international classic car" and 40,000 buyers felt it succeeded.
Buick only fine-tuned the Riviera's appearance for 1964, but it dropped the 401 and offered the 425 in 340- and 360- horsepower versions. It used the same body for the last time in 1965 and again made mostly minor changes with two exceptions; the horizontal headlight pairs that had been in the grille were rotated to vertical and then hidden behind retracting covers at the fenders' leading edges while the taillights were moved downward to the bumper. From the front, in particular, it was hard to imagine how the first Riviera could have looked better.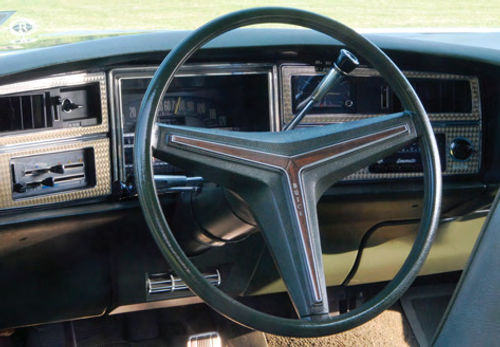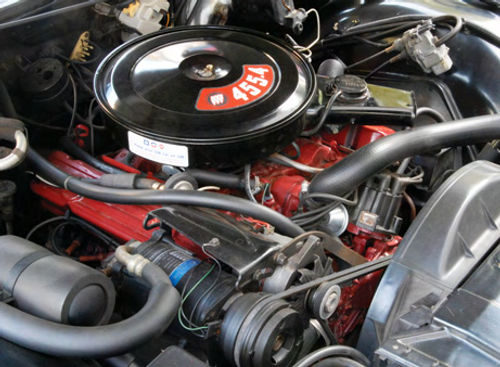 A complete restyle arrived for 1966, when the Riviera shared both the limelight and its basic body with Olds mobile's new Toronado. Buick remained with conventional rear-wheel-drive that year, even as the new Oldsmobile and Cadillac's Eldorado of the following year debuted with front-wheel-drive.
Buick sold 34,856 Riviera In 1965 and 45,348 in 1966 when the Toronado arrived, then sold 42,799 in 1967 and 49,284 in 1968. The Buick technology might have been everyday, but drivers liked the Riviera and kept buying it.
The all-new 1966 model retained approximately the same proportions as the original while it softened some of the sharp creases and lines for a lower and longer—but still aggressive—look. The headlights remained hidden, but were again dual horizontals and now vanished by flipping over into the grille. The disappearing headlights would survive the 1967 update, the more serious 1968 restyle and then an update to that body before returning to the open in 1970, a year in which the Riviera lost some of its grace as optional "full, flush fender skirts" helped to give the rear a heavy look; "high-profile wheel opening covers" were better, but few saw the package as an improvement over that of the previous year.
1971 Buick Riviera
GENERAL
Front-engine, rear-drive, fastback coupe
ENGINE
Type Overhead-valve V-8
Displacement 455 cu. in.
Borexstroke 4.31in.x3.90 in.
Compression ratio (:1) 8.5
Carburetor Four-barrel
Power 315hp@4400rpm
Torque 450 lb.-ft. @2800 rpm
DRIVETRAIN
Transmission Three-speed automatic
Final drive ratio (:1) 2.93
SUSPENSION & BRAKES
Front Independent, coil springs
Rear Solid axle, coil springs
Brakes(f/r) Drum/drum
STEERING
Recirculating ball, power-assisted
MEASUREMENTS
Wheelbase 122in.
Length 218.3 in.
Weight 4247 lb.
Tire Size H78x15in.
Major Changes for '71
Then its replacement appeared and anyone who had wondered whether Buick Was still serious about it could see with the quickest glance that the 1971 Riviera was as fresh as the original had been in 1963. Buick advertised that "its styling alone will set a trend" and while the prediction didn't quite prove true, the look was never the less spectacular.
On a 122-inch wheelbase, it was not a small car and its styling made no effort to disguise that. Up front, its grille tilted steeply forward and came to a point several inches beyond the headlights and the fenders' edges. A long hood trailed to a steeply sloped windshield and the fastback roofline angled gently downward through a large wrap over window to meet the edge of the trunk at the beltline. Like the grille, the roofline ended in a point extending beyond the lights and when viewed from above or behind, the reason for the "boattail" nickname was obvious.
ComparisonstotheAuburnSpeedster and the Corvette Sting Ray are often made and the similarity is there, but less often remarked upon is the kick in the beltline between the rear of the door and the front of the roof pillar; its curve follows that of the wheelwell—open again—and a major stamping in the quarter panel to draw attention to the roofline and rear window.
Five years earlier, a Riviera ad had proclaimed that "the old gray Buick ain't what she used to be" and just as that had been a fair statement then, it could have applied every bit as honestly to the 1971 model. The division touched on that by advertising under a photo of the boattail that "the things people expected out of a performance car a few years ago aren't the same any more. They want more than emblems in return for their money." The new Riviera Gran Sport, it proclaimed, was "the ultimate in an American luxury performance car."
The GS option boosted the 455 to 330 horsepower from the standard 315, but neither figure actually is that important to the owner of the feature car. Bill Fowler of Greene, New York, explained that he's not even completely sure how much of a role his own tastes played in his father's decision to buy the feature car in 1993.
"I loved the Rivieras," he recalled. "I wanted a boattail Riviera from when I was old enough to think about driving, maybe eight or nine. I knew I was never going to be able to afford a Corvette, so this was going to be the next best thing. I don't know whether the fact that I liked them meant that he kind of noticed them, but in this garage right next door, there was one that was light green with a black top, a '71. It sat right in that barn and belonged to a couple that used to come up and drive it for the summer. They paid to store it in this garage next door and he heard that it was going to be for sale. I happened to be on leave from the service and we came down to look at it."
The Boattail That Got Away
Fowler said that he and his father watched that Riviera leave on a truck after another buyer got it, a disappointment that might have had the proverbial silver lining.
"I think that kind of piqued his interest a little," he said, "so he started looking and when he saw this one come up in the paper, he called and went to look it over and eventually made a deal on it."
The feature Buick had been purchased new in nearby Binghamton by one of his father's co-workers and wasthen sold by his estate to another collector, who kept it in a less-than-weatherproof barn.
After Several years of such storage for the car, Fowler's father bought it and only then learned its history. Since water had gotten to it in that barn, he also addressed the rust that had developed on the flat surfaces and had the car partially repainted.
"That's all that's done to it," Fowler said, "the original-color repaint. The vinyl top was pretty (rough) and he just kept putting on the Armor All. He just kept pumping it into it and it came back. That's what you see. It came back and it looks good."
The odometer shows 55,000 miles and Fowler said that it stopped working not long after his father bought the car. With mileage so low, it's not surprising that the Buick needed very little to be back on the road. Until he passed away in February of 2003, his father had to do nothing more than normal drivetrain maintenance,suggesting that its original owner took good care of it. Further evidence lies in the fact that it's spent most of its life in upstate New York and didn't rust as a result of winter driving, but Fowler knows that it's contended with serious snow at least once.
"I came up for the funeral," he recalled. "I was living in Virginia and I was still in the service then. The whole family came up and my wife had to go— she was in the service, also—and get back to work, so they went back in our car and I stayed with my mom for a week or so. I ended up driving the Riviera back home rather than flying. I left on, I think, a Sunday morning or Saturday morning and it was the year of the Presidents Day Blizzard that went up the East Coast. I made it to Harrisburg, Pennsylvania, before it started to snow and by the time I got to Frederick, Maryland, I was pushing snow with the front bumper.
"I pulled into a gas station to fill up and I was the only one there. I went in to pay for the gas and the attendant said, 'what's the matter with you?'I said,'I'm trying to get home before the salt trucks come out' and I almost made it. I did run into some salt trucks on (Interstate) 95, but I got home and got it cleaned up."
One for the Road
With gentle driving, he'd had no big problems getting through although he recalled that the scariest part was the occasional question as to where the road really was in all of that snow. The car ran fine, though, on its first long trip since his father had taken it to some distant Buick and Riviera meets.
"It's a great road car," Fowler said, "a great and fantastic road car. I had it on the highway a few times down in Virginia. That's when you really appreciate it. The kind of driving I do here with it, back and forth, here and there, you don't really get the chance to feel how nicely it hits the road."
The Buick Was in Virginia for over a year before returning to New York and Fowler estimates that it now has about 80,000 miles.
It is, he said, ready for any trip and while he knows it would be noticed on the road, younger people are unlikely to identify it correctly even as those in their mid-thirties recognize it at once. That's not bad for a model that sold just 33,810 examples; even adding in boat tails through 1973 accounts for just 67,808 more cars. It's a good bet that at least some of that relatively small number of Rivieras met their ends because of their 455s, which as they aged made them prime targets to be abused into oblivion or to be relieved of their engines and then abandoned. More of them, though, probably lost their battle with rust.
Fowler knows that and warned of some potential problem areas on many GM cars of the era, such as the frame from ahead of the rear axle back to the bumper. He added, though, that trunks and trunk lids are also prone to rust, but the louvered lids on 1971 cars are less likely to be damaged than are the solid 1972 lids and are sometimes used as replacements on the later models.
No Rust 'Round the Windshield
The cars also rust around their windshields and rear windows, but the damage can be difficult to detect because of the moldings. The feature car is one of the lucky ones.
"I did have the windshield replaced while I was in Virginia," Fowler said. "I got passed by a semi and he got me. I thought, 'Oh, my God, how's that going to go?' I called Safelite and they sent a guy right out with a brand-new piece of glass with the antenna in it. He popped it right in there.
"This was in Virginia and the guy that came out was actually from here in (nearby) Port Crane, so we ended up knowing some of the same people and he said, 'Normally, if I came to your house in New York and saw this car, I would be scared to death to pull those chrome pieces off around the windshield because I know what I'm going to see under there.' But when he pulled them off, there was nothing in there. He said it was like brand-new. It was a great installation and I was happy to hear that."
The rust warnings are not ones to be taken lightly—Fowler agreed that buying a basket case is not a good idea since body and trim pieces are difficult to find—but boattails have a comparably significant plus in their drivetrains.
Nearly every drivetrain component is rugged and it's extremely unlikely that any critical mechanical part would be unavailable.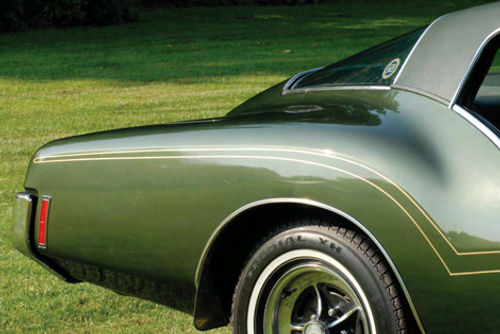 Still a Father-and-Son Car
The style, the performance and the fact that Buicks of the time are typically good, reliable vehicles makes a boattail seem very attractive and Fowler said that if he'd run across the feature car for sale, he would've bought it just as his father did. No matter how he ended up with it, he said, he's going to keep it.
"I'm my father's son," he observed, "and we just get attached to things."
In this case, of course, becoming "attached to things" is only a partial explanation
"For me," Fowler said, "it's more than having a nice old car to show people. It's a piece of family history. When I'm driving it around, I'm riding with the old man, and you can't buy that."