Feature Restoration 1967 Plymouth GTX

By the Late '60s, Plymouth Had Undergone a Transformation. Its Cars Could Move…Even With a "Smaller" Engine.
THE MUSCLE CAR era treated buyers well with choices from the fast through the really fast, along with variations in size as well as cosmetic possibilities from the austere to the opulent. There was overlap, of course, but a Plymouth fan who wanted to go really fast in something safely above compact austerity might well have been drawn to the GTX.
The GTX debuted for the 1967 model year, just over a decade after Plymouth Had begun stretching beyond the theme it had followed from the start, that of affordable practicality.
Plymouth's Earlier Years
When Chrysler's new Plymouth arrived in 1928, its pricing started at$670. The least expensive Chevy's price was $495 and Ford's new Model A cost $460 at entry level. The Plymouth was affordable rather than cheap, and that was the point.
Clearly,Chrysler was not going to use the Plymouth to compete dollar-for-dollar, and if this new entry couldn't be called revolutionary, the claims made for it were more than hype. Plymouth features included four-wheel hydraulic brakes, rubber engine mountings and a 45-horsepower four that ran with full pressure lubrication. And with 66,000 cars sold in its first model year, the Plymouth did well enough that it would adhere to the same approach until far into the postwar years.
In fact, it wasn't until 1956 that Plymouth did something that would have been unthinkable just a few years earlier—it introduced an outright performance car, the Fury two-door hardtop.
The Fury's engine was the largest and most powerful of any placed under a Plymouth hood that year. At 303 cubic inches and 240 horsepower, it was capable of 0-60 times under 10 seconds. Its price tag of over $2800 placed it at the top of the Plymouth range, but in addition to the 303, the Fury included better brakes, stronger suspension and white paint with gold trim for a look unavailable on other Plymouths.
The Fury was, in effect, a limited-edition ancestor to muscle car packages that Detroit would offer in the 1960s. And while it was not especially successful in sales, it returned on the new Plymouth body for 1957 and 1958 before being downgraded to a complete line that included—of all things—a four-door post. It might seem to have been a step backward with the Fury's loss of exclusivity, but the broader picture is more important; the Sport Fury was at the top in 1959 and although no longer a limited edition, it was easily optioned to be very much like the earlier cars. Specifying the 361 with its 305 horsepower was a good place to start in 1959 and for a time, ordering a car exactly as desired was the best approach to buying a fast Plymouth.
Good Things In Smaller Packages
The situation grew complicated, however, beginning around 1964 when the compact Valiant was modified to create the fastback Barracuda. Although high performance still was limited mainly to full-size cars, that was something the Valiant and Barracuda helped to change at Plymouth by offering a 180-horsepower 273. In a car weighing roughly 2700 lbs., it was enough to show the possibilities and in 1965, the big possibility came from a Barracuda Formula S with its seriously improved handling and its 235-horsepower 273.
The Barracuda's 106-inch wheelbase certainly qualified it as a compact, even if its roofline and huge backlight made it seem longer.
But Plymouth at that time was shuffling wheelbases and models, which in turn shuffled definitions.
It had been simple in 1964, when a Plymouth measured either 106.5 or 116 inches, but 1965 brought with it a 119-inch wheelbase (and a 121-inch wheelbase for several wagons).
Since 116-inch cars continued to be built, they dropped from full-size to intermediate, but the Fury line that had been 116-inch cars in 1964 now moved to the larger series. The Belvedere—a name predating the division's V-8s—became Plymouth's Intermediate by remaining on the 116-inch wheelbase and it gained a new top model, the Belvedere Satellite.
As all of that had been going on with the bodies and badges, there also were changes regarding power plants, and when the Satellite appeared, one of its distinctions from the rest of the Belvederes was that it was sold only with a V8. That meant several 426s were available with the top version rated at 425 horsepower. Best of all, while Plymouth Had been left out of the original Chrysler Hemi series early in the 1950s, the 426 was the second generation and the division now had its chance. The new Hemi had arrived in 1964 and wasn't intended as a street engine, but a customer who wanted it could get it.
That, too, changed for 1966 when the Satellite became available with the Street Hemi. Also rated at 425 horsepower, its differences included the cam, carburetors and intakes that were changed in an effort to make it more practical for highway use. The Satellite again was a V-8-only car and combined with properly equipped Barracudas and Fury full-size models, it seemed that Plymouth Had the performance field almost perfectly covered.
Would You Like a Hemi With That?
But then 1967 brought yet another variation on the Belvedere, the GTX.
The Satellite remained in the lineup, but it was now a step below the Belvedere GTX. The new model was what today would be called "nicely equipped" in terms of trim and accessories, but the real reason to buy a GTX was to go fast and Plymouth ensured happy customers by making a 375-horsepower 440 the base engine. That left very little room for improvement, just enough to offer the Street Hemi as the sole engine option.
Plymouth had to have known which engine most drivers would buy, but it also knew which engine most drivers would secretly want to buy.
After all, it advertised that "you've heard the battle cry of the Belvedere GTX. Hemi-powered, tha tis—426 cubes, 425 hp. and 490 lbs.-ft. of torque—as sung by a 4-speed transmission and SureGrip differential. All optional, naturally. And what a commotion they make! AmplifiedbytheHemi'stwobigAFB4- barrels. But then, similar war whoops can be heard from the regular GTX, which packs a 440-cu. in. wedge-head, 375 hp., 480 lbs.-ft. of torque—at a fraction of the Hemi's price. That, good buddy, is music to the ears, right?"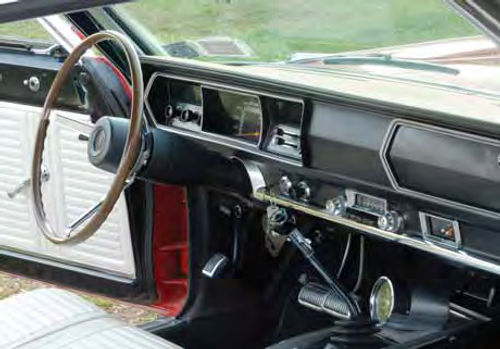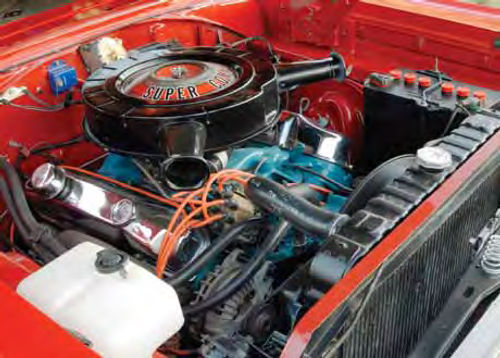 It's "Just" a 440
The dual nature of the GTX was a common theme in the early ads and in some ways, it's still there more than 40 years later. For example, the feature car is a 440 and its owner said "that's the small engine." Few would describe a 440 as "small," but to Jim Mills of Walton, New York, the choice of adjectives doesn't matter.
"This was as close as I could get to my first brand-new car," he said. "I worked for a Chrysler-Plymouth dealer and I bought the first '67 GTX that came in down there. It was a red one with a white interior.
"That's what I wanted. I looked quite a long time to find one and I finally figured I was going to have to get one and do it over to suit myself."
Mills bought the feature car in 2001 and it was his second attempt to replace the GTX he'd purchased in 1967. There were good reasons why the feature caris the one that he restored.
1967 Plymouth GTX
GENERAL
Front-engine,rear-drive, two-door hardtop
ENGINE
Type Overhead-valve V-8
Displacement 440cu.in.
Borexstroke 4.32in.x3.75in.
Compression ratio (:1) 10
Carburetor Four-barrel downdraft
Power 375hp@4600rpm
Torque 480lb.-ft.@3200rpm
DRIVETRAIN
Transmission Four-speed manual
SUSPENSION & BRAKES
Front Independent, torsion bars
Rear Solid axle, leaf springs
Brakes(f/r) Drum/drum
STEERING
Worm-and-roller
MEASUREMENTS
Wheelbase 116in.
Length 200.5 in.
Height 54in.
Width 76.4 in.
Track(f/r) 59.5/58.5 in.
Weight 3535 lb.
Tiresize F70x14
"This was much nicer," he explained. "The other one had been in a front-end accident and you had to slam the doors to get them to close. The first thing I did when I got it home was put the door post back where it was supposed to be and adjust the door. The hole wasn't big enough for the door and it had new weatherstripping. He was blaming it on the weatherstripping and I was thinking 'no, it's not the weatherstripping. It's hinge-bound, to begin with.' It was a front-end impact on the driver's side and the door hole was probably a half-inch too small. There's that much adjustment in there, but the closer you get to it, the more you've got to compress the rubbers and you've got to slam the door."
That car looked good from a moderate distance, but there were other problems and Mills kept searching until he found the feature GTX.A California car that had reached Florida via Texas, it had been moved several times during a stalled restoration and some of its pieces had been lost. Although it was not on the road and not even licensed, it ran well enough to make a test drive around the block and despite its being incomplete, it was more than a pile of parts.
"It looked like a car," Mills recalled. "There were quite a few pieces missing and the windows weren't back into it. So, basically, I took it right back down to nothing and started over."
The doors, he said, were not much more than shells when he bought the car, but in addition to the pieces that were missing, there were those that needed to be replaced. The list went beyond the door components and included upholstery, carpets, brightwork and weatherstripping along with parts that required repair. The console was one of them, as was the dashboard. The seats were, too, and they provided an additional challenge.
"I sold the original seats to another gentleman who had some cores, so I figured I'd just rebuild his cores,"Mills Said. "He brought me one '66 seat and one '67 seat, which I thought were the same and found out they weren't after I got them apart. I had to modify the '66 seat to make it the same as the '67."
Fortunately, the necessary modifications were minor and it was a similar story when it came to bodywork. The Plymouth Had been painted a pearlescent white, but its body was complete and almost rust-free.
"This was really a pretty good example,"Mills Said. "It had justminorrust in the rear quarter and I made a whole repair panel for that."
He also reworked some repairs that were made before he owned the Plymouth as he disassembled the car in the course of the project.
"Everything's been apart," he said. "The doors have been off; the fenders have been off, the hood, deck lid, bumpers. I've had the engine out, the transmission out, just cleaning and making sure everything was right."
Thankful for His Parts Car
It was at about that stage that the earlier GTX came in handy.
"I probably had that car a little over a year," Mills Said. "I Still had that car when I had this one because I did want to swap pieces. That guy had spent a ton of money on new replacement parts and I just swapped back and forth to get the good stuff on this one…
"It did have brand-new Magnum 500 wheels and brand-new red line tires. Everywhere you looked, the guy had bought something new for it."
That was a big help in completing the feature cars restoration and making it as noticeable as it is today. But even if it had been missing critical parts, chances are slim that its restoration would have been stopped dead. After all, it's an American muscle car and nearly everything in that category is based on something very common; the correct replacement might be difficult to locate, but temporarily substituting a part from that very common relative can put the car on the road to be enjoyed.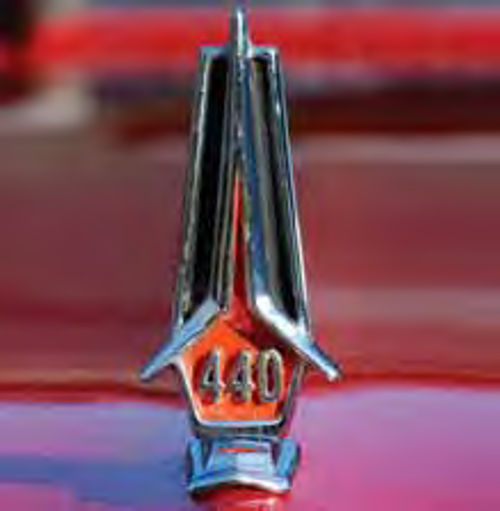 "As far as making it drivable," Mills said, "you can take any Satellite part as long as it's the right engine-transmission combination."
Be Wary of Clones
Nothing is free, however, and that common ancestry makes it entirely possible for an inexperienced buyer to find that he doesn't really have the GTX that he thought he'd purchased.
"There are so many clones out there," Mills cautioned. "Look for the correct numbers in the serial number. But there are some (other) things to look for. The torque boxes are reinforced on them. They have a six-leaf spring on one side and a seven-leaf spring on the other side. When they were new, they advertised that that was to prevent torque-steer.
"But there wasn't really a whole lot of difference between that and the regular Satellite two-door hardtop. Every panel is interchangeable. The Satellite had extra holes where chrome would've been. You can look for that and if that's there."
The Doors Tell Stories
While looking at a GTX for correctness, it's important to consider its condition. No drivetrain is indestructible, but the Chrysler engines and transmissions are rugged and capable of standing up to abuse. If there's reason to be suspicious of the car's treatment, Mills Said one possible giveaway is the condition of doors and doorposts.
"You can tell if they've been beat on badly," he explained, "because there are certain areas that will break, like the doorposts up at the top and the doors themselves by the latch area from the twisting of the body. They'll actually break the metal."
Check the Rear Window for Rust
The feature car didn't have those problems, but the fact that it spent its pre restoration days in the South surely went farin protecting it from a different kind of damage, as GTXs are prone to rust. Several of the likely rust areas—the bottoms of the fenders and quarters—are typical of many cars of the time, but there are also those rust points that are more specific to the GTX and other Mopars sharing that body. They can be harder to spot, such as the inner fenders near the upper control arms, the cowl and the floors.
"There's a little pocket right at the rear window channel," Mills said. "It's right around the chrome, right at the base of the rear window. Not the side window, but the rear window. They will rust there."
One area that seems like it should be a rust problem, he said, generally holds up well, although a quick inspection can be deceiving.
"The rockers are actually part of the unibody," he said, "so they're a heavier galvanized metal. If you see rust on a rocker, it's where the rear quarter joins the rocker and, actually, the rust is on the rear quarter."
Gas Pedal Feedback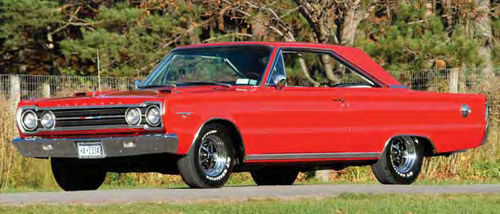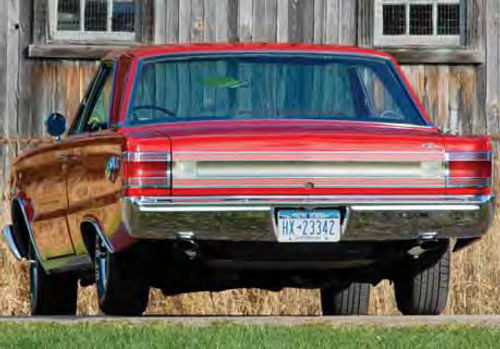 Whether preparing to inspect a car for rust or guarding against unknowingly buying a clone, research is the best approach. It might involve reading literature or contemporary magazine articles, talking to experienced owners and restorers or finding an original to study. Mills found his car's twin less than an hour away from his home and still with its original owner.
"I went over and looked at the car and visited with the gentleman," he said. "I actually tried to buy the car, but I would have had to get into a long line of people who wanted it.
"I'd go over there to look at his to verify how something was supposed to be because his needs a lot of attention, but it's not very far from the way it would've come from the factory. It's been a single-owner car.
"It's probably a couple of years since I've been over there, but the car was licensed at that time. It was able to be taken out and driven. It's not a show car. He likes it and he likes the way the gas pedal moves it. That's why he bought the car and he still likes to feel that."
Who could blame him? Certainly not Jim Mills.
"There's just something about pushing down on that gas pedal and feeling the response," he admitted, "that makes an old man feel foolish again."