Feature Restoration 1967 Buick Wildcat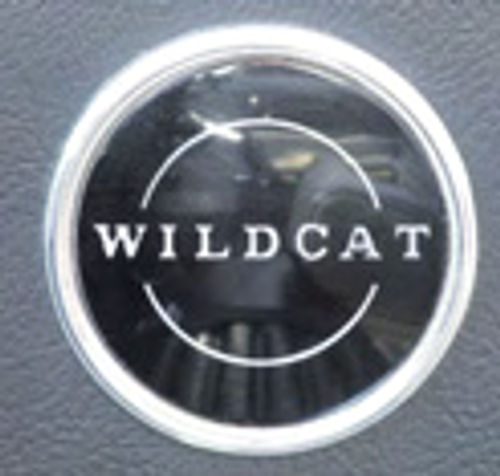 It's Big, Sporty and a Result of Buick's Historic Dual Personality. So It Has Looks, Luxury…and Stoplight Prowess.
MOLLY BENDER AND Joe Horwath were taking a broad approach to searching out the right buy when a newspaper ad listing this month's feature car caught their attention some 10 years ago.
"We were looking for a 1967 car,"Bender recalled. "We were just looking.
"He's the car guy, so he was scouring the papers and he saw a 1967 Wildcat— I don't think it even said 'Buick'—so it was intriguing. We decided to go and look at it."
"I always look at the car section in the papers," Horwath said. "I knew she liked Buicks and that was a '67, so we looked at it… Molly actually owns it."
Present at the Beginning of GM
What they looked at was an original four-door hardtop with 51,000 miles and she bought it on the spot, a decision that isn't difficult to understand. The Buick name, after all, is an important part of American automotive history; David Dunbar Buick launched it in 1903 and began actual production one year later. Then, in 1908, it became the cornerstone of General Motors thanks to William C. Durant who quickly added Oldsmobile, Cadillac and Oakland (the predecessor of Pontiac) to the fold. The industry at that point was just getting underway with hundreds and hundreds of makes appearing and disappearing as Buick kept on going. What had begun as a two cylinder line added fours in 1907 and sixes in 1914, butBuick's evolution was far from over and in 1925, it sold only sixes. The evolution picked up speed in 1931 when Buick became an eight cylinder-only car and by then it was beginning to show signs of the split personality that it would exhibit to varying degrees for decades.
For example, for 1936 Buick offered its luxurious Limited, a large car that rode on a 138-inch wheelbase and was powered by a 320-cubic inch, 120-horsepower inline overhead-valve eight.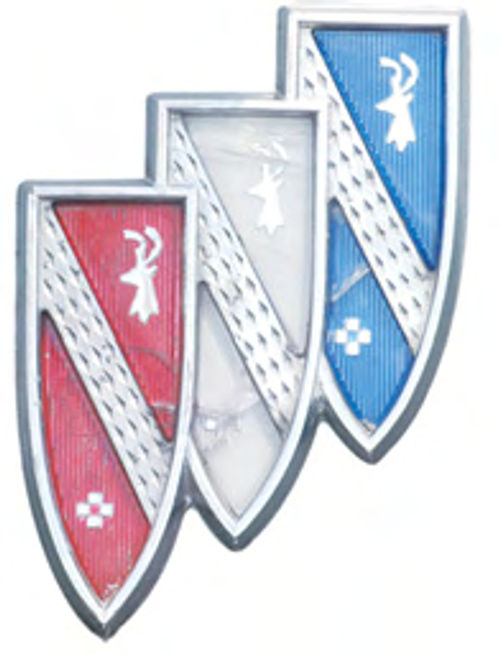 The Limited needed every bit of power that the 320 could provide, but smaller Buicks didn't really need it and that was where the split personality came into the picture. Consider, for example, that the 1936 Buick Century rode on a 122-inch wheelbase and yet had the same engine as the Limited.
There was, of course, only one reason to drop a big engine into a small car in 1936, and over the 74 years since, that reason hasn't changed. It's Still the easiest way to make a car fast and in the 1936 Century's case, fast was about 100 miles per hour. For a car that cost as little as $1035, that kind of performance was something not easily dismissed.
The Split Personality Continued
Fast forward to the 1959 model year when Buick entered the market with a round of new styling and new series names, but the dual paths of a performance car and a flagship that came close to Cadillac continued.
What had been the Century was now the Invicta and the Limited's role was assumed by the Electra 225, which at 225 inches overall was the biggest Buick offered at the time. A 325-horsepower 401 was standard in both.
The Invicta was still using the 401 in 1962, when it added a new subseries, the Wildcat Sport coupe. Primarily it included accessories such as a tach, front buckets and a floor-shifter as well as additional exterior trim, but dual exhausts were also part of the package.
Available sources don't break out 1962's Wildcat production figures from those of the Invicta, but they obviously were high enough that for 1963, the Series 4600 that had been the Invicta now designated a full line of Wildcat hardtops and a convertible with the Estate Wagon being the sole remaining Invicta. The 401 was back and Wildcat equipment again went for the sporty performance image in decided contrast to the Electra 225's quality of being a status symbol.
In fact, the Wildcat had become a personal luxury car offering performance that was more than adequate, much like the contemporary Pontiac Grand Prix and the four-seat Thunderbird. It would continue to fill that role in Buick's full size line while the Riviera that appeared in 1963 did the same as a mid-size car.
Leaving Them at the Light
The muscle era was then placing the performance focus on an array of powerful compacts, but Buick didn't abandon the Wildcat and by the time the feature car was built for the '67 model year, the standard engine was the 360- horsepower 430 V-8.
As in the past, the 430 was also in the bigger, heavier and costlier Electra 225. Buick Was still capable of finding the extremes in its full-size cars and while there are undoubtedly those to whom the 225's serious presence would be appealing, Bender's Wildcat gets attention for a different reason.
"They turn their heads when I pass them," she admitted. "We drive it, and for the most part, I don't think we really baby it. It's doing what it was meant to do."
"It cruises like crazy," Horwath said. "And I'm still the type of guy that if I'm first at the light,I'm Going to be first away from the light no matter what."
Performance isn't a bad reason to want a Wildcat—some might say it's the best reason—but there was something else about this car and it was something that doesn't often come up when discussing four-doors.
"We put the windows down and saw the body shape without the center post," Horwath said. "That was cool."
Good First Impressions All Around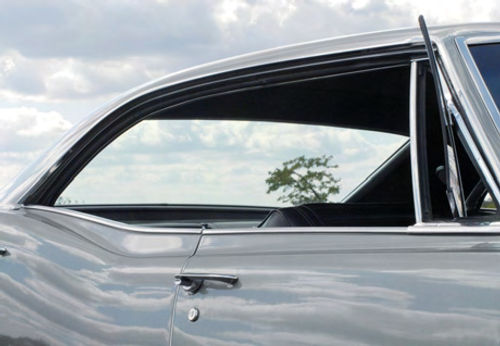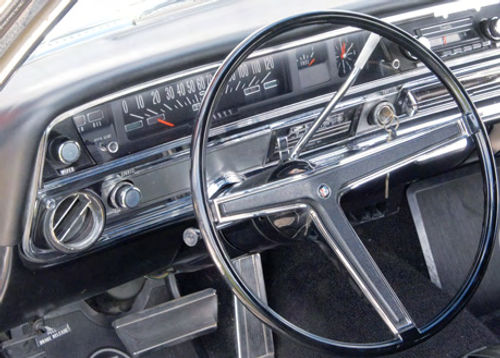 The look, of course, wasn't everything and actually seeing it called for some vision as it had a black vinyl top when they bought it. It also had the dents and wear that would be expected on an original 33-year-old car that was still on the road on a regular basis.
"Yeah, it did have a few scrapes," Bender said.
"The way we heard it was that the woman who had the car had her mechanic come over and start it for her every day just so it would run. I guess at some point she really didn't drive much any more. Then the people we bought it from acquired it from her and he drove it back and forth to New York a bit. He seemed trustworthy and he had to be a good driver."
Horwath confessed to being "kind of a Ford guy" and said that although they'd had experience with older cars, none were General Motors products.
Still, he said, they had a good idea of what to expect from the Buick overall.
"The first thing in my mind when I test drove it was how smooth it was," he said. "It hesitated, it spit and sputtered because it needed a tune-up, but it rode really smoothly and the brakes stopped it really well. That was my first impression of it.
"We bought it right on the spot."
"We haggled a little bit on the price and we took it," Bender said. "I think they liked us.
"We talked about cars, so they knew we were going to take care of it."
1967 Buick Wildcat
GENERAL
Front-engine,rear-drive, four-door hardtop
ENGINE
Type Overhead-valve V-8
Displacement 430cu.in.
Borexstroke 4.18in.x3.9in.
Compression ratio (:1) 10.5
Carburetor Four-barrel downdraft
Power 360hp@5000rpm
Torque 475lb.-ft.@3200rpm
DRIVETRAIN
Transmission Three-speed automatic
SUSPENSION & BRAKES
Front Independent, coil springs
Rear Solid axle, coil springs
Brakes(f/r) Finned aluminum drum/finned drum
STEERING
Power-assisted recirculating ball
MEASUREMENTS
Wheelbase 126in.
Length 220.5 in.
Height 54.8 in.
Width 80in.
Track(f/r) 63.4/63 in.
Weight 4069 lb.
Tire Size 8.45x15
About That Front Bumper…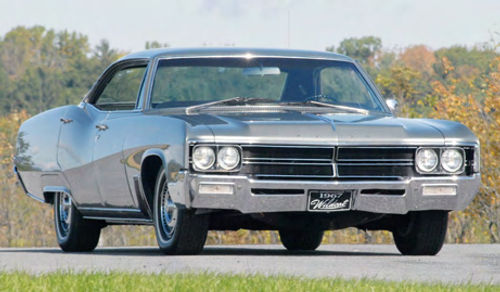 The Buick ran well enough to be driven home and carried a current state safety inspection, but since the plan from the beginning was to keep it and enjoy it,she said that it was barely used before the important work was begun. Initially, ensuring that it really was safe to drive was the priority, so it received brakes, hoses and belts. That led to the bodywork, which was a combination of removing "a lot of dents" and repairing rust damage on the quarter panels and around the backlight.
Horwath said that neither the dents nor the rust had caused serious problems, but the repairs probably were made just in time to prevent at least one major headache, as the sheet metal around the rear window was beginning to bubble.
"It had started to," he said. "It had started lifting the vinyl."
There was better newsthat offset that, though, as both the upholstery and the carpet were in excellent condition and there were no problems with the accessories. The power windows, power seats and even the power antenna worked just as they should.
Horwath said that there was no sign of anything other than original paint, but what was there was extremely thin and so the body was stripped to the metal before being repainted. All of the trim was on the car, so that was removed. The bumpers were removed, too, and that calls for some explanation.
Even a glance at the front of the Buick reveals that something about the bumper isn't right. Horwath said the damage happened when it was still with its first owner.
"Apparently," he said, "the car had a dead battery and they had it towed to the garage. When they got it back from the garage, the bumper was bent."
It's the original bumper and the finish is good, so it hasn't been replaced, but the feature car isn't the only late-1960s Buick to be wearing a distorted bumper. It's something to look for when considering one of them, just as it's something to keep in mind when towing or otherwise moving one. That bumper is easy to damage and unwieldy to remove and reinstall.
"The bumpers are very heavy," Bender said. "I helped him put them on… We had a jack on one end and I was holding it and getting it level."
Fortunately, some pieces were less trying to handle.
"I buffed all the trim,"Horwath said. "I had to replace one (wheel well molding) on the passenger-front side because that was all dented beyond a fix. That's the only piece. Every (other) piece was there and I just buffed them all out."
Look for a Car With Its Trim
That the Buick Was missing nothing leads to one of the warnings that he and Bender offered anyone considering a similar car. First, they agreed, look for an example that's as close as possible to being complete.
"There's nothing out there," Horwath said. "There are no parts out there."
Some clarification is necessary, since he's talking about body and trim parts, as it's unlikely that a Wildcat like the feature car would be laid up for very long because of mechanical components being unavailable.
Difficulty in obtaining panels and trim is a valid concern because although this one was complete and solid, full-size Buicks of the time do rust. Quarters, rockers and the heels of the fenders are among the first casualties on cars that have lived in the snow belt, but the damage at the feature car's backlight—like corresponding damage around the windshield—is a frequent problem anywhere outside of dry climates.
Rust around the glass isn't impossible to repair, but it isn't a simple fix and the same is true of another potential rust area, the rear frame. A bumper that just doesn't look right is an obvious indicator, but the problem is common enough that it's worth the trouble of closely inspecting the frame from ahead of the rear wheels to the rear of the car.
There Were a Few Modifications
With its minor rust and dents plus its originality and completeness, Bender's Buick Was a good one with which to begin, but there are a few differences from the way it was when it left the factory. The lack of a vinyl top is obvious, but it might take a Buick fan to pick up the change to the grille.
"I believe it started out as dark gray originally," Horwath said, "but I didn't like that look and so I made it a satin black. I made everything black except the chrome and it looks a lot better. It gives it more depth."
Purists might gasp, but both the uncovered roof and the black grille work well with the color, Steel City Gray. Horwath said that it's a close match to the Buick's original shade, but it really belongs on an early 1970s Corvette.
Should Bender decide to become one of those purists, the vinyl top can be replaced, the grille can be painted correctly and even the exact Buick color can be restored, but none of the car's incorrect features were decided upon or applied in haste.
At Home on the Patio
In fact, it wasn't until April 2007 that the Buick looked as it looks today and the explanation for that should be understandable to anyone who's been through a restoration.
"It took a long time," Horwath said, "because we have so many other cars and we're spread out so thin."
He said that when the Buick arrived, the garage literally was full and that meant not only was there no way to work on it, but also no room to store it.
The solution, like the problem, wasn't a surprise.
"Our patio on our house," Horwath said. "I drove it right up and put it under a tarp for the wintertime. That's what we had to do. We sacrificed our patio for the car."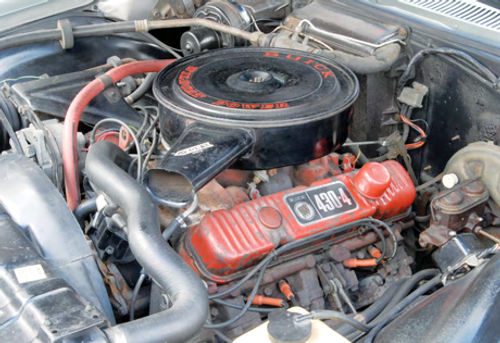 The Buick did eventually make its way into the garage, but even during the periods of inactivity in the restoration process, it didn't go out on the road. When it finally was finished, Bendersaid, it was as if they had a new car.
"We were driving and looking two counties ahead," Horwath said, "driving it where nobody was going to hit it."
"You're always afraid,"Bender added. "Are they going to see me in time and realize that this is an older car?"
They do, and she said that a typical comment from those who look it over at shows or elsewhere is that some relative had one like it. Horwath said that everyone seems to remember riding in a similar Buick as a child, but it's hard to say whether they remember the quality of the ride.
"It's like you're floating," Bender observed. "You don't even know how fast you're going unless you look at the speedometer."
In fact, she still vividly recalls that first test drive 10 years ago.
"It was," she said, "a great ride."