Feature Restoration 1953 Buick Roadmaster Sedan

Sometimes, It Makes Good Sense to Restore a Four-Door Sedan. Like When One Has Been In the Family for 49 Years.
IT'S BEEN A pretty interesting life for Ken and Carol Sheets' 1953 Buick, beginning with the fact that Carol's father was both fortunate enough to have the right automotive instincts and wise enough to trust them.
"I think it was about 10 years old when he got it," Ken Sheets said, "and it came from the Utica area, as far as we can tell, but we don't know who owned it first."
His father-in-law, John Readel, was a Buick fan and took a special interest in the 1953 Roadmaster four-door that would become the feature car. Readel, obviously, would have been able to buy the Buick at an extremely reasonable price in the early 1960s yet he understood exactly what he was buying and why he should hold onto it.
"He used it all the time to go to shows," Sheets said. "He'd never used it as an everyday car. He'd bought it as a show car."
A Valve-In-Head Legacy
Readel's appreciation for Buicks is an easy one to understand as the name had symbolized high quality and understated style from just about its first appearance in the early days of the American automobile business. David Dunbar Buick, though, might have seemed an unlikely character to play a role in that industry if anyone had noticed him among a cast ranging from serious businessmen and focused engineers to wild-eyed dreamers and smooth-talking crooks. If David Buick fit anywhere among them, it was probably with the engineers…and that was his downfall. After making his money in plumbing supplies and a patented system of bonding porcelain to cast iron—think bathtubs and sinks—he decided to go into gas engines and cars. Given his background, it was not the best decision that he could've made.
Buick's strength wasn't business and afterforming an engine company in 1899, he reorganized it in 1902 to build cars. In 1903 the first Buick car was completed, but true production remained elusive. Fortunately for the Buick car as well as the auto industry in general, the ongoing series of false starts brought William C. Durant, the founder of General Motors, onto the stage. Late in 1904, his Durant Dort Carriage Co. acquired Buick and operated it with enough success that General Motors grew out of it four years later.
But even before the Buick company had caught Durant's eye, it had come up with something that would for decades be associated in the public mind with its cars—the valve-in-head engine.
In its 1904 configuration, the 159- cubic-inch twin produced 21 horsepower and while that might not seem noteworthy today, it's important to recognize that the engine's significance layin its design more than its numbers. "Valve-in-head" soon meant "Buick." Everyone else would just speak of "overhead valves" and by any name, it was a layout that ultimately proved its superiority.
Buick was faithful to overhead valves, but that didn't prevent it from evolving. Four-cylinder models were added in 1907 and sixes followed in 1914. By 1925, it was building six-cylinder cars exclusively, but that continued only through 1930 as the following year saw it selling nothing but eights.
Adding Names to the Numbers
Some of the most important revisions and additions for the Buick line came in 1936, when the division decided that names were every bit as important as series number designations. The Buick Series 40 remained at the bottom and was now called the Special while the Series 90 held its place at the top as the Limited. The Series 50 was dropped and Series 60 became the Century. Every Buick devotee knows those names and the kinds of cars that have worn them over the years, but it was the new Series 80's name—the Roadmaster—that crossed over into popular language.
Available initially as a four-door sedan or convertible sedan, the Roadmaster shared its 320-cubic-inch, 120-horsepower straight eight with both the Century and the Limited, but had its own 131-inch wheelbase. It outsold the 138- inch-wheelbase Limited almost four-toone, which was no surprise given the price difference; the most expensive Roadmaster was the $1565 convertible sedan and the least expensive Limited was the four-door formal sedan at $1795.
The Road master's 320 was a new engine at Buick and although the eight that it replaced was a 345-cubic-inch design, the 320 beat the older engine's 116 horsepower and was capable of considerably more. By the time it went out of production at the end of the 1952 model year, a 320 was good for 170 horsepower.
Styling, too, saw a big change for 1936 as Buick went to General Motors' Turret-Top body with its all-steel roof section in place of the earlier steel-with-fabric center roof. The look was rounder and smoother compared to the previous models, flat windshields were replaced by split glass and a cleaner grille seemed better able to split the wind.
The fresh styling was applied across the board and was every bit as successful on the Roadmaster as it was on the Limited, an accomplishment that combined with other factors—changing automotive tastes, for one—to push the Limited gradually out of the scene. That biggest Buick saw its final run in 1942, the model year cut short by the start of World War II.
The Roadmaster was a more realistic upscale car and when production resumed in 1946, it was above the Super and Special at the top of what had become a smaller Buick catalog. Like other American cars then coming off the lines, the '46 Roadmaster differed little from its 1942 ancestor.
Then in 1948 Buick introduced Dynaflow, its first fully automatic transmission, as an option for the Roadmaster. Beyond the effortless operation offered by any automatic, it was notable for its simplicity, its smoothness and an unusual sound. Efficiency was not its strong suit, but it was durable and would quickly become the only transmission available on a Roadmaster. Dynaflow became something else, too, as its name would long be associated in the public's consciousness with Buick.
It was much the same story with another Buick exclusive, the portholes of 1949.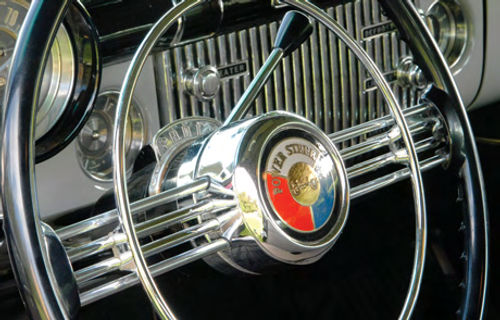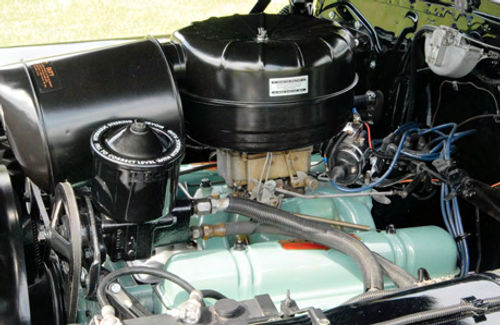 Detroit had known that at some point updated 1942 designs would not be enough in the postwar market and replacement models gradually began to arrive. Buick's turn came in 1949 and while the new car was instantly recognizable, it represented a big break with the past. The Roadmaster was still the biggest and while the look of a separate rear fender had not yet vanished, the slab sided future was obviously drawing closer. Up front, the traditionally toothy Buick grille returned as did the split—but not flat—windshield. Buick advertised that it "looks fine for '49" and nowhere was that more true than in the new Riviera two-door hardtop, a mid-year introduction. Cadillac and Oldsmobile introduced their pillarless coupes not long after and the initial Riviera enjoyed just a short run before the very different 1950 Buicks arrived, but it had made its point.
While hardtops would not fade until the 1970s, the exclusively Buick portholes would become stylized, just as they would disappear occasionally and always return. Formally known as Ventiports, they would instantly identify a Buick to the average driver and initially, at least, tell the more knowledgeable whether that Buick Was a four-porthole Roadmaster or a lesser model with a mere three portholes. The Ventiports fit just as well on the restyled 1950 Buick—whose grille gave new meaning to "toothy" by extending in front of and below the bumper.
1953 Buick Roadmaster
GENERAL
Front-engine, rear-drive, sedan
ENGINE
Type Overhead valve V-8
Displacement 322 cu. in.
Bore x stroke 4.00in. x 3.203in.
Compression ratio (:1) 8.5
Carburetor Four-barrel downdraft
Power 188hp@4000rpm
Torque 300 lb.-ft.@2400rpm
DRIVETRAIN
Transmission Dynaflow automatic
STEERING
Recirculating ball, power-assisted
SUSPENSION & BRAKES
Front Independent,coil springs
Rear Coil Springs
Brakes (f/r) Drum/drum
MEASUREMENTS
Wheelbase 125.5in.
Length 211.6in.
Weight 4315 lb.
Track (f/r) 59/62 in.
Tire Size 8 x 15
Introducing the Buick V-8
Buick celebrated its half-century mark in 1953 and it observed the occasion with the arrival of a modern V-8. In the Road- master, this engine generated 188 horsepower from 322 cubic inches and in keeping with the industry trend of the time, it was an oversquare design with each cylinder's bore larger than its piston's stroke. (An oversquare arrangement allows an engine to rev higher and produce more horsepower.) Buick Was naturally proud and cited the engine in advertising.
"This one had to be good," the ad explained. "It's our Golden Anniversary Roadmaster. So upon it, we lavished our skills, our talents and our time to make it the finest in a fifty-year line of fine cars. When you drive it, you will come to know how good a fifty-year best really is.
"You'll know it in the swift and soar- ing power response of its V8 Engine. The first Fireball V8. The first such V8 with 8.5 to 1 compression, with vertical valves, with a 12-volt electrical system, with a host of modern engineering features."
They were indeed points in the Golden Anniversary Road master's favor, but Sheets said that as an enthusiast who genuinely appreciated Buicks, his father-in- law didn't try to limit himself to just one.
He Bought and Sold… Except for This One
"He had a couple of other Buicks at the same time," Sheets recalled of his late father-in-law. "He was always buying. If he could find a nice old Buick, he'd buy it, keep it a few years and then sell it.
"But he always kept the '53. That was the car he always drove."
He always drove it, but as mentioned above, not as everyday transportation, so that means it hasn't been on the road in the winter since at least 1963 or so and maybe longer.
Winters in Utica, New York, are rarely kind to cars and the Buick's true condition, therefore, came as a surprise when it was being prepared for paint at a restoration shop.
"The body was as straight as an arrow," Sheets said. "Except for a little spot in the back, there wasn't a mark.
"(The body shop pro) stripped all the paint off of it by hand, no chemicals, and he kept commenting, 'I can't believe there's not a rust spot on this whole car. Not in the floorboards, nothing. There's not one rust spot on it.' I've got an idea that it was never driven in the winter."
The plan at first called for not much more than new paint. Sheets said that the Buick's original finish was just too far gone to be saved and recalled discussing the project with the shop.
"I had no intention of pulling the engine out or doing anything like that," he explained, "but (the shop pro) said, 'well, I'll tell you. I really don't want to do it unless we pull the engine and the transmission and paint all of that, do it all right inside there.'
"So he took it all apart. He took the doors off, the whole front end was off, the windshield and back window were out, he put in all new rubber.
"I wish this was original, (but) the paint was faded. The paint was really, really bad. We had spots that looked like alligator skin. You could chip pieces right out of it, especially in places on the fenders that were kind of flat and I think water might've stayed there. The guy who painted it was amazed that there was no rust on that car, but he also said that there was a lot of paint on that car. He said he didn't realize it when he took the job, but I made up for it because there was no bodywork."
Family Ties Cast a Vote
The feature Buick, of course, is perfect fodder for one of the oldest arguments in the collector car world, namely whether a four-door sedan is worth everything that goes into a restoration. Most would agree that it's the least desirable body—which accounts for the fact that so many examples have finished out their days as parts cars—but the reason went beyond economics when it came to the Roadmaster.
"Everybody thought we were nuts for having it done over," Sheets said, "but it was Carol's father's car. She just wanted to get it done. We said, 'we'll do it' and now, we're glad we did. We use it a lot more than we used to."
A straight and solid body wasn't the only break; plastic seat covers had been installed long ago, possibly even when the car was new, and they had done their work by preserving the original interior.
"Back then," Sheets said, "that was the thing to do. I peeked under there one day and I saw that the mohair was pretty nice, so we took them off and it was in pretty good shape."
Mechanically, its major problem was that the transmission needed to be rebuilt at a local shop.
"It ran well," Sheets said, "but when it was cold and you'd put it in reverse, it would slam into that gear so hard that you'd swear the rear was going to come right out of the car. It jammed the whole car right up. Once it warmed up, it was fine. I took it down and he looked it over. He said, 'well, it's not like the new cars where you have the gadget on the side that you replace and do away with that. You probably ought to overhaul it.' So I had him do it and it's fine now."
The Fireball V-8, like the body, needed only paint.
"We painted everything," Sheets said, "cleaned it all up. We never touched (the engine) because it always ran well. It doesn't burn any oil.
"It shows 41,000, but it's hard to tell. I don't know whether it's been around once or not; I really don't. You think that it hasn't at times because of the way it runs and then at other times, maybe it has. I don't know."
Trim, Springs and a Radiator Leak
The brightwork was another area demanding attention and Sheets said that re-plating the pot metal that he didn't replace with new old stock or reproductions was expensive, but would have cost even more had it been broken. Most of the stainless steel needed only buffing and the bumpers, while straight and undamaged, had to be re-plated.
"The front end is good," Sheets said. "The back end, I had new springs put in and once in a while, I'm getting a spring noise, like a spring is catching on something. I have to take it back over and have it checked."
Beyond that, the Buick's biggest problem is an occasional—and elusive— radiator leak.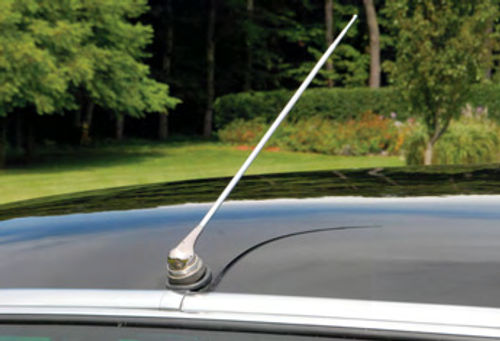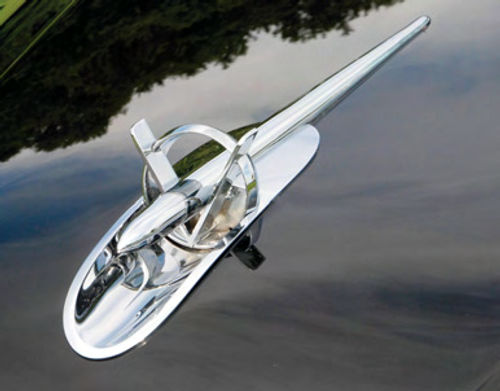 A Costly but Roadworthy Roadmaster
From Sheets' experience with the feature car, a few warnings to potential 1953 Roadmaster-owners are obvious. First, it's a well-finished car and that means restoration won't be cheap. Reupholstering the interior and re-plating all of that bright- work can carry breathtaking price tags, but the fact that some of the trim is stain- less provides at least a minor consolation.
While this Roadmaster has escaped it, rust is a consideration. The likely areas for major damage are the floors, rockers, lower fenders, quarters and the frame near the rear axle. But mention of rust and the necessary replacement panels brings up an oddity of 1953 Buicks. The Super and Roadmaster use the V-8 while the Special carries the smaller straight eight and is itself a smaller car, so many components will not interchange despite their similar appearances.
A Golden Anniversary Roadmaster, of course, can be the right choice for the collector looking at a car for the road. Sheets is thinking about a trip to Burlington, Vermont, from his Barneveld, New York, home.
"I wouldn't hesitate for a minute to drive it up there," he said. "That's about a six- or seven-hour drive. It's all back roads, no Interstates."
It's already seen service along the Saint Lawrence River, where it proved itself reliable.
"We used to take it to camp every summer, leave it there and then drive it back," Sheets said. "That's probably 110 miles.
"It was the fun car. We'd take the grandkids all loaded in it to go down and get ice cream at night."
All In the Families
Other drivers don't overlook the Buick out on the highway, Sheets said, and when it's in a parking lot or on a show field, it draws attention. Everybody's family apparently had some member who owned an early-1950's Buick, he agreed, and he knows just about what comments to expect.
"'My father had one,' 'my grandfather had one,'" people tell him.
"I hear that all the time at car shows. There are even guys who walk up and say 'I had one.'"