Feature Restoration 1911 E-M-F Touring Car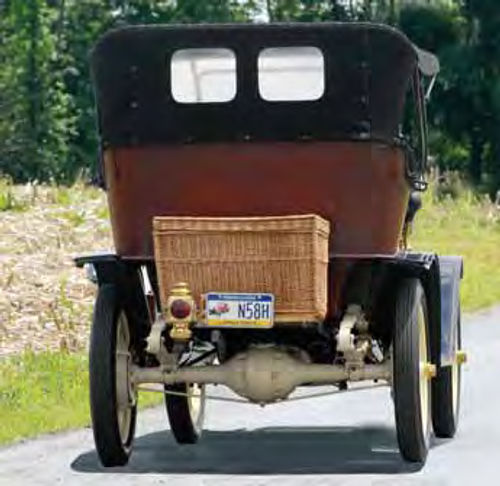 Operating It Calls for Some New Skills and Driver's Intuition, But This Owner Truly Enjoys His Uncommon Ride.
MENTION BRASS CARS among a typical hobbyist group and the conversation that follows will probably include Ford, Buick,Cadillac and maybe Rambler or Maxwell,but unless that group counts some true brass enthusiasts, nobody's likely to mention E-M-F.
After all, E-M-F existed only from 1908 through 1912 and if that seems to place it in the general category of "obscure and insignificant early automakers," production figures and some details of its short history tell a much different story.
It was, according to a 1908 company advertisement, "a merger of brains and experience." Tempting as it is to dismiss that as century-old hype, the company had more to stand on than did many of its competitors when it came to backing up the claim.
"The capitalists back of the E-M-F Company…are not tyros at the game," the ad states. "All are men of ripe experience in the business. Organization—a merger of brains and experience—is essential to success on a large scale. This fact was fully appreciated by Mr. B.F. Everitt, organizer and president of the EM-F Company. In 'framing up' his company, he determined on an 'all-star cast.'" (Editor's note: Before you go reaching for your dictionary, "tyros" are beginners. It's from the Latin word "tiro" or recruit. I know because I just looked it up.)
The Names Behind E-M-F
B.F. Everitt was the "E" in his company's name and had been "until a few months ago, one of the largest manufacturers in the accessories field." He was also a believer in making his point with neither understatement nor tactful phrasing, as the ad continued by stating that his "acquaintance with the men who did the things other men got credit for eminently fitted him to select the right material. The result is a group of men—every one of whom is a specialist—an acknowledged leader—in his own line. All have made good to a signal degree— the history of the industry is their history—the credits for its greatest achievements, theirs."
But for all that, it wasn't mere boasting; E-M-F had as its sales manager William Metzger (the logo's "M").The claim that "no man in the motoring world is better or more favorably known" might have been a stretch, but if so, the stretch wasn't an especially long one for "as Sales Manager of the Cadillac Automobile Company from its inception, he has run the whole gamut of experience, taken a prominent part in every event of any importance, held many offices, been the recipient of many honors. The name Metzger stands for a broad gauge policy, a concrete sales organization, and to the buyer of E-M-F cars ensures liberal treatment at all times."
The ad copy was probably written by E. Le Roy Pelletier, "formerly Advertising Manager of the Ford Motor Company (and) known by his work—and its results." If so, Pelletier still had a few unused superlatives to toss out and went on to proclaim that "if, as all authorities agree, the future is to the concern that can produce on the largest scale, most accurately,most regularly and economically, then Walter E. Flanders is the very keystone to the arch of the E-M-F organization. He is recognized as the greatest factory organizer, the keenest buyer, and by far the ablest producer the industry has known. As Manufacturing Manager of the Ford Motor Company until a few months ago, his record is patent to the world—it yet stands unequal led— unchallenged."And,of course,Flanders provided the "F" forE-M-F.
There was more: E-M-F had acquired the Northern Motor Car Company and the Wayne Automobile Company shortly after their merger in 1908, thus gaining the production facilities it required and enabling it to begin building the 1909 E-M-F 30. Metzger had had connections to Northern; Everitt and Flanders wound up with control of the merged company before folding it into E-M-F and the same William Kelly who designed the Wayne became E-M-F's chief engineer. Kelly, according to the ad quoted above, was "in the business from its infancy—he antedates some of the 'pioneers' who make greater pretensions. Like others, he has designed some cars that did not come up to his expectations—in later years byriper knowledge he has produced some of the very best. In the E-MF '30' Kelly and his corps of engineers have realized a long-cherished ambition."
The 30 was named for the horsepower developed by its 226-cubic-inch flathead four and was sold as a touring car, runabout, roadster or demi-tonneau on a 106-inch wheelbase (which grew to 108 inches in 1910).
Its three-speed selective transmission was mounted in unit with the rear axle and initially, the engine relied on thermosyphoning for cooling, where water circulates based on natural convection and not the use of a pump.
Various sources price the 1909 cars at $1200 to $1400, which placed the new E-M-F in the general range of some models of Buick,Rambler,Mitchell and Overland. First-year sales amounted to about 8000 cars and that wasn't a bad figure, but the company had something else to brag about when an E-M-F 30 was chosen to be the Glidden Tour Pathfinder car for 1909. It was a great opportunity for publicity and E-M-F recognized that at once by publishing a booklet describing the car's adventures while establishing the Detroit-Denver Kansas City route.
E-M-F was justifiably proud of the fact that it simply pulled a car off the line both to show what a 30 was capable of and to ease repairs and replacements along the way. The dual recognition of having been chosen as the Glidden Pathfinder and then successfully completing the trip spoke extremely well for E-M-F and while attributing its sales success solely to that honor is difficult to do with certainty, the fact is that 1910 production topped 15,000 cars. The numbers vary here, too, but both "The Production Figure Book for U.S. Cars" and"Standard Catalog of American Cars 1805-1942" show that total production of E-M-Fs through 1912 reached 49,399.
After that, how could E-M-F possibly lose? Unfortunately, the real question to be asked today is "Why was there no 1913 E-M-F?"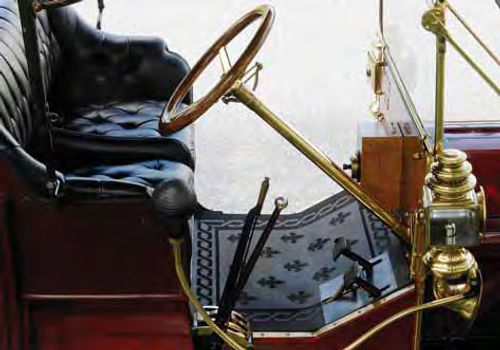 Swallowed by Studebaker
The answer to the company's demise has less to do with the car than it does with the business, since E-M-F had contracted for distribution early on with Studebaker.
By then a long-established wagon-builder, Studebaker had been trying to find its place in the automotive world. After introducing electrics in 1902, it followed in 1903 or 1904 with a gas car using a Garford chassis and logically called it the Studebaker-Garford, but as that connection was winding down, Studebaker's ties to E-M-F were growing stronger.
In 1911, E-M-F became a part of Studebaker and the last car wearing the E-M-F badge was built in 1912.
The takeover had not been pleasant and it had not gone smoothly, but no one blamed that on E-M-F's being a poor-quality car. In fact, the owner of the 1911 E-M-F 30 standard touring shown here takes what's probably a realistic position.
A Mysterious E-M-F
"They're basically good cars, good early cars," said Brad Wallace of Bath, Pennsylvania. "Aside from the transaxle, they don't really have any things that you've really got to be worried about."
Wallace bought his E-M-Fin the fall of 2008 after some three years of searching. The seller, who was a few hours away in New Jersey, owned a restoration shop and had planned to restore the car for himself, but the car was running when Wallace got it. The seller had completed much of the front-end work and painted the chassis its correct cream, but a previous owner had painted the touring car's body dark red.
"The body should've been dark blue," Wallace said. "'E-M-F blue' is what they called it.
"But the dark red, I think, really looks good and there are other E-M-Fs around with this dark red color, so who knows?"
The car did have some mechanical problems and while none had risen to the level of "disaster," they illustrate the challenges often facing a brass restorer. One was the carburetor, which Wallace said was a Schebler, but not the Schebler that's correct only for the E-M-F. Fabricating an adapter for a similar Schebler was part of the temporary solution, but just a part of it, since changing the carburetor required changing the fuel line and linkage in addition to the adapter.
Then there was the leaking oil system, which was designed to be airtight in operation. It wasn't. Wallace said that meant that all of the engine oil would be dumped into the pan and would spill from there.
"The E-M-F car in general is a good car," he said. "It doesn't have any catastrophic things that might go wrong with it except for the transaxle and the transaxle on this one, as far as I know, had already been gone through, so there really wasn't anything that we had to be concerned about. There weren't any design flaws like you come across in some other cars."
1911 E-M-F
GENERAL
Five-passenger touring car
ENGINE
Type Four-cylinder inline flathead .
Displacement 226 cu. in.
Bore x stroke 4.00 in. x 4.5 in.
Carburetor Single-barrel Schebler
Power 30 hp
DRIVETRAIN
Transmission Three-speed manual, mounted at rear axle
SUSPENSION & BRAKES
Front Leaf springs, solid axle
Rear Leaf springs, solid axle
Brakes Drums at rear, mechanical
MEASUREMENTS
Wheelbase 108 in.
Track (f/r) 56/56 in. (60/60 in. optional)
Tire size 32 x 3.5 in.
Much of the work done to the car before he bought it is a mystery, as Wallace said that his E-M-F isn't a well-known example and explained why that's somewhat surprising.
"It's just one of those cars that sort of show up," he said. "A lot of times with brass cars,since they're so scarce, everybody knows the previous owner and the owner before him. With this one, nobody really knew a whole lot about the car. It wasn't familiar to anybody, at least in this area...this one wound its way through without the general brass car groups' knowing about it."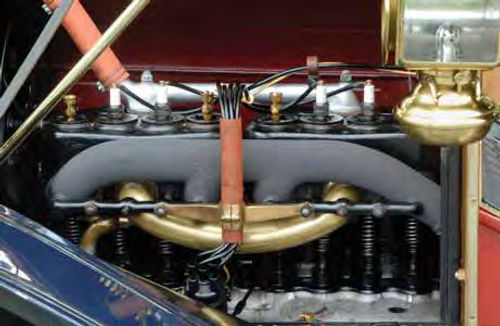 How that happened is open to speculation, but Wallace agreed that the previous owners might simply have enjoyed antique cars and had no interest in touring or showing.
"Or they were far enough away," he said, "that nobody in the tri-state area really knew about them or that car, or they weren't on any of the big tours in the last 20 years."
If that's so,things have changed;Wallace drove his car on the Horseless Carriage Club of America's Brass in Bucks County tour last spring.
Like its relative that served as the Glidden Tour's Pathfinder a century earlier, the feature car completed the route with no significant difficulties beyond that adapted carburetor.
"Some continuing carburetor issues— about once a day, we took the carburetor apart—those are the only problems we had," Wallace said. "That was it... Aside from the annoyance, it ran great. That was its first time out.
"For not having any really completely flawless test drives and then taking it on a 300-mile tour, it really did well. I was very happy with it."
He Knows His Brass
The above could sound like someone who's not experienced with brass cars and thus is pleased when one of them just runs. Wallace, though, doesn't quite fit into that group. He'd already owned a 1913 Studebaker and a 1912 Maxwell before buying the E-M-F, so he knew what to expect and had even designated a Reo or an Overland as the second choice in case he couldn't find an E-M-F. As the second choice, though, either of those cars was far behind for several reasons ranging from the purely subjective to the utterly practical.
"An E-M-F to me is a really good-looking affordable brass car, if you can say 'affordable' and 'brass car' in the same sentence," Wallace said.
"It's a good-looking car and it's one that I wanted. There being a number of E-M-Fs in the area, I knew I had people I could go to for advice. In fact, my mentor through all of the early-car stuff for the past 10 years had an E-M-F and it was his workhorse. Of all the cars that he had, the E-M-F was the car that he used probably the most."
Beyond that, of course, there's the matter of driving the E-M-F when everything is right with the car and with the road.
"You're just chugging along on this narrow back road with no other traffic," Wallace said.
"You're sitting way up high and you can see everything around you. You have those beautiful brass lamps out front; you've got that nice polished wood wheel… All the annoyances fade away and it's just wonderful."
Learning to Drive All Over Again
Like most of its contemporaries, the E-M-F is fun to drive, but fun doesn't necessarily translate to easy. The transmission, for example, is a conventional three-speed manual, but the shifter is mounted next to the handbrake on the outside of the car. Then there's the actual shifting, which Wallace said is probably the trickiest part of driving the E-M-F because of the cone-clutch and the lack of synchronization.
"It's like any early car where you've got to double-clutch and time your shifts," he said. "You have to double- clutch and 'now's the right time.'
"If this was your first brass car, it would be a good idea to have somebody with some experience explain to you how to nurse the clutch out, how to time your shifts—even if you know how to double-clutch, how to listen for the engine to say 'OK'—because when you drive a brass car like this, it's almost like you have to wait for the engine to take a breath between shifts."
While learning to deal with the clutch and the transmission, a new owner will also need to adjust to the car's right-hand drive. E-M-F wasn't alone in that—it was a carryover from the horse-and-buggy era—and the placement of the shifter means that unlike a modern right-hand-drive car, the E-M-F allows the driver to shift with his right hand.
It's Not Your Grandfather's Model T
That Wallace talks about "a car like this" is worth noting, though, since brass cars in general make similar demands on their drivers. They also make demands when it comes to restoring them or keeping them running and Wallace said that an E-M-F could be a good first brass car, but with conditions.
"As long as you can deal with the parts unavailability," he explained. "It's not like a Model T; something breaks and even if (the T is) a 1911, you look it up in the catalog and you order it and it's here in a couple of days.
"An E-M-F? When something breaks, you have to know a good machinist. Another thing with a car this early is that you're more likely to go to the hardware store than Auto Zone for parts. It helps to have a lot of friends so that when you come up with a problem, you can say 'this is what's going on' and someone'll say 'Oh, yes, I remember. That happened to me once. Try this.' That's a huge help with something like this."
Keeping an eye out in unlikely places can be a huge help, too. Wallace recalled an estate auction that he attended mostly out of curiosity.
"The guy had been a mechanic and he'd had boxes and boxes and boxes of hub wrenches," he said. "Nobody else knew what they were, so I bought the lot of them, the whole bunch, 133 hub wrenches. Guess what? Two of them fit the E-M-F. They weren't the E-M-F wrench. They didn't have the E-M-F number, but they were identical to an E-M-F wrench. That was worth what I paid for the whole batch of them."
A Mixture of Form, Function & Fun
It was a nice find, but it still comes down to driving the car. Given that touring is a big part of brass ownership, it's no surprise that Wallace said the feature car is ready for a 150-mile run. It would be an overnight trip on a carefully planned route, he said, and he'd take extra water and oil. He knows the car would do well because it handled 100- mile days the first time he toured with it at Brass in Bucks County and he knows what it would be like to drive it that far. A full shift in his E-M-F would not have him anxious to park it for the night and walk away.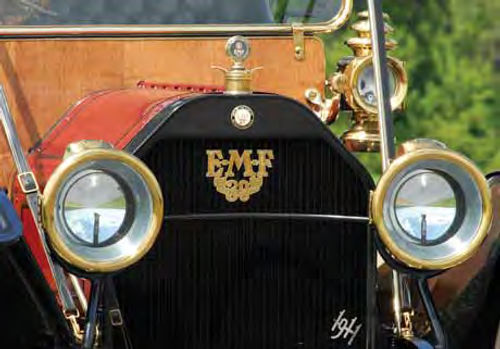 "I'm dying to maybe sit next to it and look at it," he admitted. "When you spend a day driving it, you really only have two thoughts. The first is 'How much gas do I have left?' and second, 'Where can I find another really cool road?' It's a car that doesn't exhaust you to drive it. The big soft seats, you just feel comfortable in the seats. It's got those big wheels and a decent wheelbase so that it doesn't jar you. For the era, it's a smooth car. It doesn't really beat you up like some other smaller, shorter-wheelbase cars do."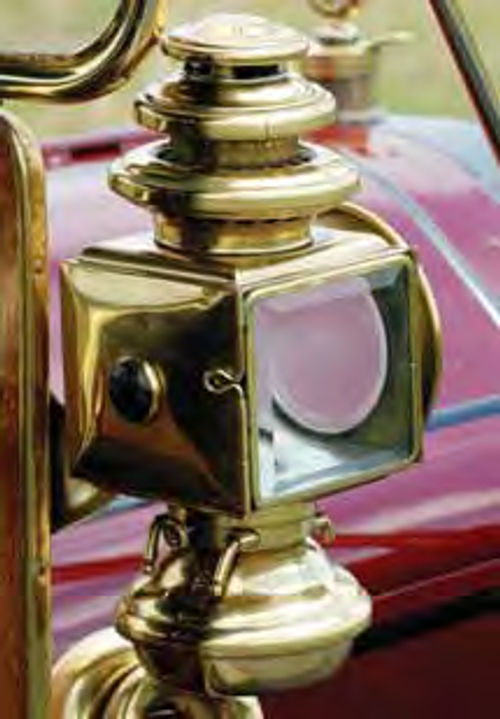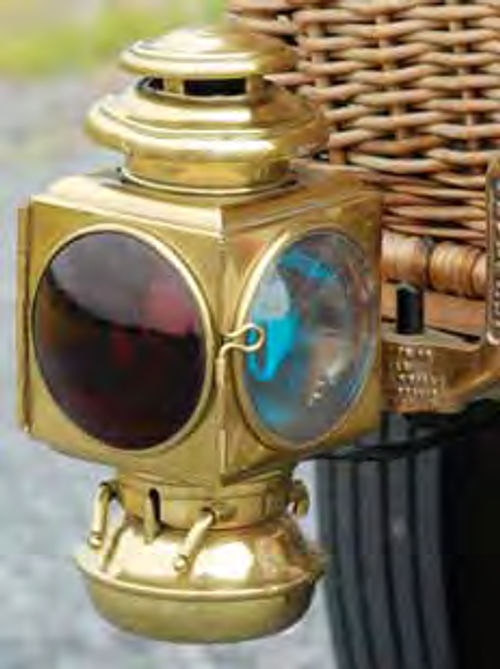 Had he ended up with the Reo or the Overland, he said, he probably would've enjoyed it almost as much as he enjoys the E-M-F, but just as probably, that car would have been sold if the opportunity to buy the feature car appeared. Nearly all brass cars are interesting, but Wallace agreed that some are more visually attractive than others.
"When you get back this far," he explained, "aesthetics weren't as important as the engineering. Having the headlights in a place where they illuminated the road was more important than how the headlights looked. But the E-M-F just looks like such a great car. It's got those tall skinny tires, it's got the proportions, you sit in that nice, big, soft leather seat with that beautiful steering wheel and you look out over the hood at everything around you. "It's like having your own parade."