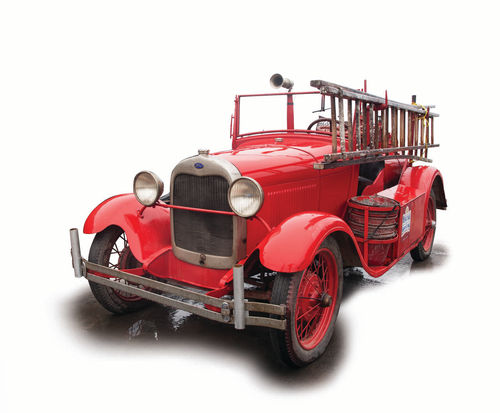 A Day at the American Truck Historical Society Wheat State Chapter's Antique Truck Show!
Spotting classic cars or trucks in your local grocery store or shopping mall's parking lot is always lots of fun and a pleasant surprise, but if you really want to see a number of antique vehicles, going to a car or truck show is your best bet!
When I noticed that the American Truck Historical Society's Wheat State Chapter was having their annual Antique Truck Show in Newton, Kansas, I simply had to go. (The Antique Truck Show is listed in the events section of Auto Restorer each year.) It was a cold and rainy day in Newton, but that didn't stop our vintage truck enthusiasts from heading out with their favorite vehicles. Rain or shine, the show went on!
Rainy Days Can Make for Great Photos
There were so many wonderful trucks ranging in shapes, sizes and years. Everything from semi trucks, pickup trucks and even a fire truck was on display.
I met Dana Shifflett, a long-time Auto Restorer subscriber and classic car enthusiast, who showed me around and introduced me to Richard Thrasher and Lenny Wild, both of whom had trucks on display at the show.
Even though the rain persisted almost all day, I was able to get plenty of photos of the vehicles. Rainy days do make for great photos, especially of cars and trucks. The rain made the paint really glisten off the trucks and the cloudy sky made the bright colors of the trucks really stand out.
A Tour of the Show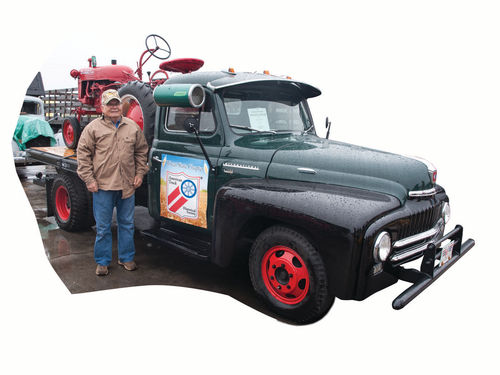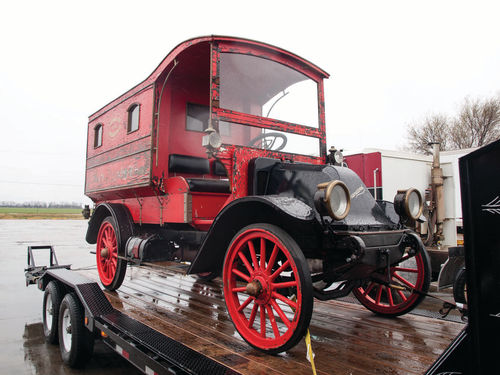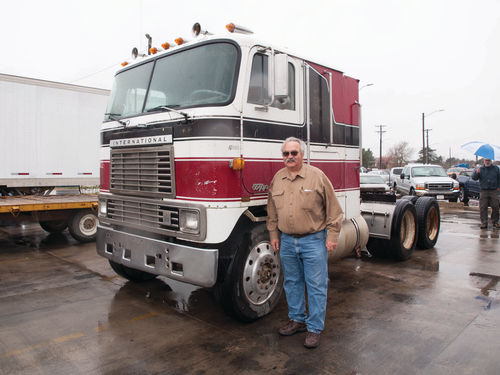 Dana Shifflett showed me his wonderful blue 1977 Ford F250 truck at the show, and I captured some great photos of it. Richard had a few vehicles on display at the show including a 1950 International L 130 with a McCormick Farmall Cub on the bed of the truck. He also had a 1917 International Model F on the bed of an antique Thermodyne Diesel Mack B-67 semi. It's always neat to see classic trucks hauling classic vehicles; it's sort of like stepping back in time and really shows that these trucks can still haul!
Lenny, the chairman of the American Truck Historical Society, had his International CO 9670 at the show as well.
There were so many other amazing vehicles at the truck show – a greatlooking Studebaker exhibited by Vern Ediger and a bright yellow Ford CT 900 exhibited by James Roupp plus a Model A Ford fire truck exhibited by the Mennonite Heritage and Agricultural Museum (the museum is located in Goessel, Kansas) – to name a few.
All of the vehicles displayed at the truck show were in great condition and all are still being driven by their owners. Some vehicles had been passed down through the family, some were barn finds, many were in original condition and, of course, lots had also been restored.
Show Information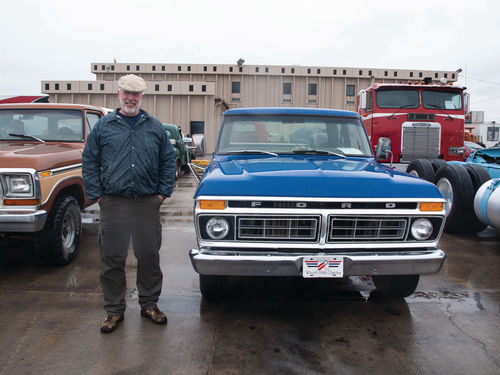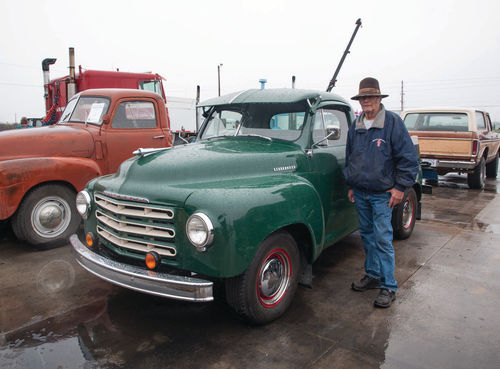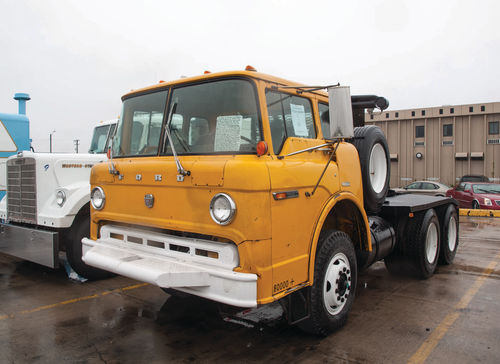 The show was held at the Newell Truck Plaza in Newton and it had quite the turnout. Lots of people gathered inside the Newell Truck Plaza's restaurant for food, stories and great conversation.
The Wheat State Chapter also had a collection of t-shirts and other American Truck Historical Society gear for sale.
The antique truck show was also a family affair. Many exhibitors brought their families, including young children, to the show. It's always nice to see younger children showing an interest in classic trucks and cars.
I'll Be Going Back!
I will definitely be taking another trip down to Newton, Kansas, to take more photos of some of these trucks (and will be attending future truck shows.)
Richard and Lenny both had quite the collection of classic cars (besides the vehicles they exhibited at the truck show) and I was able to take a small tour of some of their personal collections. (Richard even had an original gas station at his property that I'll be writing about in a future Car Spotting article – so keep your eye out for that!)
What a truly wonderful experience and also a big thanks to the Wheat State Chapter of the American Truck Historical Society for providing me such a warm welcome!
ATHS Information
If you're unfamiliar with the American Truck Historical Society (ATHS), they are headquartered in Kansas City, Missouri, and they help to preserve the history of trucks and the trucking industry.
You can read more about them on their website www.aths.org. Also, be sure to check out their calendar (alsoon their website) to find a show or event near you! You can also follow them on Facebook as well as Twitter, where they post photos and information from their events.
If you live in the Kansas area and want to check out the Wheat State Chapter of ATHS, you can read more about them on their website www.athskansas.org.
They have photos on their website from all of their previous events and shows, too, and are active on Facebook at ATHS Wheat State Chapter.
Been to a Show Recently?
If you've attended a car or truck show recently, send us your photos! We'd love to see what neat classic vehicles you've spotted.