Alfa's Back In Town…With a Performance Coupe Called "4C"
AFTER A TWO-DECADE absence from the North American market, the famed Alfa Romeo brand has returned to provide its followers with something new to park alongside their vintage Alfas.
But the "Alfisti," as the brand's loyal fans are called, will not be taking a test drive in an updated Giulia performance sedan, like the ones seen here a half century ago, or a modernized Spider roadster descended from the sports car Alfa was selling here when it decided to leave this market in the mid-'90s.
The new car that "spearheads" Alfa's return is something called the 4C, a coupe that with a beginning MSRP of $53,900 can perhaps best be described as a moderately priced, entry-level supercar. (The 4C name, by the way, comes from an Alfa sporting tradition of the 1930s and '40s when the company used 8C and 6C to label racing and road cars "with powerful eight- and six-cylinder engines." The 4C has, you guessed it, a four-cylinder powerplant.)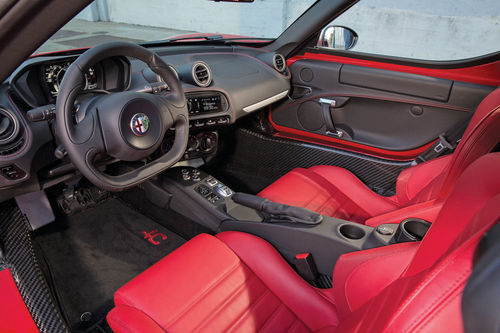 Design and Engineering Based In Motorsports
As to whether this vehicle truly qualifies for "supercar" status, well, no doubt that will be fuel for more than one debate, but that's the way Alfa is positioning its sleek coupe. In fact, in introducing the 4C, Alfa said in a statement that it's "taking the supercar segment by storm," with "groundbreaking Italian design" and "a unique set of technological solutions" offered "at a fraction of the price of other exotic supercars."
So, just what are some of these groundbreaking factors that led Alfa Romeo CEO Harald Wester to exclaim that the 4C "creates an infusion of body and machine, an extension of its driver's soul that is ready, capable and willing to respond and deliver."
Let's start with its "ultra-lightweight architecture" beginning with a carbon fiber monocoque, which, according to Alfa, "delivers extraordinary stiffness and strength." Attached to this monocoque is an engine-mounting frame made from lightweight aluminum along with aluminum subframes. Use of these materials helps the car to achieve a curb weight of 2465 lbs.
In addition, the car's complex bodywork is made entirely from SMC (sheet molding compound), a low-density, high strength composite that Alfa says is 20 percent lighter and dimensionally more rigid than steel. And in keeping with its nods to Alfa tradition, the company said the inspiration for the all-new 2015 4C coupe's looks is the 1967 33 Stradale, the homologated version of Alfa's racing Type 33.
Powering the 4C is an all-new 1750cc direct-injection 237-horsepower aluminum engine that's placed in the car's middle for better weight balance. The engine has dual (intake and exhaust) continuous variable-valve timing and a "new generation" turbocharger that reduces turbo lag, delivering 80 percent of its peak torque of 258 ft.-lb. at 1700 rpm. The car's top speed is 160 mph and 0-60 times are in the mid-4 second range.
Climbing behind the wheel, Alfa says, "means entering a world derived from motorsport." There are two composite-framed sport seats, a flat-bottom performance steering wheel with paddle shift controls, and aluminum floor pedals. Furthermore, in keeping with the car's all-out performance image, power steering is not available although, conversely, a manual transmission isn't on the option list either.
Look for Smooth Roads
But speaking of that performance image, it comes with what some would consider quite a downside. Several people who have driven the car say that while it's great on acceleration and handling, it has drawbacks as a daily driver and offers nowhere near the comfort levels of, say, a Corvette. They report that the 4C's cockpit fills with engine noise, transmission noise and tire noise; the firm ride transmits every road bump up through the seats and the precise steering feedback means you'd better keep a good grip on the wheel at all times.
All of which suggests that a serious test drive is in order if you're giving any thought to this new generation of Alfas. If you'd like to check out the car for yourself, 82 dealerships have been named across 33 states and four are located in Canada. (For the moment, most of the stores are in California, Florida and Texas.) All of the dealerships are current Fiat or Maserati dealers as they, along with Alfa, are part of the Fiat/Chrysler group. Alfa says it ultimately will have some 300 franchises in North America.
Serious Alfisti, no doubt, will visit the 4C as soon as a dealership opens in or near their area. It will be interesting to note if they then drive off in one of the new coupes…or elect to stick with their vintage Giulia or Spider.
Ted Kade