A SHOW WHERE THE VINTAGE VEHICLES VISIT A VINTAGE SETTING
If you're a fan of vehicles from the early decades of the automobile, you'll enjoy the Old Car Festival to be held Sept. 8-9 at Greenfield Village in Dearborn, Michigan.
The event features hundreds of vehicles from the 1890s through 1932 including cars, trucks, motorcycles and bicycles that will be on display and in motion at the Village.
Founded by Henry Ford some eight decades ago, Greenfield Village is a natural setting for a vintage vehicle event as it is a museum community made up of 83 historic structures and four operating farms. Among the structures on the property are Ford's birthplace and the Menlo Park laboratory of his friend Thomas Edison.
About the Show
The Old Car Festival is billed as "America's longest-running antique car show," and includes pass-in-review parades and a chance to talk with the show cars' owners.
Here's how Village officials describe the activities:
"From the turn of the century to the Great Depression, Old Car Festival in Greenfield Village offers a raucous ride of vehicles that epitomize the earnest optimism of the American Dream.
"Wander through the village and talk to owners about their treasured vehicles. The ongoing Pass-in-Review parade is a car lover's dream, as electric, steam and gaspowered engines are constantly in motion around you. Watch drivers engage in games of skill, see a Model T assembled in just minutes or just sit back and enjoy our experts sharing "car talks" while historic vehicles cruise.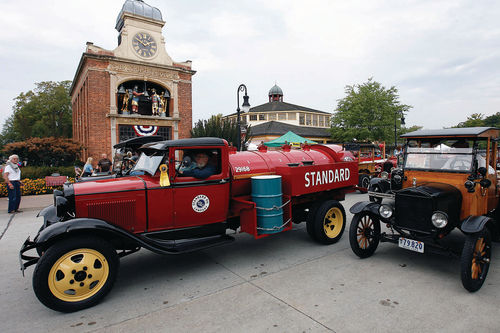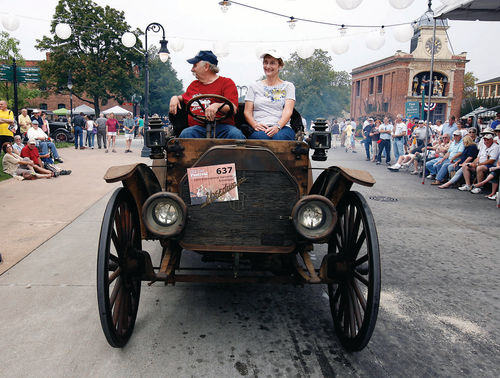 "Plan to stay late Saturday evening for the Gaslight Parade of Cars (including vehicles with kerosene and early electric headlamps) and dance along with the River Raisin Ragtime Revue as it performs popular music of the ragtime era. Cap off the evening with a Dixieland-style parade and fireworks finale." (The Village generally is open until 5 p.m. but on that Saturday it will remain open until 9 p.m.)
This year organizers say there also will be an added emphasis on vintage pickups as the Festival "celebrates a century of factory-built pickup trucks. Ford Motor Company introduced its Model TT—essentially a Model T with a heftier frame and drivetrain—in 1917. Ford built only three trucks that first year, but more than 40,000 TTs left the factory the following year. Chevrolet entered the truck market in 1918, selling its first half-ton and one-ton models."
Greenfield Village is located at 20900 Oakwood Blvd. in suburban Detroit and is part of The Henry Ford complex that also includes the Henry Ford Museum of American Innovation and the Ford Rouge Factory Tours. For more on the Old Car Festival and the complex, visit thehenryford.org.
And if you like the vehicles from the earliest years but prefer vintage cars and trucks from more recent decades, then make plans to visit the Village next June. That's when they'll hold their annual Motor Muster that features vehicles from the 1930s through the 1970s. –Ted Kade, Editor