A PAIR OF 1918 U.S. ARMY VEHICLES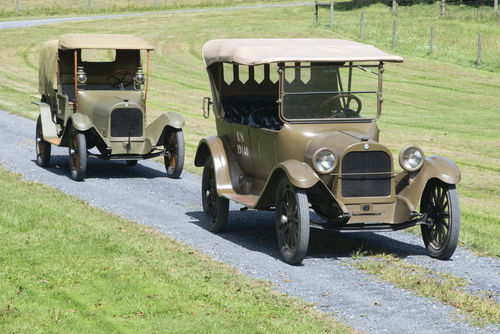 Neither the Dodge Brothers Car nor Truck Shown Here Served In World War I. But They Are Veterans of the Military's Switch from Horse Power to Horsepower.
Doug Walters and Mark Ounan knew that patience would be important when it came to acquiring their 100-year-old Dodge Brothers Army vehicles.
"I knew the truck existed from the Dodge Brothers Club newsletter," said Walters, whose 1918 Army light repair truck is featured here. "Probably 15 years ago, it had an article on this specific truck; that the Mount Gretna Historical Society bought it. I'd been chasing it ever since, trying to get them to sell it."
About four years ago, Walters was able to buy the truck, but by then, Ounan had owned his 1918 Army staff car, also featured here, for about seven years.
"I had been looking for a car that had actually been in the Army," Ounan said. "For about 10 years, I was looking for one.
"There are lots of '18s that you could just paint green, but I wanted one that was actually in the military and so it took me a long time to find it. But when I did find it, it was out in Salt Lake City and when I went out to get it, the story that I got was that it had been on the little Army base in the middle of Salt Lake City. There's still a reserve unit there and they have a nice museum there.
"The car was used on that Army base until about 1930 and then it got sold as surplus and a major who'd retired there bought it. He just used it for parades there in town and I ended up buying it from his relatives, so it had stayed in Salt Lake City its whole life."
The staff car is now at Ounan's Fairfield, Pennsylvania, home, but Walters' light repair truck didn't travel anything like that distance, as Mount Gretna is less than 10 miles from his garage in Hummelstown, Pennsylvania.
Both vehicles are obviously far removed from their Army days, but thanks to Dodge's early acceptance by the military, neither was unique in serving.
From Suppliers to Automakers
Horace and John Dodge had entered the machine business long before World War I broke out and in 1902 began building transmissions for the Curved Dash Oldsmobile. While certainly a significant piece of business, it established the Dodges as suppliers rather than automakers and they might have gone on that way if not for Henry Ford's need for reliable suppliers and visionary investors. The Dodges were an excellent match to Ford's plans, accepted a contract for engines, transmissions and axles, set to work and as stockholders soon started to collect their dividends.
Ford's success would make the two extremely wealthy as their original $10,000 investment grew to $50,000,000 in value, exclusive of the millions more
in dividends. But Henry Ford had demanded that the Dodges supply his company and no others, something that probably seemed acceptable all around in the beginning as it effectively guaranteed business for the Dodges and a reliable source for Ford, but the auto industry's growth certainly must have changed the brothers' thinking on the value of their being a captive supplier. By 1913, the idea of building their own cars had taken shape and was confirmed in their minds when Ford decided to halt the dividends that the company paid on its stock.
The Dodges went to court to force Ford to back down, but before they eventually won, their car was in production.
"In July, August, September of 1914, they were still trying to decide which wheels they were going to use, which tires, which starter-generators, which carburetors," Walters said. "It all came together very quickly in October 1914 and on November 15 they built their first car.
"They built 317 cars from November 15 until December 31, 1914 and they were more or less a 'gee-what-do-weneed-to-change' type of cars because no two of them are alike. But January 1, when they started building the true '15 cars, they were on the run. In 1915, they built 45,000 cars."
They had also been noticed by the Army, which acquired Dodge Brothers touring cars for use in its Mexican Expedition after Pancho Villa's attack on Columbus, New Mexico. Not all of those Dodges, Ounan said, were specifically built for the Army and those that were differed little from their civilian counterparts.
"The only difference is the wheels," he said, "but as far as the body and the chassis, it's a straight touring car. The wheels are what are called Second Kelsey wheels and they have seven-bolt rims and all the others have six-bolt. There's no way to know for sure, but as far as we can tell, all the ones that came off the line for civilian use got the six-bolt rims and only the military ones that were built under contract for the military got the sevenbolt rims. Through research and studying and kind of piecing things together I think what happened was when they went to Mexico in 1916 they took a good number of Dodges that were straight off the line with them.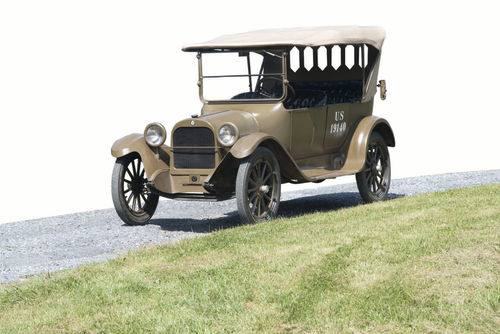 "In fact, I heard a great story where they started in Washington, D.C. on a train and they went down through the south, down through Louisiana and Texas; they stopped at every town and just went into the dealerships with a big pile of money, bought every car, put them on the train and kept going. When they got to Mexico, they had Fords and Dodges and it turned into a logistical nightmare, obviously, because of parts and things like that."
The story might be apocryphal, but it might be true, too, given that the Army was still feeling its way along with motor vehicles and surely could have made such a mistake. One story known to be fact, though, is that Gen. John Pershing commanded the force and that on his staff was the future general, George Patton. Ounan said that Patton, sent out with several Dodges and about 15 men to buy supplies, learned where one of Villa's close associates was staying.
"He decided they were going to go and capture that guy," said Ounan, who retired from the Army in 2014, "so they did what is reputed to be the first motorized assault in U.S. Army history, in Dodge Brothers automobiles... Once I read that story, I had to have a Dodge. I had to have one of those cars."
Another Military/Automotive Link
Walters said that his six years in the Army Reserve gave him a respect for both the military in general and history.
Researching the light repair truck revealed its rarity as well as its ties to the area before the historical society acquired it.
"They'd bought it from a private owner who was local to Mount Gretna," Walters explained. "The truck was used in Mount Gretna, which was a military training camp. It was used up until 1935, when Mount Gretna was outgrown and they built Indiantown Gap, which is very well-known. With tanks and long-range guns that all needed more room, that's why they moved to Indiantown Gap. This truck was used more as a utility truck in Mount Gretna, but it helped in the move from Mount Gretna to Indiantown Gap."
As mentioned above, he'd learned of the truck's existence from the Dodge Brothers Club's newsletter. It was partially disassembled when he found it, he said, but mostly complete.
"(The historical society) had interest in restoring it," Walters recalled. "It was in private hands before that, but I don't think it ever left Mount Gretna from Day One as far as ownership.
"The gentleman they'd bought it from was retired Navy and he was working on it. It had sat out or sat somewhere. The bed was a little rusty. He replaced some of the metal and welded angle on it to reinforce it. I did not change any of that, I'm not about to cut it apart. It's part of that truck now, as far as I'm concerned, forever. I don't know whether he ever drove it—I have no record of that—but he had titled it in Pennsylvania."
A Different Type of Truck Project
Starting in on a disassembled vehicle then nearly a century old would give many restorers pause and not without reason, but the feature truck has several points in its favor.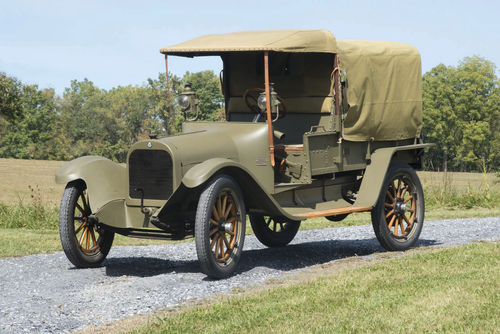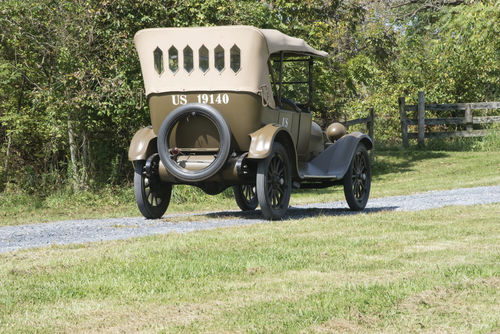 "There's no electrical system on it whatsoever," Walters said. "There's one wire on it, which is the kill switch of the magneto. It has an acetylene light, it has kerosene lights, there is no brake light, there's no starter, there's no battery, there's no generator, so that's easy."
After he cleaned the carburetor, adjusted the valves and went through the other steps typical to preparing an engine that's long been sitting, it started and ran on the third turn of its crank. There was, however, more to the story.
"Because it did not have a startergenerator," Walters said, "there was a hole about five inches where that should've been mounted and I kept seeing cotton and I was pulling it out with a wire. I decided 'maybe this is the one that I need to pull the oil pan off of' and I'm glad I did because I couldn't see the crankshaft for the cotton when I pulled the oil pan off. There was a mouse who'd made his home in there.
"There was no upholstery, so I'm not sure where he got the cotton from. When I dropped the oil pan, all the cotton was in the shape of the inside of the oil pan. He was pretty ingenious. But I'm glad I did that because it wouldn't have gotten enough oil to keep it going. That would've been ugly."
If the truck had been taken off the road in 1935, that would at least partly explain its mostly minor problems with the body. The other part of the explanation, of course, is the body itself that today might be described as minimalist.
"I had to put fenders on, lights on, I repainted everything," Walters said. "Most of it was sanded, I did not do any real bodywork. I took the big dents out with a hammer—that's about the limit of my ability with bodywork—the rest of the dents that are in it belong there.
They're going to stay there.
"(Rust) was very minor and the assembly work was minor. There are no bumpers, no windshield. Doors? We don't need them, either. So it was pretty easy."
While all of the Dodge Brothers pieces and even the Insley Manufacturing plate from the rear body's builder were there, the tools specific to a light repair truck and the five toolboxes were missing. Walters said that he's since found a few replacements and will keep looking.
A "Beautiful" Car
Ounan's staff car was in somewhat better condition when he found it. He said that it hadn't run in about 10 years, but the dry climate in Salt Lake City means it might have been stored indoors or outside. Either way, it had survived well.
"That car was beautiful," Ounan said. "That car had no rust on it at all. The top was tatters, the seats were dry-rotted and you squeezed them, your fingers went into the leather. But when we pulled the leather off to recover the seats, all the springs in there were beautiful. There's little jute string that ties them together and these little cardboard spacers that I guess keep them from squeaking. They were all perfect, they were all pristine and so I think that car probably never got rained on in its life between being out there and being stored inside so much. The body, the metal, was beautiful. The car is just beautiful."
Finding the Correct Exterior Color
The car was beautiful enough, in fact, that it needed only to be stripped and painted, but as the photos here show, the two vehicles aren't the same color. Which is correct?
"Mark's," Walters said. Ounan said there is a formula for mixing the paint, but that's doesn't make it as easy as it sounds. Before painting his car, he said, he discussed it with Bob Jacobs, owner of a restored light repair truck identical to Walters' truck.
"We said most likely, there was no perfect color because everybody mixed their own," Ounan recalled, "and probably every truck looked different. So what we did was take some samples off of my car that we could get underneath. Bob had some samples from a box that he had. He took the hinges off so under the hinge, there was a nice piece that wasn't sunbaked and all."
Further samples from other contemporaries provided confirmation and he had the color mixed. Walters said that his truck is World War II olive drab because it was available and thus more affordable.
Making a Vintage Cross-Country Run
Ounan's Dodge car, in addition to its slightly warmer correct paint, also received new upholstery and a new top, all matching the original. The engine was rebuilt, but whether that was truly necessary depends on the definition of "necessary."
"The engine actually needed to be rebuilt," Ounan said. "Well, to tell you the truth, I was being careful because even at the point in 2007 when I found it and bought it, we were planning a cross-country trip for 2009 and so I wanted it to be reliable for this 3500-mile trip. So, yeah, we rebuilt the engine just because. Danny probably could've messed around with it for half a day and gotten it running."
"Danny" is Dan Kerr of Kerr Restoration in Russellton, Pennsylvania, and while he knows his way around Dodge Brothers vehicles, it's a question mark as to whether he could have made Ounan's engine run without a rebuild.
"I never tried to start it or anything," Ounan said, "so I don't know."
With his planned trip in mind, his decision to minimize the risk was obviously the right one and it paid off nicely. The work was completed in May of 2009 and what amounted to a test drive was the car's trip to the AACA spring meet in nearby Gettysburg. Three weeks later, Ounan left on the Military Vehicle Preservation Association's convoy commemorating the 90th anniversary of the Army's Lincoln Highway run with about 75 vehicles touring from Washington to San Francisco.
The Lincoln Highway had begun in 1912 when Carl Fisher first promoted an improved crosscountry road. It progressed—not very smoothly—under the private Lincoln Highway Association and become a reality only after the federal government stepped in with the Federal Highway Act of 1921. The Army's 1919 run followed the highway's proposed route, a feat whose magnitude can be judged by the fact that the convoy left its starting point on July 7 and arrived at its destination on September 6. John B. Montville wrote in "Mack: A Living Legend of the Highway" that some trucks had become mired in mud while yet in Maryland, others slid off of muddy Pennsylvania and Ohio roads and some that had parked for the night in fields along the roads were unable to move in the morning. All required rescues by tracked vehicles, but the convoy proved its point.
The 2009 run was less dramatic and Ounan said that his Dodge Brothers and a 1918 FWD were the oldest vehicles to make the trip. The FWD with its top speed of 17 miles per hour was trailered, he said, although it proved popular at stops when it was under its own power and giving rides. His car's more practical speeds meant that he could drive it and it performed almost flawlessly.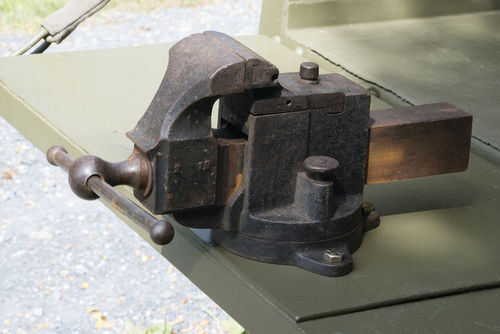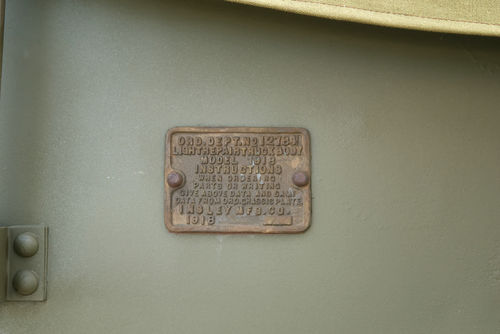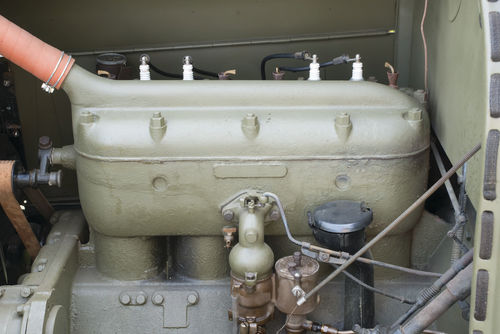 "I had a problem," Ounan recalled, "a really nagging problem as we got out west with what I thought was vapor lock. We kept messing around with everything you can think of to fix vapor lock and it kept sputtering and when we'd go up a hill, it'd lose power. Then when we were on the flat, it would run fine. We tried everything. I went to stores and bought clothesline clips. I had something like 30 of them on there."
Other home remedies such as aluminum foil heat shields and a crude scoop made from an antifreeze jug to direct cool air didn't work either, but he said that the mechanics following the convoy were having a great time as they tried everything that seemed like a possible solution. Then, he said, it was decided to remove the carburetor for a closer look and when that didn't reveal the cause, they began reinstalling it.
"There's one line that comes from the gas tank to the vacuum tank," Ounan explained. "We had loosened that and we went to put it back on and the flange that's on the copper tubing? That flange came off in my hand like a little ring, like a little copper ring. And (the mechanic) said 'oh, I've got a tool. We can remake that,' so he just went and fixed it."
The problem had been minor enough that it wasn't detected on the test drive and while it might have grown more serious as Ounan drove the car, it more likely was the type of driving he did on the convoy that caused it to become noticeable.
"That was cracked and it was sucking air," he said, "so when it was idling and when it was cruising along, (gas) was flowing, but when I started going uphill and it started pulling really hard, it was sucking air in and it was dying. He had it fixed in two minutes."
It's an experience—and solution— worth remembering because it could happen again, but that's not the only reason to keep it in mind.
"On that trip," Ounan said, "I had a gentleman who was 86 at the time riding with me. He was a World War II vet. He rode with me the whole way and was taking notes. Everywhere we would stop, he would write in his little book about lunch, about everything. To this day, he's about 95 or so, he has a big book with all the pictures from the trip and he has that little ring in a Ziploc bag in that book. He shows that to everybody when he tells that story."
Staying On Duty… Close to Home
Walters spoke of his truck's having made a trip that was considerably shorter, but every bit as significant to its passenger that day.
"The assistant to the camp commander—I'm not sure what his military title would be—used the truck mostly," Walters said, "and there was actually still a civilian who had been born in Mount Gretna and his father was the assistant to the camp commander. (His father) drove this truck and that individual rode in this truck when he was five years old. I had the opportunity to give him a ride two years ago on the day after his birthday and he was thrilled and so was I."
The connection is obvious, as are the truck's ties to Mount Gretna and Walters understands those, too.
"The historical society bought it with intentions of restoring it to be used around Mount Gretna for their special events," he said. "I made a promise to them, which I've been keeping so far and intend to keep forever, that whenever they want it for their use or their special events, it'll be there. I live six or eight miles from Mount Gretna, so it'll be in this area for the rest of my life. It won't be for sale."