When He Found the Car, It Had Less Than 30,000 Miles and Much of It Was In Good Condition. If Only There Hadn't Been That Fire…
Editor's note: Since this is our 25th Anniversary issue, what could be more appropriate than to feature a vehicle that's observing its 25th year as well.
JON BLEWETT HAD been looking for a good Fox-body Mustang when he found the 1989 GT featured here and once he'd bought it, the light bulb went on.
"I never really realized they were 25-year-anniversary cars until I actually did get one," he explained. "I don't think a lot of people realize it."
Some maintain that the numbers don't add up because the first Mustang was really a 1965 model released early and so 1990 was the anniversary. Others hold that the first Mustang was a 1964½, meaning the 25-year-anniversary car should have been a 1989½. Those arguments make their supporters happy, but Ford introduced the Mustang on April 17, 1964. Twenty-five years later, it was 1989 and that's why Blewett's car is an anniversary edition and why the 50-year anniversary is being celebrated in 2014.
First There Was the Falcon…
Interestingly enough, while the Mustang has been an important part of the vintage and current automotive markets for decades, it might not have happened were it not for a series of developments dating to the 1950s. As the decade wore on, American drivers were increasingly interested in small imports and in 1960 the first Detroit compacts arrived. Chevrolet entered with its Corvair, whose rear-mounted air-cooled six placed it out of the mainstream in terms of American cars, but Chrysler, Mercury and Ford took a less complicated approach with the Valiant, Comet and Falcon, respectively. The three used water-cooled sixes up front to power the rear wheels and although all went on to long lives, the Falcon was the instant hit. That it caught on as strongly as it did was unsurprising.
The Falcon was the least expensive of the three new domestic compacts at $1912 for a two-door sedan or $15,236 in modern dollars, and first-year production of 435,676 Falcons showed that there were American drivers who held practicality in high esteem and Ford had provided them with a homegrown option.
Ford had been right, thanks primarily to a decidedly non-car guy, Robert S. McNamara. He'd become Ford's general manager in 1955 and was its president briefly in 1960, a period in which he pushed the Falcon's creation and development through to success.
The Falcon reflected the distinct ascetic bent in McNamara's personality. His departure from Ford to become John F. Kennedy's Secretary of Defense didn't change the car overnight, but had he stayed, the Falcon likely would've retained much of its bare-bones austerity and engines such as its initial 85-horsepower, 144-cubic-inch six for a long, long time. Fortunately, that didn't happen and by 1963, Falcons were available as two-door hardtops and convertibles with a six or a 164-horsepower, 260-cubic-inch V-8. They were even making a substantial mark in European rallying. But while they continued to sell well — more than 265,000 in 1963 — the potential was not exhausted.
How About Something a Bit More Sporty?
Writing of his time heading the Ford division, Lee Iacocca explained in his autobiography that in studying the youth market, it was discovered that not all Falcon-buyers were tightwads ordering cars purely for economy. That further sharpened the focus on a new car then under consideration and Iacocca wrote that it had to be "sporty and distinctively styled, with just a hint of nostalgia" and that it needed to be simultaneously practical and fun.
The gamble would be serious because in a sense it invoked the old cliché about being the jack of all trades and the master of none. If that didn't give reason to proceed carefully, there was the sheer expense of introducing a new car, but at least that challenge had a partial solution. Iacocca wrote of the necessity that the car be "simple to maneuver but still capable of seating four people, with enough room left for a fair-size trunk," a description that fit the Falcon nicely. In other words, the Falcon's platform could support the proposed new car.
Well into 1962 various designs were reviewed, but an in-house competition that summer resulted in a model that Iacocca wrote "looked like it was moving." The clay model became the basis for the Mustang and on March 9, 1964, the first example was built. Someone who truly knew automobiles might have detected the Falcon pieces, but even to him, it would probably have seemed completely new. Its long-hood-and-short-deck proportions had been successfully adapted from early Continentals and would soon be imitated by the competition. Sharp, straight edges, a formal notchback roofline and enough brightwork to provide flash without tackiness distinguished it from nearly everything else on the road.
Although the Mustang and the Falcon were family and each was a notable success, Iacocca's vision for his car was a world away from what McNamara had seen in the latter. Among the best evidence for that was the Mustang's original advertising that described it as "the car designed to be designed by you," and Ford executed the concept brilliantly. The customer seeking a basic car packaged in the Mustang's fresh, new look, could choose the 101-horsepower, 170-cubic-inch six with the three-speed stick and from there, the options chart offered four-speed and automatic transmissions, a larger six and a series of V-8s up to the 271-horsepower 289. Disc brakes, air conditioning and full instrumentation were available and the list went on.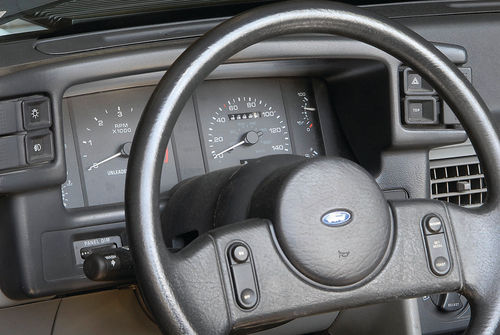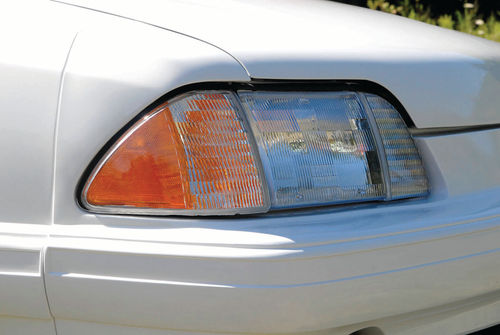 All of that started at $2368. Whether expressed in 1964 dollars or as today's $17,988, it was a bargain and the Mustang followed its relative's success by selling 121,538 examples in the short 1964½ model year. More significantly, Ford sold 559,451 Mustangs in 1965, the first full production year, and sent out a shock wave.
That, of course, was just the beginning. For 1967, the Mustang grew by a few inches and seemed larger because of subtly exaggerated lines and curves, but remained instantly recognizable. Engine choices still included a six and ran up to a 315-horsepower 390. One year later, Ford was advertising its 335-horsepower Cobra Jet 428 and citing a 0-60 time of 5.9 seconds in a Cobra Jet Mustang.
Restyled again in 1969 and 1971, the Mustang still looked like a Mustang, but it was getting bigger. Not everyone liked the size, but Ford advertised that "1971 brings you even more Mustang." The top engine was now a 375-horsepower 429 but major changes were just over the horizon.
Muscle was about to vanish — not permanently, but for a long time — in the face of rising insurance premiums, increasing governmental regulation and higher fuel prices. A 1972 ad pictured the Mach 1 under a headline reading "the exhilarator is standard equipment," and focused on the "floor mounted shifter…high-back bucket seats…dual racing mirrors" and the fact that "Mustang hugs the road." It did not mention engine choices, however, perhaps because the biggest engine was now the 275-horsepower 351.
The 1973 Mustang was barely changed and Ford noted the new "rugged color-keyed front bumper and a dramatic grille design" as well as "a smoother independent front suspension" in an ad that again ignored the engine but did include fine print explaining that "all 1973 cars must meet Federal Emissions Standards before sale."
Despite the clear trend, nothing could have prepared the way for 1974's Mustang II. Its 96.2-inch wheelbase was almost 13 inches shorter than its predecessor's and its 175-inch overall length was 19 inches less.
Ford sold 338,136 examples and while right for the time, it can still start arguments 40 years later. Maybe that's because Ford advertised that "we built a little jewel of a car" with "an economical four-speed transmission" and that it was "designed to meet today's need for gas economy." Ford offered "two economical engines: a standard 4 or optional V-6."
In the Mustang II's defense, being slow didn't keep it from being a decent driver with its rack-and-pinion steering and particularly when optioned with heavy-duty suspension.
Ford then began a long process by offering a V-8 in 1975. The 5.0-liter — better known as the 302 — produced 122 horsepower. It was a start and in 1978, the Mustang II's final year, it reached 139 horsepower.
Advance to the Past
Although few recognized it at the time, the completely restyled 1979 model and its descendants would bring back the Mustang's performance.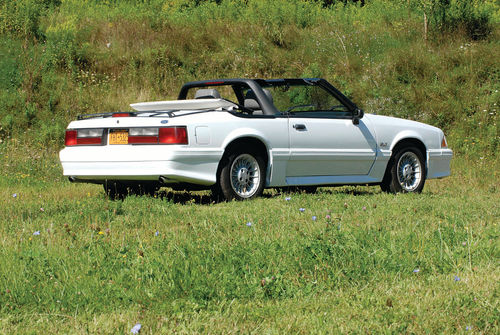 Built on the Fox platform that was developed to create more efficient designs, the 1979 Mustang shared only a general shape with its ancestors. Headlights were rectangular and there were four. The heavy mesh grille sloped rearward at its top, the side panels lacked the stamped coves and the entire package seemed cleanly modern in a European way. Engines started with an 88-horsepower, 140-cubic-inch four and ran up to the 140-horsepower 302. The possibilities also included a 140-horsepower turbo version of the four-cylinder. Ford compared it to a V-8 in performance, but without the penalty in fuel-consumption. The market responded again and sales hit 369,936, meaning Mustang was on the right track, so 1982 brought ads for the new GT announcing that "the Boss is back." A nod to the Boss 302 of the muscle car days, the GT relied on a "new 5.0-liter High Output engine" with 157 horsepower. The GT package included heavier suspension, aluminum wheels and trim items, but for 1984, everything got better. A new 142-horsepower turbo four for the GT had arrived late in 1983 and with 145 horsepower for '84 was continued alongside the V-8 version that now was rated at 175 horsepower. The attention, though, was on the SVO.
1989 Ford Mustang GT
ENGINE
Type Overhead-valve V-8
Displacement 302 cu. in.
Bore x stroke 4.00 in. x 3.00 in.
Compression ratio (:1) 9.5
Power 225 hp @ 4000 rpm
Torque 300 lb.-ft. @ 3000 rpm
DRIVETRAIN
Transmission 5-speed manual
SUSPENSION & BRAKES
Front Independent, coil springs
Rear Live axle, coil springs
Brakes Disc/drum
MEASUREMENTS
Wheelbase 100.4 in.
Length 179.3 in.
Width 69.1 in.
Weight 3333 lb.
Tire size 225/60ZR x 15
The light 1983 restyling carried over to the 1984 Mustang, but the SVO's look was different. The new model returned to two headlights, added auxiliary lamps and a hood scoop, and replaced the grille with two horizontal slots, one each above and below the bumper. While a "Biplane" rear spoiler, front air dam and cladding ahead of the rear wheel wells helped to control airflow and ensured the SVO's visibility, the car was more than an appearance package, thanks to its 175-horsepower, turbocharged, intercooled and fuel-injected four. A five-speed with Hurst shifter, adjustable Koni shocks, four-wheel-disc brakes and 16-inch wheels provided control and Ford advertised that "the machine speaks for itself." Meanwhile, Car and Driver concluded that "this is an important vehicle, a harbinger of things to come."
Car and Driver had nailed it — the SVO was in the generation of cars that proved high-performance was on the way back. But to Ford's credit, the Mustang was still "the car designed to be designed by you" and while the SVO went on, so did the more conventional — and more affordable — versions. It was possible to buy a Mustang L two-door in 1984 for just $7098, less than half the SVO hatchback's $15,596.
The SVO bordered on the exotic and, not surprisingly, had a short run through 1986. The rest of the line received a freshening for 1987, the most immediately apparent change being the move to clean, composite headlights and a smoother nose somewhat resembling that of the SVO.
By the time Jon Blewett's 1989 feature car was built, the GT was up to 225 horsepower from its injected 302 and that bested the final SVO by 25 horses. However, the performance that promised might not have been a big priority for its previous owner.
Low-Mileage Car Available… Slightly Burned
"A lady owned it," Blewett said. "She'd had it ever since it was almost new. It had a tow-bar system on it and they towed it behind their motor home. It's got a slip joint in the driveshaft that goes in and out and you can pull it in neutral. It's got a cable and you pull it. It goes into neutral and then it doesn't turn the driveshaft."
When he bought the Mustang about six years ago, it showed only 27,000 miles, a figure that seems oddly low for what was then a nearly 20-year-old car. But had he not bought it, the chances are good that this pony would not have racked up any more miles.
"I was working in a salvage yard and a repair center down in Florida," Blewett explained. "I was going over to get parts and I saw it sitting in the junkyard. It was all burned up in the front, so I made an offer for it and they sold it to me."
Many restorers would have dismissed the Mustang, he agreed, but it was the car he'd been looking for, there was that low mileage and maybe it really wasn't that bad.
"The whole back on it was nice," he said. "From the windshield back, it was all good. It was all original but the front end was burned up on it."
The fire had gotten its start in the car's alarm system and the dashboard — where the car once had its only 25-year-anniversary badge — was damaged.
"The fire company knocked holes in it," Blewett said, "because when it caught on fire, it was on fire a little bit under the dash. It didn't burn any of the wires, but where the carpet was, it burned a little bit in there…way up on top, but it never burned any of the carpets or anything. What happened is that the tires caught on fire and it basically made the fire worse."
Even though the damage was confined to the front half of the car, it was considerable. When Blewett got the Mustang back to his Windsor, New York, home, he was looking at more than simple bodywork and paint. His first step was disassembly of everything from the dashboard forward.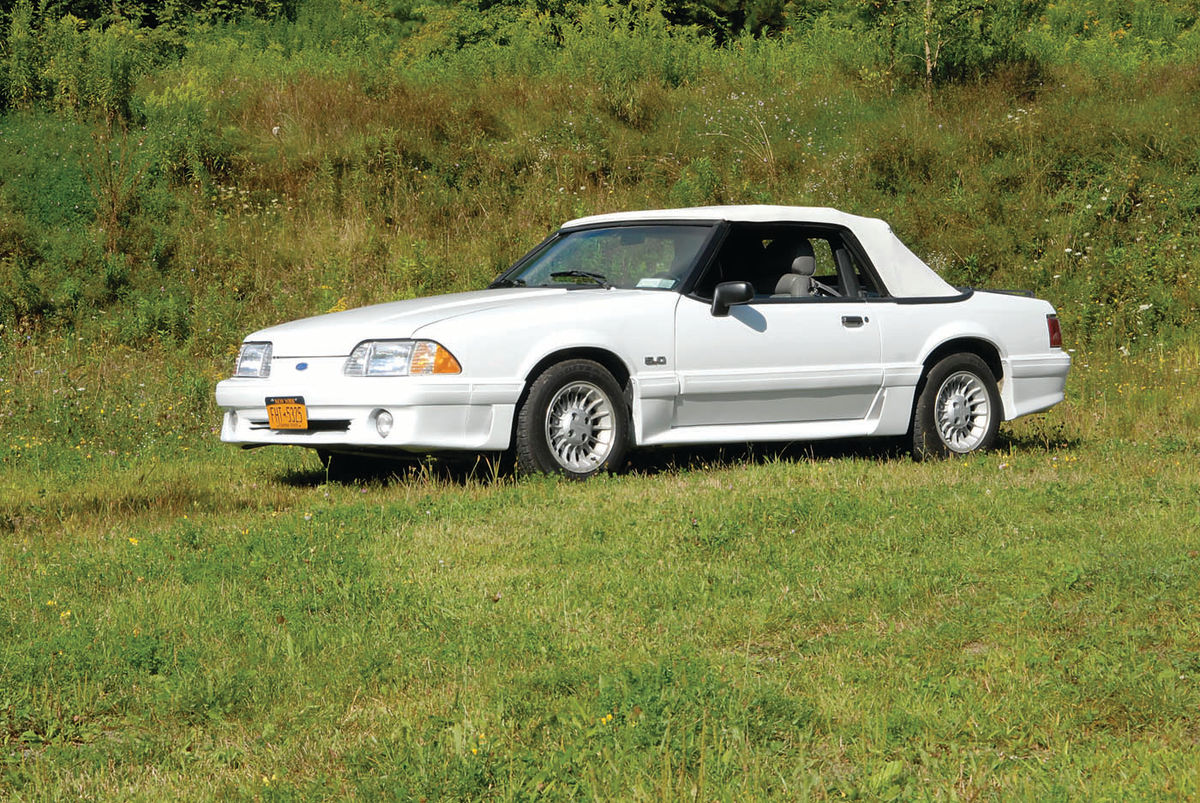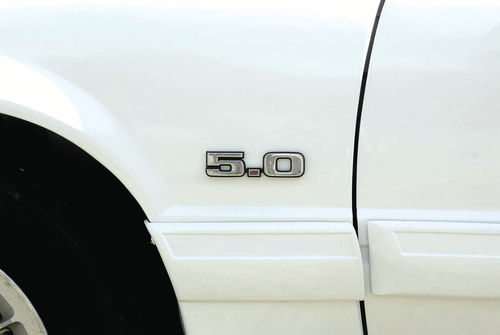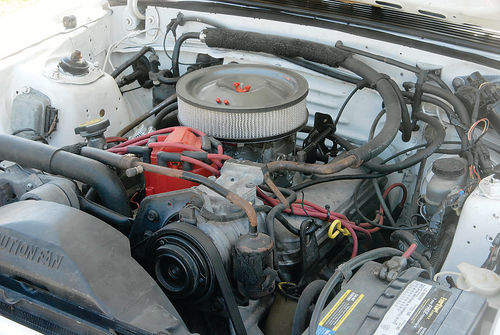 "I took the fenders, the hood, everything off of it and stripped it," he said. "I took the motor out of it and then sandblasted the whole thing and primed it and repainted it. I put in all brand-new A-frame bushings, ball joints, brakes, new rack-and-pinion steering, new motor — I didn't put a transmission in it — all new wiring harness, a new dash."
About that new engine. Installing it in running condition was the simplest way to get the Mustang back on the road and Blewett said it was correct for the car when he did that, but it now has external modifications, such as an Edelbrock aluminum intake…and a carburetor.
Experience Helped a Lot With This Project
"It was a fuel-injected car," he explained. "I drove it for a few years with the fuel injection and it quit one day. I worked on it and asked everybody who was a Mustang guy and we could not figure out what was wrong with it, so I pulled it apart because I wanted to take it to the car shows."
There's also an Excel distributor, but he has everything he'd need to return the engine to its as-built configuration. In fact, he has more than that.
"I still have the other motor because it's got 27,000 miles and it's still brand-new," he said. "The plenum and other parts were melted off because they're aluminum."
It's no surprise that parts melted during the fire were a project problem. The plastic front panel, for example, came from another Mustang, as did the wiring harness. The latter swap can be daunting, Blewett agreed, but not impossible.
"Something I've done all my life is rebuild wrecked cars," he said, "so it was relatively easy for me. But the guy who never did it might be (intimidated). You've got 5000 things you've got to unplug and make sure everything's plugged back in."
Parts Definitely Aren't a Problem
Part of the plan that changed during the project was that a Mustang LX convertible he'd bought for its engine and other components proved to be too good to be a parts car. The engine that wound up in the GT came from yet another car and the LX received some minor work to become a driver. That points to one of the big positives of these Mustangs.
"They don't have a lot of problems," Blewett said.
Quarter panels and rocker panels rust as do the door bottoms and the bottoms of the fenders, but he said the floor pans usually survive well. At least as important is the supply of parts, as he said even sheet metal and trim are available. Engine and other mechanical parts are out there, too, as is information, all because of the Mustang's popularity dating back to its first day on sale. Aside from basket-case examples, that kind of support helps to make them good first-time restoration projects.
"I've seen a lot of people restoring them," Blewett said. "There are people who know about them."
There's more good news to recommend a Mustang like his.
"You could drive it every day," he said, "same as any Ford. It's a reliable car."
The feature car was completed about four years ago and it's a driver, but only because calling it a "driver" distinguishes it from one that's trailered. It covers just a few hundred miles per year, but that's enough to prove that it catches a range of eyes.
"When I've had it at the car shows in Norwich (New York)," Blewett said, "I've had a lot of people looking at it and commenting. Young people and old people."
He understands that.
"I kind of wanted one back in the old days," he confessed. "I would say a lot of people like these Mustangs."