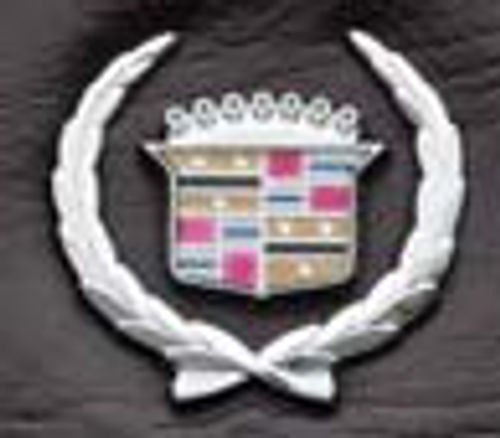 You Don't Always Have to Go Way Back to Find a Retro Car. Consider This Cadillac From 20 Years Ago.
AUTOMOTIVE DESIGN AND thinking change slowly, so what promises to be a leap often amounts to a shuffle by the time it reaches production. But the changes do happen and looking back 20 years, it's easy to see the proof.
"The last Cadillacs of the old school, we could argue for '89 to possibly '92 in the rear-drives," said Eric DeVirgilis, whose 1989 Brougham is shown here. "(They're) the last Cadillacs that have their roots going back 50 years or so, the most refined Cadillacs of that type of engineering."
If that statement at first seems hard to accept, look at the photos of De Virgilis' car and compare it to its full-size 2009 counterpart. Then, think of the cars between the two. The "possibly '92" qualifier refers to the last version of the feature car's design and by that time it was wearing updated trim and composite headlights, but they were far from radical changes.
The Brougham's 1993 replacement, the Fleetwood, was different—visually, at least—and represented another step in the transition from models like De Virgilis' car to the Cadillacs of today. But even the 1993 Fleetwood's greatly softened look wasn't breaking new ground.
Name changes and shifts among models can make this complicated, but after the 1977 introduction of the downsized cars that were direct ancestors to the 1989 Brougham, Cadillac shrunk and restyled the Eldorado for 1979 to bring it in line with the Seville. For 1985, it added what amounted to a new range with the completely redesigned deVille and Fleetwood. They were front-wheel-drive cars that were smaller than the Brougham— which continued to use that 1977 formula—and although unmistakably Cadillacs, they hinted at the direction that the division would be taking. A new Eldorado and Seville appeared in 1986 and from there, the entire Cadillac line gradually took on a more aerodynamic tone.
All except the Brougham. It's easy to complain that GM was building a car that was out of touch, but clearly, the market was still there and GM was actually being rather shrewd; enough customers wanted the big, rear-drive Cadillac that still looked like a Cadillac and freshening it up with model-year changes was at worst a minor expense. It wasn't the first time that Cadillac had gone against conventional thinking and that approach, in fact, goes back to the early days of the marque.
It Started With an Engine…
Cadillac began in 1902 after a series of developments placed Henry Leland in the position of having a newly designed engine with no buyer and a contract to appraise the remains of an unsuccessful automobile manufacturer.
His own company, Leland and Faulconer, had created the engine for the Curved Dash Olds, but despite higher horsepower than the engine of Olds' own design, Olds Motor Works declined because of the production delays it expected would result. Meanwhile, the firm that was to be appraised was Henry Ford Co., a predecessor to the modern Ford Motor Co.
Ford and others had split with the company and its owners wanted to recover whatever they could from the remains, but Leland convinced them to remain in business and use his engine to power their cars, all of which provided the groundwork for the first Cadillac.
When it entered production in 1903, the Cadillac Model A was available as a two or four-seater powered by a 98-cubic-inch single-cylinder engine developing about 10 horsepower. At 1300 lb., it cost $750 and was good for about 35 miles per hour. Late in 1905, Leland and Faulconer was folded into Cadillac Motor Car Co., where Henry Leland was made general manager.
Unlike most of its competitors at that time, Cadillac was destined to survive and although it's all but impossible to make an absolute statement as to why that happened, the largest single contributor must be the fact that Henry Leland was fanatically devoted to precision and craftsmanship. That Leland's faith was not misplaced was proven in 1908, when England's Royal Automobile Club supervised testing of three Cadillacs literally just off the boat from the United States. Performance wasn't the point; the RAC was interested in standardization and the simple way to test that was to disassemble the cars, rearrange their parts and then assemble three Cadillacs from the pieces. Once complete, the three started easily and then were tested—uneventfully—for 500 miles at Brooklands.
Thanks to Leland's belief in striving for perfection, a Cadillac part was a Cadillac part. That's expected in today's world, where even cheap and unimportant products often show remarkable precision and almost matter-of-fact standardization, but cars in 1908 were generally built by hand of components that were fitted by hand. Standardization opened the door for better cars produced more efficiently and thus sold at more affordable prices. So it went far beyond a matter of bragging rights about having the best machinists when Cadillac was awarded the Dewar Trophy for its performance in the standardization test.
A V-8 Pioneer at GM
Not surprisingly, Cadillac caught the attention of William C. Durant as he was assembling General Motors. Durant made overtures and by July of 1909, Cadillac was a part of his growing company. Leland and his son, Wilfred, who had been involved with Cadillac since the beginning, stayed on.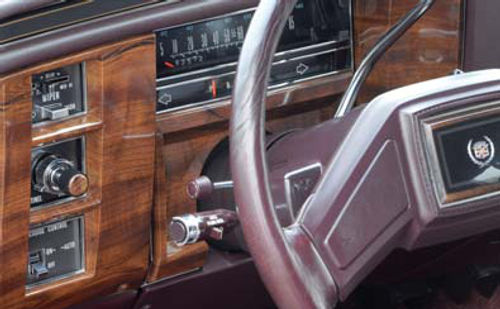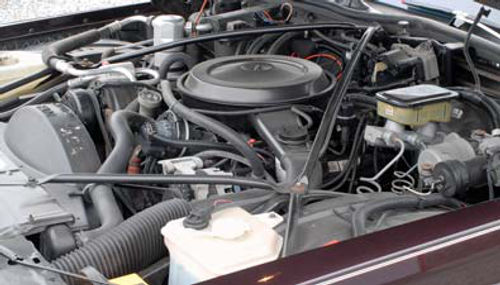 General Motors had its problems in those early years, losing some of its divisions (as Durant lost the company), but Cadillac did well. A four-cylinder had joined the line in 1905 and although it outlasted the single-cylinder by five years, it was succeeded in 1915 by a V8. A 70-horsepower flathead, it displaced 314 cubic inches and while not the first V-8, it was the first to be mass-produced and of all the American cars offering V8s prior to 1920, Cadillac is the only one in existence today.
The V-8 received detachable heads for 1917 and continued in that form into 1925. New designs were introduced at several points and by 1930, Cadillac's 353-cubic-inch V-8 produced 95 horsepower, but that was far from the division's big news. As it had done before, Cadillac took a chance—more accurately, it took two chances—by introducing both a V-12 and a V-16.
The overhead-valve V-12 initially generated 135 horsepower from 368 cubic inches and grew to 150 horsepower by the end of production in 1937. The V-16 also was an overhead-valve design and was unveiled with 165 horsepower from its 452 cubic inches. By the time that engine was dropped at the end of 1937, its output was up to 185 horsepower, but Cadillac replaced it with a flathead V-16 good for the same output from 431 cubic inches. That later V-16 continued into 1940, making Cadillac's total V-16 run far longer than its Marmon rival's three years. In fact, of all the American companies to produce V-12s and/or V-16s during the Classic era, only Cadillac and Lincoln remain today.
Cadillac's Modern V-8
Fascinating as they are, Cadillac's V12 and V-16 didn't even make it to World War II and while Lincoln's V-12 reappeared when postwar production started and remained available for several years, Cadillac stuck with its V-8. At 346 cubic inches and 150 horsepower, Cadillac had no reason to be ashamed of it, but in 1949 everything changed as the division replaced the older engine with a modern overhead-valve V-8. Oldsmobile took a similar step that year and although the two engines are unrelated, it deserves as much credit as Cadillac does for doing so.
The best way to illustrate the importance of Cadillac's new overhead-valve V-8 is to compare it to its flathead predecessor. Its 160 horsepower from 331 cubic inches is obviously an improvement, as was the fact that the new engine was some 200 pounds lighter than the flathead, but there's more.
1989 Cadillac Brougham
GENERAL
Front-engine, rear-drive, four-door sedan
ENGINE
Type Overhead valve V-8
Displacement 307 cu. in.
Carburetor Four-barrel downdraft
Compression ratio 8:1
Power 140 hp at 3200 rpm
Torque 255 lb.-ft. at 2000 rpm
DRIVETRAIN
Transmission Four-speed automatic
Final Drive ratio (:1) 2.93
SUSPENSION & BRAKES
Front Independent, coil springs
Rear Live axle, coil springs
Brakes (f/r) Disc/drum, power-assisted
MEASUREMENTS
Wheelbase 121.5 in.
Length 221 in.
Width 76.5 in.
Height 56.7 in.
Weight 4190 lb.
The overhead-valve engine's bore and stroke measure 3.8125 inches and 3.625 inches respectively, while the older engine's bore and stroke measure 3.5 and 4.5 inches. That relationship makes the 331 an oversquare engine and that design offers advantages in everything from the ability to accept higher compression ratios and tolerate higher speeds to better cooling and reduced size.
It was an immediate success and when combined with the Hydra-Matic transmission that was already available, it established a pattern that Cadillacs would follow into the 1990s. Engines would become increasingly powerful, the cars would grow larger and, for at least the next decade, far more outrageous. But until the front-wheel-drive Eldorado's introduction in 1967, all Cadillacs would be the conceptual descendants of the 1949 model and even the last of the prewar V-8 models.
After the Eldorado, those front-engine, rear-drive descendants would continue alongside the newer models, which explains De Virgilis' observation that his 1989 Brougham represents "the last Cadillacs that have their roots going back 50 years or so, the most refined Cadillacs of that type of engineering."
A 20-Year-Old Retro Car
It surely wasn't the state of the art in 1989, and while that might sound like a rather unkind assessment of the feature car, it actually explains a good part of its appeal. Its look carries cues that date far back; it takes little imagination to see, for example, the pointed egg crate grille of 1941 at the front of the feature car or the upright taillights enclosed in the 1965 model's bumper at the rear of the 1989.
"It's a car that has, to an extent, old car styling," De Virgilis noted, "styling that's derived from the older cars."
Whether that strikes a given collector depends on taste, of course, but remember that much of what's underneath the styling is also "derived from the older cars"—and that can be a bonus, especially to an inexperienced collector.
"I think it's one of the best cars for a novice," De Virgilis said. "It's a car that most anybody can work on, most anybody can do basic maintenance on. It's a car that's overall simple, tried and true technology. They look good, they're distinctive looking, they're one of the last few cars that actually have real chrome, real chrome bumpers, real steel, and they're a pleasure to drive.
"And in today's market, it's probably the best buy as far as getting a lot of car for a little money. They're getting scarcer and the values have pretty much bottomed out as far as a used car. Most cars bottom out when they're about 20 years old and you can buy one of them for $5000 to $10,000, and $10,000 today buys you very little in an old car."
That statement is probably worth more than casual consideration; De Virgilis is a car dealer and he's experienced with older Cadillacs. He also follows his own advice.
"I always look," he said, "if there's a Cadillac Brougham of that style, that square style. When they're around, I always make a point of looking at them. Most of the time, 99 percent of the time, I walk away from them, but if it's a really nice one, I'll make an effort to see what the car does and buy the car."
What to Look For When Shopping
De Virgilis bought the feature car in July 2007 from another dealership, where its original owner had traded it toward a new Cadillac. It looked then about as it looks now, he said, and has required only the most minor work, but if cars like it are becoming scarcer, finding a nice example will grow correspondingly more difficult. De Virgilis offered some suggestions about the cars' potential problems, beginning with one that might be unexpected.
"One thing that seems to go on a lot of them," he said, "is the vinyl top. The vinyl top, probably minimum is $500 these days and maybe to $1000. The last one I had done was a '91 Brougham. The material they used on the '91s was a different type of material. It did not hold up nearly as well as the older style material. Generally, these (older) tops are pretty decent. If they had mostly indoor lives, vinyl tops wouldn't be a problem."
One crack or tear, though, isn't an automatic death sentence.
"If you see a crack, it's starting to go," De Virgilis said, "but it's usually not going to continue unless you leave the car outside. If it's just a crack, keep the car inside and it won't just go. It might go in a very controlled way, but it's not going to just one day all at once look terrible. But once you see that, when you start seeing cracks in it, the more you take it outside or the more it's in the sun, you're going to have to really nurse it with a lot of Armor All. If you want to keep it, you're going to really have to keep after it."
The top on a car that was garage kept is likely to be in good condition, as is its paint. De Virgilis said that he's seen badly checked paint on some and that the finish on cars with that kind of damage can usually be brought back only temporarily. The good news is that rust isn't a major problem on these Cadillacs, but there's one specific point that needs to be checked.
"A very important thing on them is the rear bumper." De Virgilis said. "The rear bumpers always seem to have a problem with rust. It depends on how the car was used, the environment it was kept in; the environment it was driven in. The way that the rear bumper is designed, it has a back support and it doesn't drain the best. If you drive in a lot of saltwater and the water splashes up and then you put the car away, or the car doesn't get dry or you don't flush it out, they do seem to rust in the rear bumpers."
He said serious frame rust rarely shows up on cars like his and major mechanical problems are rare.
But while they lack the complexity of later Cadillacs, there's one mechanical component that he said can pose a problem and that's the rear leveling system.
"It's not air suspension," he said. "It's conventional suspension with air shocks. It came with air shocks and it had a loadlevel sensor, but they tend to sit kind of low. Even when they were new, they'd sit that way. There is an adjustment. You can make them get up a little bit higher, but they're a little too low for my tastes even when they're adjusted to the max."
Converting the shocks to a manual setup is his solution, but inspecting the vinyl top and the air shocks hints at the importance of knowing something about the car that's under consideration. Research is one answer, but not the only answer.
"In general," De Virgilis said, "if someone is looking to buy it and they're not knowledgeable, they'd be well advised to take somebody who is knowledgeable about cars in general and preferably somebody who's more knowledgeable on Cadillacs."
Check the Interior Details
Besides looking for signs of the obvious red flags—poor rust- or collision-repair, misalignment, indications of early-stage rust, etc.—there are other factors to consider that are specific to these Cadillacs.
One problem is that it's possible to use trim from a car of another year and have it look correct to someone who doesn't really know. Another is that what might seem like minor damage or deterioration can prove to be very difficult to correct.
"There's a lot of fine chrome edging that outlines the climate control panel, the radio control panel, air conditioning outlets," De Virgilis said. "They're framed in a fine garnish molding made of plastic chrome. Use a strong, improper cleaner on those and once those pieces are discolored and the chrome is cleaned off, you've had it. There's nothing you can do.
"I don't even know how you would replace it. Those pieces are not separate. They're all part of the unit and once that's been ruined, I don't know what you can do. I've walked away from cars just because the dash chrome was screwed up. Somebody had cleaned it improperly."
Will Parts Availability Change?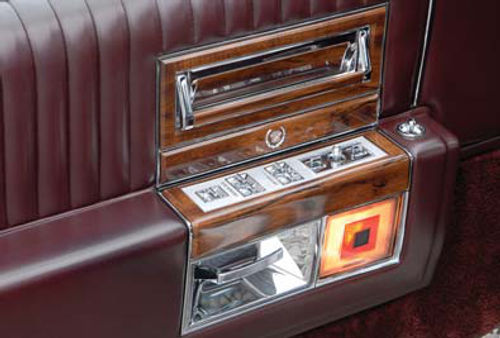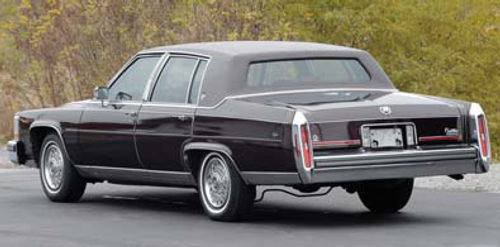 Learning about the car and deciding which faults are worth dealing with isn't really a high price to pay when compared to the advantages of a Cadillac like the feature car. A major plus to ownership is parts availability, as De Virgilis said that he has no problems finding most parts. Unfortunately, there's a catch, or more correctly, there's going to be a catch.
"As recently as last year," De Virgilis said, "I've gotten NOS from a GM dealer, trim pieces like headlight doors, grilles. How much of that is still available I can't tell you. As recently as the last year or two, I've gotten brand-new hood ornaments.
"There's still some around, but it's not going to last long.
"If you do need them, now is the time because you're probably not going to be able to get them for very much longer. And they're not going to be in the salvage yards."
The reason that they won't be in the yards has less to do with the fact that they're Cadillacs and more to do with general supply and demand.
"The price of scrap metal went through the roof this summer," De Virgilis said. "They got crushed."
It remains possible to find one that won't require trips to the salvage yard, as some are still on the road providing transportation.
As noted earlier, the excellent original featured here was traded less than two years ago, so this might be the time to start searching if the attraction is there. If that's the case, know that few Cadillacs have been less than good cars and from the earliest single-cylinders to the current models, they've worked their magic on everyone from the practicality minded motorist seeking reliability 100 years ago to the enthusiast demanding performance today, not to mention heads of state, the extremely successful and those who've stretched their budget because they felt a Cadillac would be worth it.
The Memories Bring Them Back
De Virgilis explained one reason why drivers buy—or just want—Cadillacs.
"Almost anyone I've known who grew up with a Cadillac in the family," he said, "always has fond recollections of that car."
He also knows exactly why the 1989 Brougham appeals to him.
"I remember when they came out," he said. "That style came out in 1980, and 1980 was the year I got my driver's license. I always liked that body style, 1980 and on up, so I've always had a soft spot for that style Cadillac Brougham."