1984 Chevrolet Camaro Z28
Brian Richeda has a clear memory of the first time he drove his 1984 Camaro Z28 even though that was in 1995 and 12 years before he bought it.
"My parents' friends had this car," he explained. "They were the second owners. I'd just finished high school in '95 and I was used to driving the old family Subaru station wagon. That had 100 horsepower when it was new so when I was driving it, I think it had 80 or 90 horsepower and that was about it.
"In July of '95, he brought the Camaro up for a week. He was going sailing with my father and I asked if I could drive it. I'd always wanted to drive one.
"He said 'yeah, just make sure your mother goes with you' and I thought 'well, that's kind of a strange request, but OK.'
"She was explaining it to me as a high-power performance muscle car and 'you've got to be careful with it.' I said 'OK' and in the little town of Maine (New York) I grew up in, just north of Binghamton, we were going down State Route 26 through town and where it goes from a 35 to a 55 zone she said 'alright, give it some gas.'
"I was used to flooring it in my own car and this just threw me into the seat and scared me. That blew me away, just driving it that first time. It was more than I anticipated."
The Ongoing Battle Between Small Chevys and Fords
Compared to the aging Subaru, the Camaro would indeed have been surprising. In fact, an earlier example might have been shocking to the young driver, but performance cars in general were breathing less fire by 1984. Still, a 190-horsepower Camaro Z28 had no real reason to apologize when among its contemporaries.
The Camaro—part of that long-hood, short-deck breed known as pony cars-- debuted as Chevrolet's 1967 response to, what else, the Mustang, which had been introduced in 1964 and literally changed everything in the auto industry.
The story, however, dates back further and it's probably safe to start with Nash's introduction of the compact Rambler in 1950. The Rambler's success was built on its position as a nicely equipped car that happened to be small.
The Big Three might have done little more than keep their eyes on the Independents were it not for the increasingly frequent shipments of European compacts being unloaded at American ports. Faced with the obvious popularity of Volkswagen, Detroit in 1960 responded to the threat with the Chevrolet Corvair, Chrysler's Valiant and Ford's Falcon and Mercury Comet.
Corvair's air-cooled six mounted at the rear made it the greatest novelty among them and while it soon developed a small and fiercely loyal following of enthusiasts who appreciated its performance and character, the Falcon was the true success story.
In its first model year, Ford counted up more than 435,000 deliveries of what can best be described as a genuinely basic car with a conventional front-engine rear-drive layout and simple styling. Its 144-cubic-inch six produced 85 horsepower and its most expensive option was a $159 automatic transmission in place of the standard three-speed.
The Falcon's success must have been particularly gratifying for Ford, considering that Chevrolet sold only 250,000 Corvairs in 1960. Yet if Ford was happy with the first-year results, Chevrolet was probably baffled.
The Volkswagen with its air-cooled four at the rear was selling well here despite its outdated styling, so what was the problem with the conceptually similar and smartly designed Corvair? Several factors worked against it, beginning with its so-so fuel economy and the likelihood that it really wasn't going to make many conquest sales among fiercely loyal Volkswagen owners. Furthermore, those who drove American cars and held back from VWs because of their perceived oddity would similarly shun the Corvair and go for the simple Falcon.
Chevrolet soon realized that the Corvair's strengths had less to do with economy than with performance. It advertised in 1960 that "with independent suspension at all 4 wheels, Corvair rivals much more costly cars in the poised, unruffled way it rides."
Gradually, the Falcon and the Corvair began heading in different directions. In 1962, the Corvair Monza Spyder brought a 150-horsepower six with a turbo while Ford gave the Falcon a new roofline, added a Country Squire package for the wagon and continued the 170-cubic-inch, 101-horsepower six and the sporty Futura introduced in 1961. Ford added a convertible and a two-door hardtop during 1963, along with the Sprint and its 260-cubic-inch, 164-horsepower V-8.
By now the Corvair had been adopted by sports car fans while the Falcon's appeal to lovers of economy cars was joined by those who grasped the potential of a V-8 in a compact.
Then, in 1962, Chevrolet introduced the Chevy II, a much better match for the Falcon. It might have gone on like that forever if Ford hadn't introduced the Mustang in April of 1964. Although Corvair sales rose with the restyled and better-handling 1965 models, they soon dropped and, worse, Chevrolet had nothing to fight off the new Ford pony car that suddenly was the hottest item of all.
Chevy Fights Back
The situation changed with the launch of the Camaro for 1967. The new Camaro used a traditional front-engine, rear-drive layout, and like the Mustang it wore the long-hood, short-deck proportions that would remain popular for years. The big difference visually was that the Camaro was softly curved while the Mustang relied on hard edges and straight lines. What's sometimes forgotten today is that—like the Mustang—a Camaro could be tailored to meet an incredible variety of tastes.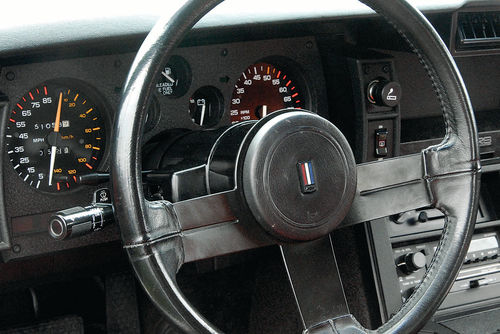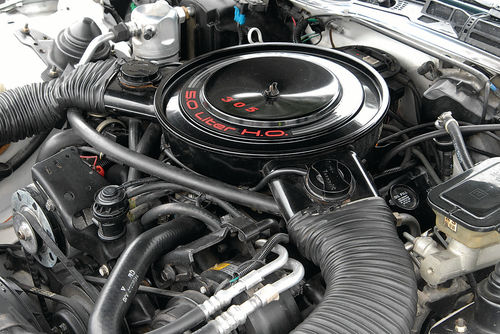 An early ad called it "the masked marvel," explaining that it was masked "because it carries Rally Sport equipment with hideaway headlights. A marvel because it's an SS 350: telltale domed hood, rally stripe and Camaro's biggest V8. Over 3200 pounds of driving machine nestled between four fat red-stripe tires, an SS 350 carries the 295-horsepower 350-cubic-inch V8. For a suspension, it has special high-rate springs—coil in front, single-leaf in back—and stiffer shocks at all four corners. And with its exceptionally wide 59" tread, we assure you an SS 350 handles the way a sporting machine should."
It was a description certain to whip enthusiasts into a Camaro-buying frenzy, but then as now, not everyone was interested in driving like a madman and not everyone could afford to do so. Chevy wasn't going to ignore them, so later in the model year it also promoted more broadly by showing the basic six-cylinder three-speed coupe, the middle-of the-road RS with "standard" V8 and "the Magnificent SS convertible, now available with 396 cu. in., 325 hp!"
The Birth of an Icon
What that glowing ad didn't mention was an in-between model of a different sort—the Z/28 introduced in November of 1966. A $400 options package that required the additionally optional fourspeed and disc brakes, its heart was a 302-cubic-inch small block rated at 290 horsepower. That displacement was no accident; a 283 crankshaft in a 327 block got it there specifically to squeak in at three cubic inches less than the limit set by the Sports Car Club of America for Trans Am series eligibility.
1984 Camaro Z28
GENERAL
Front-engine, rear-drive coupe
ENGINE
Type Overhead valve V-8
Displacement 305 cu. in.
Bore x stroke 3.74 in. x 3.48 in.
Compression ratio (:1) 9.5
Carburetor Four-barrel
Power 190 hp @ 4800 rpm
Torque 240 lb.-ft. @ 3200 rpm
DRIVETRAIN
Transmission Four-speed automatic
Final drive ratio (:1) 3.20
STEERING
Recirculating ball, power-assisted
SUSPENSION & BRAKES
Front Independent, MacPherson struts, coil springs
Rear Live axle, coil springs, stabilizer
Brakes (f/r) Disc/disc, power-assisted
MEASUREMENTS
Wheelbase 101 in.
Length 187.8 in.
Width 72.8 in.
Height 50 in.
Weight 3135 lb.
Track (f/r) 60.7/61.6 in.
Tire size P215/65R15
Fuel capacity 16.2 gal.
And since Trans Am competition was obviously important, the Z/28 carried the heavy F41 suspension package. Widely praised for handling qualities that enabled it to do more than go fast in a straight line, it was in that sense a close relative of the Corvair. The Z/28 sold just 602 examples in its first year before going on to become one of the most widely recognized names of its time while the Corvair died in 1969.
The pattern and thinking were set. Naturally enough, the Camaro looked about the same in its second year, the easy spotting traits being its lack of vent windows and its federally mandated side marker lights. Among the biggest differences was the increase in Z/28 sales to 7199 in 1968, something an ad went a long way toward explaining. Headlined "closest thing to a Corvette yet," it detailed the Z/28's important points from "special suspension system including multi-leaf rear springs with bias-mounted shocks" and "15x6 wheels and E70x15 special nylon cord 'Wide Tread GT' high-performance tires" to the "3.73 rear axle" and "dual exhausts with 21 ⁄4" diameter pipes and deep tone mufflers." The engine was still the 302 with its 11:1 compression, four-barrel, solid lifters and "rated" 290 horsepower. Ten SCCA victories that year gave the Z/28 the series title.
The heavily face lifted 1969 Camaro saw Z/28 sales jump again, this time to 19,014, but midway through the 1970 model year, a completely new Camaro arrived and with it came a new Z/28. The 302 was replaced by a 360-horsepower 350 borrowed from the Corvette, suspension was improved and for the first time, an automatic was optional. Even in that short year, sales reached a respectable 8733 total, but the Z/28 was part of the muscle car world and time was running out for its inhabitants. Insurance costs were rising and regulations were increasing. With its horsepower down to 330 in 1971, the Z/28 found just 4862 buyers and 1972's numbers were lower still, with 2575 Z/28s in 1972 the 350 was now rated at 255 horsepower, in part due to yet another regulation.
Until 1972, output had been stated as gross horsepower, but that changed to net horsepower which is measured on an engine with all of its accessories installed and functioning. Early emissions controls, lower compression and extra weight made themselves felt, too, and muscle cars slipped further. A 1974 advertisement spoke of "the renowned Camaro Z/28 package" with detailed features such as "those bold new Z/28 hood and deck stripes," but overlooked the 245 horsepower. Sales climbed back to 13,802—undoubtedly helped by updated styling with one of the most successfully integrated impact bumpers to come out of Detroit. But it wasn't enough, and the Z/28 was dropped.
When it returned during the 1977 model year, it was down to 170 horsepower and compared to many of its contemporaries, the Z28's stripes and monochrome were in fact restrained. Chevy sold 14,389 examples and ads listed appearance items, convenience accessories and handling features, but not horsepower. (The Z28 logo also had lost its center slash along the way although it has returned for the 2014 model.)
He Answered the Question Correctly
Then 1982 brought a radically new and modern, more aerodynamic-appearing Camaro that was 10 inches shorter and rode on a wheelbase seven inches shorter than that of a 1981 model. The Z28's injected 305 generated only 165 horsepower, but the car was about 400 pounds lighter and 63,563 buyers figured out what that meant for performance.
It was getting better, even if the pace demanded patience, and 1983 brought 175 horsepower driving through a five-speed. Sales were almost unchanged at 62,100 and then hit 100,416 for 1984, when what was now a carbureted 305 reached 190 horsepower. That was enough for the feature car's first owner, who traded in his 1980 Toyota Supra toward the Camaro as a retirement gift to himself on May 7, 1984. Sadly, he was later diagnosed with Alzheimer's disease and died in 1989. His daughter and son-in-law—the family friends of whom Richeda spoke—wound up with it in the spring of 1990.
"In about 1999 or 2000," Richeda said, "he came to me and said he was interested in selling it. I was always interested in original antique cars, so I told him that once I finished college and had a decent job where I could afford a car for a hobby, I'd buy it from him. It took me about five years from once I got out of college to the day I paid for it."
The sequence of events wasn't quite as seamless as that sounds. When the owner learned that Richeda felt he couldn't buy the car until he was established in his career, he began talking to other potential buyers and asked each of them about his plans for the car. They all had schemes to modify it and that was unacceptable.
"He asked me the same thing," Richeda recalled, "and I said 'I just want an original antique as it is.'"
That did it. The Camaro showed 41,300 miles, Richeda said, and was in excellent shape overall as it was driven sparingly by its previous owners in upstate New York before moving to Lynchburg, Virginia. Some of the problems it did have were representative of what might be found on Camaros and other cars of the time.
"It was basically in the condition in which you see it now," Richeda said. "It had some dents in the driver's door that I had to get repaired, the headliner had deteriorated, the underhood insulation had deteriorated. The ground effects were broken loose in the front and there were some scuff marks on it. The striping around the base of the car had faded and had been nicked, so it was just replacing decals and getting it touched up. Under the hood and underneath the chassis, it just had 23 years of build-up."
Those are problems that a restorer should expect to find on a Camaro when it's in the condition of the feature car and if it's not as nice, they point to some areas that might be worse. The upholstery, as on many cars of the period, hasn't always held up well on these Camaros and might be faded, badly worn or sagging. Padding in the seats is often compressed or dried and since the interior has no shortage of plastic pieces, there's a lot of potential for damage such as sun-bleaching, dry-cracking and breakage. An oily film on interior plastic surfaces seemingly in good condition suggests that the end is near while exterior plastic might be cracked or crazed.
By itself, that's not necessarily disastrous and the better news is that these Camaros are not among those unfortunate cars that are extremely prone to rust. They're not impervious to it, of course, but unless the car leaks badly at its hatch or elsewhere, rust damage is likely to be limited to the typical places such as the rocker panels, lower quarter panels, wheel wells and heels. A Camaro with a badly rusted floor is probably going to have plenty of other problems that are easily seen.
There are almost no surprises when it comes to the drivetrain since it relies on well-proven components—few would criticize a Chevy small block— but there's a catch.
Z28s are performance cars and particularly as they reached used-car status and prices, many were treated that way. Any vehicle can stand up to a little bit of spirited driving on occasion and it can handle a little more if it's carefully maintained, but abuse is another matter. A long test drive with the seller starting out behind the wheel can reveal much about a car's past and with a car designed and marketed for going fast, the test drive is as critical as an inspection by someone who knows how a cared-for example should look, sound and feel.
The Proof Is In the Driving
Richeda's Camaro definitely is one that was cared for, something proven by a drive along a narrow, twisting and unfamiliar back road at 50 miles per hour. The car has neither body creaks nor suspension noises, tracks just fine on the few straight stretches and stops without the slightest pull to either side. Its odometer now reads over 61,000 miles, but it probably drives about as it did when new. Despite its inability to pin the occupants to their seats during acceleration, it's more than adequately fast and easily controlled at somewhat above the legal speed limit. But while it generally ignores almost every bump in the road, there's a catch here as well.
"It's fun to drive," Richeda said, "but after a while, your leg starts to get numb and your hands start to get tired."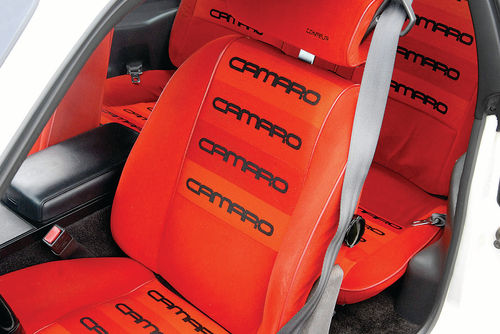 The seats don't provide enough support and demand concessions from a tall driver, a statement that could just as accurately apply to quite a few cars built in the 1970s and '80s.
To a driver accustomed to larger cars new or old, slipping into the Camaro feels at first like climbing into a race car because of the low seat and the positions of the pedals, the shifter and the steering wheel. Spend some time there and Richeda's observation slowly begins to make sense. Happily, he has a solution that's practical, if less than perfect.
"I've got to stop to put gas in it anyway," he explained, "so that's a good time to get out and stretch."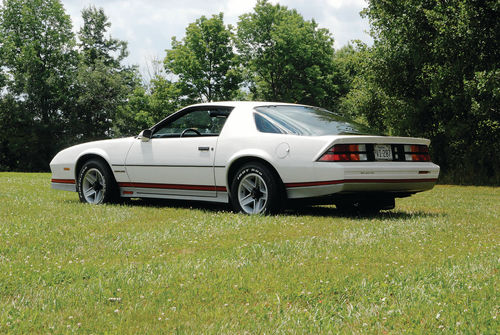 His system must be a good one, since he's driven the Camaro over 20,000 miles all in summer and all to shows and events. It's been working its way through the Antique Automobile Club of America's national judging, but Richeda also recalled some of his early experiences with judging at the regional level beginning at a show in 2009.
"It was just (in) a Camaro class and there were only three in the class," he said, "so I took second. I thought that was pretty good and the following year, they expanded it to accept Camaro and Firebird, '67 through '84 and people who normally beat me. I thought 'I don't stand a chance.' There were 15 of us in the class and when they called my name for second place in the class, I was floored. I couldn't believe it. I'd beaten people who always beat me at the participant-judged shows because people vote for their favorites, what they like."
To anybody who knows, though, Richeda's Z28 looks really good. That goes far toward explaining why his plan is to keep it. "I want to," he said. "Some guys have asked me if I'd sell it and I said 'I don't know. I haven't really considered that."