1982 CHRYSLER LeBARON MEDALLION CONVERTIBLE
It Was the First of the New Generation of American Droptop Vehicles. And This Option-Laden K-Car Cost Almost As Much As a Cadillac.
A SHORTAGE OF AFFORDABLE Karmann Ghias, a vague for-sale ad and an unusually warm March led Ray Pompilio to his 1982 Chrysler LeBaron.
"I was looking for a Karmann-Ghia," Pompilio explained. "I'd had a '63 Karmann-Ghia after I came back from Vietnam. It had belonged to my eighth-grade German teacher and it was a neat little two-door hardtop.
"So I said 'you know, it was a fun car' but I immediately found out that I was looking at the wrong thing. They were too expensive if they were good and they were too rotten if they weren't."
He'd been searching for several months and had actually checked out only one example before happening on an ad while casually browsing Craigslist.
"All it said," Pompilio recalled, "was '1982 convertible.' No picture, nothing. I didn't know what it was, so I clicked on it and then I saw a picture, a side view picture of this car. It had three other pictures and it was supposedly 'for sale by owner.'
"I showed it to my wife and my first comment was 'this is so uncool that it's kind of cool.'"
The Return of the Droptop
Its position on today's coolness scale aside, the 1982 convertible was a LeBaron Medallion and at $13,998, it was not only the most expensive LeBaron that year, but also the most expensive Chrysler. And the car in that ad carried an even higher sticker price when new, thanks to its $861 Mark Cross Edition package.
But what's often overlooked today is something much more significant than cost…namely the fact that the 1982 LeBaron convertible was the first droptop to be built in the United States since Cadillac had produced what was to be the "last" convertible during the 1976 model year.
To be fair, the expectation that convertibles would be legislated out of existence was widely held in 1976, so Cadillac's claim certainly had at least some substance behind it. But that didn't happen and probably for reasons ranging from cost to projected low volume, there seemed to be little urgency to reintroduce open-air motoring. The convertible's revival was always possible, of course, but very few would have believed that Chrysler could even dream of making it happen.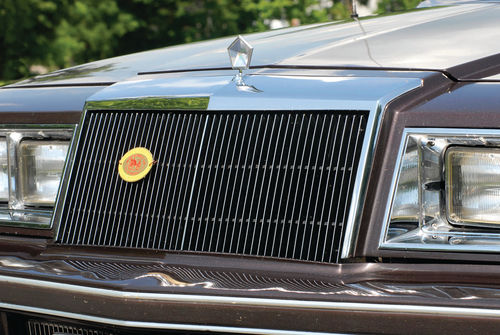 Hard Times Led to Product Juggling…and a Chrysler K-Car
For reasons that are complicated and range from bad luck to poor management to questionable quality, Chrysler by the late 1970s was deeply in trouble. An acceptance that it would fail seemed almost universal and many took the position that it should do so, but the company was able to snag Lee Iacocca, who had just been forced out as president of Ford. When he took over at Chrysler in 1978, he effectively inherited a nightmare. He wrote in his autobiography that "Chrysler needed a dose of order and discipline — and quick." He explained that he'd begun wondering what he'd gotten into and that "it turned out that my worries were justified. I soon stumbled upon my first major revelation: Chrysler really didn't function like a company at all."
To say that Iacocca single-handedly saved Chrysler would be wrong and in his book he cited others for the parts they played. But regardless of how the credit is handed out, Chrysler in 1980 received loan guarantees from the federal government and was able to build on them to find its way back to health. It had already introduced the Dodge Omni and Plymouth Horizon subcompacts in 1978 and had begun shrinking its largest cars for 1979. But the LeBaron had appeared in early 1977 as a mid-size model, powered initially by the faithful 318 V-8, aimed at the Cadillac Seville market, and it continued in concept through 1981. Some rearranging for 1982 turned what had been the LeBaron into the New Yorker and placed the LeBaron name on something very different…the K-car.
There Were K-Cars… and Upscale K-Cars
Almost from its 1981 introduction as the Dodge Aries and Plymouth Reliant, the K-car has been dismissed by some and sneered at by others, but few outside of Chrysler could have foreseen the many variations and close relatives of the K-car along with their impact on the company.
Smaller American cars were becoming more popular, as General Motors had its X-body cars and its J-body cars — which would include even the Cadillac Cimarron starting in 1982. Ford offered the Fairmont and its derivatives while American Motors remained faithful to compacts and subcompacts exclusively. None were perfect, but what matters more than an argument over whose car was better is that the new Mopar certainly had points in its favor.
When it arrived as the Aries and Reliant, it was sold as a station wagon and as a two- or four-door sedan with room for six (in theory). A 99.6-inch wheelbase and 176-inch overall length meant it really was small, and straight lines with sharp edges gave it a boxiness that was somewhat fashionable at the time. Front Wheel-drive helped to reduce weight to about 2400 pounds and the standard four-speed manual transaxle rode beneath a transverse 2.2-liter overhead-cam four good for 84 horsepower. But the real bonus to all of that was the estimated 25 miles per gallon in town and 41 on the highway. Only the most unfettered optimist would have seen it as an exciting package and even Iacocca drew the line at "sensational" when writing of it, adding that it was permissible for him to brag because it had been mostly planned before he'd arrived at Chrysler. Iacocca described the K-car as "a comfortable, front-wheel-drive vehicle that ran well on only four cylinders" and noted that its fuel-economy numbers beat those of the GM X-cars. But while utilitarian practicality was obviously important to a lot of drivers, it wasn't a draw for everyone…and that's where a vehicle like the LeBaron convertible came in. In the early 1980s performance was only gradually beginning to return to the automotive market, but there were other ways to move beyond the routine and Chrysler recognized one of them. Iacocca called it the "time to think about having fun again" and wrote that his experience in driving a one-off LeBaron convertible suggested strongly that such a car had a future.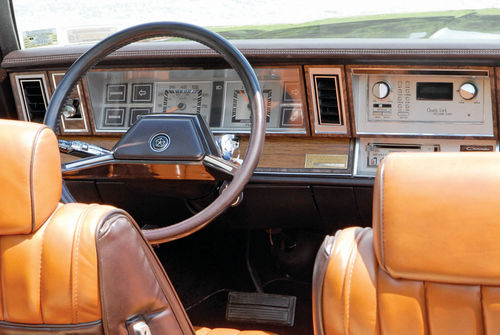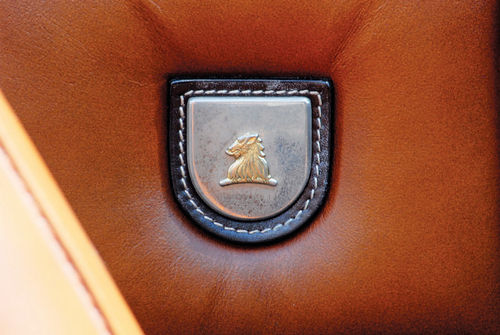 He was right, as almost 13,000 examples were sold in 1982, the initial year for the front-wheel-drive LeBarons like Pompilio's convertible.
The claim that it was the first production convertible from an American manufacturer since the last open Cadillac Eldorado is accurate, although "production" in this case was done initially at Cars & Concepts, where two-door bodies were reworked as necessary to become convertibles, before being assumed by Chrysler.
The top wasn't the only area in which the LeBaron convertible differed from the Aries and Reliant. Under its hood, the LeBaron used a 2.6-liter, 92-horsepower Mitsubishi overhead-cam four, an automatic was standard equipment and while anyone could look at it and see the other K-cars, there were styling tweaks that helped to distinguish it from its lesser kin. They did less, though, to differentiate the LeBaron from an added Dodge K-car, the 400 that arrived in 1982 and included a convertible.
The LeBaron was at the top of the K-car hierarchy, naturally, and a base convertible cost $11,698. The Medallion package added everything from color-keyed wheel covers to halogen headlights to bring the cost to $13,998, but it was the Mark Cross Edition that included the leather-and-vinyl bucket seats, leather-wrapped steering wheel, power assists, aluminum road wheels and more. So equipped, it was not a cheap car and at $14,859, it was less than $300 away from a Cadillac Coupe deVille.
A Very Pleasant Surprise
As affordable transportation, most K-cars were driven until something expensive broke and then either patched together, sold at a bargain price or junked. Convertibles sometimes were kept on the road longer as they became cheap enjoyable cars, but a relative few survived very nicely because their original owners bought them as something other than plain transportation. The latter explains the condition of Pompilio's LeBaron, but before he could get to the bottom of its history, he had to find the car. Calling the phone number in the ad reached a dealer's answering machine despite the fact that the LeBaron was supposed to be for sale by its owner, so he simply went back to a home-repair project until his phone rang.
"He said 'you know, don't be such a blah-blah about the fact that it's not a private owner,'" Pompilio recalled. "'If you want to take a look at it, come and take a look at it.'"
The car was about 70 miles from his Ithaca, New York, home and since March of 2012 was surprisingly warm, that Sunday seemed perfect for a drive. With several hundred dollars in his pocket, he headed for the dealership and was surprised by the car's condition.
"I couldn't believe how clean it was," Pompilio said, "and when I crawled underneath it with a flashlight, no rust. I looked at the interior and it was a beautiful interior. The paint was still nice, the top was nice, so I talked to the guy. He had a small used car business and he had about six vehicles there — it was at his home — and he told me the story about how he got it from the second owner, who was the neighbor of the first owner. (The second owner) bought it and didn't like it because it wasn't fast enough, and so he sold it."
A test drive revealed the need for frontend work, but overall, it seemed to be as good as it looked and some brief negotiation and a deposit made the deal.
Two days later, Pompilio returned and drove the car home. He then learned his first significant lesson about the collector car world when his insurance company viewed the Chrysler as just some near-worthless 30-year-old car. Insuring it with a specialty carrier would have required him to garage the car and he didn't have a garage, but that changed when a neighbor offered space at a genuine bargain rate.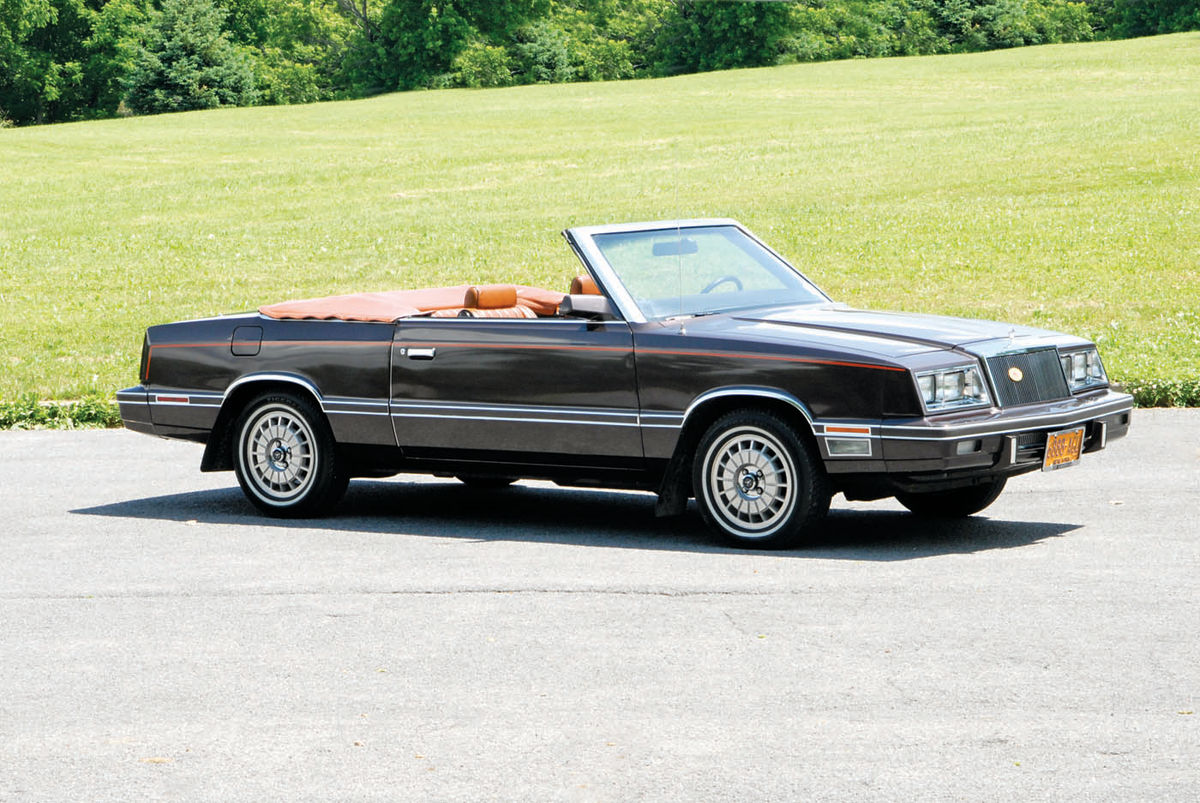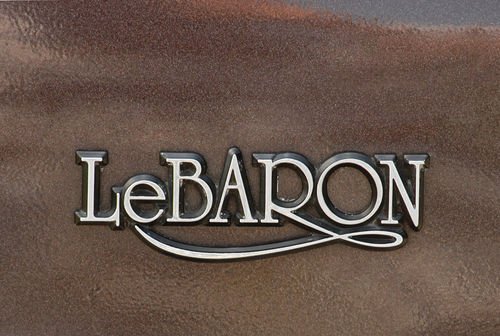 The next lessons had to do with car shows and they ranged from the importance of dressing comfortably and packing chairs and refreshments to ensuring that the LeBaron finds its way into the right class. Mopar classes, Pompilio realized, are preferable to production classes, but not as a means to better the odds for a trophy.
"I don't do it for the trophies," he said. "Trophies are not important. What I like the most is that my car is different enough that people are interested in talking about it. Either they don't know anything about them or they remember them and 'I haven't seen one of those in years.'"
A Historic Original
That his LeBaron is unrestored is something else to talk about and was recognized earlier this year with a Historic Preservation of Original Features badge at the AACA Eastern Spring Meet in Buffalo, New York. Being original, though, doesn't mean that maintenance and repairs have never been necessary. There was the ball joint he replaced right after buying the car and the installation of new struts, which cut short a trip to Carlisle.
"I drove about 70 miles," Pompilio recalled, "and suddenly, there was a loud clunking going on. I just turned around. I said 'I don't know what it is, but I'm not going to continue.' It turned out that one of the struts was defective and it just snapped."
The Mikuni two-barrel carb underwent an expensive rebuild, he said, and that boosted reliability and performance.
"It was running on one barrel," he explained. "The secondary was not operating, so it made a big difference. Right after I did the carb, I went to Buffalo and I drove Route 5 going out and I got about 25.5 miles to the gallon. I did the (New York State) Thruway and then state roads going down to Syracuse and I got about 24. I filled up today and I only got 20.5 because all I was doing was local stuff, back-and-forth."
Gas stops might be infrequent, but they're still required and sometimes the LeBaron is spotted while at the pump.
"Some will (notice it)," Pompilio said. "'Is that a K car?' A number of people do say that or if they don't know, they say 'what is that?' From the front, it doesn't have any name-badging. I've been noticed a couple of times out on the highway. Some people are kind of surprised to see it, especially people who remember it.'"
Plan On Searching for Trim
Other good originals are out there, but many of those that turn up for sale are going to need some degree of help. Pompilio warned that the carburetor problem that his car developed is not unusual and said that when he spoke to his LeBaron's previous owner, he was told not to touch the carb as long as the car ran well.
"It ran well until November of last year," he said, "and then it stopped running well. It surged at idle and that's when I learned that it was really running on just one barrel.
"I would check that out (on a prospect), but the main thing is to look underneath it. Even if the body is looking good, it could've been repainted. Look underneath and see what that looks like because they were notorious for rusting."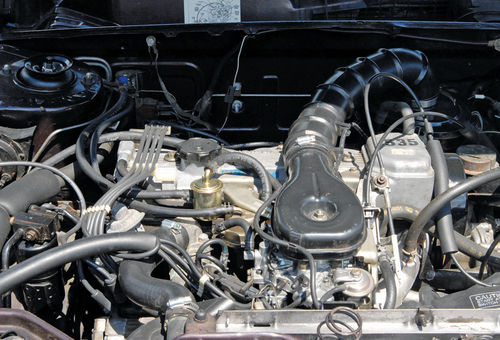 The rust, he said, might be at the suspension mounts, in the floor, the trunk floor, the rocker panels and the wheel wells or behind trim pieces. And the trim pieces themselves, not surprisingly, introduce another set of problems.
"If you want the car to be (correct) or you want to restore the car," Pompilio said, "then you're going to have to work hard to find trim, really hard. The trim goes all the way around the car, a lot of trim. Plus when I bought the trim pieces at Carlisle from the guy I'd bought other stuff from the previous year, I didn't even notice it right away — but I looked and one of them was not dark brown. I have the dark brown trim and this was more like a dark gray. I used to be a woodworker and one of my main jobs was doing all of the finishing work, staining and so on. I could change the color of that if I had to.
"Currently, though, things like the side marker lights are still available. The lenses are still available, new old stock. Some of them are getting ridiculously expensive, but on some of them you'll find good deals."
Convertible Top Work Can Be Expensive
The soft top adds problems that aren't exactly unique to a LeBaron. Pompilio said that the rubber pieces on his car's top are no longer as soft and flexible as they should be and that he so far hasn't found a source for replacements. The top itself is in good condition, he said, but the zipper holding its window doesn't work as it should.
"There's an upholstery shop here that does convertible tops," he explained, "and I told him about the window problem I had. I can avoid it by not unzipping the window, by partially unzipping it or if I really want to, I can fully do it and then when I put it back up, I have to put my finger in it and pull the plastic back up so that it goes back. It's doable, but you have to pay attention. I said I know I can get a window, a plastic zippered window. In fact, there's one I have bookmarked right now that's the window I would need. It's $100 for the window, but there's labor there in sewing it in as well.
1982 Chrysler LeBaron
ENGINE
Type Overhead cam in-line 4
Displacement 156 cu. in.
Bore x stroke 3.59 in. x 3.86 in.
Power 92 hp @ 4500 rpm
Torque 131 lb.-ft. @ 2500 rpm
DRIVETRAIN
Transaxle Three-speed automatic
BRAKES
(f/r) Disc/drum, power assisted
MEASUREMENTS
Wheelbase 99.9 in.
Length 179.7 in.
Width 68.5 in.
Weight 2718 lb.
Tire size P185/70R14
"He told me 'with the condition of your top, I wouldn't replace the window because it's too much money and then if you want to replace the whole top with the window, you're talking labor of $1500, easily.' That's something that I wasn't aware of. That's something I would warn a prospective buyer about."
The convertible top's boot is another consideration, he said, as finding one in the correct color can be a challenge. Oddly enough, he said that instructions in the convertible handbook describe storing the boot in the trunk, but the boot on his car is permanently attached.
Everyday mechanical parts necessary to keep the car running should mostly be available. That's a good thing in Pompilio's case since he bought the LeBaron with 44,000 miles showing and he's added another 5000 since then, mainly on secondary roads.
"It's not like a car with a big wheel and no power steering," he said. "And it's got power brakes. It's a comfortable car to drive. It's the kind of car you can just drive and relax and that's why I take the roads I take."
Serving Up Some Holiday K-Car Cheer
Today, K-cars as a group typically draw casual attention because they're unusual while serious attention comes mostly from those who know automotive history or have a personal connection to them. Pompilio was at the Mohican Model A Club's show in Wampsville, New York, when he learned of just such a personal connection and the emotions it could still inspire more than three decades later.
"A guy who ran a transmission shop and used to work on them all the time and another guy who was with him were looking at it," Pompilio recalled. "I was talking to them and the other guy, not the mechanic, almost started crying. I thought that was a little weird until he told me the story. Back in that year, 1982, he was working as a salesman for a Chrysler dealership, having a really bad year, and it was approaching Christmas and he didn't have money for Christmas presents. He was really in dire straits.
"The owner of the dealership had one of these in this exact color, mahogany metallic with the white top. It was in the showroom and he said 'in addition to the commission, anyone who can sell this car'll get a $500 bonus,' which in 1982 was a pretty good bonus. The guy said 'yeah, right' and then the next day he was on duty when some guy comes in, sees the car and says 'oh, I want that car for my wife for Christmas. I'll pay for it, I want you to drive it there right before dawn on Christmas morning and park it in our driveway so that it can be a surprise.' You see these commercials with the bow on the car. This was for real. So he did it, and he almost started crying telling me the story of how it saved his Christmas.
"That was kind of cool. To me, that adds a little quality to the car."