Finding Trim and Metal Parts for This Uncommon Car Can Be a Difficult Task. But It's Worth It, as the LTD Represents the Last of the Truly Big Cars.
TWENTY-FIVE YEARS AGO, Jim Cassidy's 1976 Ford LTD Landau was parked in a city alley, looking kind of sad and in line for a few more setbacks before its eventual restoration.
"My stepbrother was walking home from work and found the car sitting there," Cassidy recalled. "It was for sale for $150 after it had an interior fire.
"The guy who owned it had put an interior back in it. He'd put a maroon dash in it, he'd put a maroon headliner in it. It didn't match anything, but he'd put it back together just so that he could sell it."
Cassidy's step brother bought it because it was cheap transportation that could be driven until it was used up and that made sense for more reasons than just the LTD's condition. By 1989, it was a car that seemed huge in comparison to what were then the current Fords, it looked nothing like most of them and it vaguely resembled only its namesake descendant, the LTD Crown Victoria.
A Tradition of Upscale Fords
Ford had added the LTD as the best trimmed version of its top 1965 model, the Galaxie 500. It was a concept that Ford had been refining throughout the postwar years since its introduction of the Sportsman in 1946. A wood-bodied convertible, the Sportsman was that year's most expensive Ford at $1982, a significant jump from the $1553 station wagon that was also in the Super Deluxe line. That might not seem like a big difference, but in today's dollars, those prices work out to $23,942 and $18,760 respectively.
The Sportsman was gone after 1948 but the idea of offering upscale Ford models lived on in vehicles such as the 1950 Crestliner. A two-door sedan, the Crestliner wore a vinyl roof, extra chrome and unusual two-toning whose contrasting color was in a lower-bodyside scallop. In 1951 Ford launched its Victoria two-door hardtop.
Unlike the Crestliner, the Victoria was back in 1952 and in 1955 was joined by another two-door, the Crown Victoria. A unique and expensive model, its big feature was a band of chrome from beltline to beltline over the roof at the B pillar.
Move forward a few years and a 1962 ad described Ford's Galaxie as "the world's most economical luxury car… Its luxurious features surpass those of all but a few of the world's costliest cars. Its silence whispers of the care with which it is crafted." Another ad that year introduced the Galaxie 500/XL, "a full-size missile designed to make any stretch of concrete feel like a horizontal launch pad," a reasonable claim for an XL equipped with a 405-horsepower 406 and a four-speed.
The 500/XL with a 425-horsepower 427 was "the hottest road missile you can find in any U.S. showroom" in 1965, but it also had "the look of cool elegance." Another ad observed that "quiet is the mark of quality — quiet is the word for a Ford XL. (It rode quieter in actual tests than a Rolls-Royce!) XL is a big, rugged family-sized car with standard sports features like bucket seats, 289 cu. in. V-8, and a floor-mounted 3-speed Cruise-O'Matic transmission."
That list, of course, applied to the basic XL, which was more sporty than high-performance, but it was a "family-sized" car and anyone who couldn't see where "family-sized" Fords were going had only to look at the new LTD.
"Is there nothing exclusive left for the rich?" a 1965 ad asked. "For instance – what car offers you more luxury than Ford's new Galaxie 500 LTD? LTD has: a new, stronger body creating a new level of quiet comfort; upholsteries so costly they are matched by few cars at any price; richly paneled interiors… In fact, it has everything but a luxury car price.(Probably you can do without that!)"
Many people really did want to feel rich and not only in 1965. While 1970 was the last year for the XL, the LTD went on into 1991, when its final version — the LTD Crown Victoria — was replaced by a completely new design whose name was now just Crown Victoria. Through it all, the LTD had generally served as the high-end model and in later years held an additional role by offering a traditional, rear-wheel drive, full-size choice to Ford buyers.
A Long, Wide Remnant of Another Time
When Jim Cassidy's car was built, there was nothing remarkable about rear wheel-drive and full-size, but the automotive world was changing. Governmental decrees demanded both higher fuel economy and lower emissions often at the expense of performance and drivability. Horsepower had fallen and although the industry's move from gross to net figures made it seem worse, it was bad enough; the feature car's 351 produced just 152 horsepower, which isn't much in a 4300-pound car. That was probably one reason that this vehicle had reached the level of a $150 beater when Cassidy's stepbrother found it, but there was more. Compacts, intermediates and downsized large cars by then had produced gradual improvements in economy and emissions as well as better performance and handling, all of which made a car measuring 79.5 inches wide and 223.9 inches long seem hopelessly outdated.
However, at the time the price and the fact that it could be driven were about all that mattered. But then his stepbrother had an accident a few months after buying the LTD, Cassidy said. His parents hoped he'd repair the damage rather than buy another cheap car, he said, but his stepbrother planned to scrap it and it spent a winter parked.
"Once the winter broke," Cassidy recalled, "they said 'OK, we're going to get this car out of the driveway. If you're not going to do anything with it, we're going to get rid of it' and I said 'you know what? I think I want it.'"
With that, the LTD was his and he took his time working on it as he was only 15 at the time and didn't have a license. But the car's problems were far from over.
"I got it back on the road as a car that an 18-year-old would want to drive," he admitted. "I jacked it up with the air shocks, got rid of all the chrome, got rid of the air conditioning, got rid of the seats and put bucket seats in it because that was the cool thing to do. I put bucket seats out of a Jeep in it. Then I really did some bad things to the car."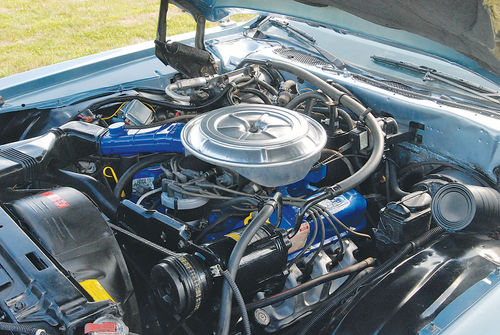 How bad?
"I wrecked it a couple of times," Cassidy said. "I hit a deer with that car at 80 miles an hour, a week after it was painted. I hit the deer so hard with the passenger-side front that it spun the car around and put the driver's-side rear quarter panel into the guardrail after it came off of the road. That's the reason why there was actually a double quarter panel on the car. Underneath that quarter panel was another quarter panel because that's what I did back in the day. I bought a skin because (the accident) crushed it right in, the whole back."
At that point, things weren't quite turning around for the car, but they'd at least stopped going downhill. A body shop refused to provide an estimate on repairs and instead told Cassidy the car was a total loss, something that didn't sit well with him.
The Ford waited in his parents' driveway again as he tried — mostly without success — to find parts and repair what he could. It then went into a rented storage space and remained there until 1998, when he bought a house with a garage in which it spent several more years. For a while, it was undisturbed there, too, but only for a while.
"I started looking at cars and going to car shows, and realizing that there wasn't one of them," Cassidy said. "A Thunderbird, a Grand Marquis, yes, but there wasn't one of these. So I started looking around, buying parts and I kind of used it as an excuse early on. I said 'we'll get married' to my fiancé, 'let me restore the car and we'll have it in the wedding.' She was really good about it. She put up with a lot of me spending my days off and every hour after work in the garage and it was a good two years' solid of buying parts and a year and a half of putting it together. It was done in 2004 and we got married in 2005."
The Restoration Was Frustrating at First
Once Cassidy began the restoration, he found that the roof and — surprisingly — the floor were the best panels on the car as they had no damage from accidents or rust.
"Everything had to come off of it," he said, "and I mean everything. When I started tearing into it, I really questioned whether I should be doing it. I got to the point where the body was sitting no longer attached to the frame and I was still finding stuff that needed attention. But again, no one had one and the floors were in good shape. I remember a lot of guys putting together cars where you could literally fall right through the floor, so I thought 'the frame's in good shape, the floor's in good shape' and I started buying parts. Once I found the quarter panels, I knew that that was it."
1976 Ford LTD Landau
GENERAL
Front-engine, rear-drive two-door pillared hardtop
ENGINE
Type Overhead-valve V-8
Displacement 351 cu. in.
Bore x stroke 4.00 in. x 3.50 in.
Compression ratio (:1) 8.0
Power 152 hp @ 3800 rpm
Torque 274 lb.-ft. @ 1600 rpm
DRIVETRAIN
Transmission 3-speed automatic
BRAKES
Brakes Disc/drum. Power assisted
MEASUREMENTS
Wheelbase 121 in.
Length 223. 9 in.
Weight 4300 lb.
Fords such as Cassidy's aren't especially resistant to rust, so his search for good usable body parts extended well beyond the area around his Jessup, Pennsylvania, home. The break came, though, when he found an Ohio vendor who had both quarter panels, both doors and both fenders. That was important.
"I didn't want filler, I didn't want to patch it, I didn't want to do skins," Cassidy said. "I wanted to paint it back to the original blue and I knew it was a tough color. If it was wavy, you'd know it."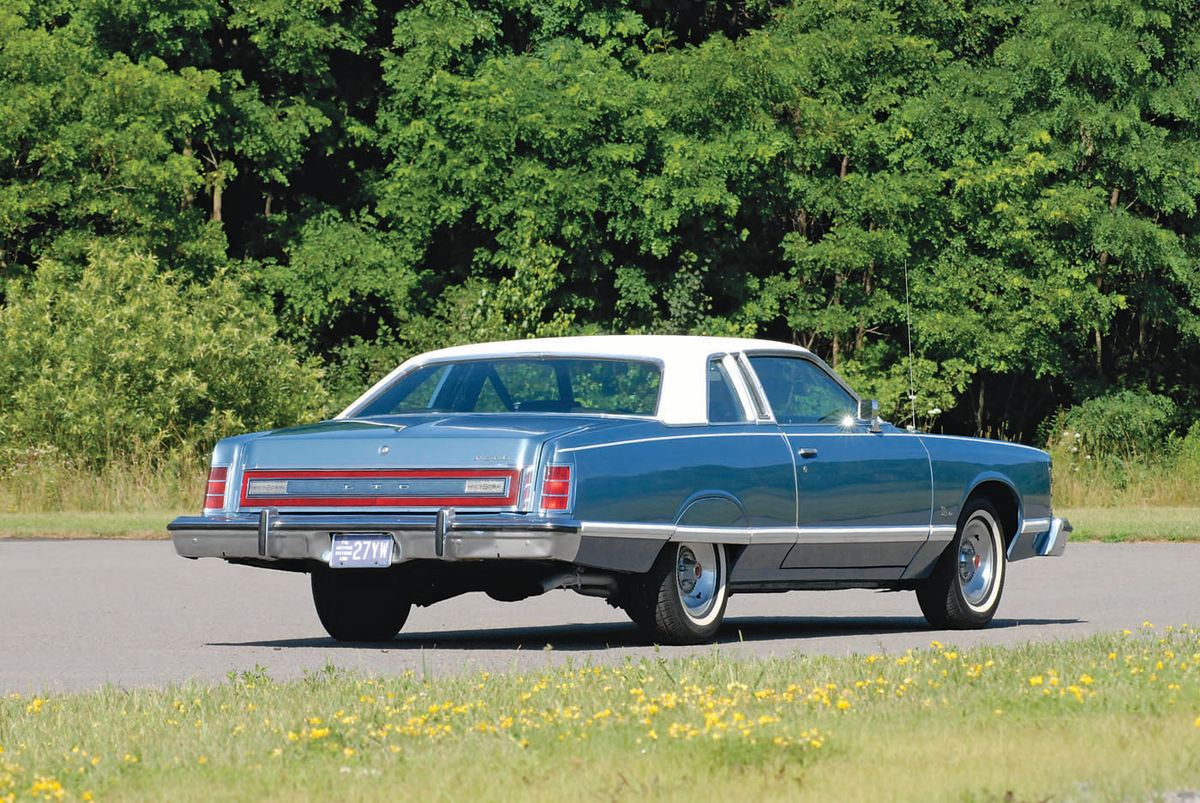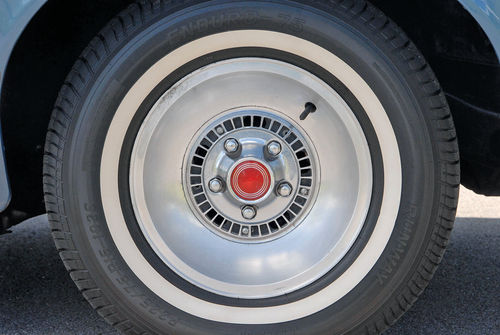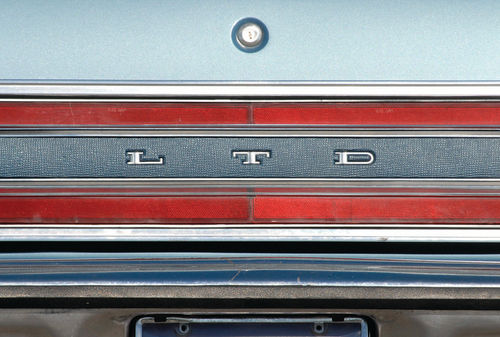 Bumpers Complete With a Buzz
Searching a salvage yard in Scranton turned up one donor car that had been through a flood and was teetering on top of several vans, but still had some usable parts.
"My buddy and I went to check this car out," Cassidy recalled, "and I said 'I'm not leaving without the bumpers' because the bumpers on that car were in excellent shape once we brushed the dirt off of them. We took the parts off of that and we loaded them into his Bronco. This was the dead of winter. We were freezing. We busted our humps trying to get all of the stuff into this Bronco — and these bumpers are huge — and we were driving around and just out of the blue, we noticed that there were bees in the truck. 'How the hell did we get a bee in the vehicle when it's so cold out?' They were nested in the front bumper and we never knew it. When we got the heat going in the Bronco we had these bees."
Fortunately, the drive back to Jessup was just a few miles, so opening the windows and turning off the heater was the quick answer. Leaving the bumpers outside of his garage allowed for a more permanent solution.
"The bumpers are original and they've got their marks on them," Cassidy said, "but for the most part, they're in really nice shape."
The Trim Was a Major Challenge In More Than One Way
Exterior trim was more difficult to find than sheet metal or bumpers and while the car was indeed ready for his wedding and entirely presentable, it wasn't complete. The lower side trim with its vinyl inserts and the fender skirts were missing, he recalled, and he'd effectively resigned himself to the likelihood that he'd never find them. That began to change, though, when he came across one piece of the side trim. It was new old stock, but it was just a single section and he had no idea where he'd acquire the rest.
"It was probably a good three years before I had all the pieces of trim," Cassidy said. "All the different inserts were different colors. I had green, I had brown, I had cream. I even had some blue and I considered making it blue, but with the white vinyl top, I didn't want to put blue on blue down the side of the car because it wouldn't stand out. I decided the white was the way to go and believe it or not, when I started looking for that trim is when I found the color-matched rear nameplate for the trunk lid. They were color-matched to the body or color-matched to the interior and that car had a blue interior, which I was able to find and refit. I paid dearly for that piece of trim, but I wanted it. I wanted it more than most of the things I bought for that car because it was something that was correct for it. It was a long battle finding trim."
It wasn't the whole battle as there was still the matter of its color, so he learned from a detail shop that flexible paint designed specifically for vinyl was available. Before he could make everything white, however, he had to disassemble it.
"The trim actually has metal inserts in it that are pushed through holes in the stainless molding," Cassidy explained, "and then they're bent over in a 90 (-degree angle) to hold them in there. So each piece came out of its box — they were all stored in the attic — and I was meticulously trying to get those pieces off of there without breaking those tabs because they're useless if that happens. Then, they were adhesives in there, so not only did I have to get those tabs and not break them because they're metal, I had to slide down them with a putty knife that I was heating up so that I could slowly separate (the trim) from the adhesive. I got each piece off and we actually got them all white. Then, we had to put them all back on without messing up the paint."
The vinyl top was replaced and a new headliner was installed to go with the blue interior and dashboard that had come from the car in the Scranton salvage yard, but the challenges all of that presented were offset by the mechanical phase of the restoration. The key factor, obviously, is that the engine is a 351 and like most American V-8s of the past 50 or 60 years, it's a tough engine that's far from rare and remains well-supported today. The secondary factor in the case of Cassidy's Ford was some good fortune.
"The engine came out of a car that was given to me," he said. "It was a four-door, cream-colored LTD and the engine itself has about 100,000 miles on it, I would say. There are new bearings in it — but not new pistons, not new rings — new timing chain, all the wear parts because once I put it in, I didn't want to take it out and take the chance of scratching the body or something like that. So it's been gone over; I wouldn't say it's been rebuilt, but it's been freshened up."
Some of the mechanical work was less dramatic, but just as important.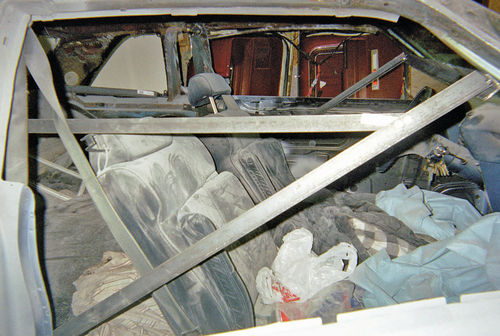 "When I put that car together," Cassidy said, "I did a frame-up restoration on it and it's got new lines. There's no old brake line on it, there's no old fuel line on it, there's no old gas tank in it…
"I would take it anywhere. I wouldn't have any reservations. Since I put the car together, I did have the fuel pump go on it, but I think it was from boredom because it went externally. It still worked, but it wept. But I wouldn't have any reservations about taking it anywhere."
Would I Do It Again? Well…
The car might be ready, but time constraints keep Cassidy from putting many miles on it. He's driven it enough, though, to have a good idea of the reactions it generates. It's a certainty, he said, that someone will take it to be a Lincoln and ask its year. Others will want to know why he chose to restore it and how he did so without reproduction parts. He's had an admitted non-Ford fan that noticed him filling its tank literally run across the street and tell him that seeing the car is unbelievable.
"Recently," Cassidy said, "one of the funnier borderline-insulting things was when someone walked up to it and said 'wow, look at the size of this. You could make three cars out of it today.' He walked around it and he walked around it and said 'driving this car would be like sitting in your living room and just not having a TV. Nowadays, if you had something like this, they'd probably require you to have a CDL (commercial driver's license) to drive it.' The CDL comment hurt a little bit. I was like 'damn. It's not that big.'"
The part about the living room, though, is probably close.
"There's a lot of room in that car," Cassidy said. "If you sat in the back seat, you'd still say that. Even as old as it is, those seats are original seats — not from that car, but they're original seats from that era — and they're good to sit on. I'm just shy of six feet and I can sit in the backseat of that car with someone as tall as I am sitting in the front seat and still have plenty of room."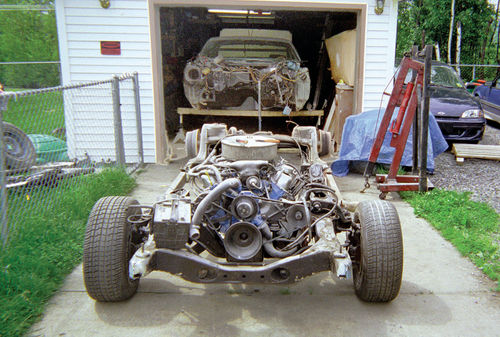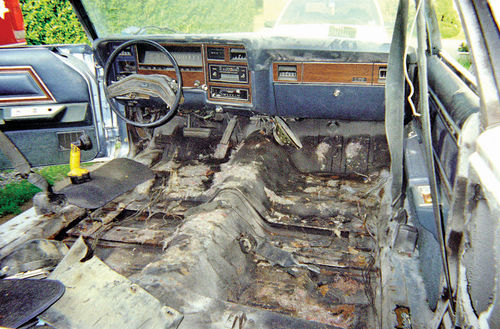 His LTD has no shortage of pluses, but he said that one like it wouldn't be a good restoration project unless the owner understood the challenges. Finding body parts is still difficult and there is that tendency toward rust as mentioned earlier. It probably isn't much more susceptible than other cars of its time and rust in the quarter panels, rocker panels and fender heels is easily seen, but the floor, trunk floor and edges of the hood and trunk lid call for a more careful look.
"The rear frame horns and the rear crossmember on the frame; that basically structures the rear bumper support," Cassidy stressed. "That's a huge, huge problem on that car."
Besides understanding that he'd likely be hunting for parts and addressing rust, he said a prospective owner would also need a real reason for wanting to restore it.
"I would say 'yeah, it's the wrong car to restore, absolutely,'" he explained. "I don't know that I would buy another one and do it again because I don't know that I would get that lucky again.
"But this one was right. This one was right because of the history involved."
It's a statement that can actually be proven with some pretty convincing evidence.
"That car is the reason I didn't get my license until I was 18," Cassidy said. "I was too busy working on the car."