1975 Buick LeSabre Convertible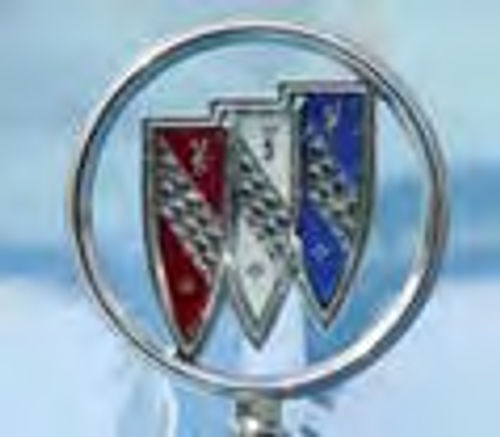 It May Look Like One Car But Actually It's a Mixture of Three Fortunately, Everything Fit Together Very Well
MID-1970S AUTO enthusiasts had few reasons to rejoice as performance waned, governmental mandates reached new levels with the seat belt-interlock…and American convertibles disappeared.
Buick fared essentially no better or worse than the other marques, and the 1975 LeSabre Custom shown here is, at best, adequately powered like most of its contemporaries, but generally free of any styling excesses. It represents Buick's final year of convertible production and just 5300 examples were built without anything like the spectacle that accompanied the "last convertible" at Cadillac one year later.
After all, Buick had often been the more low-key of the two divisions. Often, but not always.
The Buick LeSabre
Buick dates to 1903 under its founder, David Dunbar Buick, and became part of General Motors in 1908. Initially a two cylinder runabout, four-cylinder models followed in 1907 and the first sixes in 1914. By 1925, all Buicks were sixes and beginning in 1931, all were eights.
The 1931 model year brought something else, as Buick introduced a new high-end line, the Series 90. The 90 didn't quite place Buick in Cadillac territory—the costliest Buick Was priced at $2035 while the cheapest Cadillac was $2695—but it was by no means an inexpensive car. After all, in 1931 it was possible to buy a Ford Model A for $430 or a Studebaker for $845.
The Series 90 became the Limited in 1936 as Buick added names across the board and although it was a large car that remained the division's flagship, it could not be called ostentatious; all Limiteds were now sedans or limousines that exuded restraint and quiet dignity. Given their weight that topped two tons, though, they needed a powerful engine and the solution was a 320-cubic-inch, 120-horsepower overhead-valve straight eight.
Now fast forward to 1958. When Buick unveiled its '58 models, they revealed an almost-clean break with the past. The cars were much more angular than those that had gone before, carried more trim and were three to four inches longer than their immediate predecessors, depending on the series.
And then there was the revived Limited. At 227 inches long, it beat other 1958 Buicks by eight to 15 inches and exceeded the longest 1957 model by a foot. The Limited had its own trim and lots of it; louver-like chromed bars ran along the quarter panel between a pair of horizontal chromed bars and fins ended in substantial, heavily trimmed taillights. All of that was on top of an already seriously decorated car, as the Limited shared much of the other Buicks' trim.
What the 1959 models lacked in brightwork by comparison to the 1958s, they mostly made up for with styling, including slanted headlights that mimicked the slanted fins. The new Electra 225 was the most expensive model, but fell short of the previous Limited's overall length by about two inches. At the bottom of the line, though, was another new name, LeSabre.
A mere 217 inches overall, the LeSabre badge was destined for a long life. It would never rise to the top of the full size Buick line but that wasn't necessarily a negative thing for a Buick. Consider that in its inaugural year, the LeSabre was available as anything from a station wagon to a convertible.
The LeSabre had appeared as Buick Was making some big changes in names, with 1958 seeing all of the old badges— including the Century and Roadmaster— replaced by the Invicta and Electra in addition to the LeSabre and Electra 225.
By the time the feature car was built, Buick Was preparing for the downsizing that General Motors would pull off with its 1977 cars. And with a general sense that convertibles would be legislated out of existence, Buick offered the open LeSabre for the final time in 1975.
A Pound of Beef and a Buick…
Thirteen years later, Rich Wooden was looking for a convertible, his major requirement being that it have a white interior for the very pragmatic reason that a white seat doesn't become painfully hot in the sun. He drove to Carlisle, Pennsylvania, that summer and returned empty-handed to his home in Waterloo, New York, where his luck improved.
"There was a butcher shop in downtown Waterloo that I'd frequent weekly," Wooden recalled, "and the butcher in there had a meat locker building out back. I'd always park in back and he had the garage door open one day and I saw the car in there… That was the first time I'd seen it parked there. I mentioned it to him. I said 'Gus, if you're ever interested in selling that car, I'd be interested.'"
Of course, that touched off a discussion on the price and Wooden said that the Buick's owner knew that if he sold it to him, the car was more likely to be cared for than it was to end up junked. As they talked, they went out to the garage to inspect the car.
"I sat in it," Wooden said, "I turned the key, stepped on the gas pedal one time, turned the key off and said 'I'll take it.' When he asked me if I was serious, I asked 'Don't you drive it much?' He said, 'I filled up the gas tank last year and it's got a half-tank in it now.' He said, 'Here's the keys. Drive it for the weekend and make your decision then.'"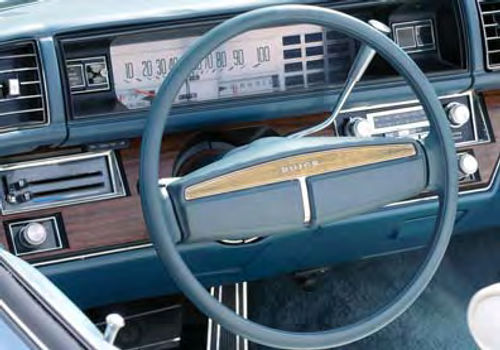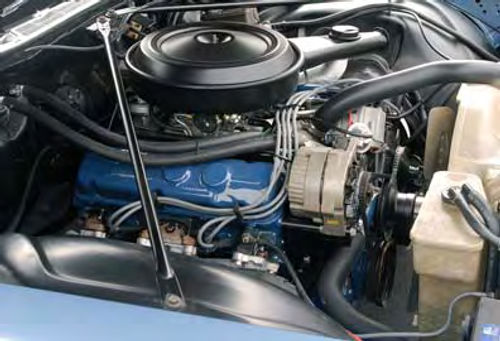 The extended test drive sold Wooden and with roughly 60,000 miles showing, the Buick ran well, but he knew that the car had some problems. It had been repainted, for example, and the base coat was checked, but the clear coat was fine and the car looked good from a distance. Nothing about the Buick prevented Wooden from enjoying it for the next several years.
"The top was a little ragged," he said. "It was starting to rip at the edges above the doors, so I had the top replaced, I believe, the next summer and that's the one that's on there now."
An Extra Rust Hazard
The convertible mechanism operated as it should, although he needed to replace several of the components that hold the rear glass.
"The top that was on it," he explained, "had a vinyl window in it. Somebody had replaced it and they didn't go with the back glass. It had the vinyl and it was all clouded, so I made sure that I put the glass back in it. It's molded into the top and attached to it.
"Actually, they made one with a defroster on it. This has that option, but I didn't realize it, so I didn't get the defroster in the glass. I wish I had because on cool fall days, they tend to fog up."
That last point hints at a weakness common to most convertibles; they're not watertight and if they're not watertight, in most climates, they'll rust.
"I had three of those cars to make the one," Wooden said, "and every one of them had about 60,000 on the odometer. Other than the car that came from Arizona, they were bad. They were rusted out. Most people didn't garage them and if you didn't garage them, it was just a cycle. Once the carpets got wet, it was downhill from there."
The three were two parts and the feature car.
The Arizona parts car lacked a drivetrain and an interior; Wooden said that its appearance on delivery was bad enough that had he seen photos of it, he probably would not have bought it, but things still turned out well.
1975 Buick LaSabre
GENERAL
Front-engine, rear-drive, two-door convertible
ENGINE
Type Overhead-valve V-8
Bore x stroke 3.80 in. x 3.85 in.
Displacement 350 cu. in.
Compression ratio 8:1
Carburetor Rochester four-barrel
Power 165 hp at 4000 rpm
Torque 270 lb.-ft. at 2000 rpm
DRIVETRAIN
Transmission Three-speed automatic
Rear end Hypoid
SUSPENSION & BRAKES
Front Independent, coil springs
Rear Live axle, coil springs
Brakes (f/r) Disc/drum, power assisted
STEERING
Recirculating ball, power assisted
MEASUREMENTS
Wheelbase 124 in.
Length 226.9 in.
Weight 4392 lb.
Tire size HR78 x 15
"I had some solid fenders and a solid shell," he said, "good floorboards, good trunk and to start a restoration, you need that. (It provided) the whole shell, the trunk to the firewall. The nose came from Texas (via a local vendor).
"Because on my shell, the driver's side quarter was wrecked and the driver's side door was wrecked, I had him bring up a quarter panel off a hardtop because I couldn't find one off a convertible. When he came up with the door and the quarter panel, I saw what kind of condition they were in and so I had him get the other door, the two fenders, the hood, the decklid, the header panel, the bumpers. I probably should've had him bring the whole car up. That probably would've been cheaper."
All of this should be generating a picture of the Buick's condition. Wooden said the doors and fenders were fair, but were beginning to show rust seriously enough that he felt replacing them made more sense than repairing them. Wisely, he chose to save everything potentially usable from the Waterloo car.
"You never know," he said. "I've got an extra set of doors. I've got an extra set of fenders. I've got the decklid, I have the hood, I've got the header panel, but with the original parts, where you notice the problems is on the seams. The seams start to bubble up and rust. I've got that. They're there if I should ever need them, but the parts that I got were much nicer."
A Rear End From Here, a Transmission From There…
The car wears its original grille, which has a few marks but is definitely passable, and if all of that's not sufficiently complicated, consider the drivetrain. The feature car has its original rear end, but a different transmission and engine.
"The one parts car had a low-mileage 350 in it with a Turbo 400," Wooden said. "The original was a Turbo 350, so I had the Turbo 400 rebuilt a couple of years ago and I put that in there. Luckily, I got the driveshaft and everything with it. The kickdown on the Turbo 350 is mechanical, whereas on the Turbo 400 it's electronic, but I had the wiring harness and everything out of the parts car and I swapped everything over."
The current engine?
"From my parts car that had the 350," Wooden said. "That car was a rust bucket. We couldn't salvage much from the body panels. Even the chrome was all pitted. But I figured there were some usable parts and it was only $150. How could I go wrong?"
He rebuilt the engine before installing it and although the restoration was completed in 1997, the current engine went in only recently. Until then, the engine that was in the car when he bought it had needed only new gaskets and paint.
"Up until the year before last, it ran well," Wooden said, "so I figured 'why mess with it?' That was a 350.
"It served me well until one day when I went out there and it was knocking pretty badly. I figured it was time. I don't believe it was the original engine, so I really had no idea how many miles were on that engine."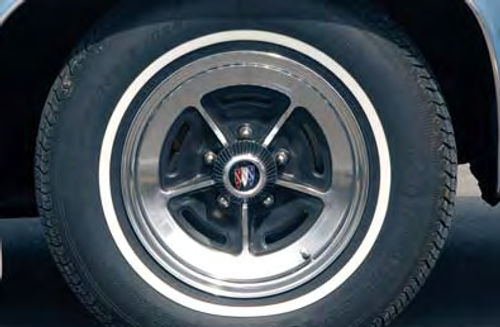 Those Windows Just Don't Fit
With all of that in mind, his having completed the restoration in just two and one half years is impressive, especially given the result. He only assisted with the exterior's painting because he wasn't sure that he could do that phase as well as he wanted, but he did some of the other painting and bodywork with a combination of help and guidance from the painter.
"He would come by on the weekends," Wooden said. "I would prep things, get things ready to go and he would come by and we'd gradually do one step at a time."
Even with the Buick stripped down as much as possible, it was no simple task to get it right. And the Buick is a big car.
"Everything was in primer inside and out," Wooden said, "so you shoot inside the panels and the edges and then you assemble it and fit your panels and then you continue on and shoot the outside from there.
"Masking it after that point to shoot the outside took hours. If you don't do a proper job in masking it and you overspray everything that you just did, that takes away from it."
The teardown extended to removing the regulators and side glass both to protect them during the bodywork and to provide better access to the doors' interiors. The doors from the Texas parts car were no worse than dirty inside, so Wooden cleaned them and then treated the surfaces with POR-15 to prevent rust from forming. While reinstalling the windows, though, he ran up against an imperfection with which he chose to live.
"I spent hours trying to get the glass realigned," he said. "I came to the conclusion that I don't believe they were perfect from the factory and I wasn't going to get them perfect no matter how many hours I spent. I drive the car with the top down and the windows down and it's stored inside, so if it doesn't really seal properly, I'm not worried about it."
Hours With the Woodgrain Trim
The interior was restored with a combination of original and new pieces by an upholstery shop, but Wooden saved one of the most tedious tasks for himself by salvaging plastic woodgrain trim and reinstalling it. The upholsterer, he recalled, was skeptical.
"The guy did not want to do it," he said. "He's putting his name on it and he said 'they're going to come off.' I said, 'I don't really have much of a choice. This is the best that I can do.'"
It's difficult to say whether it's more surprising that the reapplied woodgrain has held up well or that Wooden was able to remove and reuse it. The fact that the woodgrain is trimmed with chromed plastic made the work even more involved.
"You had to kind of lift it off of there and not peel it and pull it," Wooden explained, "because it tended to fold the chrome. It wasn't easy, but I did it. It didn't really take too long, maybe a couple of hours for the work."
A "couple of hours" spent in removing a part with no fasteners actually is a long time, but the plan was to gather those wood grain pieces in the best condition from the parts cars and the feature car.
"They were the best ones," Wooden said, "and it was 'this is it. Do or die.'"
The feature car can't come close to some earlier Buicks in terms of exterior trim, but what it does have needed attention. Wooden said that he buffed pieces such as the stainless windshield molding, used some of what was on the Arizona parts car and bought other pieces.
"The lower body molding under the doors," he said, "I bought those used because I couldn't find aftermarket ones. I actually used a 1200-grit sandpaper and I sanded it and then polished it. I would say I probably spent weeks on it."
Some Buick Family Faults
Obviously, he's familiar with his car and the parts cars, so he has a good idea of their likely problems. For one thing, all of the Buicks that went into the convertible featured here were rusted in the same places.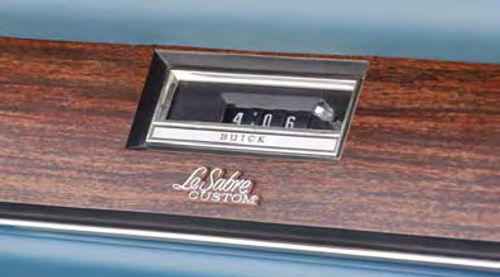 "Door bottoms, quarter panels, behind the rear wheels," Wooden said.
Other rust sites were the floorpans, the lower B-pillars and anywhere around the windshield. Surprisingly, Wooden found that the frames on all of the cars were in good shape. Even the one from Waterloo—where winter road salt exacts a heavy toll—had no more than minor pitting that was easily addressed. The explanation might be a very simple one.
"I don't think most people drive their convertibles in the winter," Wooden said. "It was probably put away for most of the winters."
Wooden's not sure that's what saved his car, but he does know one fact about what the Buick did in the warm weather before he bought it.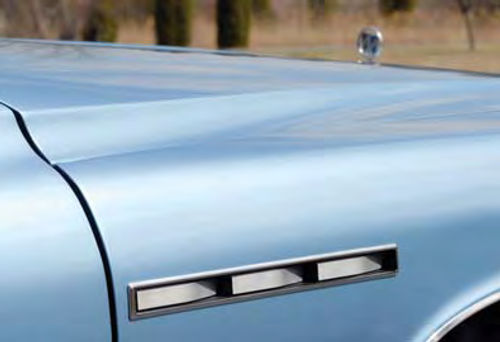 "Gus was the butcher in town," he said, "so everybody knew Gus. He'd put it in the Fourth of July Parade and the Memorial Day Parade because most everybody who's got a convertible in a small town, they contact you."
When you consider that a convertible's charm allows it to double as a parade float, it's easy to see why—despite the gloomy predictions of the feature car's era—convertibles eventually returned.
Put simply, these vehicles never really lose their appeal.
The feature car, after all, was not exactly old when it began drawing attention and that entered into Wooden's decision to restore it.
"People of all ages liked the car," he recalled. "I liked it, too…"