1973 Plymouth Road Runner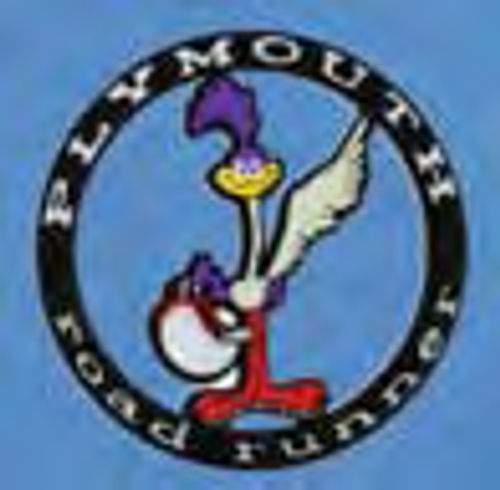 By the Time This Mopar Was Built, Muscle Cars Weren't as Hot, But After 35 Years, It's Still a Schoolboy's Dream.
NAMING A CAR after an animal is an idea that dates back at least 100 years, so it seems that a natural like "Road Runner" would have appeared before 1968. It was Plymouth that finally had the brainstorm although, ironically, it came at a time when the end of the allout muscle car era was not far away.
As we've stated numerous times on these pages, establishing the absolute start and finish of the muscle car era is difficult because not everyone agrees completely on the definition of "muscle car." Performance cars predate World War I, but the production big-engine small-body formula—such as Buick's 1936 Century—is another matter. The Century probably qualifies even if it actually was a big engine in a not-too-big body approach, as do the 1949 Olds 88 and the 1951 Chrysler Saratoga for about the same reason.
A Slow but Sufficient Start
Although Mopars tended to be synonymous with muscle in the late 1960s, when the Plymouth was introduced in 1928 it came with performance that could be called adequate…yet that was fine in a car for the low-price buyer.
Even when production resumed after World War II, Plymouths were still very good cars that could pass through traffic with barely a ripple. If their flatheads' 217.8 cubic inches generated only 95 horsepower, it barely mattered. New cars were in high demand, so there was little need for more performance than Plymouth's six could provide.
But there were changes brewing in the industry and, for a time, Plymouth was among the few American cars left behind. It began in 1949 with GM, where Cadillac and Oldsmobile introduced overhead-valve V-8s.
Chrysler's entry was the 331-cubic-inch hemi that produced 180 horsepower when it appeared in 1951. For 1952, it gave the DeSoto a hemi V-8. It was only a 276 and capable of 160 horsepower, but it was bigger than 1953's Dodge Red Ram, a V-8 hemi that generated 140 horsepower from 241 cubic inches.
Meanwhile, Plymouth plodded along with flatheads and it wasn't until 1954 that that changed even a little; the flathead was now a 110-horsepower 230.
It was not an easy time to be a Plymouth, but when that changed, it changed quickly.
Plymouth's first V-8 appeared in 1955 with 241 cubic inches and 157 horsepower. Later in the model year, it introduced another V-8 that displaced 260 cubic inches and gave 167 horsepower or—with a power pack that included dual exhaust and a four-barrel carburetor—177 horses.
It didn't hurt that 1955's new Plymouth body looked far more modern than its predecessor. Happily, the entire package had the potential for some serious freshening and when the time came, the softly rounded fins that in 1955 had been so restrained were lengthened and raised with their roundness traded for angularity. The 1956 Plymouth obviously used the previous year's basic body, but the bigger fins pushed it even further from the earlier image of rock-solid stability.
A Major Step Forward
Then came the Fury, landing Plymouth in the thick of the horsepower race. Lesser Plymouths carried a 270 that produced 180 horsepower or a 277 with 187 or 200 horsepower. But the Fury bowed with a 240-horsepower 303. With more than twice the output of the 1954 model's six, it could push the 3600-lb. Fury—the heaviest car in the line—to 60 in less than 10 seconds.
At $2866, the Fury was also the most expensive Plymouth, but that price covered more than just a big engine. Included were a heavier suspension, better brakes and a unique appearance— every Fury was a white two-door hardtop with anodized gold side-trim and gold accented grille and hubcaps.
With 4485 sales, the Fury wasn't a startling success, but its glory reflected on all Plymouths and it returned for 1957. The concept was the same and an all new body housed a 290-horsepower 318. By 1958, the optional 350 was rated at 305 horsepower or 315 in fuel-injected form. Sales hit 7438 in 1957 and 5303 for the modestly restyled 1958 version, but the limited edition Fury died with the 1958 model year and in its place for 1959 was a complete line of Fury models, even a four-door sedan. The change certainly made a Fury less appealing to some, but if anyone really wanted a 1959 Fury that was comparable to the '58, a Sport Fury with a 305-horsepower 361 was the choice. And for the first time, a convertible was offered.
The Fury remained in the Plymouth catalog and like its competitors, could be optioned into a very fast car. The 426 wedge in its various stages of tune was the way to do that in 1964 and the 426 Hemi would soon follow.
But then, with the performance market growing, things at Plymouth became slightly complicated.
Keeping Track of the '65s
The 116-inch wheelbase that had been full-size in 1964 became intermediate in 1965 as full-size models went to 119 inches, meaning that the Belvedere switched from full-size to intermediate, but it could still be docile with a 225 six or borderline-insane with one of the 426 V-8s. The Satellite, a high-end Belvedere, appeared that year as a V-8 coupe or convertible and two years later, Plymouth produced another Belvedere-variant, the GTX.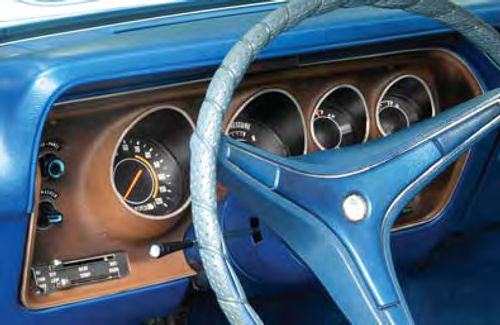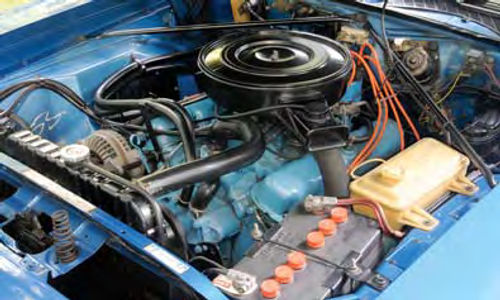 If the Satellite was aimed at the upscale-and-sporty market, the GTX was slotted just above for those who wanted to go really fast; it was a neat trick, given the cars' common parent. The Satellite could be optioned out for extremely good performance, but the GTX saved customers the trouble by using the 375- horsepower 440 as its standard engine and adding better suspension and brakes plus the requisite trim. Those who wanted to cross the line could order a GTX with the 426 Street Hemi and its 425 horsepower. It was a good move and when combined with properly equipped versions in the rest of the line, it gave Plymouth a performance car for almost any taste and budget.
But why not fill the one gap that possibly remained so that everyone could have the muscle car he wanted and, not incidentally, more cars could be sold? Enter the 1968 Road Runner.
A Plain Car With Major Punch
Based on the Belvedere platform, it was almost a fleet car but for the minor detail that its stock engine was a 335-horsepower 383 and a 426 Hemi was optional.
At $2870, it was more than $400 cheaper than the basic GTX and for many buyers, that was enough to place it within reach.
The Road Runner of cartoon fame and its beep-beep horn were part of the package and Plymouth advertising gave "Road Runner" the parenthetical name, "acceleratii rapidus maximus," explaining that "that's Latin for the fact that Plymouth's Road Runner is some other kind of bird." The ad didn't mention affordability, but properly described some of its low-end features as virtues. The body "looks like a hardtop, (but) is really a two-door coupe, which makes for extra rigidity. The entire structure is of unitized construction and marked by an absence of exterior frills and ornamentation. Even the rear windows are simple swing-out units that offer additional savings in weight over roll-up types."
For one whose mission was speed, it made good sense, but the options were there and a Road Runner could be anything from sparse with a rubber floor mat to fancy with air conditioning. Furthermore, Plymouth's everyman's muscle car soon became available as a two-door hardtop and then a convertible.
1973 Plymouth Road Runner
GENERAL
Front-engine, rear-drive, coupe
ENGINE
Type Overhead-valve V-8
Displacement 318 cu. in.
Bore x stroke 3.91 in. x 3.31 in.
Compression ratio (:1) 8.6
Carburetor Two-barrel
Power 170 hp @ 4000 rpm
Torque 270 lb.-ft. @ 2000 rpm
DRIVETRAIN
Transmission Three-speed automatic
Final drive ratio (:1) 3.23
SUSPENSION & BRAKES
Front Independent, torsion bars
Rear Live axle, leaf springs
Brakes (f/r) Disc/drum
STEERING
Recirculating ball
MEASUREMENTS
Wheelbase 115 in.
Length 210.8 in.
Weight 3525 lb.
Tire size E70-14
Fortunately, that didn't water it down. If it had, most likely Motor Trend wouldn't have named the 1969 Hemi Road Runner its Car of the Year. Plymouth talked about that honor in its advertising and while it made the valid point that "with the 383 engine and automatic, Road Runner's about as easy to drive as a golf cart," it also stated that "Road Runner is a car for purists. And our subject this month deals with the purest Road Runner of all—the Hemi Road Runner." In "pure" street form, according to the ad, a bare-bones two-door post with Hemi and automatic averaged the quarter-mile at 13.50 seconds and 105.68 miles per hour over seven runs.
Anyone who read that and still managed to fear that the Road Runner might be moving away from its straightforward performance heritage had only to wait until 1970, when Plymouth advertised that "Superbird, the ultimate Road Runner," was "the obvious reason that Richard Petty came back." Petty had moved to Ford in 1969 after driving Plymouths since the 1950s, so his return was certainly a coup, but with or without Petty, the Superbird was remarkable.
Built to allow NASCAR participation, the street version definitely looked like a race car with its aero nose and rear wing. Nearly all street Superbirds ran 440s with up to 390 horsepower, but a few— roughly 100 of about 1900 built—used 425-horsepower 426 Street Hemis.
Ending the Age of Muscle
Aside from its Dodge Daytona relative from the previous year, the Superbird looked like nothing else. (If you aren't familiar with this car, see the photo at the top of page 11 in last month's issue.) As if the car actually needed help, its mystique was enhanced by one-year only production and by something that none but the truly prescient could then see, the approaching end of muscle cars.
In the Road Runner's case, there were few hints in 1971; the Superbird was gone, but the Road Runner's new body was surely a good sign. It was very different from its predecessor, having almost a science-fiction quality with smoothly bulging sides, wraparound front bumper and long overall look. Never mind that neither a two-door post nor a convertible was available, it was still possible to order a 440 or a 426 Hemi and for most muscle car fans, that was the important part.
Not surprisingly, the 1972 Road Runner looked almost identical to the 1971 model, but there were differences under the skin and determining just how much they mattered is challenging. What seems to be a significant horsepower drop between the two years is due in part to a change in reporting from gross horsepower to net, but the manufacturers also had to lower compression ratios and generally de-tune engines for compatibility with the low-lead gasoline that was necessary to meet tightening emissions standards. Moreover, published figures can vary. In any case, 1972's base engine was the 255-horsepower 400, the Hemi option was gone and the 440 was at just 290 horsepower, down from 330 horsepower in 1971.
The end was nearly at hand when the moderately restyled 1973 model arrived with a 170-horsepower 318 as its base engine. The 280-horsepower 440 was still available and would return at 275 horsepower in the mostly unchanged 1974 Road Runner.
But when the Satellite was replaced for 1975 by the Fury, the Road Runner became an option package for the Fury badge where it spent its last year as an intermediate. If earlier models hadn't been what they were, the 1975 Road Runner's optional 235-horsepower 400 might have proven easier to accept, but it was a trying time for enthusiasts in general and fans of every Detroit muscle car had little reason to cheer. When the Road Runner moved again in 1976, it was as an option package for the new Volare, a compact that would replace the Valiant. The Volare was retired at the end of the 1980 model year and took the Road Runner with it.
A Difficult Delivery
In a sense, that means that Art Skull of Covington Township, Pennsylvania, bought the featured 1973 Road Runner at just about the right time. But more importantly, it was the right car.
"Once I saw it," he recalled, "I wanted it. I bought it on May 10, 1973, just before I graduated high school."
It didn't start out that way, as he'd visited a local Plymouth dealer to look for a Duster. That dealer didn't have one, but found the Road Runner at a larger dealership. A few days later, Skull bought it, despite a mishap while it was being unloaded from the car-carrier at the larger dealership.
"They cleaned the mirror off the side and they bent that (radiator support) back," Scull said. "You can see it underneath. I could never get it really straight, but it's bent back (into position). And you can see that there's a dent in the door, but that was on it when it was brand-new. They gave me a pretty good deal on the car because it had that on it."
Beginning with providing transportation to technical college and work, the car served as a daily driver in good weather. Scull's family had a Dodge Power Wagon that he drove when roads were snow- or salt-covered. It helped preserve the car, but it also eliminated dealing with the Road Runner on slippery surfaces; the car can't come close to a four-wheel-drive pickup, even if its 318, automatic and 3.23 rear don't make it especially uncontrollable.
"It's more of a highway car," Scull said. "You're hard pressed to make the tires spin with it. You can cruise at 80 miles an hour in it and you've got more pedal, but the only way we could spin the tires on it was to power-brake it. My friend had one similar to it, automatic on the column, and that had a 3.55 rear. That was a 318 and with that car, you could boil the tires off of it. That one did have the power. It had the lower end, but it'd start whining if you took it up too high."
Indirectly, another Power Wagon entered into his decision to keep the Road Runner.
He bought that truck in 1978 and was offered $600 trade value for the Plymouth. Having covered just 40,000 miles, it was hardly worn out and Scull had room to store it, so he continued driving it daily in good weather.
When winter arrived, the Dodge came out and the Road Runner went into his parents' garage.
By 1984, it was no longer on the road at all, but it wasn't in dead storage. About once a month, Scull would start the car and drive it around on his parents' property.
Because of a break in geography, what could have turned into a classic pain in the neck never had a chance.
"There was a gas station next door," Scull recalled, "and I used to just drive through the lawn and go over to get gas and then just drive back."
Making It Roadworthy Again
That went on until about 1996, when he began working on the Plymouth to get it back on the road. As would be expected on a fairly low mileage car that had been cared for, most of its needs were minor.
"I changed all the belts," Scull said, "changed the oil and I had to put a new radiator in it. From sitting, the old radiator had gotten some small pinholes in it and instead of trying to get it repaired, I just bought an aftermarket radiator. I've never had the fuel tank out of it, the fuel lines are all the same. I had to change a few lines on the breathers coming back for the charcoal canister. I changed two or three lines underneath and when I did, I bought the regular Chrysler lines."
Several seals were replaced, as were the rear transmission mount, rear brake shoes and rear wheel cylinders. The front disc brakes and the brake lines are the originals and Scull said that the combination of undercoating and no winter driving saved the Plymouth from serious rust, but it didn't escape completely. Road Runners of 1971 through 1974 rarely did and the feature car had some minor problems at the bottoms of the quarter panels and in the rear wheel openings. Those areas need to be inspected on these cars, as do the trunk and the fenders, where the design is all but guaranteed to trap debris that seems perpetually wet. In any but the driest of climates, expect even a quick glance to reveal rust.
There's another problem that's moderately common on Road Runners and many other cars of this era and that's interior plastic. Scull's car held up well, almost certainly because of the time it spent in storage, but it did need help.
"The passenger-side seat had a slight tear," Scull said. "A seam split just a little bit. I took it to an upholsterer and he glued it for me. On the driver-side seat, the panel was replaced probably in the beginning of the '80s before I quit driving it."
He also replaced the console top not because of poor condition, but because it had been modified to accept a Hurst shifter and he chose to reinstall the factory Slap-Stick. Since not all of these cars have led sheltered lives, it's important to go over the interior very carefully to check for deteriorated plastic trim, upholstery and controls. If a piece seems brittle, dusty, hard, oily or tacky, it's just a matter of time.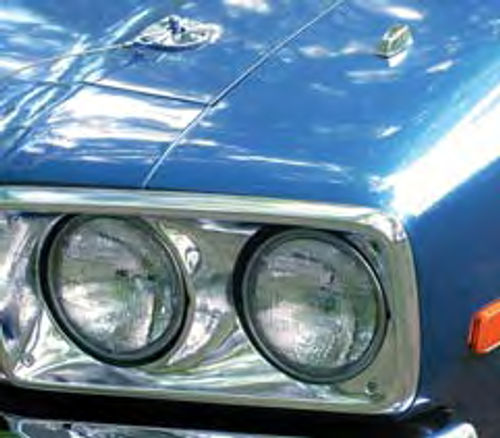 It's One Trustworthy Bird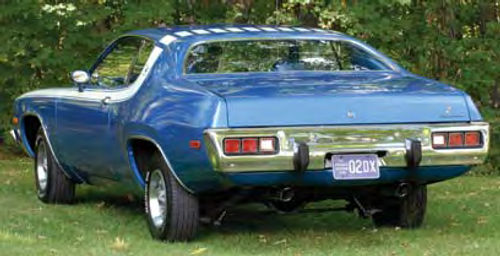 The Road Runner has one big plus that offsets the rust and the questionable plastic, though, and that's its drivetrain. All of the available engine-transmission combinations are strong—although some surely have been pushed to their limits over the years—and well-supported with parts and information. Scull's car didn't need much of that, but getting it back on the road did require something a little more basic.
"The first time I took it out," he said, "I took it for gas."
It was late in the year and Scull didn't get much of a chance to enjoy it before returning it to storage for the winter. A few miles, though, proved enough to jog his memory.
"I only drove it for a very short time," he recalled. "But I had forgotten how snappy it was."
Rebuilding the carburetor cured the occasional rough running and with that, the Plymouth was ready.
"It's never really let me down," he said. "I've never had a problem. I don't think I've ever even had a flat tire on it, but you've got to remember that it's only got 57,000 miles."
Fuel consumption is tolerable at 16 to 17 mpg and that's a likeable feature, but few collectors rank gas mileage high when shopping for a car. Reliability is more important, as is performance.
"It's a car that'll move right along," Scull said.
And it's a Roadrunner, so it's not exactly under anyone's radar. On the road at any speed, Scull said, others pass to look at it. At shows, too, it attracts attention.
Mother Knows Best
The curious ask why he bought it 36 years ago or why he's kept it, and most are surprised to learn that it's nearly original. Scull said that given the chance, he'd buy the Road Runner again even though it wasn't his first choice.
In fact, that Duster wasn't his first choice, either.
"What I wanted," he said, "was a banana yellow '71 Super Bee four-speed car with the 440.
"But my mother said, 'No, that's not what you should buy.' It was a used car and she said, 'If you're going to get something, get something where you're not buying somebody else's headache.'"