George Proctor bought a 1971 |} Triumph TRO with the thought of doing some cosmetic work and then selling it for a profit. But then he had a change of heart. What he also had was an original, rust-free, matching-numbers TRO in a rare red-on-white color combination. The car also had been loaded with factory and dealer options including an electric overdrive, Michelin redline tires, 72-spoke wire wheels and an oil cooler. A car of this quality and condition is an island in the sea of average and below average TR6s. After he and his TR6 specialist buddy, Dean Houston, went over the car in detail it was decided that TR6 CC59882LO would be a perfect candidate for a no-expense-spared, no effort-spared restoration.
The goal was to make this car as good as a TR6 could be. If the car's show history is any indicator, Proctor has succeeded. The first time out, it won the best of show award at the 1995 Vintage Triumph Registry Regional at Daytona Beach. In 1996 he won a first place at the Vintage Triumph Registry Regional in Tallahassee.
The word in the Triumph network is that Proctor's car is about as good as they get. Tom Bolen, a Triumph aficionado who judged the engine bay of Proctor's roadster at one show, said he couldn't find anything wrong with it and finally deducted one-half point for a few specs of dirt in a corner of the engine bay.
Externally, the TR6 looks absolutely stock and original, except that the overall fit and finish, and in some cases the materials, are better than when the car was new. Proctor and Houston followed a policy of making subtle cosmetic and mechanical upgrades that would make the car look better, run better or last longer, as long as such changes wouldn't compromise overall original appearance or show-worthiness.
For example, the dashboard is African rosewood — provided by Prestige Auto Wood — a custom upgrade with a more intricate grain pattern than the walnut wood used by the factory.
As another example, the suspension was sandblasted and then nickel plated for corrosion resistance before receiving a coat of black Glasurit Urethane. Proctor and Houston rebuilt the wheel cylinders with stainless steel pistons, and the brake lines and exhaust system also are stainless.
Houston, who runs British Sports Car Works, a pro restoration shop in Boca Raton, Florida, also convinced Proctor to upgrade the suspension with better springs and longer-lasting urethane bushings, a change Proctor grumbles about in a good-natured way.
"They (the bushings) squeak a little," he says.
The engine got a .20-inch over bore and a hotter camshaft speced for the later, TR6 fuel-injected engine. It also received hardened valve seats and silicon bronze valve guides to run on unleaded gas, plus balancing. Based on his extensive experience with the TR6, Houston estimates that the engine produces about 125 horsepower, compared with the stock engine's 104. It costs about $3000 to do a TR6 engine right, he adds.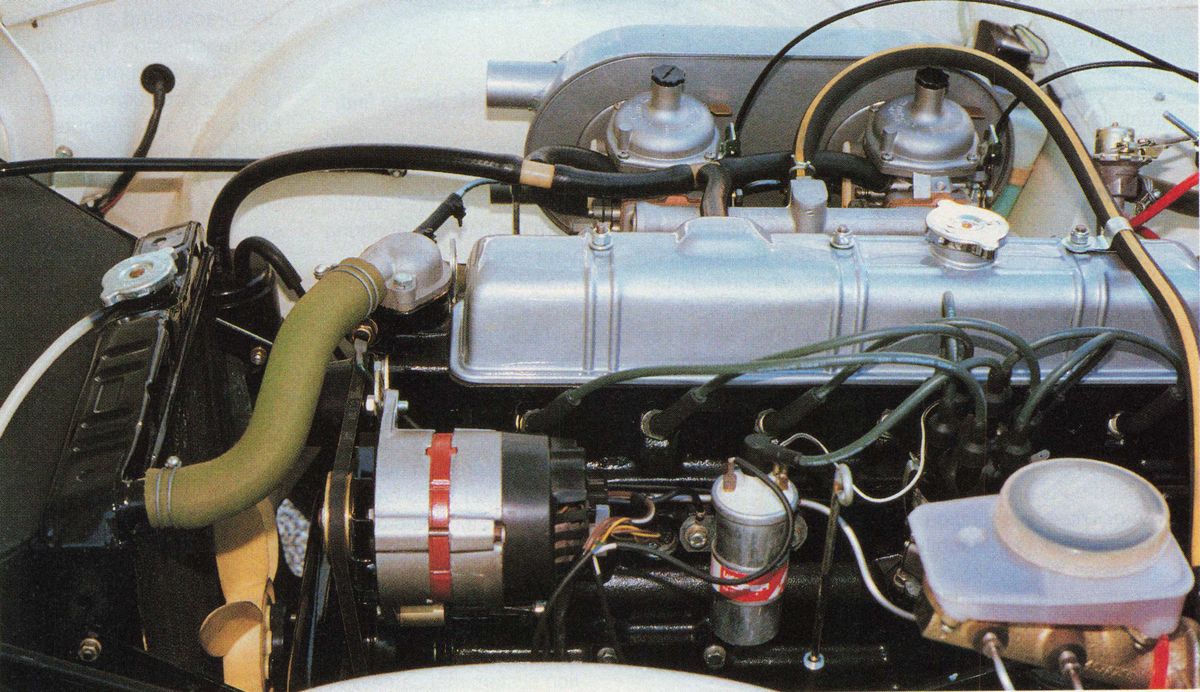 When it came time to rebuild the transmission, electric overdrive unit and clutch, Houston performed an upgrade he recommends for TR6 clutches. Stock TR6 clutches don't last particularly well, he says, so he has researched TR6 clutch components and has come up with a parts combination that replaces the original perfectly and lasts better. He uses a Sachs pressure plate specified for the SAAB 900 and a throwout bearing from a Toyota Land Cruiser. Based on his experience, the SAAB/Toyota combination is "bulletproof," he says.
Proctor and Houston also carried the upgrade philosophy into the body work. The body panels that came on the car were pretty good, but Proctor didn't want the slightest deviation in his sheetmetal, he wanted it perfect. So he bought a new trunk lid, fenders and door skins produced by the British Motor Industry Heritage Trust, which manufactures new body parts using the original TRO factory tooling.
Houston stripped the factory primer from the new panels because he didn't know what type had been used, and replaced it with Glasurit epoxy primer. He's had good experience with that product and knows it's compatible with the paint system he's using.
"If you're gonna skimp, don't skimp on the primer," he says.
He block sanded the primer and then applied six coats of Glasurit 21 Line White Urethane, block sanding between coats until he got the finish he wanted, and buffing with Meguiar's products. Houston recommends Meguiar's 2000-grit paper for the block sanding.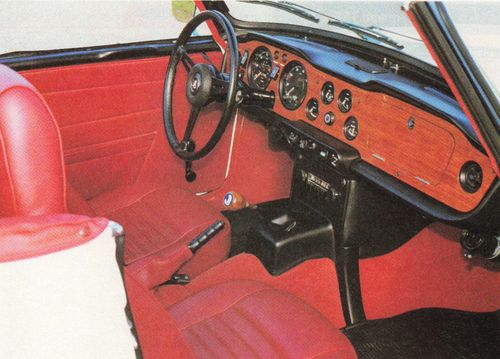 Meguiar's 2000 cuts much faster than other 1000-grit papers, he says.
"Always sand in the direction of air flow over the car," he says. The buffer wheel then takes out the scratches much better than if you sand in a circular pattern, he says. Houston used Glasurit paints throughout this restoration and recommends them for show-quality projects.
"It's probably the best paint you can buy," he says.
The chrome on the car also is better than new, applied by Palm Beach Plating in Palm Beach, Florida.
"There's $1500 worth of chrome just in the bumpers," Proctor says. And the chrome on the gas cap alone cost $150.
While Houston was occupied with the body and mechanical components, Proctor spent countless hours sourcing interior and trim materials and trying to make everything match the proper red interior color.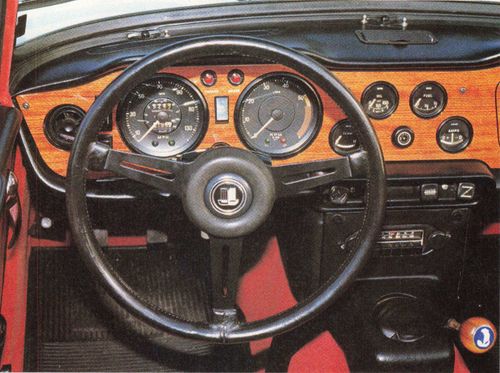 W.A.S. Industries of Stone Mountain, Georgia, sewed up the red Wilton wool carpets for about $450.
Most of the other interior materials came from The Roadster Factory. Proctor was able to find a new old stock tonneau cover and a real prize, an NOS Triumph top — complete with the original reflective strip sewn into the edge — still in the original box. Proctor says he paid $500 for this top and has since turned down a $1000 offer.

Proctor shod his prize Triumph with as-original 185R-15 Michelin redline tires available from Coker at about $200 apiece. The 72-spoke chrome wire wheels were a dealer option when the TR6 was sold, and a set costs about $2000 today through the British car parts houses.
Houston says he spent 980 hours on the car. Proctor doesn't know how many hours his own labor added to the total or how much money he has in the car, he says.
"I stopped adding up after about $25,000," he says.
It was a huge effort, but Proctor is happy with the result. He tows his prize to car shows in a customized, air-conditioned, winch-equipped Pace utility trailer and makes no apologies about it.
"It's a trailer queen, but that's what we wanted," he says. Unlike some trailer queens, however, this one runs as good as it looks.
"It drives better than the brand new one I bought 20 years ago," he says.
The TR6 Shopper's Guide
TR6 specialist Dean Houston's advice for TR6 shopping is simple: "You want it to look good and run bad."
Many people look for the opposite in a project car, he says. But TR6 mechanical components are easy to fix and relatively inexpensive to buy; repairing rust in bodies and in frames, especially, is expensive.
Typical rust spots on the TR6 are the floors, sills, rear fenders and the area between the top and trunk lid, he says. Rust also is common over the headlights. However, excellent, good-fitting replacement panels are available for all these areas. "All the outside skin is easy to replace," he says. It's frame rot that is the real red-flag item on these cars. He says: "That'll kill you."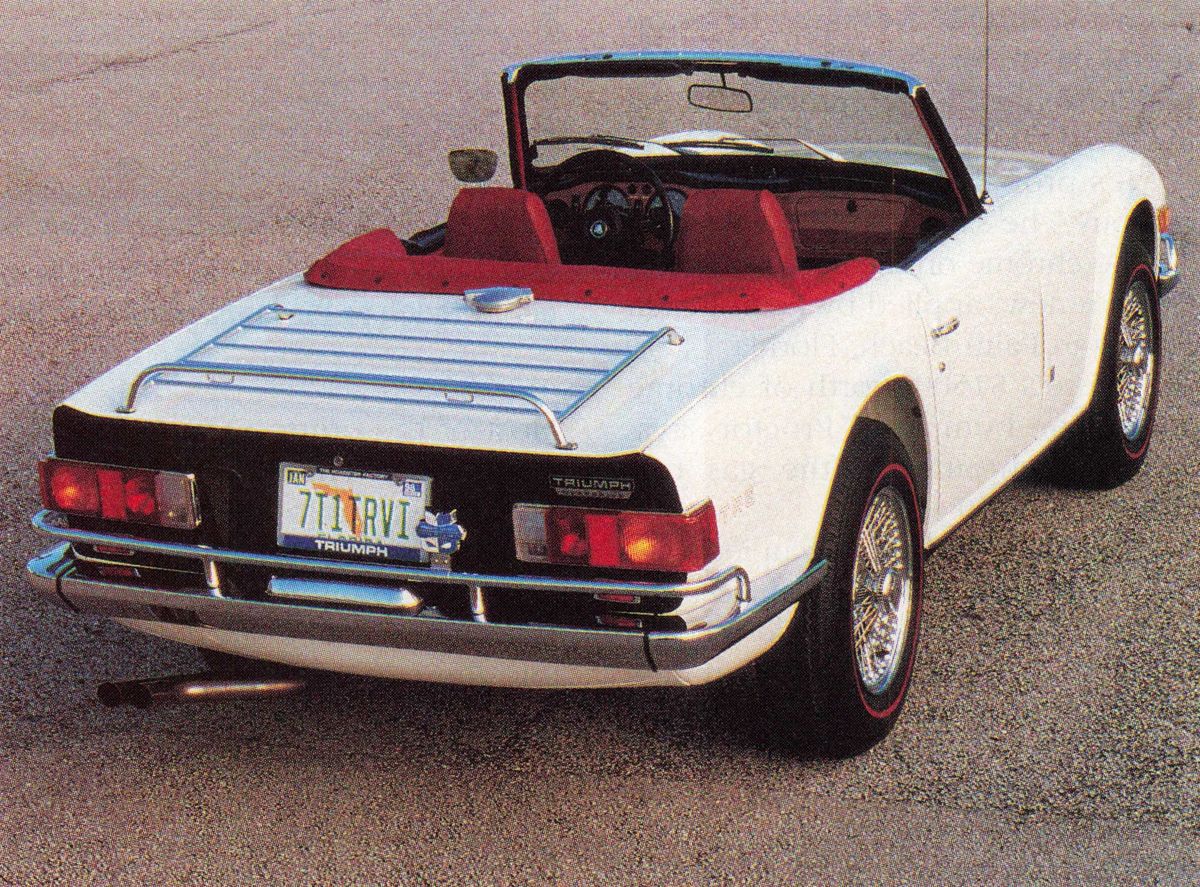 Check the point where the rear trailing arm suspension bolts up to the frame. These suspension mounting points frequently are rusted and weak, Houston says. The differential assembly can actually come loose if these mounts are bad, he says.
"Differentials in TR6s are notorious for breaking out," he says.
The mounts can be repaired if the corrosion isn't too bad, but don't stop an examination with this area.
"If that's bad, look further," he says. "If the frame's really rotted, don't buy the car."
Richard Newton, author of the Illustrated Triumph Buyer's Guide, agrees with Houston's warnings.
"Like virtually all Triumphs, rust is a major threat to the life of a TR6 — not just cosmetic destroying rust, but the kind of tinworm that eats right through the frame.
On the TR6, it's so serious that one company offers reproduction frames! Deterioration usually begins at the rear of the chassis in the suspension mountings..." he writes.
Houston also says to keep in mind that any kind of significant restoration work on a TR6 will require taking the body off the frame.
"There are very few things you can do on the car without taking it off the frame," he says.
The good news is, it's not an especially onerous task.
One person can get the body ready to remove in about six hours, he says, and three people can lift it off.
When shopping for a TR6 project car, don't be overly concerned with the condition of the mechanical components, Houston says. Parts are in good supply from a number of sources, including The Roadster Factory, which was the primary source for George Proctor's white roadster, the subject car. Differentials, however, may be an exception. Rebuilt differentials can cost $800 or more. Be sure to listen for any noise coming from the differential during your test drive of a prospective purchase and check the fluid as well. A low fluid level is a tip that the differential hasn't been properly maintained.
Houston says the twin Zenith-Stromberg carburetors that came on most U.S.-market TR6s have a reputation for being difficult to keep in adjustment, but he believes they "aren't that bad." The carburetors are certainly less trouble than the Lucas fuel-injection system that came on European models and late 1976 U.S. cars.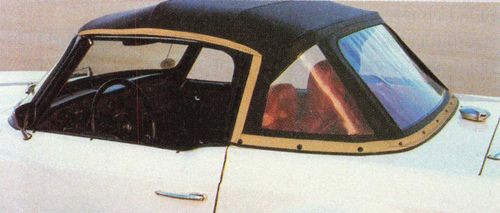 A couple of items that are likely to be real problems if you need them are steering wheels and tops, if you insist on original equipment or new old stock for authenticity's sake.
The top and top frame, steering wheel, seat belts, Lucas halogen headlights and the Lucas battery are among the rare NOS parts that were found through the network of Triumph shows and other owners.
Houston admits there are some tricks to working on TR6s that might not be obvious to novices. For example, the oil filter is the canister type that holds a replaceable filter. But when the filter housing is unscrewed from the base, space is so tight you can't remove the filter. But if you first unbolt the slave cylinder, bracket and all, from the transmission, the filter assembly will come right out. It sounds complicated but is only a five-minute job, Houston says.
Another job that thwarts some would-be TR6 restorers is removing the trailing-arm bushings for replacement. Take the arm off, turn it on its side, and then you can knock the bushings out with a punch.
All things considered, the TR6 is not a difficult car to work on, Houston says.
Triumph introduced the TR6 with the 1969 model and discontinued it after the 1976 model. Collectors | generally like the older models, 1971 and earlier, before the car was overly burdened by U.S. safety and emissions regulations.
Triumph built more than 94,000 TR6s. More than a third of those are still on the road, Proctor says.