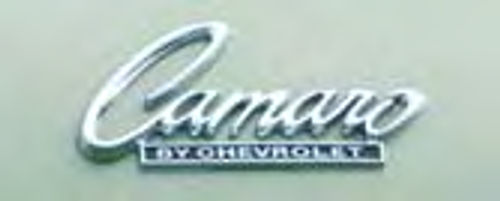 After Four Decades of Racing, Restoration and Engine Swaps, He's Still Happy to Have This Car In His Garage.
BY ANY MEASURE, the Camaro faced a challenge from the moment that it appeared in Chevrolet showrooms. The big reason, of course, was Ford's Mustang. By the time the Camaro was introduced for the 1967 model year, the Mustang had developed into such a force that "ponycar" had become an acceptable description for its market slot.
Before the Ponycars, There Were…
The Mustang, of course, wasn't the first of the sporty cars to come out of Detroit, as the Big Three and the remaining Independents had been toying with small and mid-size performance and/or sporty cars for several years before Ford's ponycar appeared. Most automakers substituted larger-than-expected engines and varying degrees of suspension improvements to distinguish the sporty models from their economy-minded brethren, but General Motors gambled with offerings such as Oldsmobile's turbocharged F-85, Pontiac's Tempest with its front engine driving a rear transaxle and, most surprisingly, Chevrolet's Corvair.
That the Corvair came from GM shows that the company might be big, but it surely isn't incapable of creative thinking. There's really no other way to explain that for 1960 it introduced a compact powered by a rear-mounted air-cooled six and running independent suspension all around.
Breaking with tradition, unfortunately, didn't work out very well in the Corvair's case. Its rear engine was a plus for those who needed to contend with difficult winters and its looks ensured that it would stand out in a crowded parking lot, but those who appreciated its European-mannered handling and unusual design were too few.
Worse yet for GM, Ford's initial compact was the Falcon, a car unlikely to surprise any drivers. The front-engine rear-drive 1960 Falcon was uncomplicated to the point of elegance and while the enthusiast might not always care to admit it, there's much to be said for a very basic car. Ford realized that quickly, as did GM; 250,000 Corvairs were sold in the first year of production, compared to 453,000 Falcons.
Chevrolet reacted by building on the Corvair, but mostly by adding the Chevy II in 1962. The latter was a direct shot at the Falcon and provided 327,000 sales. That didn't top the 396,000 Falcons, but it was a showing decent enough that the conventionally configured Chevy II— with its descendants—was off to a long and mostly happy life. The Corvair climbed to 306,000 sales, but even if not immediately apparent, it really was on its way out. Despite improvements to its suspension, a complete restyle for 1965 and an appreciation of the turbocharged version as an enthusiast car, the Corvair faded away with 6000 sales in 1969.
There Was No Immediate Defense
Although the Corvair had failed as a Falcon-beater, a much bigger concern had surfaced early on at Chevrolet as the Falcon had provided Ford with the platform for the Mustang.
Chevy had no direct equivalent for the 1965 model year; the closest was the Corvair and it actually wasn't that close. Both were small and when properly equipped, both could perform, but the Mustang was by far the one that was in tune with American tastes of the day. The proof that Ford had hit the target was in the fact that 559,000 Mustangs were sold in 1965, the first full year of production.
Chevrolet responded with the 1967 Camaro, and in either coupe or convertible mode it was the spiritual twin and a realistic alternative to the Mustang. Both cars could be ordered in mild or sporty form, and for the Camaro that meant the basic engine was the tried and true 230- cubic-inch six just as it also meant that optional engines ran through the various small-block V-8s right up to the 396.
Yes, a Camaro could be configured as a pleasant little car unlikely to get anyone into trouble, but it didn't have to be that way. Chevrolet pushed that very point in an ad headlined "How much Camaro you want depends on how much driver you want to be," hinting ever so slightly that maybe some drivers were wimps.
The ad broke down the choices beginning with "Camaro about town. The sport coupe. Buckets. Carpeting. Fully synchronized 3-speed. Very civilized Six. Safety features like dual master cylinder brake system with warning light. Especially nice for wife-types."
The ad went on to the "Country-club Camaro. Rally Sport with hideaway headlights and standard V-8. 210 hp. Add custom interior, Powerglide, console, wheel covers, vinyl roof cover, stereo tape system. Decorate right front seat suitably."
Finally, there was "Camaro the Magnificent. SS convertible, now available with 396 cu. in., 325 hp.! Bulging hood, striped nose, red stripe tires. You order the 4-speed, front disc brakes, Positraction and such."
The Start of a 40-Year Friendship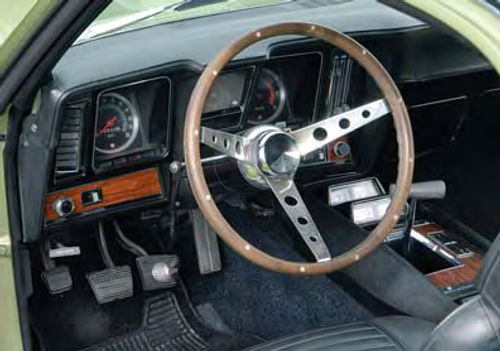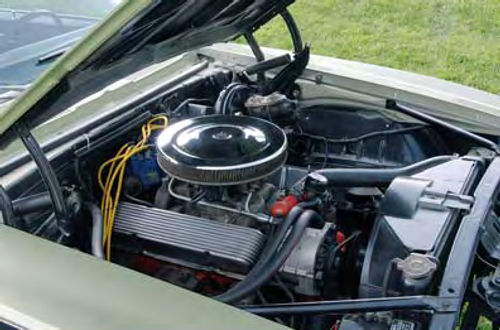 That ad provided a good overview of what a Camaro could be, which was a smart move in the car's first model year. Another smart move was Chevy's decision to refrain from tinkering too much with a good design, so when the 1968 Camaro arrived, its differences were mildly evolutionary. For example, vent windows were gone while federally mandated side marker lights were added at the front and rear. Engines again went up to the 396 and it was just such a Camaro that convinced Ed Sadowski of Pittston, Pennsylvania, to buy the feature car almost exactly 40 years ago.
"I ordered it in September of 1968," he said, "from Hassay Chevrolet in Shickshinny. I loved the Camaro. A friend of mine had one. It was a white '68, an SS 396, 375-horse and it had a four-speed with the console and I just loved it, so I decided to order one."
Delivered in November of that year, Sadowski's car is a 1969 SS, and that's not the only area in which it's not quite the same as his friend's car. First, there's the body, which maintained the look of the earlier car while adding what amounted to a sharpening of the lines. The effect is so subtle that a casual glance might not even detect it, but the other half is that it might be among the few styling updates that didn't instantly obsolete the older model. In short, anyone who liked the original would probably like its successor just as much.
Sadowski's car also differs from his friend's Camaro in that for reasons of practicality, it's not a 396.
"That's what I could afford," he said, "a 350 with 300 horsepower, so I got the most horsepower I could afford at the time."
Not that a 350 Camaro was a bad thing.
"I drag raced it through the years and it was fine," Sadowski said. "I was running 14.3, the low 14s. I couldn't break the 13. I used to run pure stock, so you couldn't do too much to it. I drag raced it for about three years, about '70 into '73, and then Pocono Drag Lodge closed up and I never even bothered going anywhere else."
From Racer to Grocery Hauler to…
With that, the Camaro was left to only its primary duty, serving as the family car. By about 1980, it had covered more than 90,000 miles and was set aside to be driven occasionally.
And that's where the story starts to become a bit complicated since it returns to the drag racing days without immediately involving the Camaro.
In 1970, Sadowski explained, he and a partner decided to build a Chevy small block for racing. They went the entire route, beginning with boring a 283 to 302 cubic inches and adding modifications that included 12:1 pistons, Z-28 heads and "everything heavy duty" before having it blueprinted and balanced. Sadowski was working in a garage at the time and there was a plan; the engine was installed in a 1957 Chevy and everything else was falling into place for the maiden voyage at nearby Pocono Drag Lodge.
1969 Chevrolet Camaro SS
GENERAL
Front-engine, rear-drive, two-door hardtop
ENGINE
Type Overhead valve V-8
Bore x stroke 4.00 in. x 3.48 in.
Displacement 350 cu. in.
Compression ratio 9:1
Carburetor Four-barrel downdraft
Power 300 hp at 4800 rpm
Torque 380 lb.-ft. at 3200 rpm
DRIVETRAIN
Transmission Four-speed manual
Final drive ratio (:1) 3.73
SUSPENSION & BRAKES
Front Independent, coil springs
Rear Live axle, leaf springs
Brakes (f/r) Disc/drum, power-assisted
STEERING
Recirculating ball, power-assisted
MEASUREMENTS
Wheelbase 108 in.
Length 186 in.
Track (f/r) 59/58 in.
Weight 3050 lb.
Tire size F70 x 14
"We had the towbar all set up because that's how we used to take them," Sadowski recalled. "Nobody could afford a trailer. We had a towbar and borrowed the slicks from a friend of ours. We got the engine, we put a tune on it and we had that running well, so we were going to launch it."
That was the evening before the expected first run and the testing proved that it was possible to spin the wheels inside of the slicks, thus destroying the tubes. A fresh set from a local parts shop solved part of that problem.
"We didn't get done with that until 11 at night," Sadowski continued. "We finally get it done, everything is great, we try it out. Great. It's all set up and we put the towbar on it and my buddy takes it down to his house. He had his truck, so he was going to tow it up and I was going to meet him in the morning.
"Three o'clock in the morning, a drunk lady comes by and smashes into the rear end of the '57 Chevy and demolishes the car. So after all that work, he was going to take care of the car, I bought his half of the engine."
Sadowski said that he had offers on the engine, but since none even approached what it was worth, he simply held onto it as he continued to drive the Camaro for roughly another 10 years. His efforts to preserve the car during that time minimized deterioration, but Camaros weren't rustproof and Pennsylvania winters did cause at least some damage. The most serious was on the quarter panels. That's a typical problem area on Camaros like the feature car, but on this one, the rust got a good start one day on Interstate Route 81.
"There was a lot of snow," Sadowski said, "and I had chains. The chains snapped and started whacking the wheel wells. That's what gave it an early rot-out."
Still, the work he put into keeping the car clean—particularly washing the underside—clearly paid off in a big way as other potential rust areas survived well. The fenders, for example, were undamaged, although he installed new ones anyway. The inner and outer rocker panels had no rust and the entire frame required nothing more than removal of surface rust followed by refinishing
The Good Vinyl Top Had to Go
The vinyl top was undamaged, too, thanks to the care Sadowski had given it over the years, but unfortunately, it had to go.
"The original was just as good as (the replacement) because I always washed it every week and I put Armor All on it every time," he said. "But it was replaced because I put the full quarters on. The quarters come halfway up the (sail panel) and I didn't want to cut them off, so we ended up taking the vinyl top off."
If there was a positive side to that, it was that it offered the easiest way to inspect the roof. Rust under vinyl tops, particularly around the windshield or rear window, is not unheard of, but the feature car had no problems on its roof. That meant that there was nothing to be dealt with before the new top was installed, but Sadowski said the work needed to be done carefully for another reason.
"The guy didn't want to do it after the paint because he didn't want to scratch the paint job," he explained, "so he put it on first. I didn't care for that, but it was the only way he'd do it. And he does a good job."
Ongoing Engine Swaps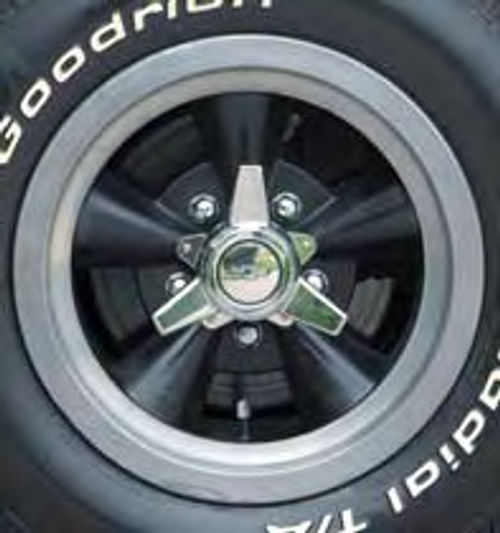 If Sadowski's Camaro fared well in terms of its body, it did at least as well mechanically. Careful maintenance was the secret and the only reason that the engine was removed was to "freshen it up" for reinstallation. That also allowed access to the engine compartment for painting and detailing.
"And then while I had the engine out," Sadowski recalled, "I painted the outside of the car and I said 'I'm going to play around with this engine that I have here.'"
The "engine that I have here" was the small block that had been in the ill-fated '57 Chevy.
The first trip after dropping it into the Camaro was surprising, Sadowski admitted, but given that the engine showed 580 horsepower on a dynamometer, it should have been surprising. It likely could cross the line and become shocking with just a little effort.
"The secondaries don't open up," Sadowski said. "I didn't fool around so the secondaries would open up because if I ever did that, I think I'd bend it in half."
It would be nothing, he agreed, to go through a set of rear tires, and starting out requires an extremely delicate foot on the clutch.
Driving it in traffic is not easy and Sadowski said that he actually doesn't take it out very often. When he does, he said, he generally doesn't go very far, but that's less because of reliability concerns than because he knows that the original radiator is not large enough for the engine.
"In the hot weather," he said, "it does run hot. If I'm idling or parked, or if it's a really hot day, it'll get hot."
That's not the problem it could be, though, as another engine swap is on the way.
"I'm going to put the original engine back in to make it all original," Sadowski said. "It's in the garage on a stand."
Looks Can Be Deceiving
The original was running when it was removed and was found to need nothing more than a replacement for its worn cam. An empty engine compartment will be an opportunity for fresh paint and detailing. Sadowski said finding the free time to complete the work is a problem, but he knows from experience that pulling one engine from the car and installing another should be fairly easy.
That's a nice thought if you're doing the work, but the very simplicity of replacing the engine and the broad interchangeability among Chevy products should also be cause for concern and extreme care at the buying stage. If you're looking at what's described as an original or correct car, the secret, of course, is to disregard the emotion and find the numbers. With Chevrolet's popularity, a tremendous amount of information and expertise is available to help investigate nearly any claim.
If absolute accuracy isn't important to you, though, you should be able to save some money by buying a car that could be right, but was actually built from pieces. Either way, there's more to consider.
"Check it out as far as any rust," Sadowski said. "I expected to see rust in the floor, rust in the trunk area, the trunk floor, wheel wells and also the quarter panels in front of the doors."
The frame should be checked, too, as should the interior, since leaks into the passenger compartment aren't unknown on these cars and present a double problem. The point where the water enters might be difficult to trace, but it's probably going to be the result of deteriorated weatherstripping and that's not automatically a nightmare. If the leak has been
there for a long time, however, it's likely to have brought on some rust and, depending where that rust is, finding a better car might be the wise choice.
Any hint of a leak—from obvious water stains to an odor to windows that fog for no apparent reason—should trigger a very close inspection and if the leak proves to be at the windshield or rear window, thinking about that better car should become much more serious. The feature car has all of its original weatherstripping and Sadowski said that it does leak along its front windows, which proves that an excellent appearance doesn't rule out the need to be careful.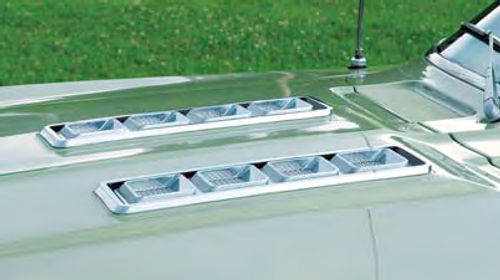 The Work Was Worth It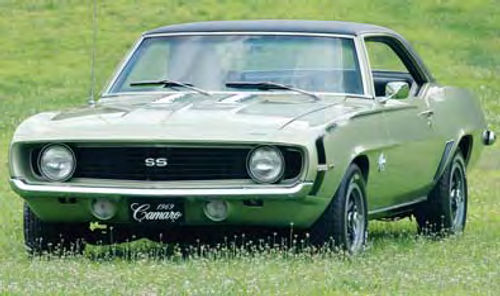 The interchangeability mentioned above can help with at least some of the interior components damaged by water or just worn out, but there are other pieces that require fabrication. That can be particularly true on a muscle car, where period performance or other aftermarket parts are generally accepted, and the Camaro's Fenton wheels created exactly that situation.
"A friend of mine had a Nova, a '68 Nova, and he blew the rear end," Sadowski said.
"He went to a junkyard and got a rear end to replace it. He went to put the wheels on and they were rubbing the wheel wells. He couldn't use them and he ended up getting different wheels. When I got my car, all I got were just the regular hubcaps because I wanted to buy mags. I didn't want to spend the money for the Rally wheels.
"I wanted to get mags and that's the kind of mag I wanted. He sold them to me for $100 in 1969."
Fenton is no longer in business and when Sadowski wanted Chevy emblem centers for his wheels, he at first tried to match centers from other manufacturers. That didn't work, so he found a set that had been on a 1967 Impala's wire wheels and adapted them to Fenton centers using the only one he had as a template.
"I fashioned all of those by hand," he said. "I drilled them and fashioned them and polished them. I can't tell you how many weekends it took."
Even if few recognize Fenton wheels, he doesn't regret having invested that much time and labor in them. It's about the same story with the entire car. Although he once had the chance to trade it toward a Corvette, keeping it for 40 years was the right choice.
"I've put a lot of love and care in it," he said. "It doesn't owe me a dime."