Fire and Flood Couldn't Put an End to This Muscle Car, But It Took Some Friends to Save It From a Life In Storage.
Walter Klem's Oldsmobile has had a few close calls in the nearly five decades that he's owned it and none of them happened on the road.
"Back in '85 or '86," said Klem, whose 1968 4-4-2 is featured here, "I was at work in Scranton and I got a call. My mother called and said 'you'd better move your car. The river's going to go over the banks.' The garage I kept it in? The back of the garage and the river was right there; you couldn't get any closer to the river. My brother worked there, too, and I told him 'we've got to go.'
"I came home, stopped at my place, picked up a battery, he drove me down to the car and by now, there were probably four to six inches of water on the streets in Olyphant. We ran down, opened the hood, threw the battery in and thank God, it started. I had L60 x 14s on the back and water covered the entire tire and started to go up the rim a little bit.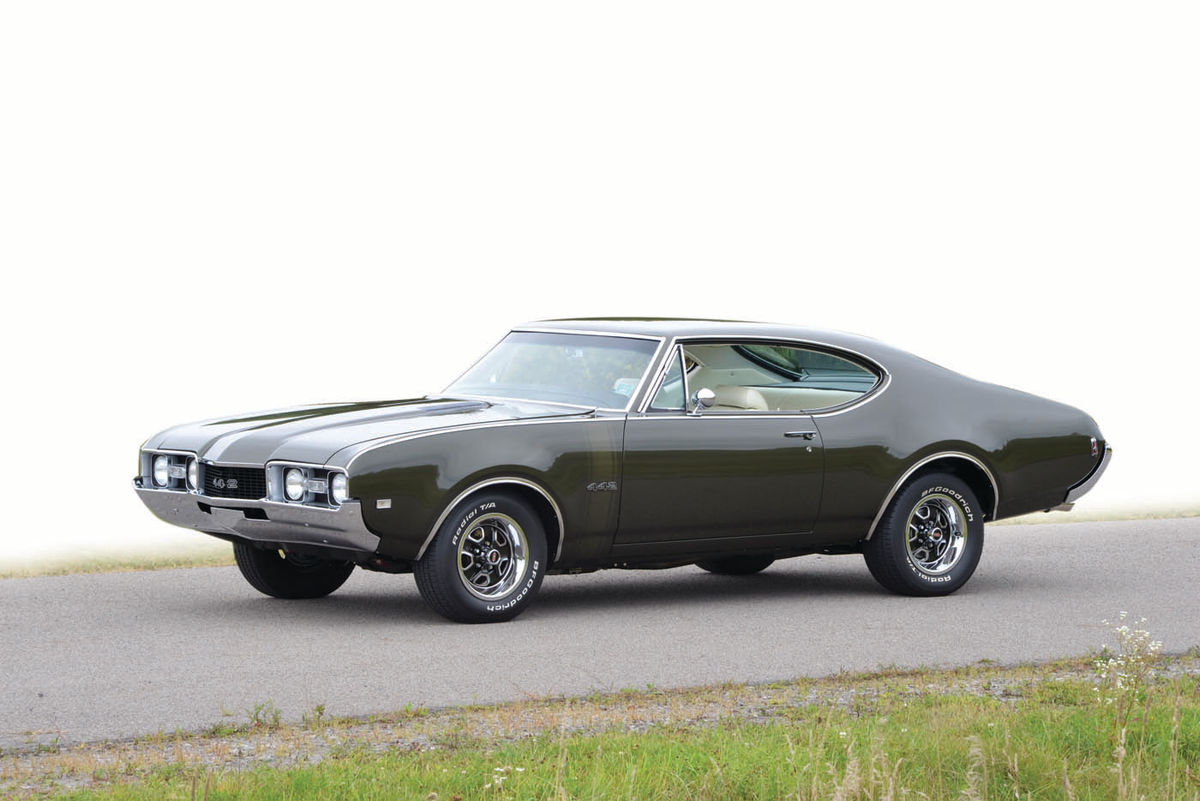 "I started it up, I pulled it out of the driveway, I went left on a one-way street the wrong way, I made a right going the wrong way on another one-way street because the main street had even more water on it. So I did get it up onto higher ground. Of course, the water receded and it went back down there. I might've had it there for another year before I found another place up on the hill in Olyphant."
Klem lives in Olyphant, Pennsylvania, now better protected against flooding by the Lackawanna River along its western edge, but a different threat to the 4-4-2 was in the future and this one could have been fatal to the car. He couldn't have known that, of course, when he rented an elderly neighbor's garage that was safely out of the flood plain. That went well for some 10 years until one day when Klem was arriving home after work and saw fire fighters nearby.
"My heart started pumping," he recalled, "and I thought 'it's got to be a neighbor's house.' I pulled up by my neighbor's driveway to get to where the car was. I pulled up in front and there was the Oldsmobile sitting out in the driveway. There was a fire truck in the driveway. I jumped out and I ran up there and (a fireman) was standing there looking at me, shaking his head. It was like 'what?'
"He said 'Mary was out there burning garbage.' I looked and the corner of the garage was a little charred. I said 'how is she?' He said 'the car is OK.' I said 'how is she?' She was in the back of her yard, so I quickly ran over and she said 'Wally!' I said 'relax, everything is OK.' She was blaming herself and I said 'don't blame yourself. Don't worry. Everything is fine. The car is OK. The garage is OK, it just got a little charred and you're alright, that's the big thing.'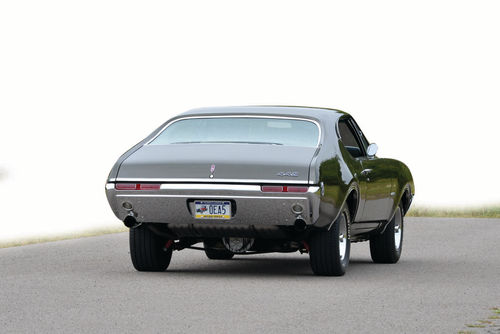 Getting the Olds out of the garage under the pressure of even a minor fire would call for some remarkably coolheaded thinking, but in this case, the cliché about nerves of steel came into play as the car wasn't running and the clutch initially refused to disengage. Only after a brief but intense session of rocking the Olds were the firemen able to free it and move it to safety.
Clearly, Klem's 4-4-2 leads a charmed life, but its rescue from a fire is somehow familiar to anyone who knows Oldsmobile history.
A History of Being Saved From Fires
Ransom Eli Olds joined P.F. Olds & Son in 1883 and five years later bought out his brother's interest in the family business that built engines and operated both a machine shop and a foundry. Different businesses followed and Ransom Olds experimented with steam cars in about 1887 and again in 1892, but despite his building a gasoline-powered car in 1896, an electric followed three years later. By 1897, Olds Motor Works was established and two years later, it was formally incorporated and absorbed two other Olds businesses, the Olds Gas Engine Works and the Olds Motor Vehicle Company.
Olds Motor Works moved deliberately rather than quickly to enter vehicleproduction. It seemed to pay off early in 1901, as the firm was able to announce its Curved Dash Oldsmobile, but things could have gone very wrong not long after as fire destroyed much of the Olds factory complex on March 1 of that year.
Every bit as lucky as Klem's car was the single Curved Dash that escaped the fire along with the drawings necessary to build more like it.
"Setting the Pace," Oldsmobile's history, explains that the company had 334 orders for the Curved Dash at the time of the fire and decided to fill them by working in the blacksmith shop and foundry that were undamaged. What it couldn't build was purchased from various vendors and assembly got underway.
A Path Toward High Performance
Olds went on for more than 100 years (the last Oldsmobile cars were built by General Motors in 2004) and even the Curved Dash enjoyed a surprisingly long production run, finally fading away after 1907. Fours and sixes appeared before Oldsmobile introduced a flathead V-8 for 1916 that would be gone by 1924. Olds relied completely on flathead sixes until giving eights another try with the addition of 1932's inline flathead. The pair would serve until the postwar era, when everything changed for American automakers.
World War II had forced the Big Three and the surviving Independents to focus virtually all of their efforts on defense production, so the return of peace in mid-1945 marked more than three years with no new cars. Manufacturers quickly returned their 1942 models to production with just enough changes to call them 1946 models. At the same time, they were planning truly new cars for the day when market conditions stabilized and they would need to work for their sales again. One by one, those new cars began to appear and at Oldsmobile, 1948 was the big year even if no one outside the company knew that it was actually the first of two big years.
Olds' advertising announced "a car so new and exciting, it requires a brand new word—Futuramic—to describe it." Available only as the upscale 98 series, Futuramic styling really was that new. The front fenders that had bulged their way into the doors were now cleanly integrated into the body and the rear fenders were a big step in that direction. The windshield was again split, but the two sides were no longer flat. While it looked like an Oldsmobile, ads promised that "you'll catch a glimpse of tomorrow" and tomorrow arrived with "the new thrill in performance, Oldsmobile Rocket" in 1949.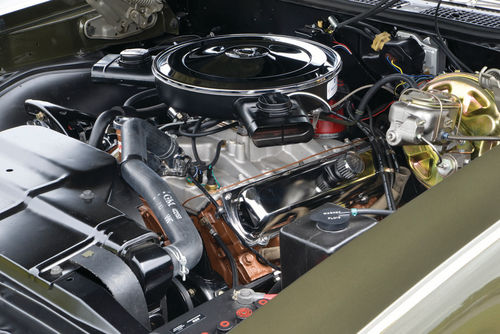 "Here it is," the brochure proclaimed, "Oldsmobile's revolutionary, Valve-inHead, High-Octane, 'Rocket' Engine! Designed to match the superlative styling of the Futuramic car, this new power plant is here this year in the Futuramic Oldsmobile '88' and '98' Series."
If the copywriter worked himself into a frenzy over that paragraph, he had good reason. Neither the overhead valves nor a V-8 configuration was new, but the Rocket combined the two features and then designed the engine to have oversquare dimensions. Its cylinders had a diameter larger than its pistons' stroke and the 303-cubic-inch engine generated 135 horsepower compared with the 110-horsepower, 257-cubic-inch flathead straight eight that it replaced.
The Rocket V-8—like its corporate relative that Cadillac also introduced for 1949—bettered the flathead in length and weight, was able to rev higher and perhaps most importantly was a new design conceived with evolution in mind.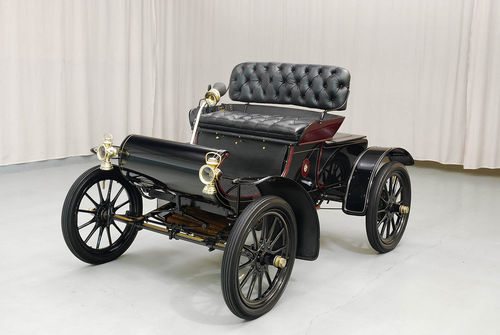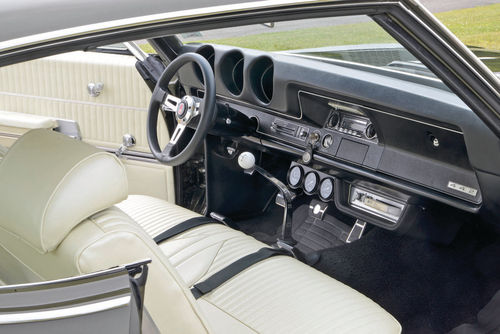 The Rocket alone was a notable accomplishment, but Olds went a step further. At the new engine's introduction, the top-model 98 had a lesser companion, the smaller 76 powered by the flathead six. Its 119.5-inch wheelbase was 5.5 inches shorter and in four-doorsedan form, its 3324-pounds made it 568 pounds lighter, so swapping the 105-horsepower Big Six for the Rocket V-8 became an early example of the big engine in the small car. In the 1960s, the approach would become common, but in 1949, Olds' new 88 was the "lowest-price car with 'Rocket' engine."
So successful was the 88 that the 76 and its six lasted only through the 1950 model year. V-8s of growing displacement and horsepower appeared on a regular basis through the decade with the result that Olds was sufficiently confident to offer its first compact, the F-85 of 1961, with a 215-cubic-inch V-8 as the only engine choice. Shared with Buick and Pontiac, the engine was the Rockette as far as Olds was concerned and produced 155 horsepower in base form. If the original 88 had had a performanceenhancing power-to-weight ratio, the F-85 blew it away with its 2719-pound fourdoor and 155 horsepower in the standard 215. An optional package providing higher compression, dual exhausts and a four-barrel carburetor added 30 horsepower, but the real news came in 1962 with the 215-horsepower Jetfire. It was "America's only production car with a fluid-injected, turbocharged engine! It's Oldsmobile's revolutionary new V-8…the Turbo-Rocket!"
Introducing a Hot New Number
Even the most oblivious driver could sense that performance over the next decade would be mainly in fast midsize and compact models. It wasn't long before Oldsmobile continued the trend with 1964's "hot new number…Olds 4-4- 2" and its 310-horsepower 330 V-8.
Beyond the "4-barrel carburetion…4- on the floor stick-shift synchromesh transmission (and) 2 dual exhausts," the package included heavy-duty suspension, a rear stabilizer, a high-lift cam and "extrahigh-quality rod and main bearings." The 4-4-2 had replaced the Jetfire and Olds stated that "every way you look at it, '4-4-2' adds up to outstanding performance…!"
One year later, the lightly updated 4-4-2 was a "digger's dream" with its 345-horsepower 400 and Olds wordily noted that it was the "lowest priced highperformance car in America designed for everyday driving!"
The straight-line look of the 4-4-2 and the F-85 on which it was based was toned down for 1966 and while edges were still sharp, curves had worked their way into the design to eliminate some of the boxiness. Every bit as attractive as the original, the 4-4-2 package still relied on the 400, but it now provided 350 horsepower, a figure that continued when 1967 brought a 4-4-2 wearing no major styling changes. Olds again promoted more than just the engine and mentioned the 4-4-2's heavy-duty suspension, front and rear sway bars and even the "beefedup wheels."
Time for a Major Styling Change
For 1968, the 4-4-2 looked almost completely different from its predecessors. Pairs of headlights separated by parking lights and a grille that dipped below the headlight doors were the visual tie to the 1967 model. The hood now carried a pronounced downward slope, the sides bulged slightly, the roofline was a fastback with a flush backlight and the rear side windows ended in a point halfway up the C-pillar. The 4-4-2 was now full of curves and looked much more aggressive. While it could be optioned with either 290 or 360 horsepower, the standard 4-4-2 again used the 350-horsepower 400.
Advertising listed the specifications under headlines such as "here's what's behind the reputation" and Olds wasn't reaching, as Klem recalled a good friend who owned a 1968 4-4-2 and raced it before the feature car turned up.
"We used to go with him up to Pocono Drag Lodge," Klem recalled, "and I fell in love with the car, especially when it launched. His was black with a white stripe. He ran that for a couple of years and I said 'boy, this is really sweet.'"
His friend then got him a job at a local service station whose owner just happened to have another 1968 4-4-2, this one red with an orange stripe.
"The best part of that job," Klem said, "was that when we had to go for parts, he used to toss me his keys. I'd take the car, go down, pick up the parts and come back. I said 'as soon as I get a chance, I'd like to buy one.'"
Wisely, he made sure that both of those Olds-owners knew of his interest and after a time, it paid off. The friend who'd raced his car told him of a 4-4-2 that was for sale and was claimed to be in good condition.
"I took a ride up, talked to the guy and we worked out a price," Klem recalled. "I paid $900 for it and drove it home. I've had it ever since...I still have the 'for sale' sign with his phone number on it."
That was in 1974 and the six-yearold 4-4-2 needed not much more than a cleaning, but he replaced the original wheels with an aluminum set and began driving it. By the fall of 1977, though, it was mostly parked.
Putting It In Storage… and Taking It Back Out
"Come the next summer," Klem explained, "I'd drive it a little bit. The tags were expired, the inspection was expired. I just stayed on the back roads for probably five or six years after that… After the last time that I sneaked it out, I was afraid that the tires might be dry-rotted. I didn't want to look for any trouble."
This time, it was parked for real, but like the Olds-owner who'd found it for him in the first place, two other friends soon assumed critical roles in the car's future.
"A good friend of mine who I've known for years called me several times and said 'when are we going to restore it?'" Klem recalled. "I didn't have the time, didn't have the money, so after about six years of listening to him, I kind of just slid it under the rug. Then another good friend of mine since high school bought a '66 GTO and Frank, my (other) good friend, and I heard about it. I went up and looked at it. (Frank) does tremendous work and that kind of got the gears turning. I said 'well, you've got to come up with some numbers' and being that I've known him for quite a few years, the numbers that he gave me? I couldn't say 'no.' He said 'one stipulation, you, Joe (with the GTO) and I do all the work on it.' I said 'that's great. Let me think about it.'
"That probably took overnight. I crunched some numbers with my wife and so I called him and I said 'I think it's time.'"
Frank had other cars to complete, so Klem pulled the 4-4-2's engine while the Olds waited its turn. The shop handling the machine work found that the 400 had no wear, he said, and installed new piston rings and bearings, a mild cam and roller rockers. The Quadrajet four-barrel went to another shop for rebuilding and when the engine came back, Klem stored it in his garage for several years until in 2009 Frank called to say he was ready to start on the body.
"He gave me a heads-up," Klem said. "'You're next in line. We have to get the body off the frame. Do you have a place to do it?' I said 'no' and then my good friend, Joe, said 'bring it up to my place and we'll separate it up here.'"
Lifting the body didn't go smoothly at first since some of the bolts holding it to the frame seemed to be inaccessible. Klem said that a restorer experienced with 4-4-2s solved the problem by explaining that what appeared to be conventional mounts had no bolts and when the other bolts were removed, the body could simply be raised off of them. He was right, Klem said, and once the body was off, he found rust at some of the points where it was expected, primarily around the wheelwells and in the floorpan on the driver's side. Rust had also damaged the sheet metal below the windshield and the trunk floor and he said that a very small hole in the leaded seam between the quarter panel and the roof pillar had apparently been there since the car was built. Somewhat surprisingly, the rocker panels were solid, as were the frame and most of the underbody, probably because the car had been undercoated and then painted over that.
In all, both quarters were replaced, as was all of the glass, and the body was sandblasted. The frame was sandblasted and powdercoated, patch panels were welded into the fenders and the hood was replaced, too, but not because of rust.
"The hood is 'this long' and the hinges are 'this long,'" Klem said, "so when you grab the hood, what happens? It has the relief for the accident and right at that relief, that's where they bend. So when I bought it, there were two half-inch angle irons welded in on both sides. You could see that where whoever creased it, those reliefs were bent. Frank said 'we've got to see if we can get another hood.'"
Initial searches located hoods worse than the one on the car, but he finally found a usable replacement at a fair price several hours away in New Jersey. That hood—with some work—is now on the car and the original is in Klem's garage…but the bumpers' story is more complicated.
It began when he took the front bumper with a few minor dings to a plater who had been recommended. When it was ready, Klem said, it looked good, but as it was being bolted into position, the plating began to crack. He knew he'd worked carefully and suspecting a problem with the plating, he returned the bumper to the plater and was assured that the problem would be corrected.
"We got it back, went to put it on and it was too short." Klem said. "It was too narrow now… So I took it back down, told him about it and he said something like 'what do you want me to do about it?' I said 'this isn't working,' so I called the place in Connecticut where I got a lot of stuff from and I asked them 'do you have bumpers?' 'Yes, aftermarket.'"
After confirmation of the various measurements, he drove to Connecticut and returned with a new front bumper. It fit perfectly; as did the rear bumper he acquired to replace the incorrect bumper that had been on the car when he bought it.
Finding More Parts… and Nearby His Home
"I was on eBay looking for parts one day," Klem recalled, "and when I looked, it read 'Dickson City, Pennsylvania.' I was shocked. I got on the phone and I called Frank. I said 'Frank, you've got to check this out. There's a bumper that some guy's selling, new chrome, brand-new, we've got to go and check it out.' He said 'where?' I said 'in Dickson City.' 'Oh, that's John So-and-so,' he rattled off. He said 'yeah, I know him. He's got some Oldsmobile parts.' We went over; he's just down the road…
"I bought a lot of chrome parts off of him and some were new old stock, some were remanufactured. He opened up the bumper and the bumper was like brandnew. We put it in the back of the truck and off we went. It was that close by."
Some Modifications and Eventful First Trips
The wheels that are now on the car were located even closer than the chrome parts. But while they appear identical to the 14-inch originals, they are actually 15s from a later Cutlass that was once Klem's daily driver. He also deviated from pure originality when he installed front disc brakes and headers and replaced the original Muncie four-speed with a five-speed to keep the revs down on the highway. The interior was changed, too, from black to white and by 2013, the Olds made its first post-restoration trip, covering about 60 miles to a show in Wind Gap, Pennsylvania. The roundtrip went smoothly, but once home, Klem checked the oil and found that it was down by one quart.
"I started looking underneath," he said, "and the whole bottom was all oil, soaking wet. I got it up on a lift and the rear main was leaking like a sieve."
A new neoprene seal cured that, but a more recent carburetor problem left him stranded not far from home. At first, he said, he assumed that the car had run out of gas and added several gallons from cans. The Olds started easily, but when he went to fill the tank, he found that it had been far from empty, so he began looking for fuel problems and discovered that the carburetor had been damaged at some point. He chose not to repair it and instead replaced it with an Edelbrock carb and intake manifold. Since then, the car has had no significant problems and now shows about 81,000 miles.
The 4-4-2's future is secure, as Klem said it's not leaving him. He's felt that way for a long time, even if he wavered slightly during the years when it was off the road.
"Some of the people who knew I'd had it," he recalled, "said 'whatever happened to it?' 'I've still got it.' And I had two people who were really interested in buying it when I was at the point where I'd kind of lost interest in it and both of them were dead serious. I approached the guy who'd asked me first and I said 'are you still interested in the car?' He said 'yeah' and I said 'well, if anything happens, you'll be the first to know' and I let it go at that.
"Nothing ever happened."